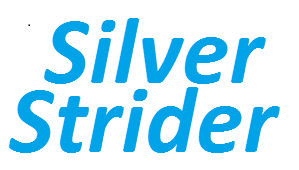 x
online magazine
x
Presents
……….

….

B

ulletins


Bulletins are the primary means of communication for Silver Striders. The Bulletins page should be checked regularly to keep abreast of Silver Strider events, features, and program updates. Don't forget to

"refresh"

pages to get latest updates
x
Bulletin
9/24/23
Steve Ramsdell's Memorial Service will be held on Saturday, October 21st, with a private gathering for family, friends and Silver Striders at Sylvan Way Baptist Church, 900 Sylvan Way, Bremerton, WA. 98310.
x
Bulletin
9/24/23
Betty's Memorial 5k race will be held at the Renton ParkRun on October 14th. There is no entry fee, but you need to register for a ParkRun. Click on the ad on the right side of this page for a permanent race number. Join Betty's family and Silver Strider friends in a tribute to this inspirational woman. Trophies will be awarded 3 deep in all Silver Strider age groups from 50 to 94.
x
Bulletin
9/21/23
The Silver Strider 3k scheduled in Gig Harbor for Oct 15th has been cancelled due to unforeseen problems. Plans for a replacement race will be announced within 48 hours.
x
Bulletin
9/20/23
Participation in our newest feature "Favorite 5" has been light. The feature was designed to help Silver Striders become better acquainted. Since our readers have shown little interest, the feature will be discontinued if we haven't received a minimum of 10 profiles by September 30th.
x
Bulletin
9/20/23
Richard Olafson, age 90, has passed away after lengthy health problems. Richard was a formidable runner who won many awards. He began racing in the early 1980's and raced often. As races became more plentiful, he began to enter more. He eventually found himself and his wife, Barbara, doing 50 races a year for more than 20 years. He is believed to have ran more and won more races than anyone on record.

Bulletin
8/28/23
Check out the newest Silver Strider feature, "Favorite 5". on the menu. Join us now, be among the first.

Bulletin
8/21/23
The Super Athlete program is reinstated for 2023 forthwith. Check the TOP IO for your current status.

Bulletin

8/16/23
With heavy heart we report the passing of Bernadette (Betty) Dietrich. She served as editor of the Silver Strider magazine since it's inception. She was a runner for 45 years and very competitive in her younger years. She was also a formidable cyclist and an aerobic dance enthusiast. She was modest, generous, supportive and loved by her Silver Strider friends.
Bulletin
4/20/23
Looking for a fast marathon? Try the Ventura Marathon. Run from Ojai (745 ft elevation) to Ventura (36 ft elevation).
x
Bulletin
3/6/23


From ParkRun Race Director

– Information on how to update a profile on the parkrun website, as we often get emails from Silver Striders who want to have your group included next to their name in the results section.
If your members want to update their profile, we're unable to do that on our end. They will need to log on to the parkrun registration website,
Once they sign in there is a menu of items including 'Groups.' Clicking on that opens a new page where you can add the running group you are part of.
x
Bulletin
1/20/23
Extensive updates have been made to the Calendar, Top IO and the Home pages. When you go to any of these pages, "refresh" the page so that you have an up to date version on your computer. More changes are coming to the "Dave's Memorial Series" standings.
Bulletin




3/5/21


For your protection and peace of mind Silver Strider online has updated it's Anti Malware Security and Brute Force Firewall. Visiting silverstrider.com is completely safe. Go to the Google transparency report for an unbiased safety check of any website.


https://transparencyreport.google.com/safe-browsing/search?hl=en


Pages that transmit private information (such as credit cards, personal information and passwords) need to have a secure connection to help prevent attackers from stealing your information.
You are not transmitting any information when you read our magazine.
Bulletin
5/30/22
The Tacoma City Marathon Association is offering a 15% discount to all Silver Striders (runners and walkers over 50). For your discount code email:
[email protected]
To register for a TCMA event, just click on their ad on the right side of the page.
Bulletin
5/19/22
Reminder! Group photos are always taken 30 minutes before the start of each race. The start line is always the location. Please participate in this important ritual.
Bulletin
3/6/21


Our new email address:


[email protected]
Bulletin
9/25/20
Just a reminder. Our magazine is not formatted for cell phone viewing. It is designed to be viewed on a computer monitor (large, small or laptop). It can also be viewed nicely on a tablet.