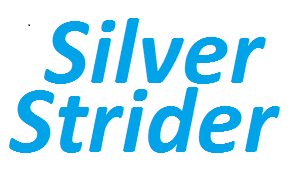 online magazine presents
R

ace

R

eports
brought to you by
7210 Greenlake Dr N, Seattle, WA
16095 Cleveland St., Redmond, WA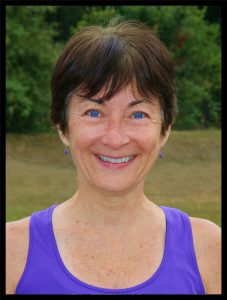 The North Olympic Discovery Marathon




by Tiare Bailey
6/7/20 – Port Angeles
 North Olympic Discovery Marathon
            AKA: NODM – four races that are part of the Silver Strider Grand Prix Series
            Have you ever wanted to combine exercise with a weekend get-away? Might I recommend the cities of Sequim and Port Angeles where the "Top Notch" North Olympic Discovery Marathon takes place every year on the first Sunday of June?

I was asked to write an article on this popular race included in the Silver Strider race calendar; a select your distance race for credit and points. However, this year it will be for race completion credit only.
Living on the Olympic Peninsula since 1995 I have had the opportunity to run each of the individual courses. Each distance has a unique course that is run on the scenic Olympic Discovery Trail (ODT), a 99% paved trail.
The inaugural NODM race was run in 2003 with approximately 500 runners combined in two races. In 2019 there were 2,150 participants combined in seven races. These included the marathon walk and run, a half marathon, a children's marathon, marathon relay, a 10k, and a 5k. The races are point to point except the 5k.
Runners and walkers are bused to their start line at various locations depending on which race they have entered. As you can see, each year the race has continued to grow due to it's reputation as a well organized, outstanding race.
This race has over 600 volunteers. One very special feature of this race is having a volunteer meet each racer as they cross the finish line. They talk to you to make sure you are feeling fine. They walk with you as you are given a beverage to begin hydrating, point out the gear check drop off section, the awards station, first aid tents, etc. They direct you to the area where you will find food and beverages, massage therapists, and find a place to sit and enjoy musical entertainment.
As my enthusiasm built for a full weekend of running and and dining with friends, the Covid 19 pandemic raised it's ugly head and plans had to change. A notice was placed in the Sequim Gazette that stated, according to race director Victoria Jones, NODM is going VIRTUAL this year. Happily the choice was not to cancel. Sadly we wouldn't be visiting with friends pre race at the expo, held at the Port Angeles Red Lion Inn.
We wouldn't be gathering to congratulate each other while adrenaline pumped through our body, and we wouldn't be selecting food from a large selection displayed in front of us.
Music from a local band normally livens the mood of the event and spectators and runners are often moved to dance. No free beer would be offered either; one of the many perks when registering for one of the NODM races.
Since the "Stay at Home" order made it difficult to run on the actual courses, Silver Striders chose their own course this year (where ever, whenever). To get credit however, the distance had to be completed by the original race day, June 7th. Since I live on the Olympic Peninsula, running locally meant staying on the Olympic Peninsula.
I put my half marathon miles in on some of the challenging, soul-restoring trails. Some with sightings of the magnificent Olympic Mountains, some bordering pastures with livestock grazing on long wispy blades of green grass. Depending where you run you may be challenged by 3 separate creek crossings with steep elevation drops followed by steep inclines that make your leg muscles burn and protest.
In the last 5 miles of both the full and half marathon course, and the 10k, you will find joy in the ever changing scenery as you wind along the shoreline of the Strait de Juan de Fuca. As the morning fog lifts you might be lucky enough to see seals, eagles, seagulls, and heron. And if you are really lucky, you won't be challenged in your last few miles by a brisk, strong headwind. In the last few miles as you get closer to the finish line, you can see the outline of Victoria, B.C.
All races start with the National Anthem prior to the gun being fired. This is a strong memory for me as I can clearly see and feel the emotion lined up to start the half marathon that I most often run.
 Here's a short description of the various races:

The 5k begins at the Port Angeles City Pier in front of the Red Lion Inn. The course heads east along the waterfront and doubles back and returns to the finish line. It is basically a fast, flat course with one short bridge to go over and back.

The 10k is a point to point course where you are bused to Deer Park Overlook to start. There is a one mile down and back on a local road, then it's a fast downhill to Morse Creek Bridge, a tree lined trail to the waterfront, with around 4 miles of waterfront view to the finish. Definitely a PR course.

The half marathon begins at the Storm King soccer fields on Barr Rd. Runners and walkers are bused to the start.  The half marathon is one of the largest of the various races. A picnic shelter is present to shield runners from rain when needed. An endless row of porta potties are available, and a bus is ready to store your drop bags to be delivered to the finish line. Early in the race you meander through farm land, glide past creeks and over bridges.

Then you disappear on a tree lined path until you reach the beach and follow the paved trail to the finish. The 10k, half marathon, and marathon follow the same route for the final 6.2 miles.

The marathon course is currently the 3rd of 3 course changes. It is a Boston qualifier. It starts in Blyn at the 7 Cedars Casino. It follows the (ODT) through Sequim Bay State Park, goes across Johnston Creek Trestle and through downtown Sequim. Continuing on the trail, it goes over the Dungeness River Railroad Trestle Bridge and winds through farms and pastures of the Sequim Valley.

East of Port Angeles you run along the rocky waterfront all the way to the finish line where an announcer loudly calls out your name and the city you reside in. It's time to start the party and celebrate your accomplishment.
________________________________________________________________________________

Virtual Marathon Report From Keith Lerew (NODM course)
I started a little before a 32 year old who passed me 3.5 miles later. He had an emergency pit stop at mile 6 and took 10 miles to catch back up with me and then proceeded to stretch me by about 11 minutes.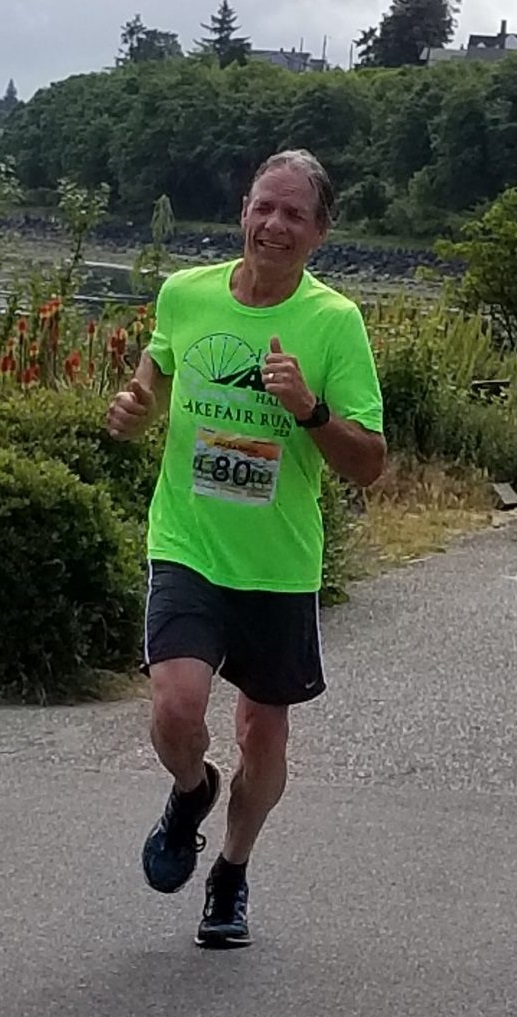 Energy left the legs about mile 17 making the last 9 miles slow and difficult. Was able to pick it up a bit as it flattened out along the waterfront.
It was fun to have a little camaraderie along the way.
The best part: the body is feeling good today!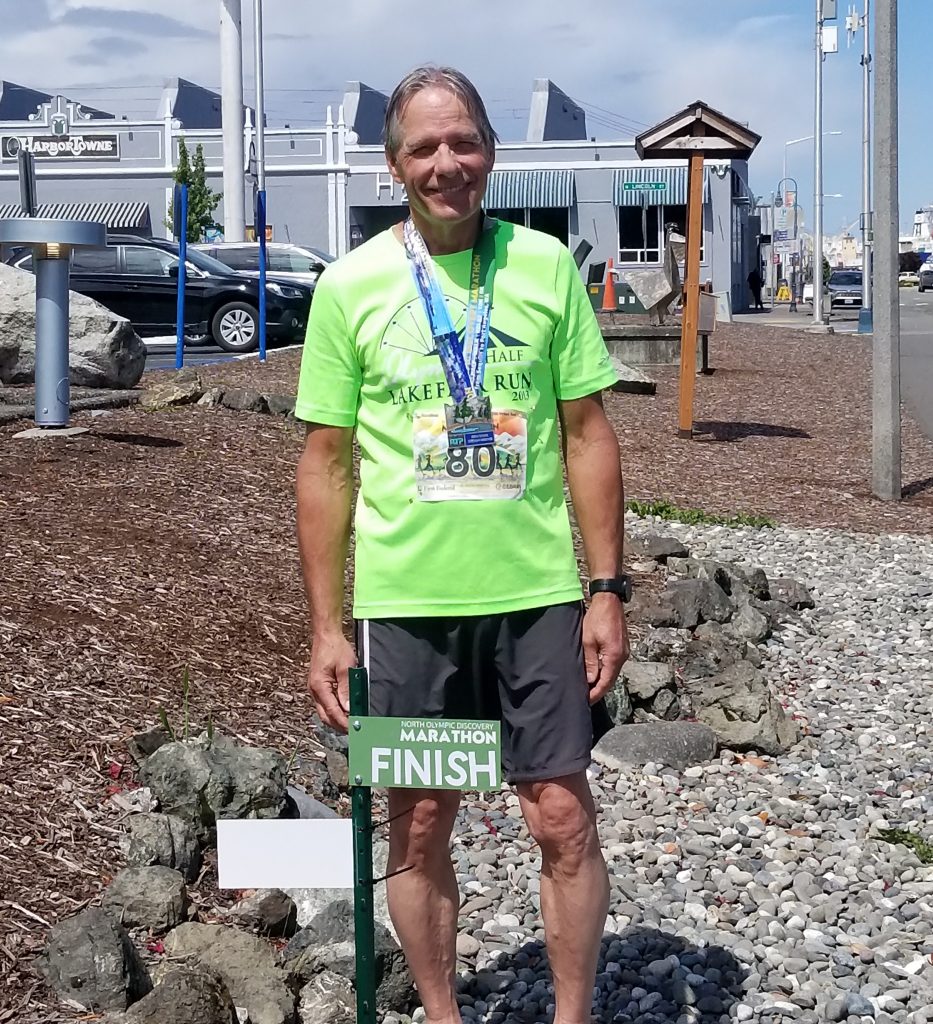 ______________________________________________________________________
Nanci Larsen Virtual Half Marathon
Marsha Murray was my companion on our NODM trek.  Cool to know that put me in the "top mileage" category.  It surely wasn't the same as a 'real' race, but at least she and I enjoyed exploring the further Foothills Trail. 
We encountered more people than we expected to be enjoying nature.  The parking lot looked like a Silver Strider event day.
Marsha Murray Virtual Half Marathon
My NODM virtual Half Marathon started on Wednesday, May 27 when Nancy Larsen picked me up and we drove to Orting for my first virtual race.
We started on the Foothills Trail and did a out and back of 13.1 miles. Walking along the side of a fast moving Carbon river with a beautiful blue sky above made it a very enjoyable day.
When we finished and looked back at Mt Rainier it was  a spectacular view. We had our picture taken with the mountain in the background.
To finish our day we go to Los Pinos restaurant to get our takeout and have our lunch in the park. Great day to be with good company.
___________________________________________________________________

Virtual Marathon Report From Kent Sizer
In late March I was really enjoying the training I had started for the North Olympic Discovery Marathon. A mini vacation in Sequim with lodging and restaurants to carb up before and after the race was enticing.
Much to my chagrin the physical race on June 7 was cancelled. With the Grand Prix Series counting this virtual race and Keith Lerew's Challenge 20 post, I was encouraged and motivated to continue training. The training was going well but travel to Sequim would be a challenge due to Covid restrictions.
The Green River Marathon in Kent was scheduled for June 6 with a new out and back course on the Interurban trail from Foster Park to Algona. This would be an easier way to fulfill the virtual run requirement on a nearby marked course and no need for support crew.
I had followed a 3 month training plan, better than my previous training for the Atlanta marathon March 1 where I ran 3:06:24. My training plan included rest on Thursday and a very easy 4 mile run Friday after which I was feeling good. But I set an easier goal of 3:10, thinking a 3:06 marathon would be a challenge without the motivation of crowds and other runners.
Reluctantly I crawled out of bed Saturday morning allowing time for a normal routine, planning to be out the door by 7 for a 7:30 start. I didn't get out before 7:30. Arriving at Foster Park, I hastily took off my sweats, put a Gu in each pocket, strapped a hydration belt on, locked the doors, put my keys in a pocket and started running before 8:00.
The first mile went well in 7:14. The next 5 miles also went well at about 7:05 with my heart rate below target. These numbers were similar to my Atlanta marathon effort, so I was feeling good, even though I was pushing into a very light southerly breeze.

About 2 miles before the turnaround, I passed Charlea Sherman. Good to see a familiar face, other than Steve Barrick, the "race" director.
A bit over a mile later Dave Sherman was seen heading back toward the finish of a half marathon. The turnaround came at about 47:50, slightly off a 3:10 pace, but the GPS showed 6.6 miles – a bit long.
The 6.6 miles back to the start were steady between 7:00 and 7:03 with a heart rate still under marathon race target. All was going well. It took 1:30 to refill my hydration pack and I started the second half at 1:35:15. Not bad, but I needed a good effort to make 3:10.
Hmmm, my pace was slowing (7:13 to 7:25) but my heart rate was rising along with the southerly breeze. Wished I had started 30 minutes earlier. Shortly before the turnaround I felt fatigued and noticed my heart rate was approaching a half marathon race target so I decided to walk a bit.
After the turnaround the breeze was behind me, so my pace should improve. Not to be. The pace for 6 miles to the finish varied from 7:30 to 8:30 depending on how much I walked. I only recall walking in the first 2 of 20 previous marathons.
What caused the fatigue? I believe I slept well, but perhaps not, as I was slow getting out. Or, perhaps the excitement of the crowds, the thrill of overtaking road-kill, or the fear of becoming road-kill at large races, carries me through the last 6 miles. In the end, I finished 26.4 miles in a respectable 3:18:37.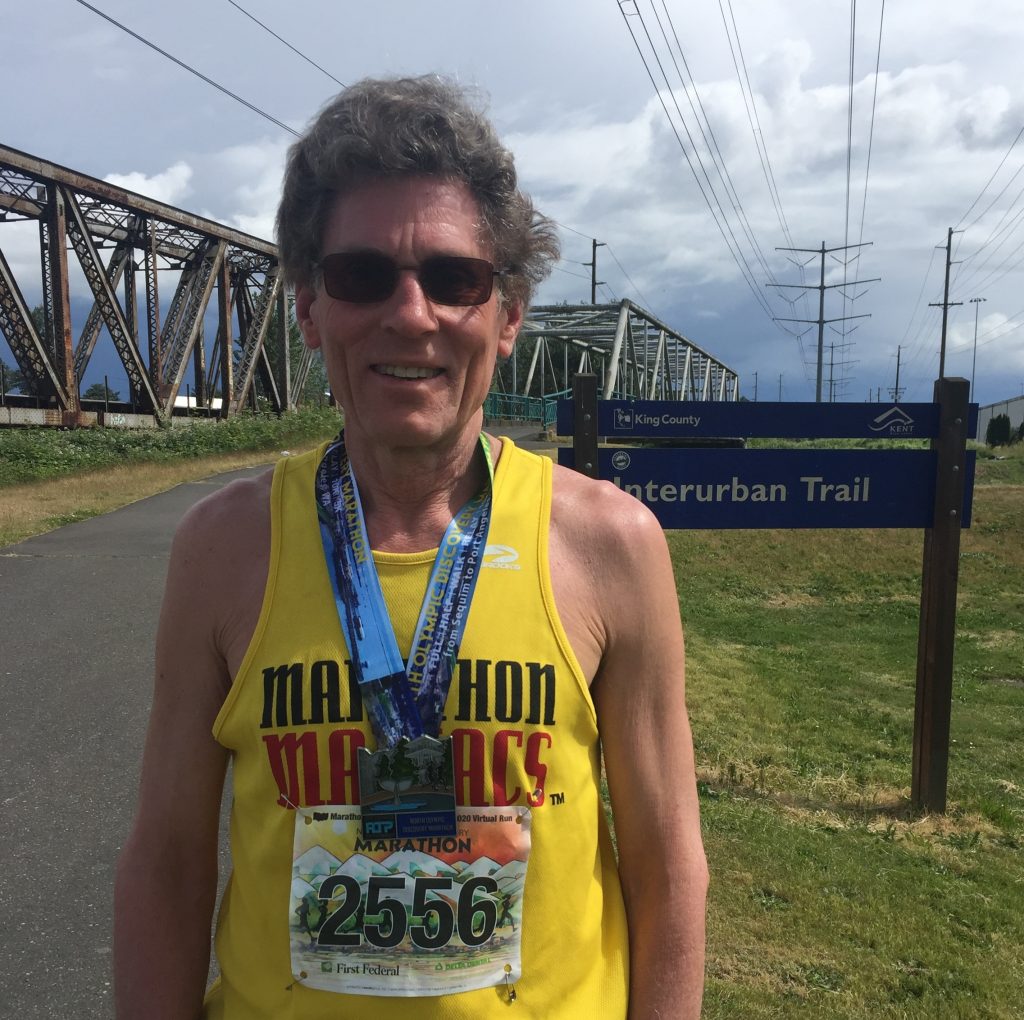 Returning to my car, I found no keys in my pocket. They must have come out with the Gu earlier on the trail. I needed a  support crew after all. Katie was babysitting our grandson, so Steve called my son to rescue me. At least I did not have to refuel alone at the Wild Wheat Bakery in Kent.
______________________________________________________________________________

Virtual 5k Report From Jerry Dietrich
Where should I run? That was the question I asked myself. We have two small shopping centers and a Safeway near our home.
If I started at one end of the three parking lots and ran to the other end and back, I would log a half mile. All three parking lots were deserted. All the stores were closed. Not a car in sight.
I decided to run there. Oh.. did I say run? Just a habit I guess. Actually, I'm walking these days. Running is no longer beneficial. I feel terrible after jogging. On the other hand I feel great after walking for an hour. I believe you should feel good after exercise.
I did six round trips across the three parking lots, plus an extra tenth, to make the 5k distance.
I wore a mask around my neck which I could pull up to cover my face if I encountered anyone. It wasn't needed.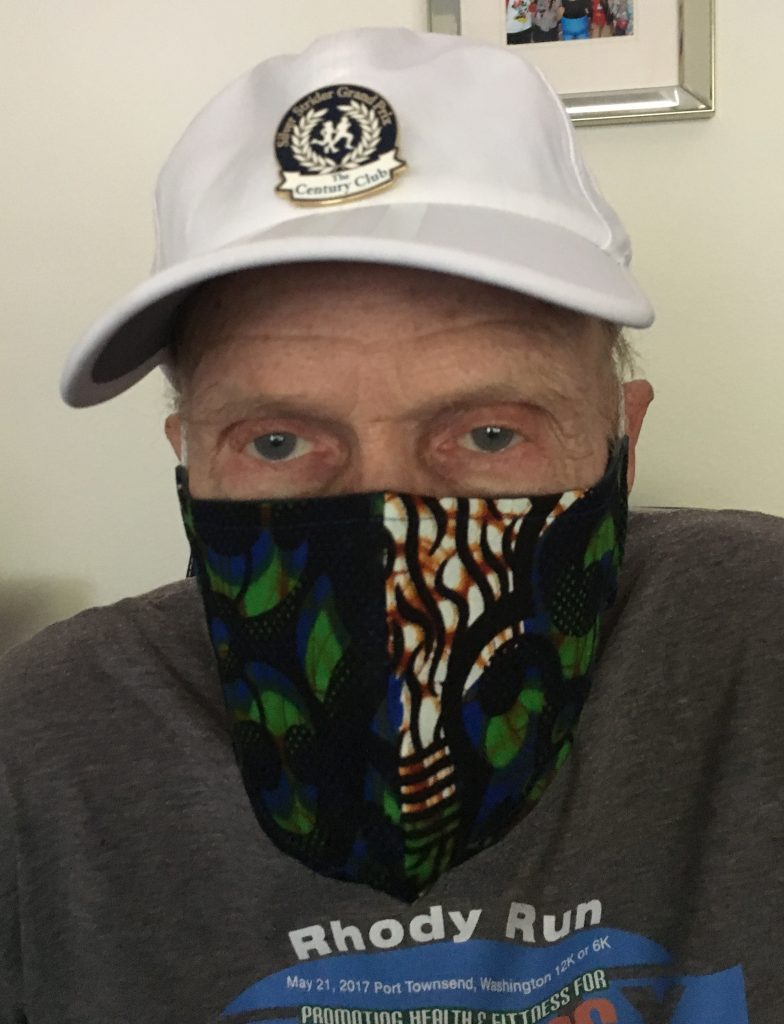 I felt good afterward even though I walked as fast as I could. The terrain was slightly sloped so that I was going slightly uphill half the time and slightly downhill coming back. The wind was about 7 mph at my back going uphill and in my face coming down.
I enjoyed the effort but I would have enjoyed it more with GP points.
Betty planned to do her virtual 5k later on a different course.
Now I'm really getting excited about the Run For The Pies. I hope to improve my time.  

Results:
Grand Prix Players Only


MEN




M85-89


Jerry Dietrich  3.1 mi


M75-79


John Phillips  6.2 mi
Steve Ramsdell  3.1 mi


M70-74


Nick Bailey  13.1 mi


M65-69


Kent Sizer  26.2 mi
Steve Husko  13.1 mi
Ed Barney  3.1 mi


M60-64


Keith Lerew  26.2 mi
WOMEN




W80-84


Molly Childs  6.2 mi
Edythe Hulet  3.1 mi


W75-79


Isabelle Noiret  13.1 mi
Betty Dietrich  3.1 mi
Gretchen Ramsdell  3.1 mi
Sandi Newman  3.1 mi


W70-74


Nancy Larsen  13.1 mi
Diane Martin  6.2 mi


W65-69


Marsha Murray  13.1 mi
Sandra Madden  13.1 mi
Patty Husko  13.1 mi


W60-64


Tiare Bailey  13.1 mi


W55-59


Sue Wirsch  3.1 mi
_________________________________________________________________________________
_____________________________________________________________________________________
This artistic collage by Bruce Fisher reminds us that we will be required to send a photo of our timing device following the Run For The Pies 5k virtual race.