A virtual run to celebrate our namesake, the magnificent orca. A portion of every entry goes to support the Orca families of Washington state and British Columbia. Registration closes September 18th. Run anytime from October 1st through 8th. Click on the ad on the right side of this page to register.
If you registered for the Orca Run before it was changed to a virtual race, you are automatically registered in the virtual run.   The only thing you would need to do is contact Orca Running as soon as possible if there is any change in your mailing address since they are shipping the race packets. They are offering additional distances for the virtual option. Let them know if you would like to switch distances.
_____________________________________________________________________________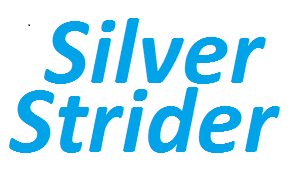 online magazine presents

The Fly 5k, a Grand Prix race, has been replaced by The Maverick Run.




                             Four distances are offered, 1 mile, 5k, 14k, and Half Marathon.
In lieu of everyone coming together to run a traditional race, you will run your chosen race distance on your own course anytime between October 7th and October 11th. 
What is The Maverick Run?
The Maverick Run is a virtual run with the option to run four different distances. You can choose the from the Need for Speed 1 mile, the Iceman 5K, the Maverick 14K, or the Goose Half Marathon.
Regular registration is $45 and you will get a bib, race shirt, and medal mailed right to your front door. Not only that, we have a custom Maverick Run buff and a Maverick Run patch we are including. These limited edition buffs are amazingly soft and perfect for extra protection when running in crowded areas.
We hope you are feeling the need for speed and that you are ready to buzz the tower. We are excited to announce our newest virtual adventure, The Maverick Run. (click it) Registration is now open.
The MAVERICK RUN is offering a "Medal Only" option for Silver Striders.  The registration fee is $25.  For the discount code, contact:  jerry@silverstrider.com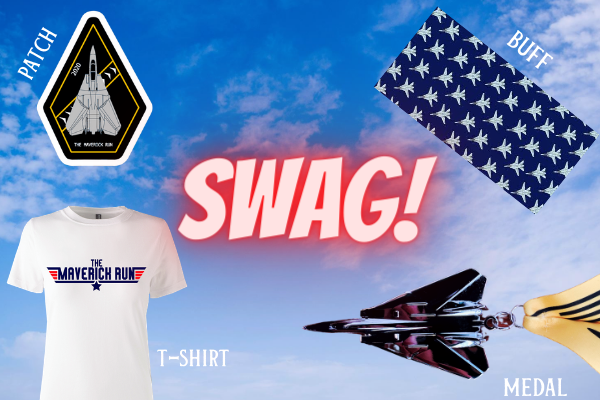 ______________________________________________________________________________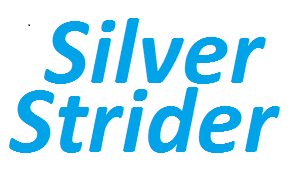 online magazine presents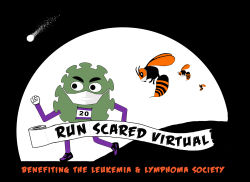 The Run Scared 2m, 5k, 10k
          Oct 31 – Nov 1
Registration $35 with swag
Registration $10 with no swag
Earn your candy at the 12th annual Run Scared, this year a virtual race, benefiting The Leukemia and Lymphoma Society. Choose from 10K, 5K or 2 mile walk or run. You choose the distance and the time! 
Celebrate Halloween with a scary dash in your own neighborhood. Registration includes:
A running face covering
A Cougar Mountain pumpkin cookie
A finisher's hat
A Run Scared sticker!  
All while benefiting a great cause! Option to opt out of swag to save some money but still be a part of the fun. 
_________________________________________________________________________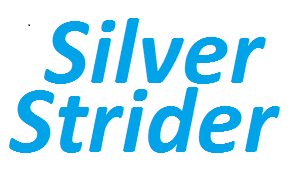 online magazine presents
           The Tortoise and Hare 5k – Virtual Handicap Run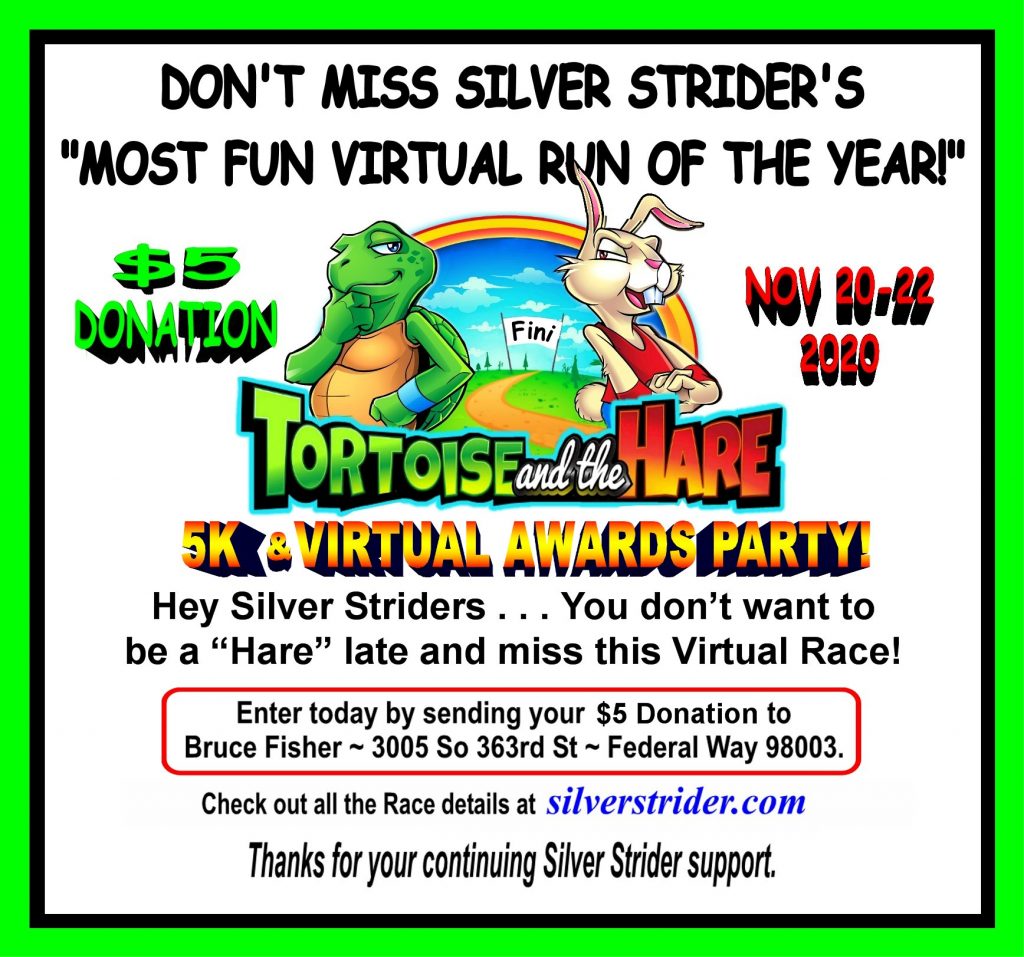 The Grand Prix Series TORTOISE AND HARE 5k will be a VIRTUAL handicap race held on November 20-22, 2020.
Here are the main race features:
– Entrants will be using their 2019 handicap with an adjustment from one 2020 virtual race.  I have handicap records for all runners over 50.  Race limited to Washington State residents.
– The honor system will be in effect. There are 2 rules:
1. Runners may choose their own course but it must be an out and back or loop course, starting and ending in the same spot. That way there is no elevation gain or loss.  You may use a school track.
2. Once you start your watch or timing device you cannot stop it until you reach 3.10 miles.
– The race will consist of two separate divisions: Men and Women
– Trophies will go to the top ten finishers in each division.
– $5 donation to the Rewarding Runners fund to cover the cost of trophies and mailing.
– Wear your Grand Prix logo shirt or sweatshirt and earn 10 GP points.
– The race will be followed by a Zoom Awards Party.  Date and time to be announced.
To enter, send your name and donation to: Bruce Fisher, 3005 S. 363rd St., Federal Way, WA 98003
Following your race, email a photo of your watch or timing device to  

jerry@silverstrider.com

  before noon on November 23rd.  I will subtract your handicap from your finish time.
To receive your 10 Grand Prix Series points, include a photo of yourself wearing your GP logo shirt.
_______________________________________________________________________________