the Silver Strider online presents
R

ace

R

eports 
brought to you by
    7210 Greenlake Dr N, Seattle, WA
   16095 Cleveland St., Redmond, WA
The Tulip Run Report I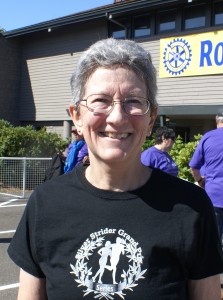 by Karen Lichtenstein
April 8, 2017 – Burlington
The weather was cold and windy with threatening skies that promised rain. Before the race the Silver Strider runners gathered in the large warehouse and discussed what to wear for the race. Most of us arrived early so we had plenty of time to consider our options. I noticed that many of the runners waiting for the race were in our age groups. That is not surprising since the Skagit Runners offered free entry for all runners 70 and over. I was surprised to learn that there were more runners signed up for the 5 mile race (172 people) than for the 2 mile race (164).
Only 20% of the race was on the road, and 80% was on dirt and gravel trails. Fortunately, the footing was very good on the well packed dirt and gravel. We started out on the road and soon turned right onto the trail. The good news is that there was no rain during the race. The bad news is that there were quite a few mud puddles along the trail, but you could plan ahead and avoid the puddles. The course was well marked, and there were many volunteers along the way to encourage us. As usual I started the race a little too fast, and runners were passing me from the second mile to the end.
After the first two miles, I noticed quite a few runners had taken their jackets off and tied them around their waists. The hardy runners who started the race without jackets looked very comfortable.
I did try to stay right behind a woman who had gray hair and looked like she could be in my age group. She was one of those runners with a jacket tied around her waist. That convinced me that I should take my jacket off also. That helped and I closed some of the distance on the runner ahead of me. Now I noticed that the runner ahead of me kept raising her hands and shaking them out. Maybe her hands were too cold. While she was distracted, I moved even closer and let her set the pace.
Finally, we came to the last stretch of the race which is a very gradual uphill to the finish line. At this point the woman ahead of me picked up her pace and finished strong. I just smiled for the camera as Bruce took my picture, and I wondered how old the other runner was. When the race results were finally announced, I learned that Nancy Hoefer from Sedro Woolley (the runner ahead of me) was first in her age group 60-64, which is not my age group. I was lucky.
The first male Silver Strider was Brig Seidl, and the first female Silver Strider was Carol Montgomery from Vancouver, B.C.
The refreshments after the race were very generous. In addition to the standard oranges and bananas, there were delicious muffins, potato chips, Goldfish crackers, gummy bears, and lots of hot coffee. The awards for placing in your age group were very unique medals featuring a tulip in the center. Great awards, good food, a tulip, and a well marked race course made this race fun.
_____________________________________
The Tulip Run Report II
by Brig Seidl
April 8, 2017
The penultimate round of the 2016-17 Silver Striders Grand Prix series was the scenic 5 mile Tulip Run up in Mt Vernon. This is a popular event as athletes can run the race in the morning and then spend the afternoon being wowed by the beauty on display in the nearby tulip fields or checking out any number of tulip festival related events in the area. It's a wonderful way to spend a warm, sunny spring day with family and friends. Hooray it's springtime and the flowers are blooming and birds chirping!
The only lamentable part was the day was not in fact "warm" or "sunny". No, it was, to be perfectly honest, a dark, wet, frigid day under a pregnant sky just itching to unleash a downpour to rival the recent St Paddy's Day monsoon in Tacoma. And there was a fiendish wind coming directly at us seemingly from Siberia, freezing solid anyone who was foolish enough to get in its path while not running furiously or wearing a snowmobile suit. In other words, pretty much like every other Silver Strider race I've done this year!
I really felt for poor Flash Fisher standing out there immobile all that time in a stoic display of fortitude that equaled or surpassed that of any of the runners'. Memo to all members: do not let Bruce pay for his own drinks if you ever encounter him out socially. He's earned our respect and gratitude on this day and many others.
After warming up I waited until the last moment to assemble on the start line because it was being directly assailed by that withering wind. This was no time to start on the front row! I snuck into the gathered herd and huddled directly behind Keith Lerew, bemoaning the fact that he didn't have broader shoulders to provide me more shelter. Saw some of the normal familiar faces; Steve and Patty Husko, Judy, Ron, Marsha, et al and just basically tried to stay warm.
The start is a gentle downhill on asphalt for about 600 meters before we turn to the right and go slightly uphill and then run alongside the airport for a kilometer or so. The course then goes onto a dirt / gravel path into the woods for the next couple miles which, you will not be surprised to learn, was bountifully covered in puddles and running water. It was cool though, kind of a cross country experience.
At about the 3 mile mark you pop out onto another asphalt road and run about 1k before getting back on another gravel path for the final 1.5 miles to the finish. It is a good course. I like it because other than that 1k after the 3 mile mark and the stretch along the airport it is never really flat but the inclines are very gentle. Combined with a variety of different surfaces (gravel, asphalt, mud, dirt) it keeps things interesting.
After the initial surge and chaos off the start line I settled into 5th place after being drawn out a bit quicker than I intended by Keith. Shortly before the first turn up to the airport I eased into 4th but it was already evident that 1st and 2nd were in a different league and by the time we turned into the woods after the airport I'd lost sight of them and would never regain a visual until the awards ceremony. They were on 27 and 28 minute pace which this Strider most definitely was not!
Upon emerging from the woods the guy I had passed for 4th at the end of the start straight determined that he'd prefer to have that position back so I very graciously ceded it to him. He, Chris Albertson, just kept going and snatched 3rd away from the guy who had been occupying it up to the 3 mile mark.
The run for home starting about mile 4 is all a gentle gravel uphill sprinkled with little wooden bridges and puddles. I struggled to keep 4th place on a manageable leash but could never quite reel him in close enough to gaff aboard coming up 3 seconds short at the finish.
Upon catching my breath and collecting my tulip at the finish line I hustled back to my truck to get some warm clothes on before joining Bruce at his usual spot a couple hundred feet before the line. Incidentally I noticed the "5 mile" marker was in that same spot so, if you are one of those people who care about such things, you probably ran about 5 miles and 250 feet.
The awards ceremony at this event always seems to be a bit of a muddle and this year was no different.
When they called me up for having won the Masters Over 40 division the woman on the microphone just moved straight on to the next topic while the guy shook my hand – but didn't give me anything – and said something that didn't seem to make sense so I had him repeat it. The gist being that they didn't have the certificates there at the venue and that I should go collect it at the Skagit Running Store in Mt Vernon. Hmm, OK.
But then, very shortly afterward, whilst not paying much attention I heard my name called again. "Ah the certificates must have arrived!" I thought. But no, it was a medal for winning my age group which usually you are excluded from if you place overall or in Masters. And naturally when I eventually found my way to the Skagit Running Store afterward (Tulip Festival traffic, aahh!) they had never heard of me and had no idea what I was talking about. I barely knew what I was talking about myself! Even saying the magic words, "I know Judy Fisher" didn't seem to unlock the situation so I just left, and promptly got stuck in traffic again.
I did learn that these "certificates" were actually $25 gift certificates. All the while I had been thinking it was just a finisher's certificate stating something akin to "Congratulations: Masters Champion Tulip Run 2017" or something.
Two days later whilst perusing the results I made an astonishing discovery. Looking at results post-race is always fun. You can see your splits of how you withered & died in that marathon, or check out how you compare with your age group peers, or just look for familiar names. Or, in this case, rue the fact that you didn't have 3.1 more seconds in you on the day.
But then I noticed the first woman, Carol Montgomery, finished in 6th place just about 30 seconds behind me. That was oddly satisfying because usually the first female is Bronwyn Crossman or her ilk and they are finishing several minutes ahead of me. But, hello! This Carol Montgomery bird is a newly minted Silver Strider and no 25 year old fresh-out-of-college Bronwyn Crossman type. Then I noticed she came down from Vancouver, BC for this rather local race.
My curiosity piqued I looked her up. Oh. My. God. Straight up legend. Hall of Fame athlete, 2 time Olympian, Commonwealth Games gold medalist, among the best triathletes of all time, Olympic 10,000 meter runner and triathlete etc, 15 time ITU winner, etc, etc, etc. Holy cow! You can read a little bit more about her here and here if, like me, you have somehow been living in a vacuum for the past 30 years unaware of her accomplishments on the world stage.
Man I wish I would have known who she was and gotten an autograph or something. But the truth is not only did I not know her but I never even saw her before, during or after the race. And we crossed the start line within 1/10 of a second of each other so she must have been cloistered behind Keith's left shoulder while I was sheltering behind his right one and we never even looked at each other. Sad. I blame Keith for not turning around and introducing us.
Editor's notes.
The statistics on this race are amazing.
Once again a Silver Strider was the overall winner. Carol Montgomery age 50, was the overall woman's winner.
Lenore Montgomery, age 86, was the first eighty plus runner beating the first 80 plus man by almost 5 minutes. Lenore finished ahead of Carol in the age graded results. The top 3 age graded runners were, Judy Fisher (73), 88.27%, Lenore Montgomery (86), 83.59%, and the race winner Carol Montgomery (50), 83.38%
Of the 172 finishers, 78 were Silver Striders. That's 45%, the highest percentage so far this year! The Silver Striders are not put off by a little nasty weather.
Linda Walker completed her 8th series race to become the 45th Grand Prix Series finisher for 2016-17.
Four series age division winners were decided.
M50-54 Brig Seidl finished first and won his age group.
M55-59 Keith Lerew cinched his division title for the 4th straight year.
Although they were not present at this race, Kimmer Muenz, W55-59, and Charlea Sherman, W60-64, officially won their age divisions.
                                Photos by Flash Fisher