the Silver Strider online presents
R

ace

R

eports 
brought to you by
    7210 Greenlake Dr N, Seattle, WA
   16095 Cleveland St., Redmond, WA
The 2017 Tortoise and Hare 5k Fun Run and Potluck
by Jerry Dietrich
with photos by Bruce Fisher
10/14/17 – Pt. Ruston
The Race
Officiating were:
Race Director – Jerry Dietrich
Finish Line – Andrea Kirkwood
Group Director – Roger Dean
Results Table – Michelle Dean
Course Marshall – Erin Kealy
Turn Around Official – Miles Kirkwood
This annual race is a big favorite because of it's unique nature.
Rather than start all runners together, we strive to have them all finish together. How do we do that? We track performances for 18 months for runners over 50 who do 3 or more of our races. Then we assign each runner a handicap.
Starting the high handicap runners (Turtles) first, we start everyone at time intervals working our way down to the fastest entrants (Hares).
We assembled runners and walkers in four groups with each group reporting to the start line at a pre-arranged time. When the starter called out a name, that runner began running.
The Tortoise and Hare 5k is actually two races being held at the same time; a women's race and a men's race.
In the women's race, 30 minutes and 21 seconds elapsed from when the first walker set out to when the final runner left the start line.
First to cross the finish line was Patty Husko, who started in group one.
The hottest competition came in group three with Audrey Kirkwood, Tiare Bailey, Charlea Sherman, and Dora Choi, all starting within seconds of each other. Working their way past runners in groups one and two, all 4 runners made the top 10. They finished; Charlea 5th, Tiare 6th, Audrey 9th, and Dora 10th.
In the men's race, 34 minutes and 42 seconds elapsed from when the first walker set out, to when the final runner left the start line.
Jerry Bronson finished 1st for the 2nd straight year. Jerry seems to run faster when he's being chased. Starting in group 2, Jerry passed those who started ahead of him while not permitting anyone to pass him.
The last three runners to start, Keith Lerew (last), Kent Sizer (next to last), and Dave Sherman, started with only one runner in sight. At the finish, all three men had worked their way through most of the field, with Keith finishing 3rd, Kent 7th, and Dave 10th.
Five of those running were finishing their 8th series race. Eight races is the number of Grand Prix Series races required to be a Series finisher for 2017-18. The five Series finishers were: Dave Sherman, David Anderson, Charlea Sherman, Tiare Bailey, and Marsha Murray.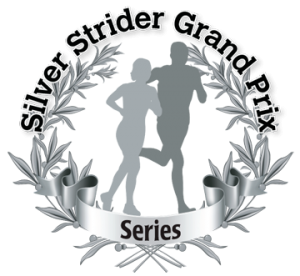 After shutting down the finish area, everyone got in their cars and began the caravan to the Highlands Golf Course for the potluck lunch and awards party.
The Potluck
Arriving at the clubhouse, runners were greeted by a beautifully decorated room. The potluck chairperson, Nanci Larsen, assisted by Betty Dietrich, Larry Larsen and Jerry Dietrich, spent part of the previous day setting up the room. Tablecloths and beautifully designed centerpieces made by Nanci created a festive atmosphere.
The amount of food arriving was staggering. I believe it may have surpassed last year. From appetizers to dessert, each gourmet item was delicious.
Following lunch, I introduced the Potluck Chairperson, Nanci Larsen. The ovation she received was well deserved. Next I introduced our photographer and co-emcee, Bruce Fisher. My final introduction was for Sandra Madden, who was in charge of raffle tickets. I also acknowledged the race volunteers.
Dennis Zaborac, our ambassador to Vietnam, had a slide presentation set up in the rear of the room highlighting his team's recent adventure at the Da Nang Marathon.
Dennis spoke about his trip and introduced his team, Susan Hall, Sandra Madden, Audrey Kirkwood, and Andrea Kirkwood.
The first drawing was conducted by Bruce and free race entries were awarded along with generous gift certificates from Super Jock n' Jill in Seattle, and Shoes N Feet in Bellevue.
Next, I announced the Silver Strider online's newest feature, the Century Club. The announcement was greeted enthusiastically.
In keeping with the Grand Prix Series goal of emphasizing participation, the Century Club recognizes those who have completed 100 Grand Prix Series races.
The first to be inducted were Judy Fisher, Dave Sherman, and Marsha Murray.
Additionally, three finishers of the Tortoise and Hare 5k reached the 100 race goal and were inducted into the Club. They were Jerry Bronson, Audrey Kirkwood, and Sandra Madden.
For more information about the Century Club, visit silverstrider.com and click "Century Club" on the menu bar.
Next was our second set of prize drawings which included more free race entries. Also presented were additional gift certificates from Super Jock n Jill, Shoes n Feet, and a bonus gift certificate from Fleet Feet Sports of Tacoma.
Then the awards ceremony was conducted with the top 10 female and  top 10 male finishers receiving their trophies.
Announcements were made and we adjourned outside to take group photos against the beautiful background of the golf course.
The afternoon concluded with laughter, hugs, and congratulations.
Added note:
Nanci Larsen, the Potluck Chairperson, purchased tablecloths for all the tables and made beautiful centerpieces for each one. Nanci contacted many Grand Prix players and asked, "What do you love most about being a Silver Strider?" She printed their replies on the table centerpieces.
Here are the replies she received:
I like the camaraderie and friendliness of the fellow Silver Striders and that they go against the stereotype of old people being sedentary.
. . . Fred Beavon
Although acquaintances, Silver Strider association encourages continued running walking, as we meet life's challenges.
. . . Holly
We like Silver Strider people and their positive attitudes and their great physical fitness. Best friends ever. We love the series and the strategy behind it. We love Betty and Jerry.
. . . Sherman's
Friendly competition for points based on the results of a designated series of races each year with the resulting camaraderie as friendships are formed, that provides both physical and social benefits, equally important to maintaining a health lifestyle at any age.
. . . Jerry B.
I love seeing all of you and hearing about your past races. I do not like getting my ass beat at all our runs. Happy trails.
. . . Ray
The best thing about being a Strider is the wonderful people you meet and friendships
you make. It truly is a family.
. . . Susan Hall
In a sea of thousands just seeing a friendly face.
. . . Ed Barney
The fellowship it creates and the encouragement and empowerment it instills through running, which keeps our mind, body and soul working together for the good of our whole being.
What's there not to love?!!!
. . . Judy
I love the friendships and the smiles.
. . . Dora
I am so inspired by all the runners – to keep running and building my endurance.
. . . Linda Walker
The lifelong friendships that have been created from being a part of the Silver Striders!
. . . Audrey
Becoming a Silver Strider has given me increased hope that we can keep doing what we love for a long, long time.
. . . Dave A. (older Dave)
All of the great people I have been able to meet!
. . . Sue Wirsch
In no particular order, Smiles, Camaraderie, Compassion, Laughing, Sharing stories, those of success, sadness, funny & happy and learning of others goals, no matter how little or how big. And of course the support we get from each other. It's all good. That's why I like being a part of
the Silver Striders.
. . . Marsha
The best thing about being a Silver Strider is the great friends and all their supportive words, hugs, laughs, smiles, encouragements, and conversations.
. . . Husko's
I had no idea that those first 8 Silver Strider races would change my life so much; what
cherished friendships and amazing race day memories have grown from day one.
. . . Nancy
Besides the exercise, it's the friendships and the precious memories being made.
. . . Larry
The opportunity to make friends with other like minded, physically fit, awesome people is hands down the biggest benefit of the Silver Striders. A little more motivation to stay fit doesn't hurt either
. . . . Keith
What I love most about being a Silver Strider is knowing that I have so many friends and so much support. I look forward to seeing Silver Striders at every race.
. . . Karen
Hanging around people older than myself makes me feel young.
… Dennis
Friendship and support that surpasses the race schedule and trickles out to hiking, bowling, international travel; the opportunities are limitless!
. . . Sandy M.
It's such a privilege to meet a great group of friendly and yet competitive super athletics
"The Silver Striders".
. . . Huong
How lucky I am to have a group of people like this in my life giving me encouragement and spiritual rewards beyond anything I have experienced.
….Jerry D