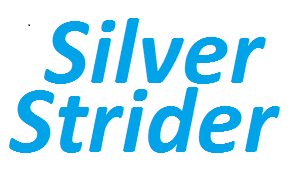 online magazine presents    
 R

ace 

R

eports 
brought to you by
    7210 Greenlake Dr N, Seattle, WA
   16095 Cleveland St., Redmond, WA
……
                                       T

he

R

ace 
The 
Tortoise and the Hare 5K race at Point Ruston
by Edythe Hulet
with photos by Bruce Fisher
10/9/19 – Point Ruston 
Jerry Dietrich averages all your race times to get your handicap.  The tortoises have the slowest average race time.  They start out first.  One or two at a time depending on your handicap.
The Hares are the last to start.  Again, the fastest runners start out last.
It was pretty fun to be first at the halfway point. That is definitely a first for me. That lasted until about 5 minutes to the end of the race.  Then people began passing me like crazy.  Everyone finished the race at pretty much the same time with people giving their all to pass someone in front.  As a walker among runners, my pace stays pretty much the same.
Betty and Jerry Dietrich founded this group to support 'older' runners 10 years ago.  It has nearly 1 million hits on it's web site this year.
The top 10 women and top 10 men were awarded trophies. There was a random drawing for prizes like gift cards for Starbucks, Applebee's, Baskin Robbins, mini golf,  etc.
I discovered this running group ( The Silver Striders) 7 years ago in a magazine at South Sound Running. They welcomed me and didn't mind that I am a walker.  This group is open to anyone over 50.  These people are special.  They are warm, helpful, supportive and everything you would want in a family if you could chose your family. I am so grateful for their friendship. It has added so much to my life. – Edythe Hulet
_______________________________________________________________________________
Jerry's notes:
Many thanks to our race volunteers, Phil Sturholm, Allen Walker, Dave Anderson, Marsha Murray and Tiare Bailey.
We had 6 more Series finishers after the Tortoise and Hare race. Jim Dollar, Dave Anderson, Phil Sturholm, Keith Lerew, Louise Mihay and Robert Davies. We now have 6 races left on the 2019 GP Series schedule.
        Congratulations to Steve Husko who has won the Men's 65-69 Age Group for 2019.
_______________________________________________________________________________
Race Results in Photos by Bruce Fisher
_____________________________________________________________________________________
                         T

he

Potluck and

A

wards
by Gretchen Ramsdell
with photos by Bruce Fisher
10/9/19 – Tacoma 
The potluck and awards party was the perfect ending to a fun and exciting race.  The Tower Lanes Entertainment Center was the best place ever to have our venue.  They had a good sized room with plenty of kitchen space for the food and nice, large round tables, good for comfortable seating, as well as an easier way to get around (rather than those long tables).
As usual, Nanci Larsen outdid herself with awesome Fall table decorations. Each table had a Harvest placemat with a bucket centerpiece of autumn colored ferns with little decal inserts of Silver Strider runners and "running" quips. It was surrounded with autumn leaves plus cute little gourds and pumpkins and other decorations.  If that wasn't enough, the coup de grace was a generous variety of Halloween treats scattered all around.
Allen Walker made the introductions and showed a video of all our group photos from our races for the 2018-2019 Silver Striders series. By then, we were chomping at the bit to eat.
The potluck luncheon is always a big hit.  There are a lot of good cooks in this group.  It was a delicious smorgasbord.  There were the healthy choices of tuna, shrimp, shiskabobs, and wonderful salads; fried chicken and those irresistible deviled eggs; and sweet bread and pastry.  For dessert:  decadent chocolate cake with whipped cream and tons of brownies were the hits of the day.  Patty Husko didn't disappoint with her bottomless amounts of cookies and brownies with invites to use her baggies to take extra ones home.  Thank you, Patty.  Of course, we had good coffee and plenty of choices for drinks, too.
After lunch,  Jerry Dietrich took over the awards ceremony, as well as Bruce Fisher, with Betty Dietrich, (who ordered all the lovely T and H Grand Prix trophies), who did a major support job, along with Judy Fisher who helped.
I won't go in to all of the awards given, as one can see them listed separately on the Silver Strider web site.  Let's just say: there were Century Club plaques given, announcements on the 8th race finishers, and the top 20 Grand Prix finishers awarded for the Tortoise and Hare race.
Besides all of the above, Jerry and Bruce had yet to pick the winners for all the raffle prizes, and there were many, including Baskin and Robbins ice cream, putt putt golf games, dinners out to restaurants, such as Applebee's and Red Robin, plus more.
Then we had the final pictures by Bruce Fisher along with his antics.  Fortunately, he didn't fall off the chair he was standing on.
At the end of the affair, I think everyone felt like a winner, and we all felt happy and lucky to be part of this warm and supportive group.
______________________________________________________________________________
A message from John Phillips…
Thank you so so much for the run yesterday.
It was so much fun for me, maybe the most ever.
Yes, I had a 5K PR 24:38 and one would think that was why. Not so.
It was the joy in running with and knowing every single competitor and participant in the event.
It was so much fun during the run, saying hi or waving or chatting with almost everyone there.
It was a very unique experience for me and I throughly enjoyed it.
This is my first season as a Silver Strider, so this all may be old news to you, but not to me.
So thanks again for all you are doing.
And like you said, Jerry, people have noticed it almost a million times. I am happily included among of them.
John Phillips