the Silver Strider online presents
R

ace 

R

eports 
brought to you by
    7210 Greenlake Dr N, Seattle, WA
   16095 Cleveland St., Redmond, WA
                          The Whale Of A Run 4 Mile Run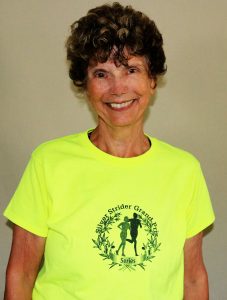 by Betty Dietrich
with photos by Bruce Fisher
7/28/18 – Silverdale
The Whale of a Run 4 Mile race is one of the highlights of the Whaling Days Festival in Silverdale.  The town of Silverdale goes all out to welcome runners and walkers to this annual event. Along with the 4 mile race, there is also a 1 mile run and a kid's dash.
This year, 270 finishers completed the 4 mile run and 31% were Silver Striders. Registration and packet pick up, held in the Sears parking lot, went smoothly with a crew of smiling volunteers.
The pre-race atmosphere was filled with excitement as a professional DJ pumped up the volume. One of the best features of the event was the energetic aerobic workout held before the race. It was a great way to warm up stiff muscles and joints.
Extremely hot weather was predicted. To everyone's relief, on the morning of the race there was cloud cover and comfortable temperatures in the high 60's.
The Whale of a Run began and finished on the main street parade route lined with a cheering crowd.
The first mile was fairly fast with the first half being slightly downhill. The second mile contained the "Big Hill" which seemed to go on forever. The third mile featured rolling terrain. The 4th and fastest mile featured a nice downhill section, followed by the final stretch to the finish. A water station was set up at the 2-1/2 mile mark.
Traffic control was expertly handled by the police department and a team of volunteers.
Carol Sexton, age 60, was the first female Silver Strider to cross the finish line. Her time was 28:27, which shattered the course record for Women 60-69.
The first Silver Strider was Paul Fletcher. He finished with a time of 24:51.
Crossing the finish line, runners were treated to a food extravaganza: apples, oranges, bananas, protein bars, donuts, bear claws, and popcorn.
Timing was provided by RaceWire and gun time was used to determine the awards. Plaques were presented to winners in 10 year age divisions, with ribbons to the 2nd and 3rd place finishers. Age divisions went to 80 plus.
Local merchants donated some great prizes for the random drawings held during the awards presentation. Big stuffed whales with gift certificates attached, were given to the lucky winners. The grand prize was a beautiful mountain  bike.
Many thanks to Greg Chapman, the race director, for once again putting on an outstanding race. Greg is now living in Spokane and is retiring as director of this event. He has always done an excellent job in making the Whale of a Run a truly enjoyable experience for the runners. He will be missed!
Here are the results in photos by Bruce Fisher
After the race, Silver Striders celebrated birthdays for Nancy Larsen and Bruce Fisher at the  Yacht Club Broiler. The Highlight was delicious strawberry shortcake by Audrey Kirkwood.