the Silver Strider online presents
R

ace 

R

eports 
brought to you by
    7210 Greenlake Dr N, Seattle, WA
   16095 Cleveland St., Redmond, WA
                        The Tortoise and Hare 5k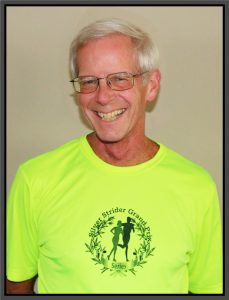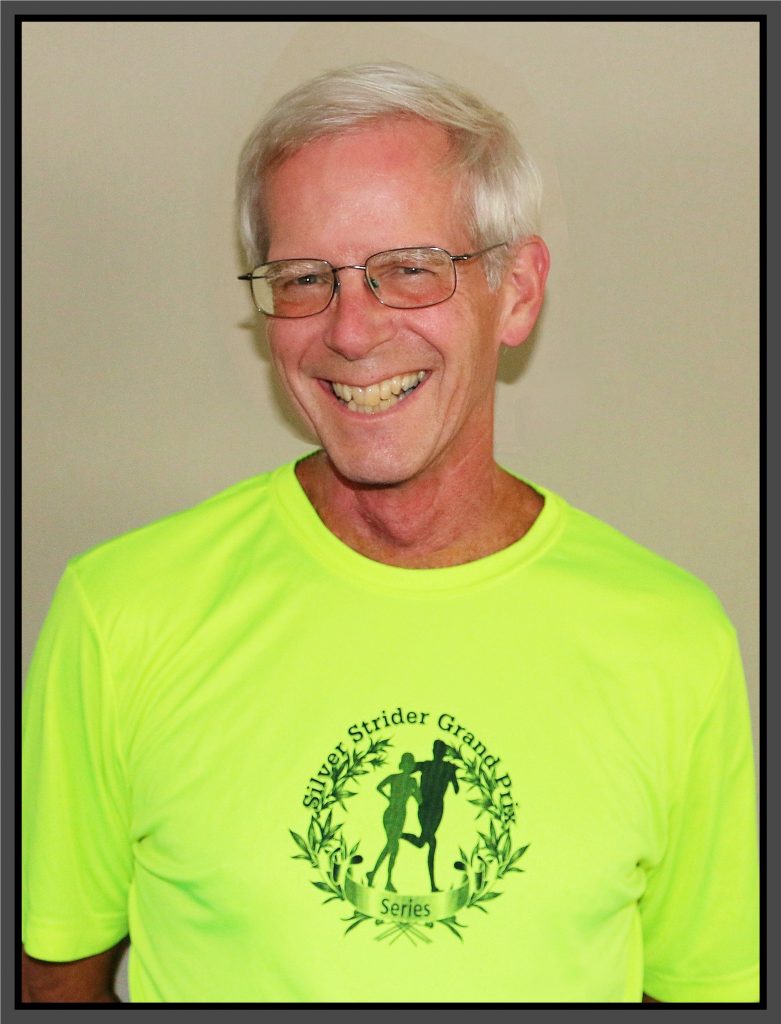 "THE HARE"
by Dave Sherman
with photos by Bruce Fisher
The Silver Striders Tortoise & Hare 5k has become one of those classic races that I look forward to each year. As an untimed handicap race, it is different from all the other races we run.
For this race, each runner's start time is established based on their times in several races earlier in the year. The theory is that the slower runners start sooner, and the faster runners start later, with everyone reaching the finish line simultaneously. The goal is to be in the top ten for your gender; men and women have separate races.
There is no such thing as age groups or overall finishing positions or even finishing times. Each year, it is interesting to see how the handicapping works out. Sometimes everyone does arrive at the finish at about the same time, and some years things seem to be more scattered.
This year, I had a bit of a complication to factor in. Charlea and I were running a challenging half marathon the next day in Oregon, so I wanted to not push it too hard in this race. I sort of had a Plan. I intended to hold back a bit, then see what the field looked like as we approached the finish. I would only speed up if it looked like there were a bunch of guys that I might be able to pass at the end.
I was Hare #3, meaning I started third from last. The two guys behind me were a whole lot faster than I am, so I was hoping they had to wait awhile once I started. But knowing how fast they were, I was pretty sure they'd soon pass me, and then I'd be dead last in the race. Nobody wants to be dead last. I figured my only chance of holding them off for awhile was to go out fast enough to establish a good gap on them, so away I went at an extremely unsustainable 6-minute pace. You will note that I forgot about the Plan before I even left the start line.
After maybe a quarter mile, I had the sense to throttle back to a more realistic pace. It only took about a mile before the fastest Hare passed me. A mile later, the second fastest Hare passed me. I hadn't passed anyone, so was in dead last place. But at least by this time, I could see slower runners ahead, so there was hope. By the time we got to the final straight stretch, I had passed a few people, including Charlea. A considerate husband, especially one that plans to conserve a little energy, would've run it in with Charlea. That never occurred to me.
By the time I could see the finish line, it was apparent that all the guys ahead of me had either already finished or were about to finish, and there was nobody that I could catch. This was the perfect opportunity to slow down, save energy and cruise it in. But, no. Look, there's Judy! I can pass her (not that she's even in the same race)! So, I sped up. Look, there's Sandi! If I sprint and dive across the finish line, I can beat her! As I finished, I collected my 15th place stick.
My only hope is that I'll get wiser with age. It's bound to happen someday.
_______________________________________________________________
            
 "THE TORTOISE"
by Joan Torfin
with photos by Bruce Fisher
It was a cool and fog shrouded Saturday morning for the Great Silver Strider Tortoise and Hare fun run and potluck.
The warmth of friendship was everywhere as we gathered together at Ruston Place in Tacoma.
That morning was bright despite the fog, with lots of color as the Striders began the staggered start and Jerry sent us on our way.
Betty greeted us with smiles and cheers at the turn-around.
It was such a Happy Day for our group and was topped off with a Potluck Feast afterward.
Many thanks to Jerry, Betty and Flash Fisher as well as our runner/volunteers for making such a fun and memorable experience!
          "THE RACE"
          Photos by Bruce Fisher
We had two more 2018-19 Series finishers, Larry Larsen and Jerry Bronson. Larry and Jerry are both members of the Century Club.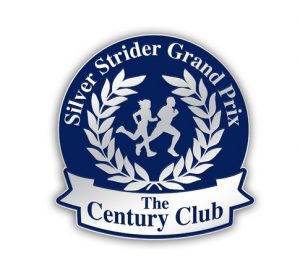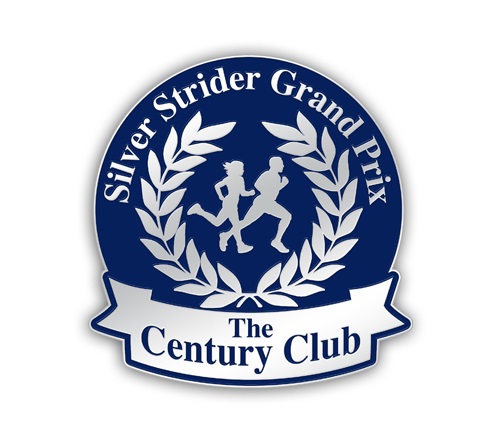 "THE POTLUCK"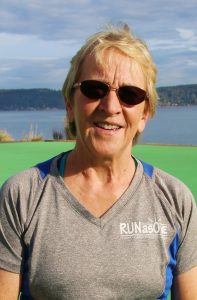 by Diane Martin
with photos by Bruce Fisher
    
Wikipedia describes a potluck as a communal gathering where each guest or group contributes a different, often homemade, dish to be shared. Although that's true, in our case it's so much more.
Entering the Highland golf course clubhouse, we are embraced by a warm welcoming mood. Thanks to Nanci Larsen who , once again, has provided a fall festive atmosphere with bright autumn table decorations. And with the help of hubby Larry and the Dietrich's, the room is ready and waiting for our annual fall get together.
Quickly, the food table is laden with delicious dishes. Thanks once again to Nanci who sees to it that there's a wealth of variety. It doesn't matter if you're vegan, vegetarian, or gluten-free, there's a dish for every appetite….Julia Childs eat your heart out. But let's not forget the luscious deserts and even brownies to take home…thank you Patti Husko!
Betty and Jerry are busy at the front of the room. They've put a ton of work into this shindig. Months of organizing, scheduling, purchasing awards and asking for prizes, plus tallying scores from the morning race. Bruce is keen to make sure every mug gets their picture taken, while Sandy Madden provides everyone with a potential winning raffle ticket.
Finding a seat is easy as there's room for all. I love to come just a bit late to explore a seating option. It's so much fun to sit by people I don't know well, as I love to hear their story. My first question is usually, "So how did you get started running?" Plus there's the Tab Wizard's group who share their memories of the August trip to Vietnam; what an opportunity! Just being with running buddies is super.
Runners come lately, the Bailey's show up. Tiare has finished her 100th Half Marathon this morning and came to share in her celebration. She was awarded the cutest hat that looked absolutely adorable on her.
Following a full tummy, Jerry begins the awards ceremony. The only Grand Prix race that allows some of us "slow" runners a chance to beat our nemesis. Ten lucky male and ten lucky female runners are announced to receive their award and have their picture taken with a trophy. Each group of male and female winners were treated to a photo op by Bruce.
Those who did not win the race still have a chance at winning some valuable gift certificates so hold on to your ticket. Pacific Grill gift certificates…..wow! Plus Patti collected $2 each from those who want a chance on the 1.6 billion lottery. Looks like I'm still driving my old Prius.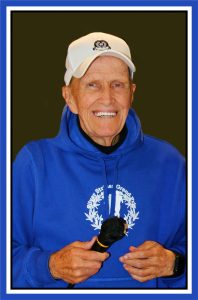 Along with one of Jerry's jokes (groan and laughter), there's announcements. We were told back in May that there would be a big announcement.
The Grand Prix series will now follow a calendar year, beginning in January 2019. Jerry explains we will still continue the 2018-2019 Grand Prix series that we are currently racing, but come January we will also start the 2019 series. January race points will count for both series…..but this was not the big announcement.
Jerry then tells us that he and Betty will be retiring from the Grand Prix Series at the end of 2019. Of course, there was a moment of silence as we let this news sink in. Betty reminded us that she and Jerry have taken on this token of love for 10 years. And Bruce stated the amount of work that is put into each and every race…28 races in our current series! How grateful we are to have such a dedicated couple that puts in this labor of love. Plus there's still 2019 to enjoy.
Bruce makes sure each face is seen in our big group photo as we finish and clean up as thoughts swirl through our heads of how much fun we've had at another great potluck!