the Silver Strider online presents
R

ace

R

eports 
brought to you by
    7210 Greenlake Dr N, Seattle, WA
   16095 Cleveland St., Redmond, WA
                   The Tacoma City Marathon
                      "Walk with a good heart and you will run with success" 
4/30/17 – Gig Harbor to Tacoma
There were many stories told at the Tacoma City Marathon. At the suggestion of Sandra Madden, we decided to ask seven of this year's finishers to share their thoughts.
Our thanks to Charlea Sherman, Sandy Madden, Fred Beavon, Patty Husko, Steve Husko, Judy Fisher and Jerry Bronson.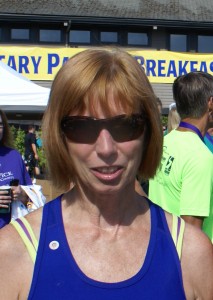 CHARLEA:
I had the honor of sharing my first marathon with our Ms. Grand Prix, Patty Husko. It was also her first marathon. She said it will be her last but don't count on it. We were almost hit by a deer bouncing across the path in Point Defiance and almost stepped on a decomposing raccoon. We both enjoyed the great weather but not all of the hills.
SANDY:
I ran TCM two years ago. I decided to run this year in support of the Striders first time marathoners, Steve and Patty Husko. This amazing  and dedicated couple have completed every Strider race this season. Charlea Sherman was also running her first marathon as a companion and support system for Patty. No way could I miss this incredibly altruistic experience!
The beginning of race day was similar to 2015's run. Plenty of buses transporting us to Gig Harbor airport. The big difference was the weather. Last time we were slathering sun screen on each other. This year we were taking refuge wherever possible to avoid the freezing wind and cold temperatures. As I huddled with others in a warm bus I was thinking how small the turnout; no photo shot of dozens of Marathon Maniacs as previously.
After the welcomed start, everyone was grateful to get moving and get warm. Runners were tightly packed until crossing the Narrows Bridge. After that it was pretty much a solo run. Runners drifted out at their own pace and bystander turnout was much less than I recall. I was thrilled to see Patty and Charlea by the Fleet Feet shop, stretching and fueling up. Big hugs were shared by us gals. I trotted on and a couple of miles later caught up with Fred Beavon. His huge warm smile was a treat for the "sole", as chatting with a fellow Strider, boosted my morale.
Running thru the hilly Point Defiance Park at times required bread crumbs or a map. At some turns the route to follow was not obvious. We ran over a muddy grassy section twice. I got the feeling I was in the wrong place and had to slow down and get my bearings.
Post park and heading toward Ruston Way was again shy of support. Does a runner really need someone cheering them on? Yes! The crowds are motivating. Just prior to Ruston, about mile 20 or so, I saw Jerry Bronson running toward me. In the wrong direction. He had missed a turn in the park and was heading back to make up the miles. This would result in a 28 plus mile marathon but that's his story to tell.
Around mile 22, I caught up with Steve and his daughter. We rolled our eyes at each other, acknowledging our mutual fatigue. But Steve looked determined and had his guardian angel by his side, so I had no doubt he'd continue on strong.
After conquering a couple hills on Dock Street, I flew downhill over the finish line with a group of Striders, including Betty and Jerry, welcoming me home.
My thoughts about this years TCM: Attendance seemed small and support reduced. It was easy to get confused in the park, especially as you were often alone. The run thru mud and grass was not appealing. And those hills! I had buried that memory.
But finishing with your friends applauding your success was priceless. And there was plenty of pizza, fruit, and sweets to nibble on.
The highlight of the day, though, was cheering on my fellow Striders at the finish, especially the Husko's and Charlea. The success of my TCM was observing the relief and pride of these first time marathoners. It was an honor to be a part of their marathon memory and Strider history.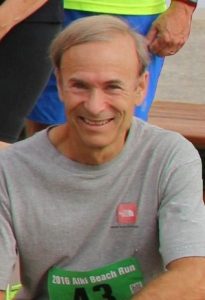 FRED:
Having done the TCM five years ago, it was time for a repeat to try out their new, improved, net downhill course. Driving from Edmonds, my alarm went off at 2 a.m. I parked next to Cyndie Merten, of Oregon, doing her 414th marathon, mentioning to me only 32 others in the world have done more. She was inducted into the Marathon Maniacs Hall of Fame in 2014.
Crossing the Tacoma Narrows Bridge was a real treat, but the most scenic part of the route is Tacoma's Waterwalk. Turning around on the hill after the bridge, the beautiful snow draped Olympic Mountains were in view. It was unexpectedly sunny right from the start, so my upper lip got slightly burned. The only shade was in Point Defiance Park.
The University of Puget Sound was new to me. While in deserted Fraternity Row, a snippet of conversation heard among two women was, "Where is everybody?" The other replied, "Probably sleeping off their hangovers." A deer, soon afterward in a homeowners front yard, appeared most out of place. Surely an escapee from Point Defiance Park.
It was fun catching up and running with Sandy momentarily. Would have liked to have done the same when Steve and Judy zoomed by, but they were gone in a flash.
Quiet Point Defiance Park was most pleasant. When saying, "You don't have any company" to a a volunteer there, she replied, "I have nature for company".
I felt empathy for a person who got off route in the area, having had that happen to me in the Vancouver, USA marathon.
The most common phrase heard at every race is, "good job". I knew it was coming and sure enough, it didn't take long. It's probably only said to the slowest.
Some did the Ghost of Tacoma marathon the previous day. Those are the real "maniacs", those doing back to back marathons on a weekend. I should become a lifetime member, since I qualified in 2012, but only at the lowest, pitiful, one star, bronze level. One of the back to back marathoners came up from behind near the end and I thought surely I can keep up with her. I did for awhile, until she pulled ahead. Sheesh!
With a right knee and left heel not at 100%, I only trained for a pathetic seven hour time, my slowest of eleven.
It was a surprise seeing the Dietrich's, Molly Childs, Dennis Zaborac, Audrey Kirkwood, Huong Delabar, and others still at the finish line.
The attractive, hefty medal in blue, gray black and yellow, depicts Tacoma's iconic Union Station, the Tacoma Narrows Bridge and the City Hall clock tower.
Surprisingly, there was still lots of edibles left. I was even told to take an entire pizza, but passed. All that white flour. Ugh!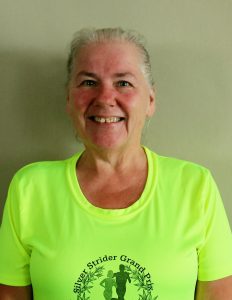 PATTY:
The Tacoma City Marathon! What a long uphill battle! Yes I was told lots of hills, but I've always believed with an uphill a downhill would follow. My gosh! where was I? I must have been sleeping, I can't remember them.
This marathon was a great challenge for me. I believe I achieved my goal, not because of my abilities but, by sheer determination and most of all Charlea. She was my cheering squad, nutritionist, masseuse and friend.
Upon finishing the run, I was reminded of a verse in a fortune cookie I opened a few weeks back:  "Walk with a good heart and you will run with success."
I'm sure it was speaking to me because unbelievably I finished and became a MARATHONER (at least a one time marathoner).
Thanks to our Silver Strider Family for their support and cheers at the finish line. It meant more to me than I could ever express.
STEVE:
The Tacoma City Marathon started out with much anticipation and excitement. How hard can this be?
With much honor I ran a distance with the legend, Judy Fisher. Much to my disappointment, that did not last as long as I had hoped.
As I watched her disappear in front of me I entered the "CAVE OF PAIN" at mile 15. From that moment on it would be an ongoing struggle.
After exiting the Point Defiance Park I was overtaken by another  legend, Sandy Madden. Our daughter was amazed by Sandy's efficient running form.
At this point all I could think of was, what did I get us into and how do I get out of this "CAVE OF PAIN?" Simple or maybe not so simple, finish the race.
At the finish I was filled with self accomplishment as I was congratulated and hugged by our wonderful Silver Strider Family.
JUDY:
This was my seventh TCM, but I think I enjoyed this one the most. The route has changed for the better!
It takes in more of Ruston's beautiful waterfront and eliminates a very steep hill near the finish. The view from the Narrows Bridge is absolutely awesome. Running through Point Defiance is a treat every runner should experience. Tacoma's attractive north end neighborhoods add a welcome diversion. The route has a net elevation loss, but the run is hilly.
The Perks:
Beautifully sung National Anthem by fellow runner at start
The gorgeous sights along the route
Net downhill
USATF Certified for distance
Challenging
IRC Blues Brothers water stop (always fun and uplifting)
Rouge Timing (prompt and accurate)
Nice size (but sadly the number of participants is dwindling – 298 this year, 455 in 2016)
Well supported by volunteers and community
Pizza at the finish (but not for vegans like me)
Stan's Rockin' Band at finish
Free entry in 2018 for age group winners
Instant results at finish
Non-Perks:
No shelter at Start (wind was very chilling), since the hangar is no longer available
No Expo, thus a very subdued packet pickup
Route through Point Defiance not always clearly marked (restricted per park regulations?)
Summary:
I am always hesitant to find fault in a race. I am aware of how much extensive thought and effort is involved in planning and executing such a huge event. Gratitude must be expressed to the race directors, volunteers, sponsors, community, and the officials who keep us safe along the route.
Sometimes I think we have the easy part – we just run or walk.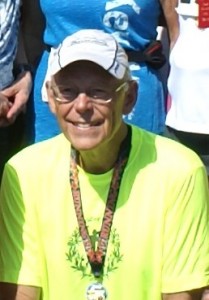 JERRY:
Sunday morning, April 30, I found myself standing on the tarmac of the Tacoma Airport, waiting for the start of the 2017 Tacoma Marathon. There was a definite chill in the air and the brisk wind made it feel even colder, but the sun, still low on the horizon, was partly out and for a change, chances of rain were very low. As this was the last official Silver Strider race for the 2016-2017 season, other silver striders were there, most very experienced marathon runners.
After my last marathon, Boston in 2011, I was convinced I would never do another one. Boston was an amazing experience and a fitting cap to my short marathon experience even though I struggled at the end and had a relatively disappointing time.
However, time goes by, things change and new ideas come along. A big change for me was the discovery of the Silver Striders through the magazine I picked up at the Balanced Athlete Running store, now at the Landing in Renton, where I had started doing their Sunday group runs back in 2009. Starting to do the Silver Strider runs and collecting points towards the goal of 80, I found my running miles substantially increase, and just as importantly, my circle of running friends also greatly increased.
With the demise of the Northwest Runner magazine, I noted that the Silver Strider website now had its own South Sound Top 10 list. Looking at my results for 2015-2016 (a relatively poor running year as I struggled with my motivation in the first half) and early 2017, I realized all I needed to do was just finish a marathon to have an excellent chance to be designated a "Super Athlete" (in my case, a misnomer if there ever was one) by making the list in all four racing categories. Thus, the idea of doing another marathon started to grow in my mind and as a result there I was at the starting line of the Tacoma Marathon.
The race began right at 7 am and off we went. I was somewhat surprised by the low number of runners; I had done the Tacoma half marathon 4 or 5 times since 2009 and it seemed to be quite a big field and I had assumed the full marathon was similar.
The first part of the course was mostly a downhill grade until the Tacoma Narrows Bridge and I was careful to keep my speed in check. Once on the bridge we were hit by a strong cold wind that made me take my cap off rather than having it blown off.
After the bridge was the first hill leading up and over Rt 16 and to the neighborhoods to the North. My plan was to walk all hills and also stop and walk at all water stations and anywhere else when I thought I needed a rest. This neighborhood area was the nicest part of the course; neat, well maintained homes and lawns with an abundance of spring flowers, especially flowering fruit trees. I was feeling great and the miles were slowly ticking by.
Somewhere before mile 13 I heard my name being called and I saw Patty and Charlea taking a break; they had done the early start at 6 am. We chatted briefly and little did I know then I would be meeting them on the course more than once again.
I continued on, gradually realizing there were fewer and fewer other runners around me. As I approached the entrance to Point Defiance Park, I knew I was likely to be running the rest of the course all by myself. There were police cars with flashing lights and a fair crowd of people there at the park entrance. At first I didn't see the arrow for the route, but the officer there pointed to the left, and I saw the white route marker on the ground. As I left the group of people, I heard someone comment "you are on the first of two loops". This was strange. I knew from looking at the course map beforehand there were quite a few miles within the park, but I didn't remember anything about two loops.
I continued on through a grassy area and then found myself behind the Japanese Pagoda. There was no volunteer there nor route marker anywhere that I could see. I had no idea which way to go, but the comment about two loops was in my head. Was I supposed to back to the entrance and then go back into the park again? I had to do something, so I slowly started back along the road to the entrance. That was my crucial error. Up ahead I saw a lot of faster runners coming down a long incline. I knew I didn't belong over there with them but an officer motioned me across the road and I slowly went around a corner. Up ahead I saw the 20 mile marker and at the same time Sandy Madden came by. We were both surprised to see each other and I told her something had gone terribly wrong, I had lost the course, my watch said I was at mile 15 while the course marker said it was mile 20.
There was absolutely nothing I could do but go back into the park, and search for the course. Back around the Pagoda again, I finally noticed a white trail marker leading to a fairly narrow trail through some high bushes. I was back on course, but about 25 minutes and just over two miles later than I should have been!
The route through the park seemed to take forever, there was no one else around and then I saw two people up ahead. It turned out to be Patty and Charlea, very surprised to see me again. I told them what had happened and went on.
After a quick restroom stop and taking time to take off my long sleeve T shirt and put my short sleeve shirt with my bib back on, I was off once again and quickly passed Patty and Charlea for the third time. I made it out of the park, down the incline around the corner to the 20 mile marker (for the second time!). Only 6.2 miles to go, except I had already gone 22.1 miles, so my marathon distance was going to be 28.3 miles. Down to Ruston and along the waterfront and the long flat sidewalk by the water.
By now, I was getting tired, my pace was getting ever slower and my leg muscles were beginning to cramp. I was down to a walk for most of the rest of the distance, but I finally made to the bridge over the 705 freeway, around a couple of corners and then down a slight incline to the finish line.
A number of Silver Striders were there to cheer me on; Sandy, Dennis, Jerry and Betty as well as some others. As I explained what happened, Dennis said I was already for an Ultra, but all I was ready for was a long soak in the jacuzzi tub and an early bedtime.
Even though my time was almost 6 ½ hours, I had achieved my goal; comfortably in the middle of the pack on the Top 10 list to date, and even if I hadn't gotten lost, my time for 26.2 miles which I carefully noted on my watch would not have moved me up a spot at all.
I was feeling quite good about the experience, but as the days went by, it began to bother me knowing my official time was not representative of what I could do. Could there be another marathon for me in 2017? Should it be relatively soon, within one or two months taking advantage of what might be called a 28.3 mile training run? Or would it be risking an injury, doing too much too soon as my wife keeps reminding me? These questions are all open and the answers will have to wait for another story at another time.
Noteworthy

The Tacoma City Marathon in pictures
by Bruce Fisher