the Silver Strider online presents 
A

RTICLES
 brought to you by

Route 16 Run and Walk Shoe Store
6745 Kimball Drive, Gig Harbor
                          The Marathon Novice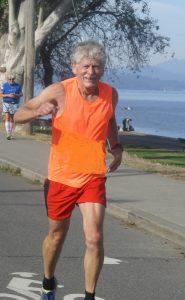 By Dennis Zaborac   
       5/2/20

…… Stooped over, and looking like the hunchback of Notre Dame, he pushes forward.
His arms swing slowly, his knuckles nearly touch the ground, and his head hangs low. His eyes see only the asphalt beneath his feet. It is his first marathon. He is learning how lonely and challenging the journey can be.
He is a human salt shaker. His face is red, burnt, and encrusted with salt as if he were dragged face down across the Bonneville Salt Flats. Grains of salt sprinkle down from his face with each step he takes.
The sweat from his body cascades down like the waters of Niagara Falls and pours into his shoes. His socks are soaking wet, creating blisters on blisters, each one larger than the one before. Nevertheless, he moves on.
His legs cramp up. He twists, tumbles, and turns with each wave of contractions. To the people watching, his strides begin to look more like break dancing than running.
His breathing is labored. The intense throbbing of his heart reverberates as loud drumbeats inside his ears.
He glimpses at his Garmin to check if he still has a pulse. He is fifty beats over his max heart rate and feels "the Big One" may be coming.
Someone with a laugh, hollers from the sidelines, "Looking Good!"
He does not respond. He knows he is the NASCAR wreck the spectators have come to watch.
He pushes ahead.
An old man, twice his age, looking in need of an ambulance, walks by, smiles, and says, "Thank you. You're the first person I've ever passed in a race."
He watches the old man walk away and thinks how pitiful it is to be passed by someone more pitiful than yourself.
He looks back and sees that there are no other runners behind him.
He pushes onward.
His stomach gurgles, shakes, and quivers like a pre-explosive Mt St. Helens. He realizes he shouldn't have eaten four energy bars, six different flavored GU, and then drink three shots of Fireball.
Up ahead, he sees a mile marker and staggers to it. He is eager to learn how far he has run. He thinks he might have missed a milepost or two.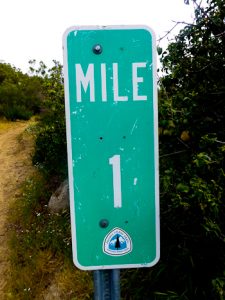 He didn't miss any.
Disheartened by the sign, he knows it is time for a reality check. He is not going to qualify for Boston, win his age group, or find any food at the finish line.
Should he go on?
"Yes! I've got this", he rationalizes. "I've trained 1000 miles. I can go another 25."
He believes he has found a second wind. His confidence returns. He stands taller, runs a little faster, and adds a slight bounce to his stride. But his newfound strength is fleeting.
As he approaches the two-mile marker, he has the look of a worn-out runner approaching the 20-mile marker. He shuffles forward, turns a corner, and hits the "wall."
A strong headwind meets him and pushes him back. Heavy rain and hail pelt him from darkening thunderclouds, and before him stretches a hill that rivals Heartbreak in height.
He stops running, shivers in the cold, and looks in disbelief at what looms ahead of him. He knows the conditions are too formidable to conquer.
He pulls down his cap, tucks in his shirt, pulls up his socks, and tightens his shoelaces. He then takes a deep breath and bends into the wind. 
      Stooped over, and looking like the hunchback of Notre Dame, he pushes forward.