ARTICLES
 brought to you by

Route 16 Running and Walking
6745 Kimball Drive, Gig Harbor
Starting A New Chapter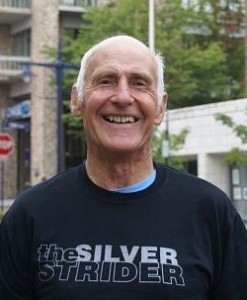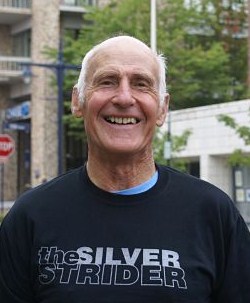 By Elbert Field
All athletes at sometime decide to modify their physical activity.
In 2011, I decided that the only racing I would do would be the 5k distance or less.  Since then I have been walking for one hour each day at a good pace as part of my exercise program.
In April of 2017, on my 78th birthday, I decided to retire from all running. Walking and running has been part of my healthy lifestyle for 36 years.
Now, when running, my knees may send a message to my brain, "We don't enjoy this so much anymore. Do we have to run?"
I plan to continue to do some events in the future as a walker.
I want to thank all the people in my age group that have been great friendly competitors since 1981. I hold the greatest respect for all athletes
___________________________________________________
From Jerry's desk:
This brief article by Elbert Field triggered my thoughts on transitioning from running to walking. Elbert has informed me that he will enter the Kent  Cornucopia race in a few days. He plans to walk the 5k distance at a brisk pace.
The time most athletes entertain thoughts of making the transition is after age 75. Running slows and recovery gets a little slower. Then the time difference between running and walking starts shrinking drastically. Sometimes, like Elbert, it is a recurring injury that helps us decide that walking is best for us.
Walking requires a runner to set aside his or her ego and do what is good for their health and fitness. After many years of competitive running, it is difficult to enter a 5k and join the walkers.
Any doctor will tell you that walking is man's best form of exercise.
Also, the benefits of social interaction with friends cannot be underestimated. The Silver Striders are a wide ranging group of runners and walkers who use the races in the Grand Prix Series as motivation to continue their fitness activities. Getting together with friends with similar interests is beneficial, especially if it involves physical exercise.
The athletes in the following photos are all over 75 years of age and still entering races. Whether they walk or run is not important. The important thing is that they are engaged in fitness training that permits them to compete at their own level.
Here are some of the athletes who continue to be inspirational to us all.
A Silver Strider salute to the athletes shown above. They have raised the age barriers that society had placed on them and given all athletes the inspiration to raise their goals to new heights.