the Silver Strider online presents
                      M

emory

L

ane

  
Brought to you by
SPONSORSHIP AVAILABLE
The Finish Line
by Dennis Zaborac
It is said in Boston that "the start line of the Boston Marathon is greater than the finish line of any other marathon." As one who has stood at that start line more than once, I don't entirely agree with that belief.
Getting to the start line of Boston is undeniably a remarkable achievement. It is the holy grail of marathon running to "BQ." It takes guts, heart, and soul to get there. And while it is an honor to be standing among the best runners in the world at the Boston start, crossing the finish line of any race is more gratifying to me, because racing, like many things in life, is all about the finish, not the start.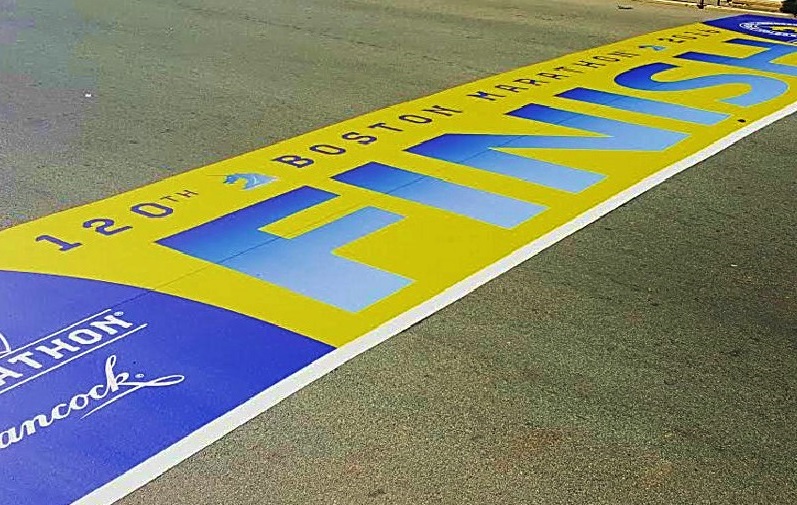 In running, it doesn't matter how you cross the finish line. If you stagger over it like a drunk, crawl across it like a snail, or float over it like a butterfly, it is all good. It doesn't matter whether you cross that line at the end of a 5K or at the completion of a 100-mile Ultra. It doesn't even matter where you finish. It could be at the iconic Boston Finish line, or through the grandiose Brandenburg Gate of Berlin, pass the Emperors Palace in Tokyo, or just a step over a chalk mark on an asphalt parking lot of a nearby elementary school. What matters is that you finish.
We may struggle to get to a finish line. We may hate the hills we had to endure to get there. Every muscle in our bodies may hurt when we cross it, and we may have failed miserably in our PR attempt. But when we first catch sight of that finish line, we become like kids discovering the golden arches ahead. We know there is a happy meal with a toy waiting. Medals, trophies, ribbons, and t-shirts are the toys we get. Bagels, bananas, cookies, soups, and fruits are our happy meals.
But there is more to life than a happy meal.
What really matters on the other side of the finish line, is who is there waiting for you. Crossing the finish line of a small local 5K into the smiles and arms of your family is much more rewarding than running past a million unknown spectators en route to an age group award in an international marathon.
With that in mind, my most memorable race took place over a year ago last fall in Erie, Pennsylvania. After running more than 50 marathons, for the first time, there was going to be an extraordinary person waiting for me near the finish line. My mom.
At the time I started running races thirteen years ago, my mother was nearly 80 years old and didn't get outside of her house much. Although she never met me at a finish line, she did show great interest in my running endeavors, and like all mothers, cautioned me to be careful of my legs.
My mother left her hometown of Erie, Pennsylvania during World War 2 to join the Navy Waves. With the name Rosella, she was a genuine "Rosie the Riveter" in the early part of the war. She worked in a bullet factory before joining the Navy.
She met my father, a navy man, in Seattle during the war and they married and settled down in Seattle after the war. We grew up with stories of her childhood days in Erie. She always talked about wanting to go back to Erie. After my father died nearly three years ago, she spoke even more about her desire to go home.
So two years ago the family took her back to Erie. She settled down into a place across from the amusement park she loved as a child. We knew we didn't have to worry about her because there were so many family members in the neighborhood.
A year ago, for the first time since my mother left Seattle, I went back to visit her. I planned my trip around the time of the Erie Marathon. Knowing my mother would be near the finish line meant a lot to me.
When I first signed up for the Erie race, I considered it to be just a small town event. The marathon was capped at 2000 runners. It was two loops along a narrow one-way road that circled the Presque Isle State Park. The park itself was situated on a small peninsula that stretched out into Lake Erie. Until I got to the start line, I didn't realize the importance of the race.
It was one of the last chances to qualify for this year's Boston Marathon. Being a fast, flat course, people from all over the world came to run. Forty-three percent of them ended up qualifying. That was the highest percentage of Boston qualifiers in any marathon except for Boston itself.
My personal goal was much more modest than a BQ. It was going to be a challenging race for me. As an experienced runner, you can't lie to yourself. Coming off an injury, and having run my last two marathons in over 5 hours, I was hoping to go under four and a half hours. It would be a starting point for a run at a BQ later in the year. I was counting on my mom being near to motivate me to run faster than I was trained to.
The race started at sunrise. It was cold, and a little windy, but the rain that hovered around stopped just before the start.
I planned to go out with the 4:10 pacer and hang on as long as I could before I slid back 20 minutes. Despite 13 years of running marathons, I have never been able to run anywhere near an even pace. I bank minutes and then crash and burn just like the books say you will. For me, the wall has always been at 15 miles, not 20.
The course was a beautiful run along a narrow one-way road through a forest and along the sandy beaches of Lake Erie. Although it was a thirteen-mile loop twice around the peninsula, in reality, it was more an out and back two times. The cape was so narrow, at points along the run you could peer through the trees and view the road you had just run the opposite direction on.
Although my mother had never returned to Erie for decades, I did pass through the city several times during my backpacking days. With aunts, uncles and a grandma around, it was always a good refueling stop. During those journeys, I visited Presque Isle several times.
In my struggle around the first loop of the marathon, at about mile 6, I caught sight of a small beach that brought back memories of one those Erie trips in the 1970's. I remembered standing on that beach on a hot summer day and finding a bottle with a note in it floating along the lake's edge. It was a Budweiser beer bottle and apparently hadn't been in the water too long because the paper label was still attached. Inside the bottle was a note with a name and an address, and a request to write back to the sender. From the printing and the name, it was evident that the writer was a young girl in grade school.
I put the letter inside my backpack and carried it with me when I left Erie to continue my hitchhiking trip around the world. Three weeks later, while in Iceland, I sent a postcard to the little girl and told her I had just found her bottle along the Atlantic coast of Iceland. I included my mother's address.
When I returned to Seattle nine months later, there was a letter waiting for me from the little girl. She wrote to me about how she was 10 and had shown the postcard to her teacher and her class, and about all the attention she had received from everyone at the school. Apparently, no one considered how, or if a beer bottle bobbling in Lake Erie could find its way to a cold beach in Iceland.
The memory of that little girl helped carry me through miles six to nine. As I ran, I thought of how happy that small child must have been back then. I imagined her being more popular than the "Duncan" yo-yo man doing tricks at a recess in a schoolyard during the 50's. I wondered if that little girl, now in her fifties might be one of the spectators along the route, or perhaps a runner next to me.
From mile nine to twelve I began to tire but did maintain my speed with the 4:10 pacer until a porta potty stop at mile 12. However, coming out of the porta potty and seeing the pacer's flag disappearing in the distance was quite a blow to my confidence. I gave chase, but quickly lost sight of the group.
The only thing worse than falling out of sight of your pacer is to hear the thundering hooves of the runners in the following pace group edging up on you from behind. Then to see them happy, chatty, laughing and smiling; flying effortlessly by you as they dance their way to the finish line, really gets into your head. I didn't want that to happen to me.
As I approached the halfway mark, I knew I would have to work vigorously to stay ahead of my pursuers. I'm not particularly fond of races with double loops or out and backs. Life is too short, and the world is too large to go down the same road twice. But crossing the halfway mark in this race lifted my spirits a little, and I considered the last 13 miles the home stretch to my mom. In my mind, this race was once again for her, and about her.
At mile 13 a girl came out of a porta potty and ran alongside me asking if the 4:20 group had passed by. I told her not yet, and we proceeded to run together trying to outpace the pacers following us. At mile 17 she dropped back and was gobbled up by the turkey trotters behind us. Losing her made it difficult for me to maintain the pace. I felt HHS beginning to set in.
HHS is a chronic running condition I have when running poorly. It is the "Heavy Head Syndrome."It develops as the mind takes a sharp negative downturn in confidence. For me, it causes my running form to change dramatically. My head and nose get closer to the ground as my speed slows up. From a side view, I must look like someone racing headstrong into hurricane winds. If not repulsed, in an extreme situation, HHS can progress into HFS. "Heavy Foot Syndrome."
There is no cure for HFS once it sets in. The legs begin to feel heavier with each step, and you become sluggish, and ultimately weaken to a DNF.
To battle HHS, the mind needs something outside of the race itself to focus on. That is where my mom came in. She was the reason I was in Erie and had always been the one to help me through tough times. I decided that for each mile left in the race I would concentrate on a time in my childhood when my mother was there for me.
While running mile 18, I thought of the day when I was seven years old, and my pet ducks ate all my pollywogs. I remembered it had taken me a full day in the marshes to catch those pollywogs. I had put them into a large glass pickle jar filled with dirty, murky brown water, and placed it on our back porch at night. In the morning they were gone.
My mother tried to soothe me by saying they were super tadpoles that grew legs overnight and jumped to freedom. I didn't buy into that. While cuddled in my mother's arms, I looked across the driveway to the pond and saw the guilty smirks on the faces of the ducks and knew that they had made sushi out of my pollywogs.
To help ease my pain, my mother suggested that we go out together and catch grasshoppers. We did. We found a lot, and I put them into the same pickle jar I used for the pollywogs; this time with dry straw in it and a tight lid with air holes. I got revenge with the ducks by placing the glass jar with the jumping grasshoppers near the duck pond and watching the ducks beat their brains out pecking at the glass.
Running through Mile 19 brought up memories of the many times my mom would rescue me from the school bully who would beat me up as I walked home from kindergarten. My father told me to fight. My mother told me to run. She said someday there would be justice. She was right. Forty years later, the bully died in prison, and I had become a pretty fast runner.
At mile 20, I thought about how I started my first business at age 12. In my father's bowling alley I had found a glass-topped, chrome-based vending machine with "5 cents" engraved into its frame. I asked my dad if I could have it and sell peanuts at the front desk. He said yes, and I became a businessman. I believe everything I know about business today, I learned from that peanut machine.
The peanut business was great from the start. I filled the machine with cashews and made a buck a week. I then learned that switching to Spanish peanuts lowered the cost of the product and increased profits to 2 dollars a week. Succumbing to the greed of capitalism, I then learned how to adjust the portion size to a smaller amount and upped my income to 3 dollars a week. If the machine had had the capability of raising the price to 10 cents I could have been retired by the age of 15. Nevertheless, life was still great. I was a kid with a pocket full of nickles in a penny-candy era.
Then one day I went to work to load the machine, and it was gone. Someone had stolen it. I was out of business. It was to my mother I went for sympathy and guidance. To stay in the business of nickles I had two options. Pick blueberries for 5 cents a pound or get a paper route delivering 5 cent newspapers. I went with the paper route because of the strong legs I had built up from running home from kindergarten every day for a year.
As I ran through mile 21, a second pet tragedy came to mind.
Around age 9, I had a pet turtle that I would play with outside for hours. I don't exactly remember how you play with a turtle, but it is understandable why it would be for hours. My turtle always liked to frolic, frolic as much as a turtle can, in his plastic bowl filled with water, gravel, grass and a private beach centered around a beautiful green plastic palm tree.
He loved his tortoise paradise, and I spent hours playing with him. One warm summer day while playing with him he left me. I can't say he ran away, but he got away. I searched all day, but never found him. Three days later I discovered him in the backyard lying motionless in the tall grass, on his back, his pudgy little feet sticking out, his half-closed eyes looking towards the sky for salvation, and his shell blue. An 8-year-old boy doesn't need to be a veterinarian to know there is something seriously wrong when your turtle turns blue. My mother bought me a new turtle the next day.
As I approached mile 22, and for the next several miles, my thoughts of mom spanned years of growing up. They ranged from remembrances of her protecting me during grade school from the nuns that were trying to entice me to become a priest, to her taking me to the naval recruiting station for induction into the service, and four years later welcoming me home from Vietnam.
By mile 25, I knew I had beaten the HHS, and my attention went towards the finish line. I knew I was going to finish and would outrun the 4:20 pacer. My thoughts went to thinking about the family reunion awaiting me about three-quarters of a mile past the finish line.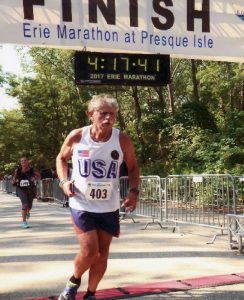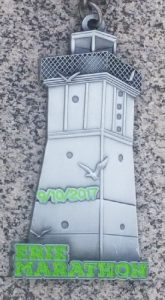 I decided to make my marathon a 27-mile run by grabbing the finisher's medal and continuing to run the short distance to where my mother was waiting. Crossing the finish line I received a shining pewter medal embossed with a replica of the Erie lighthouse.
As I carried it in my hand racing to the meeting, I thought of the many awards I had collected in races, and it occurred to me that mom's don't get medals for being a mom. It didn't seem right. I decided that this marathon medal should be for my mom. We were a team in this race. She pulled me to the finish line.
I sped up, and as I ran the extra distance to meet her, I felt like I was once again that smiling kindergarten boy running home from school to show his mom what he had won. But instead of proudly wearing an enormous red star on my forehead and carrying a holy card for spelling "bowwow" correctly, I wore a number and carried a special medal to give.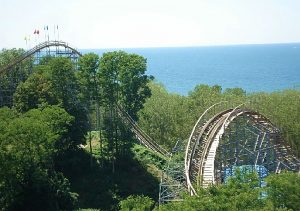 In my eagerness to finish, I hardly noticed the hill I had to run up, or that the road I ran on went under the rails of the roller coaster my mother loved as a child.
As I crested the hill, the sun broke through the clouds. I crossed a busy street and found the quiet tree-lined path that took me to her. It had been two years since I walked that little path. When I first caught sight of her, I stopped running and gently walked towards her with the medal dangling from my hand.
I wasn't thinking any more of the Erie Marathon I had just run. I was thinking of how lucky I was. In the run of life, we don't get to pick our race. Some of us are given a 5k and others a marathon. But it doesn't matter what you get: how far, how fast or how you finish your race. It is about those people who run alongside you in the run. Some for a brief moment, others for a long time. My mother and I were both lucky. In the run of life, we were both given marathons and ran alongside each other for almost seven decades.
With that final thought, I walked up to my mom and gave her the medal I should have given her years ago.