the Silver Strider online presents
                      M

emory

L

ane

  
Brought to you by
S

ponsorship

A

vailable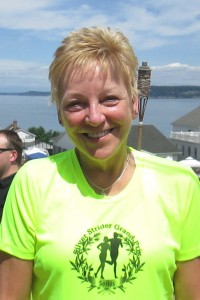 The Berlin Marathon
By Sandra Madden
Sept. 2017
In September of 2017, on a quest to complete the Abbott World Marathon Majors, Susie Hall and I headed to Berlin. The Berlin Marathon is considered to be one of the fastest in the world.
We "running sisters" have traveled together frequently and are committed to making friends and having fun. An important tradition is Robe Man. More to follow about that guy.
At the airport waiting to board was our Strider friend Lizzie Lee. An unexpected surprise. Coincidentally she was on the same flight. Quite a treat for us all and we fueled each others enthusiasm before taking our assigned seats.
Upon arrival we grabbed a cab to the Ritz Carlton, one of Marathon Tours preferred hotels. This was also the venue for the pre-race meet and greet with free wine, beer and hearty appetizers.
We contemplated what to wear but settled on running gear. Post reception we discovered a perfect background for a photo shoot showing off our race jackets.
Susie and I wandered the streets of Berlin visiting the cities historical attractions; the Brandenburg Gate, the Jewish Memorial, the Altes Museum, Checkpoint Charlie.
We stumbled upon a huge outdoor market in West Berlin. But the epitome of what we call "Marathon Magic", while heading back to our hotel, was the unbelievable gift of an impromptu concert by the Berlin Symphony in the middle of an outside mall.
Recollection of race day is a dreary gray morning with sprinkles. The rain eventually stopped but the gray prevailed. Except on the faces of the runners. Shining smiles belied the weather.
The start boasted an enormous screen on which we runners watched the amazing elites take off like shooting stars. And the finish line was just beyond the Brandenburg Gate, that dramatic national symbol of peace and unity.
At the finish line was the expected fuel and warm blanket, similar to a coat. Susie and I agreed to text after finishing to meet up for our walk home. It's not surprising that we were only a few yards apart but were unable to find each other for quite awhile. And in spite of Google Earth and GPS and directions from Berlins finest we got lost heading back to the Ritz. 26.2 morphed closer to 29. It's a blonde thing.
Post race dinner was a cornucopia of fine cuisine and adult beverages. We shuffled back to our room with full bellies and happy hearts.
But before settling in for the night we received a gentle congratulations from an old friend on our accomplishment, one Marathon closer to the Big Six.
Robe Man.