Posted by
Jerry Dietrich
in
Race Reports
|
Comments Off

on The Anacortes Art Dash
the Silver Strider online presents
R

ace 

R

eports 
brought to you by
    7210 Greenlake Dr N, Seattle, WA
   16095 Cleveland St., Redmond, WA
                   The Anacortes Art Dash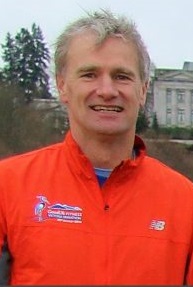 By Brig Seidl
with photos by Bruce Fisher
8/4/18 – Anacortes
Among the many cool things about the Grand Prix Series are all the different towns and locations the series visits that you can explore post race. The Anacortes Art Dash is an excellent case in point. In fact, other than going to the ferry dock, I'm not entirely certain I'd ever even been to Anacortes proper before. So the opportunity to explore a new town, attend a huge art festival, and run a GP race all on the same day was all the impetus required to get my lazy butt out of the house and on the road to Skagit County at 5:15 a.m. last Saturday.
An early start was required because neither Wendy nor I had managed to sign up online before it was closed so we had that little chore to take care of onsite on race morning. Thanks to Betty for confirming this was even possible as I couldn't determine much of anything from the website. Indeed, as far as I could tell, there weren't even directions so we just intended to drive to downtown Anacortes and hope it was obvious where to go. That would have been a good plan had we stuck to it but we ended up listening to some Google Maps directions from her phone and promptly got lost down in some marina before I overruled Google and just headed to the city center and presto! Runners and volunteers were suddenly in abundance and we were in the right place.
Another copacetic feature of this particular GP event is that we runners were given the choice of participating in either the 5k,10k or half marathon with all paying Grand Prix points. This was a sweet deal as I wasn't ready to risk my gimpy calf on a half marathon just yet and Wendy wasn't sure she wanted to run for an hour plus so we opted for the 10k and 5k respectively. Kudos to Jerry or whoever's idea it was to allow us to pick our distance. Variety is the spice of life after all.
Props to the race director too for having the slim timing chips attached to the back of your number as opposed to those clunky ones that must be threaded through your shoe laces which I'm bad at securing and which usually result in my laces coming loose during the race. Plus I often vacillate up until the very last moment as to what shoes I'm actually going to wear in any given race so I was thankful to have the chip on the number.
And after enduring several weeks of scorching weather, we were especially blessed by the weather Gods with absolutely perfect conditions on race morning; cool, cloudy, and overcast. I was very thankful for this too as the only running race I've done lately was the Derby Dash 5k in Redmond a few weeks back at 6:00 p.m. on a Friday evening when it was something like 92 degrees and we ran in dead air on black asphalt. I about croaked and wasn't looking for a reprise of that experience.
Milling around at the start line, the svelte young buck behind me opined that he "was probably going to be slow today" because he'd done lots of hill repeats the day before. I was of the silent opinion that any sleek looking 16 year old who does hill repeats in the summer sun probably wasn't going to be remotely slow. (He ended up winning the 10k by a country mile.)
I also noticed a woman in a striped shirt who looked rather ridiculously fast warming up on the start straight but I attributed it to the frenetic energy of youth and couldn't conceive she was actually going to race at that pace, even for 5k. But when we started, she shot off like a greased pig at a county fair and was out of sight before I'd even determined if I'd worn the correct shoes or not. She was gone and that was the end of that. This turned out to be Kristin Schafer who easily won the female 5k and who Wendy and I would meet after the race for a nice chat. When she mentioned her maiden name was Carter I suddenly realized who she was – "The" Kristin Carter, former winner of the Seattle Marathon and cover girl of the now sadly defunct NW Runner Magazine among other lofty accolades.
I settled in to a pace that felt right for me and just chugged along without much concern about passing or getting passed, just striving to sustain my own rhythm. I mused to myself what a funny thing running is; you have your own personal pace, right? And honestly if someone is faster there isn't really much you can do about it. Trying to exceed my threshold would very quickly cause me to blow up or, worse, injure myself. A very pure endeavor is running. No mechanical or monetary advantage to be had. Just your legs and lungs against the other guy's.
The mass start, multi-distance concept is kind of neat because you don't really know who your competition is and who among the people panting beside you, or way ahead of you, are going to turn around at the 2.5k mark or continue beyond the 5k turnaround. After we lost the runners of the 5k race to the turnaround, the pack I was in was winnowed somewhat and my real competition came into sharper focus. Not terribly long after that I saw my young "hill repeats" friend storming back the other way towards home, way out in front of all the other 10k folk.
Most of the race takes place on a bike path that wends its way out of downtown along a marina and some industrial areas eventually running alongside the shoreline. It is flat and, as mentioned, the conditions were excellent so, if you were in PR shape, this would be a course to consider. I was nowhere near PR shape but was holding up much better than expected and, by counting the runners heading back before I got to the turnaround, determined that I was in 7th place.
After turning around, I started encountering lots of familiar faces and friends still on the outwards journey and I waved to or greeted lots of them. There were many quick exchanges and words of encouragement. In my race, everyone seemed to subtly up their pace a little once they headed toward the finish line and despite doing likewise, I perceived footsteps and panting closing in on me. After about 5 minutes of this, a woman eventually pulled alongside me in a passing maneuver as I continued to greet fellow Silver Striders. I remarked to her that she may be faster than me but I knew more people than her! She obliged me to knuckle down and remind myself that this was a race after all and not a meet 'n greet. She pushed me hard all the way to the finish and we swallowed up another guy en route.
And the finish itself was pretty cool as it was conducted through the row of food stalls being set up for the art festival. It was cool for us 5 and 10k folk but by the time the half marathoners started finishing, there was some congestion from festival attendees. Which is what Wendy and I became upon finishing. We spent the remainder of the morning perusing the many, many stalls of art along Commercial Ave, listening to live music, and sampling some delectable bumbleberry tart.
All in all an excellent way to spend a half day. I love the concept of incorporating a race into an art festival (or vice versa) as it provided plenty of activities and entertainment beyond just running. I can't believe I'd never done this race before.
                                        Notes from Jerry's desk
The Anacortes Art Dash 2018 served as the introduction to a new concept in the Grand Prix Series Schedule. It is a "Choose Your Own Distance" option.
This new addition to the Series will offer runners and walkers the option of choosing their own distance at three designated events during the 2018-19 Series.
The Anacortes Art Dash offered three certified races: The 5k, 10k, and half marathon. This gave participants an opportunity to pursue certified goals while gaining Series points. Additionally, you could gain on individual competitors in your age group by entering a different distance. Strategy now plays a role in the Kent Bowl Grand Prix Series.
On Friday, the day before the race, early arrivals gathered at Village Pizza to carbo load pasta, pizza and lasagna.
On race day, all of the the races started promptly at 8:00 a.m.  A little after 9:00, Nancy Larsen finished her 8th Series race and became the first Silver Strider to be a finisher in the current Kent Bowl Grand Prix Series.
Minutes later, Jerry Dietrich became the second Grand Prix finisher for the 2018-19 Series.
Betty Dietrich followed becoming the third runner to complete her 8th race and a season finisher.
Meanwhile Judy Fisher, who was running the Half Marathon, became the fourth Grand Prix finisher for the current year running a near world class time.
Jerry, Betty, and Judy have been finishers in every Grand Prix Series since the inception of the program in 2010.
Nancy, Jerry, Betty and Judy are members of the Century Club Hall of Fame, having finished over 100 Grand Prix Series races.
The 5k
The 5k had two legendary runners competing.
Rudy Gahler, now 90 years of age, inspired us all with a time of  46:32. Rudy has a competitive spirit as shown by his finish in the middle of the 70 plus age group. His time will rank him #1 in the TOP IO rankings.
Frank Bozanich, a retired marine now age 74, was the U.S. record holder for 100k in the early 80's. He broke many records in 50 mile and 100k races in his younger days. He can still move out pretty good as evidenced by a nice 25:20 time.
The 1st Silver Strider to finish was Carlo Rossi, age 55, in 20:54.
The 1st Female Silver Strider to finish was Kyoung Croft, age 60, in 27:05.
Results in photos by Bruce Fisher
                             The IOk
The first Silver Strider was Brig Seidl 55, in 41:10.
The first female Silver Strider was Beverly Beppler 57, in 55:17.
Results in photos by Bruce Fisher
                    The Half Marathon
The first Silver Strider was Michael Brisbois 54, in 1:29:45.
The first female Silver Strider was Heike Seck 52, in 1:53:06.
Results in photos by Bruce Fisher
After the race, Silver Striders enjoyed a delicious brunch in a private room at the  Calico Cupboard. Outside, the street was jammed with vendors and artists. Parking was scarce and the sun was shining. So, following brunch, some of us walked 3 blocks to a nearby ice cream stand which featured homemade Lopez Creamery ice cream. A nice reward for our racing effort!