the Silver Strider online presents
                      M

emory

L

ane

  
Brought to you by
 SPONSORSHIP AVAILABLE
         The 3rd New Astley Belt 6 Day Race
by Jerry Dietrich
"A Six Day Race is a contest to see who can cover the most miles in 144 hours. Contestants may go as they please." – Sir John Dugdale Astley.
A History of the Astley Belt Races
Year                                                           Winner                              Mileage
1878 First Astley Belt Race, England       Daniel O'Leary, USA         520
1878 Second Astley Belt Race, USA         Daniel O'Leary, USA        310
1879 Third Astley Belt Race, USA            Charles Rowell, England   550
1879 Fourth Astley Belt Race, England    Edward Weston, USA       520
1879 Fifth Astley Belt Race, USA             Charles Rowell, England   520
1880 Sixth Astley Belt Race, England      Charles Rowell, England    566
1881 Seventh Astley Belt Race, England Charles Rowell, England    280*
1982 First New Astley Belt Race, USA      Don Choi, USA                 446
1983 Second New Astley Belt Race, USA  Don Choi, USA                 420
*Charles Rowell retired the original Astley Belt by winning it three consecutive times. He retired a wealthy man.
The following is a personal account of the 3rd New Astley Belt 6 day race from my journal. The race was held April 14-20, 1984, at Granite Hills Stadium, El Cajon, California.

When Betty and I began planning the Third New Astley Belt 6 Day race, we realized that we needed to attract a larger field. We were happy with the quality of the field last year, but the number of entries was short of covering expenses.
The original 6 day races had small fields of especially selected athletes, usually 5 or 6 men. The races were held indoors in great exposition halls. They usually did 7 or 8 laps to the mile.
Since the modern day races were held outdoors, the contestants had to suffer the sun and heat, or cold, depending on the weather. However, since the modern day tracks were larger in size, it was possible to accommodate a larger field of athletes.
We considered lowering the finishing requirement of 300 miles, but decided that if we wanted to call our race a championship, a minimum standard, however cruel, should remain.
The number of Six Day races held in 1984 had increased while the number of ultra marathoners willing to try a six day event had not. Moreover, most of those who had attempted, or finished this test of endurance once, had no interest in doing another.
We wanted 25 experienced ultra marathoners to enter our race and we had no method of interesting them in our race except through word of mouth and our ad in Ultra Running magazine.
The original 6 day races offered huge purses, making the winners instantly wealthy. Our modern day race offered the Belt, a world championship symbol, free entry for the following year, and $100 toward travel expenses.
The original races were held before sold out crowds jamming the stands set up around the track. Gambling was the main interest and bookmakers operated in the open legally. Alcohol was available in abundance. The police department would see to the contestants safety, and oversee the gambling.
Keep in mind this was before the automobile. There was no auto racing. There no indoor sports. Basketball was not yet invented. Baseball and football were not yet organized. Imagine today's auto racing fans, football fans, basketball fans, and baseball fans, interested in one sport, and able to watch it and gamble on it legally. The only sport to rival it was bare knuckle boxing, and it was outlawed in most states.
A modern day race could not begin to compete with the races of 100 years before, in terms of prize money.
In 1984 there were plenty of ultra marathoners living in California, but 50 miles was the only popular distance. Very few were interested in races of 24 hours or longer.
We decided to offer a 48 hour competition along with our six day race. We thought this would provide a step for those hesitant about trying a six day event.
Later, after further consideration, we decided to make the race an ultra celebration offering a 100 mile race, a 24 hour race, a 48 hour race, and a six day race, all held simultaneously
Our race last year was held at Swift Stadium in Chula Vista, California. It had the disadvantage of being located on a hill. To get to the track from the parking lot you had to climb a long flight of stairs.
Mario Escobedo, the  2nd place finisher last year, suggested I contact Granite Hills High School in El Cajon. Mario stated that he had participated in a 24 hour run there and the facility had ideal parking, was well lit, clean, and had an excellent track.
Betty and I visited Granite Hills and negotiated a contract for use of the track during the upcoming spring break. I asked to be introduced to the head custodian because I knew from past experience that he was "the man" as far as our race was concerned. I met with him and he seemed pleased that I recognized his position of authority and we got along well.
As was the case at our previous races, I was given a list of rules to be followed during our 6 day event. This time however, our host was concerned mainly with two things. First, no alcohol on the premises. Second, the fire lane (a red curb running from the front of the school to the track area) must remain open. He was almost fanatical about enforcement of these two rules. I saw no problem. There was a large parking area for cars and motor homes, and we had experienced no drinking at our previous races.
The track was in perfect shape. I did three training runs a week there over a 12 week period. One 40 mile run, and two 30 milers each week. I duplicated my planned race effort taking food and drink breaks, as well as rest periods. I was in my best condition. The U.S. record for men over 50 was still at 325 miles, this being Fred Nagelschmidt's total at Woodside. I felt that I could easily surpass that number since I did 332 miles the previous year at age 49. Additionally, I was in better condition and had more experience now. I felt confident that I could do daily efforts of 80-60-60-60-60-60 for 380 miles.

My only concern was Dick Collins, the indestructable iron man from Oakland. He had recently turned 50 and I remembered well our brutal competition in the first NAB 6 day race. Additionally, he completed 350 miles at Woodside when he was 47.

Race day arrived and the stadium was buzzing with activity. We had a strong field of 23 runners entered in the 6 day event, 13 in the 100 mile race, 13 in the 24 hour contest, and 12 runners in the 48 hour run. The entry fees covered our expenses and everything looked perfect.
One hour before start time, Race Director Betty Dietrich, and Chief Scorekeeper Janelle Kegley, went over procedures with the lap counters.
Meanwhile, I conducted a pre-race meeting with the runners and took the group photo. I emphasized the no drinking rule, and no parking in the fire lanes. I let the runners know that if their handlers or supporters violated these rules they (the runner) could be disqualified.
I introduced each runner so that everyone knew who the others were in their event.
The six day entrants were:
Chet Blanton – Ventura, CA
Don Choi – San Francisco, CA
Dennis Coffee – San Pedro, CA
Dick Collins – Oakland, CA
Gary Cross – Boulder, CO
Bob Davidson – Honolulu, HI
Jerry Dietrich – El Cajon, CA
Ted Epstein – Denver, CO
Mario Escobedo – Chula Vista, CA
Steve Galvin – Reno, NV
Ken Hamada – Arcadia, CA
Jim Honig – San Jose, CA
Richard Kegley – College Place, WA
Tom Kline – Scarsdale, NY
Ronald Olson – Los Angeles, CA
Robert Perez – Corpus Christi, TX
Lee Preble – Torrance, CA
Leon Ransom – San Diego, CA
Pete Saccone – La Mesa, CA
Jerry Schuster – Phoenix, AZ
Mike Wade – El Cajon, CA
-Entered but Scratched –
Emile Laharraque,  France
Stan Leventhal, Honolulu, HI

Myself and three others entered all four events. I reasoned that since I would be running for six days, I might as well pick up some additional awards along the way.
Awards were to be as follows:
The Six Day winner = The New Astley Belt
The Six Day runner up = The Fitzgerald Cup
The 3rd place finisher = The Rowell Cup
The 1st Woman finisher = The Linden Cup
4th and 5th place = Large onyx trophies
6th through 10th place = small onyx trophies
all other finishers receive = the distinctive finishers plaque
all who entered the 6 day race received the six day shirt.
No distinction was made for age or sex, except that the
first woman finisher, if any, would receive the Linden Cup
Awards for the 100 mile, 24 hour, and 48 hour contests were simple. We had two age groups, open and masters.
Plaques for the top three 39 and under, and plaques for the top three 40 and over.
I tapered my running during the 9 days prior to the event. I ate anything that didn't bite me first. My weight was up to 163 lbs.. I knew that I would lose 20 lbs. during the first 72 hours.
Day 1
The anxiety was great as the starting gun finally sounded. Some of the runners sprinted the first lap.
I had just began a leisurely start when Betty called me off the track after just a few laps. A man in his forties with a girl of about 10 greeted me as I stepped from the track.
"I'm going to break the U.S. record for 24 hours" he announced in a matter of fact manner.
"I'm sorry", I replied, "the race has started. It's too late to enter". I explained why I couldn't get him into the scoring system.
"That's O.K.", he said. "I have my own scoring system and handler". He nodded at his daughter.
"But anything you accomplish would be unofficial and wouldn't count for record purposes", I explained.
"I want to break the record for my own satisfaction," he said. "I have driven from Los Angeles this morning and will pay a full 6 day entry fee if you let me run."
"I don't have a lap counter for you," I said, thinking this would end the discussion.
"I don't need a lap counter," he replied. "I have my own system."
He produced a medium sized metal bowl and a bag of macaroni from his gym bag.
"I keep macaroni in my pocket," he said with a wide smile, proud of his ingenuity. "I set the bowl by the side of the track and each time I pass by I drop in a kernel of macaroni. I count the macaroni before I start so that I have enough to surpass the record. When my pocket is empty, I will have broken the record."
I realized that he might try to run anyway, so I accepted his entry fee and told him he was on his own. He smiled happily and strapped on a Boda Belt. The belt was designed to hold water on long runs and served no purpose on a track where a water table and drinking fountain were trackside. I noticed he was about 30 lbs overweight and thought he might last about 30 miles, if that. As I returned to my running, I realized that I couldn't remember his name. I decided to think of him as "The Macaroni Man".
I felt distracted as I resumed running. I decided to rest rather than run in the afternoon heat. I retired to my tent for a 3 hour rest.
At 5 p.m., I began by walking a lap and then did some easy running until 8:00 p.m. when I decided to take a short nap.
I retired to my tent and was dozing off when I heard a distinctive "clink". It was the "Macaroni Man" dropping another macaroni into the bowl situated near my tent. I didn't mind the noise and was asleep in seconds. At 10 o'clock I awoke to my alarm clock and began walking a lap to get out the soreness.
By midnight I was getting into a nice rhythm, ready to start racking up some mileage. I was soon distracted by a few rowdy spectators sitting in the bleachers along the backstretch. They were calling out to two of the 100 mile entrants, and the two runners were answering. They seemed to be friendly insults that were exchanged in a loud and boisterous way. Unfortunately, open beer bottles were being waved about.
I decided to ignore them for now. I went to my tent and had a light snack and some sugared water. That was when I heard a distinctive "ca-chunk, clink, chink". The macaroni man was throwing macaroni into his bowl by the handfuls. He was probably closing in on the U.S. record in his mind.
It was now almost two a.m.. I began some spirited running and finally reached 50 miles. A couple of hours later, I heard Betty call out to Don Choi, "that's 100 Don." Don Choi had entered every event except the 100 mile and was showing the field his superiority in the one event he had chosen not to enter.
With three hours remaining in the first day, I couldn't contain my curiosity. I went behind the scoring tables and checked out everyone's progress. Pete Saccone had been pressing Choi all the way. It appeared he even had the lead a couple of times. It looked like Perez retired about midnight and seemed satified with his mileage. He returned to the track after an 8 hour rest. Gary Cross was showing that he was a serious contender. His strategy included stalking. He would select one of the leaders and stalk him by running on his heels.
 I noticed that the "Macaroni Man" was missing from the track. I never expected to see him again.
As I ran on, I noticed that Cross was stalking Collins very closely. It looked like he was almost stepping on his heels. Dennis Coffee was running next to me and saw what was going on.
"Is he nuts?" Dennis asked me. I shrugged.
"He's the baddest man in the Valley" Dennis added referring to the 190 lb. block of granite that was Dick Collins.
I watched a little longer and then saw Dick retire to his tent. It was his usual time to rest so I felt that Cross had not affected his decision. I shuddered to think of what might have happened if Cross had stepped on Collin's achilles tendon that he had torn last year.
Saccone was running the best pace at this point and Cross couldn't stalk him because he simply couldn't stay with him.
Cross began stalking Escobedo. It bothered Escobedo and he tried to shake Cross without any luck and soon Mario went to his tent for a rest.
Perez had returned to the track about 8 a.m. rested and strong. He had began gaining on the leaders by clipping off 2 minute laps, without breaks, or stops, taking water on the run. Perez, and Choi were small men in stature, but big in terms of effort.
About 10 a.m. I noticed Gary Cross was now stalking Robert Perez. Perez stopped and said, "You're following too close, Gary".
Cross fell back a step but continued stalking.
Day one ended and I felt a great burden had been lifted as most of the troublesome runners and their supporters departed.  My mileage for the first day was 8 miles short of my goal of 80 miles. Last year I had covered 82 on the first day and expected to do 80 with ease this year. I didn't anticipate the non running problems that I encountered.
The first day leaders were an interesting mix. In first place with 117.5 miles was the current "Long Distance Champion of the World", Don Choi.
A surprise was the vegetarian in second place. Pete Saccone, the undefeated ultra marathoner from La Mesa, California. He had 112.5 miles.
In third was the youngest man in the field, Gary Cross, 24, from Colorado, with 101 miles.
Robert Perez, the former U.S. record holder for 100 miles, was in fourth with 95 miles. Robert's effort was interesting in that he took 8 hours off the track between midnight and 8 a.m. When he was on the track after his return at 8 a.m., nobody else could come close to his 2 minute laps for any length of time.
In fifth place was Lee Preble from Fullerton. He was 49 and was off to a great start with 90.25 miles.
Although many of the runners were disappointed in their mileage, only one runner failed to reach 50 miles, covering 49.25 for the first day. I felt optimistic about the quality of the field at this point. We had 12 runners with over 70 miles.
Day 2
As I went to my tent to sleep I saw Robert Perez clipping off laps in the 80 degree heat. He was rested. Would his strategy pay off? Dick Collins was using the same plan of strong running and taking 7-8 hours of sleep. My lead over Collins was 5 miles at the end of day one and I felt optimistic about my chances for the record we both wanted.
When I came out of my tent at 5 p.m., I felt better and ready to resume my running. Bad news awaited me as I checked in. Mike Wade, one of the top ultra runners in San Diego, had left the track after only 9 miles for the day. He had a nice total of 81 miles for the first day, but was done in and apparently dropped out. Also dropping out was Chet Blanton from Ventura. Chet had 70 miles the first day but had not been able to continue. The third dropout was Jim Honig. He had 61 miles the first day but decided not to continue after 24 miles into the 2nd day.
The 2nd day seemed otherwise uneventful as runners plodded along in the heat. The exception was Perez who ran strongly all day only to leave again at midnight and retire in his hotel room.
Pete Saccone had another good day matching Choi. They both had 75 miles for the 2nd day, so Choi retained a slim 5 mile lead.
In third place with 171 miles was Gary Cross. Gary was running very strongly and spending lots of time on the track.
Robert Perez was only 6 miles behind Cross at 165 miles and very much in contention.
In 5th with 151.5 miles was Lee Preble, and 6th was Mario Escobedo with 142.5 miles. Lee and Mario were still in contention for the Belt, but were now considered "long shots".
The big surprise at the end of the second day was Bob Davidson from Hawaii. The racewalker scored the top mileage for the second day reaching 85.5 miles. His first day had been a modest 50 miles and he had ended the first day in next to last place. He moved all the way up into 8th place in 24 hours. If he could muster another 85 mile day he could vault into contention on day three.
48 hour summary:
The leaders:
Don Choi 192.25 miles
Pete Saccone 187.25 miles
Gary Cross 171 miles
Robert Perez 165 miles
Lee Preble 151.5 miles
Mario Escobedo 142.5 miles
Dropped out:
Chet Blanton 70 miles
Jim Honig 85 miles
Mike Wade 90.25 miles
Behind schedule (50 miles per day), but still running:
Steve Galvin 90 miles
Ronald Olson 98.5
Day 3
The third day took a heavy toll. Only 8 runners would reach 50 miles for the day.
About 10 p.m. Pete Saccone called me from the edge of the track. "I'm going to have to drop out," he announced dejectedly.
"What's wrong?" I asked.
"Look at my ankles," Pete muttered.
I looked at his ankles. I couldn't see anything wrong.
"Are you in pain?", I asked
"Look at the swelling", he replied. "Of course they hurt like blazes."
"Why don't you take a couple of hours off in your motor home. Elevate your feet and ice your ankles. Get some rest. This is a long event. Pain and injuries are something that we have to overcome."
"I can't possibly continue," Pete stated. He seemed exasperated by my suggestion.

"Okay, but remember, this event will go on for days. You may feel like returning after some rest."
Pete went to his motor home and I continued my running effort. I was disappointed that he might withdraw, but I felt that he might have a change of heart after 7 or 8 hours of sleep.
Robert Perez was now making his presence known with an 80 mile day. He now had 245 miles in 3 days.
Second highest mileage for the day was Dick Collins with 67 miles and 194 for three days. I had dropped 28 miles behind Dick at that point and it looked like he would get the record I had hoped for.
Third highest mileage for the day was 65.5 scored by the defending champ, Don Choi. He was still in first place with a total of 257.5. His challenger had emerged. Robert Perez gained 15 miles on Choi in one day. Furthermore, Robert left Gary Cross 23 miles behind.
As the third day ended, it looked like a two way battle for the belt. Choi versus Perez.
I went to the scoring table to check official 72 hour results.
Jerry Schuster had dropped out after 17.5 miles and left for home in Arizona.
Pete Saccone had gone home with only 27.25 mile for the day. His chance at the belt was gone. He could still be a finisher if he returned.
At the halfway point we still had 17 runners on the track out of 21 starters.
Of those 17 remaining we had three runners behind schedule (150 miles) to be finishers.
Leon Ransom was slightly behind with 147.5 miles.
Ronald Olson was slipping a little each day and was now 12.25 miles behind schedule with 137.75 for the 3 days.
Steve Galvin was now 24 miles behind and it was apparent he would not receive a finisher's plaque. Undaunted, he continued to run on during the 4th day.
Bob Davidson, depleted from his 85 plus mileage on the 2nd day, managed 48 miles on day 3.
The 72 hour mileage (halfway) summary for the 14 potential finishers:
Don Choi – 257.5 miles
Robert Perez – 245 miles
Gary Cross – 222 miles
Pete Saccone – 215 miles
Lee Preble – 201 miles
Mario Escobedo – 197.75 miles
Dick Collins – 194 miles
Ken Hamada – 190.75 miles
Bob Davidson (r) – 183.75 miles
Jerry Dietrich – 167 miles
Dennis Coffee – 166 miles
Richard Kegley – 162.25 miles
Ted Epstein – 160 miles
Tom Kline (r) – 153.5 miles
(r) = racewalker
Day 4
The 4th day began with a surprise. Mike Wade returned. He had no chance of being a finisher, but he had 6 day race fever. Betty resurrected his lap sheets and Mike began chalking up mileage.
My effort for the day began at 5 p.m. as usual. My running was dismal. I lost my motivation. Collins was leaving me further behind with each hour. It was obvious he was going to break the U.S. record for men 50 plus. Richard Kegley, the 63 year old marvel from College Place, Washington, was also looking good for a new U.S. record for men 60 plus.
I had lost my motivation and was struggling. I was running mostly with Ken Hamada, the little dynamo from Arcadia California. He had invented a computerized lap counting system that I agreed to let him use as long as it functioned properly. Betty periodically examined his printouts and updated his progress for all to see. I realized that while Ken was a math teacher and his quest for accuracy in lap counting was impeccable, it was too time consuming. I surmised in my mind that computerized lap counting would never be in widespread use because it was more time consuming than using my lap sheets. I felt my lap sheets were superior due to their simplicity.
As the 4th day wound down, I checked the scoring table.
To my amazement, I found that Bob Davidson, the racewalker from Hawaii, had done it again. 85.25 miles! I saw a pattern to his effort. He walked 50 miles the first day followed by 85.25 on the second. Then 48.5 followed by another 85.25. I watched him swivel hip his way around the track. He looked fresh. He shaved each morning and donned fresh clothing. He said, "Look good to feel good". I couldn't determine his pattern before, but now I decided that he would probably have an easy day five with 45-50 miles, and then rack up another big day on the 6th. His walking pace was about 12 minutes per mile and I jogged beside him on a couple of occasions. His stamina was amazing. It seemed to me that race walking required a lot more exertion than jogging along at the same pace.
The big news for the first 4 days was that Choi could not shake Perez. Choi chalked up an impressive 80.25 miles for the day, only to see himself exceeded by Perez, who ran 81 miles. The fifth day would be crucial in this battle for the belt. The pattern of their competition had been set. Each day Perez left Choi behind, rolling up an 8 to 10 mile lead before retiring for the night. In the morning he would return to the track to find that Choi had passed him in the night and now led by 10 or 11 miles. Between his return at 8 a.m. and noon (end of each day), Perez would whittle Choi's lead back to a few miles. Then Perez would erase Choi's lead during the afternoon going ahead once again.
Mario Escobedo was not giving up on his shot at the Rowell Cup (3rd place). He won the Fitzgerald Cup last year and had another major award in his sights for this year. He gained 9.25 miles on Gary Cross by scoring 69.25 miles to Gary's 60 for the day. Davidson also was now in contention for the Rowell Cup as he passed Escobedo and was only 12 miles behind Cross.
Epstein and Kline were now behind schedule to be finishers. I was in danger too. I had a 42 mile day and had lost all my motivation. Another day like this and I would likely be a non-finisher. I didn't care at that point.
It looked like Choi and Perez would both break the modern day U.S. record. It would also be the all time outdoor record.
Dick Collins was now the leading masters runner and setting a new all-time U.S. record for men over 50.
Likewise Richard Kegley was setting an all-time U.S. record for men over 60.
Bob Davidson was setting a new Modern Day U.S. racewalking record.
It was all very exciting and it made me forget my own disappointment.
The totals for four days for the 11 remaining likely finishers were:
Choi 337.75
Perez 326
Cross 282
Davidson 270.75
Escobedo 267
Collins 254
Preble 251
Hamada 242.75
Kegley 217.5
Coffee 215.75
Dietrich 209
Day 5
Day five began like the others. Perez was overtaking Choi and everyone else was plodding around in the hot sun watching the battle.
Every afternoon, about 1 o'clock of so, Doug Curlee, the local TV news anchorman would appear with his film crew. He would usually interview me because Betty refused to be on camera. Choi was always leading at this time of day, so the first thing Curlee always asked was "How great is Choi's lead?" I talked for a few seconds and then resumed running. I didn't want my depressed face showing up on the evening news. Curlee was going to shoot some footage as he filmed his report.
About 4 p.m. I sought out Betty and found her in a private area talking with Don Choi. Perez had just assumed the lead and Choi looked in low spirits.
"I won't allow you to retire", Betty said. "You are the Long distance champion of the World. You'll take the lead back tonight while he's asleep. If he cuts his sleeping hours on the final night, he'll be tired and you'll give him a battle".
I ducked out and returned to the track. If Choi dropped out that would be the final straw. I continued walking without any energy for running. Choi returned to the track eating something as he walked. I was in a mild daze having skipped my afternoon nap.
Two hours later, I went to the scoring table and told Betty I was dropping out. She said, "Okay", and continued concentrating on the lap counters.
I retired to my trailer and fell into a deep sleep.
The next thing I knew, Betty was shaking me. I looked at the clock it was 6 o'clock in the morning. I had slept  11 hours.
I hurt all over. I was stiff and sore. I could hardly move. Betty said that she wanted to talk to me.
Betty explained the situation to me. "You currently have 36 miles for the 5th day. If you go out this morning and add 5 miles to your total, you can still be a finisher by running an additional 50 miles on the final day".
I certainly didn't feel like I could run 55 miles at that point.
"Did you know", Betty continued, " that if you finish this race, you, Don Choi, and Dennis Coffee, will be the only runners to have finished all 3 New Astley Belt Six Day races?"
"Is Don still running?" I asked.
"He's not going down without a fight," Betty replied. "He should go over 80 for the day."
"That's great," I said. what about Perez?"
"He's doing better than Don. He'll end with 82 or 83 for the day. Don will start the final day with only a 9 or 10 mile lead. Perez will pass him late this afternoon and build a lead. Then, if Perez shortens his sleep period tonight he will win the belt."
"How did Dennis do today?", I asked.
"He's going reach 50 miles today. You can't catch him. He has the 10th place trophy in the bag. He always finishes strong. But you can still receive a finisher's plaque and be one of the elite 3 to have finished all three NAB races. You need to get back out there now. Just take it easy out there this morning and do your thing tonight.
I told Betty I was hungry and would eat something as I walked. I put on my running shoes and returned to the track. All 17 remaining runners were on the track getting in their final laps before the 5th day ended at noon.
I felt angry at myself for wimping out yesterday. I saw Mike Wade, Ronald Olson, Ted Epstein, Steve Galvan, Leon Ransom, and Tom Kline, all on the track, doing their best. It was unlikely that any of them would reach the 300 miles necessary to be finishers, but there they were, refusing to quit, and getting as many miles as they could.
Noon arrived and the 5th day ended.
Perez was the top scorer for the 5th day with 82 miles. Choi was right behind with 80.75. Mario Escobedo had another strong day with 71.25, bringing him within 7 miles of Gary Cross in the contest for 3rd place. Richard Kegley scored 53 and Collins 51. Day 5 had been a disaster for everyone else. It was weird to see that my pathetic 41.5 miles was better than most of the runners. Most surprising was Bob Davidson's 28.5 miles for the day. I assumed he must be injured.
Totals for 5 days:
Don Choi 419
Robert Perez 408
Gary Cross 345
Mario Escobedo 339
Dick Collins 305
Bob Davidson 298
Lee Preble 296.75
Ken Hamada 283.5
Richard Kegley 270.75
Dennis Coffee 266
Jerry Dietrich 250.25
Tom Kline 240*
*still had a slim chance of finishing
Day 6
As the final day started three things were evident. First, the U.S. record would fall and Choi or Perez would be the new record holder. Second, the all time U.S. record for men over 50 would fall to Dick Collins, who only needed 20.25 miles on the final day to do it. Third, Richard Kegley, 65, could break his own 60 plus record, needing 50 miles on the final day to do it. Davidson could still break the U.S. modern day racewalking record with a comeback.
I thought about how perception could affect your performance. I had done a few 24 hour runs and always felt awed by the length of time I would have to run. Yet, here we were, 17 runners and walkers, our spirits lifted because we were entering the "home stretch" of this event. We had 24 hours to go. Everyone was ready to make a final push.
It was around 6 p.m. when Collins broke the record. We had a tradition that when a U.S. record was broken, the record breaker would be given a small American flag to carry in his hand for the next three laps. That way everyone present would know that he had broken the American record. Dick wasn't just breaking the record, he was smashing it. With 18 hours left, it looked like he could break it by 30 miles if he desired. He accepted congratulations as he circled the track 3 times and then took the flag to his tent. After a 10 minute break, he was back at work, without any normal letdown.
Choi had stubbornly held on to his lead until about 10 p. m. when Perez assumed the lead. Perez led by 2 miles when he left the track at his usual midnight hour. We all wondered how long he would be gone. If he took his usual 8 hours off, Choi will have built an insurmountable lead. Choi surprised everyone by taking a 2 hour nap. He wanted to be strong for the final challenge.
It was 1:00 a.m. when Bob Davidson broke the Modern Day racewalking record. He was back in form and looked like he would break Bob Wise's record  of 330 miles by a wide margin.
Perez was well aware of everything he needed to do. He returned to the track at 4 a.m. By then Choi had broken the American record and built an 8 mile lead. At about 5 a.m. Perez passed the old American record and I gave him a flag to commemorate his accomplishment.
I really felt good during the night and cranked out the mileage I needed to become the 11th finisher. We would end with 11 finishers out of 23 starters. These figures were a testimony to the brutality of this event.
Just before dawn a fine misty rain began. Choi and Perez donned trash bags to keep dry. During the early morning Perez had gained 4 miles on Choi, but now Choi was fighting back and matching Perez stride for stride. At about 9 a.m. Choi broke the 500 mile barrier. He was the first American to do it in 100 years.
Then, at 10:40, Perez became the second man to reach the 500 mile milestone. After completing his 2,000th lap, he stopped and waited for Choi to come around the track. Choi had a 5 mile lead and Perez knew he couldn't overtake him in the time remaining. Perez offered his hand and they congratulated each other. They walked around the track together enjoying the accolades of all present.
All of the local TV stations were represented as the event wound down. With little time left there were handshakes and congratulations all around. Pete Saccone had returned for the celebration and I could see that he deeply regretted his early exit.
I checked with Betty and Janelle and results were  neatly totaled about 15 minutes after the final gun.
Suddenly, two of the runners appeared with a cake for Betty. It was presented as a thank you for the superb job she did as race director. The cake was cut and quickly devoured.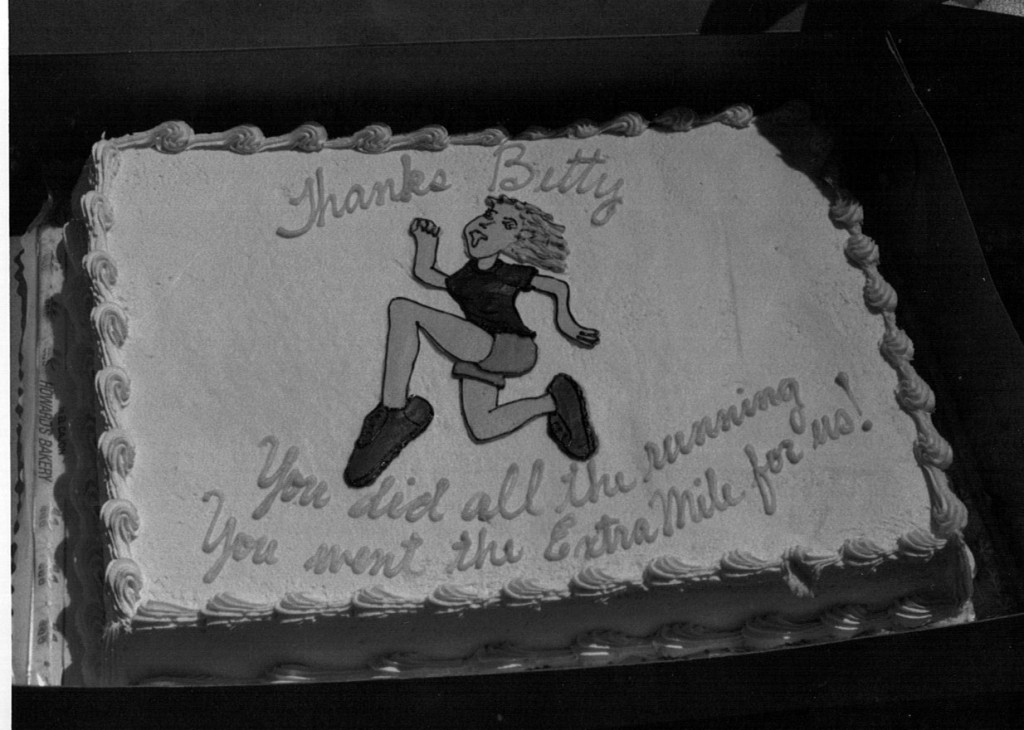 I went to the presentation area to ready the trophies for presentation. I heard some yelling and saw a staggering Tom Kline, the race walker, collapse as he passed the scorer's table. The event had ended 25 minutes earlier, but Tom had continued on to reach 300 miles. Sadly, he would only be credited with 299 miles, and that meant no finisher's plaque.
With the help of another runner, I helped Tom to his feet and escorted him to the paramedics tent.  Depositing Tom Kline in a chair, I implored the paramedics, "Please attend this man. He collapsed on the track and seems disoriented. He's probably dehydrated as he went the last two hours in the heat without stopping for water."
 They immediately hooked Tom up on an IV.
At 1:30 the awards ceremony began. I began by presenting the paychecks to the lap counters. The payments were at minimum wage and the lap counters received a hearty applause of appreciation from the runners. 
Next came the six awards (3 open, and three master) for the 100 mile race. I was surprised to see my name as first master for the 100, and again first master for 24 hours. For 48 hours I was third master. It only took a few minutes to present all the plaques for these shorter distances.
Next came the six day race awards. First, I introduced all the non finishers present and announced their mileage. All present groaned when I announced, "Leon Ransom, from San Diego, California, 296 miles". Then again when I said, "Tom Kline, from Scarsdale, New York, 299 miles".
Leon was not present, having left after the final gun sounded. Tom was recovered from his collapse and smiling. He said to me, "I'll be back next year".
I awarded myself a finisher's plaque for 11th place. The Onyx trophies went to, Dennis Coffee, 10th place, Richard Kegley 9th, Ken Hamada, 8th, Lee Preble 7th, and Dick Collins 6th. Richard Kegley would be mailed a special plaque as a tribute to his new world record. Dick Collins would be mailed a special plaque commemorating his U.S. record.
The two larger trophies went to Bob Davidson in 5th place, and Mario Escobedo in 4th place. Mario had chalked up 76.5 miles on the last day, but was held off by Gary Cross who ran for 77.5
I called Gary Cross up to receive the Rowell Cup. I explained the history behind the cup. I had to admire his running ability. He was only 24. His running was very impressive. I could  envision him winning a six day race in the future.
It was time to present Robert Perez with the Fitzgerald Cup. One hundred years earlier, Daniel Fitzgerald had defeated Charles Rowell in what was probably the greatest 6 day race of all time. I mentioned that the contest we saw this week would rival that great race of yesteryear. The handsome young man accepted his award with humility. The former U.S. record holder for 100 miles was a true sportsman. His performance was very consistent. He started with 95 the first day and ended with 93.5 on the last. He outscored Choi on each of the last four days.
Finally, it was time to present the most important award, the New Astley Belt. I introduced Don Choi as "The Long Distance Champion of the World", and enumerated some of his accomplishments. He had now won all three of the New Astley Belt races.
Don raised the belt aloft. He now had three belts. The TV cameras were rolling and the cheering was loud and long.
Don Choi was gracious in victory and shared the TV spotlight with Robert Perez.
Their feat would headline the next issue of Ultrarunning magazine. "The First Modern Day Runners To Reach 500 Miles in 144 Hours".
Final totals:
Don Choi (35) 506 mi. 893 yards*   *A new modern day U.S. record and all-time U.S. outdoor record
Robert Perez (33) 501 mi. 893 yards
Gary Cross (24) 422 mi. 800 yards.
Mario Escobedo (25) 415 mi. 440 yards
Bob Davidson (36) 365 mi. 880 yards**   **A new modern day U.S. racewalking record
Dick Collins (50) 357 mi. 440 yards***    ***A new all time U.S. record for age 50 plus
Lee Preble (49) 340 mi. -0- yards
Ken Hamada (44) 337 mi. 880 yards
Richard Kegley (65) 330 mi. 1320 yards****     ****All time world record for age 60 plus
Dennis Coffee (36) 321 mi. 880 yards
Jerry Dietrich (50) 300 mi. 440 yards
non finishers:
Tom Kline (39) 299 mi. -0- yards
Leon Ransom (47) 296 mi. -0- yards
Steve Galvin (45) 264 mi. -0- yards
Ted Epstein (48) 256 mi. 1320 yards
Ronald Olson (48) 250 mi. 880 yards
Mike Wade (31) 228 mi. -0- yards
Pete Saccone (40) 215 mi. -0- yards
Jerry Schuster (29) 156 mi. 880 yards
Jim Honig (33) 85 mi. -0- yards
Chet Blanton (24) 70 mi. -0- yards
Next: The 4th New Astley Belt 6 Day Race
Final note:
If you highlight and right click on the webpage below in blue, you will see the current Ultra records listed. Scroll down to the all time U.S records for 144 hrs., and you will see that Don Choi's total is still #9, thirty years later. Also you will see that Robert Perez is listed at #10.
Also, Choi is also listed at #9 all time for 48 hours.
http://www.ultrarunning.com/featured/ultrarunning-magazine-all-time-lists/