THE 2nd NEW ASTLEY BELT SIX DAY RACE
10/26/2011
the Silver Strider online presents
M

emory

L

ane
Brought to you by
SPONSORSHIP AVAILABLE
The 2nd New Astley Belt 6 Day Race
My personal diary account – by Jerry Dietrich
I decided to publish this account of the 2nd New Astley Belt Six Day Race on the 30th anniversary of the event. It took place in the spring of 1983

When Betty and I decided to hold a 2nd New Astley Belt 6 day race, we thought it should be much easier than the first. Some things were easier and some weren't.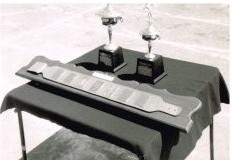 We decided the awards would be no problem. We would duplicate the awards from last year.
The New Astley Belt to the winner.
The Fitzgerald Cup to the runner up.
The Rowell Cup go to third place.
Large onyx trophies for 4th and 5th places.
Smaller onyx trophies for 6th thru 10th.
Plaques to all other finishers.
We decided to make four important changes.
1. The location. We needed a newer track with more cooperation from school officials. I had a better idea how to negotiate a contract with the school based on my experience the first year. We required the sprinklers on the football field to be turned off for 7 days so that we could use an area past the end zone for tents. We wanted a track that would be well groomed at the start of the race. We wanted better lighting in the area where the scoring tables would be set up. No other activities or practices of any sort would be held on the track for the duration of the race.
2. We decided to reverse running direction every 6 hours. We hoped to avoid the massive injuries we experienced in the first race when we change directions every 12 hours. We changed the starting time to 12 noon. Each day would begin and end at noon.
3. We vowed better communication with the press and TV.
4. No friends or well wishers would be allowed in the first three lanes of the track.
We found a new site for the race. A high school track 2 miles east of our first race. The school sat on a hill and had better facilities as far as lighting and restrooms were concerned. The parking was a slight problem because the track was elevated so that it was nesscessary to climb a flight of stairs from the parking area to the track. The cooperation of the custodial staff was great. The track was in perfect condition for the start of the race.
We anticipated more runners for this event, but as we moved into March the entries were few. I felt discouraged but still excited about my own effort. My training had gone much better than the first year and I had hopes for a top three finish.
Race day arrived and we had 12 entries, less than half of what I'd expected. The quality of the field was good, but there were more six day races for runners to choose from this year. In addition to races in England and France, there was a new race in New York. The New York Road Runners were staging a six day race in Van Courtland Park. The New Jersey race ended 7 days before ours started, forcing runners to pick one or the other.
There were originally 14 entered but we had last minute cancellations from Emile LaHaragge of France and Bob Smith of Glendale. I had met Emile 4 weeks earlier. He was on his way to train with the Tarahumara Indians. On his way back he was robbed in Yuma. He was stranded waiting for financial assistance from home. By the time he would arrive the second day would be drawing to a close. He said he would return (and he did in 1985) to our event. He wanted to win the New Astley Belt. Bob Smith lived in nearby Glendale, but said he couldn't get the vacation time he had coming at work.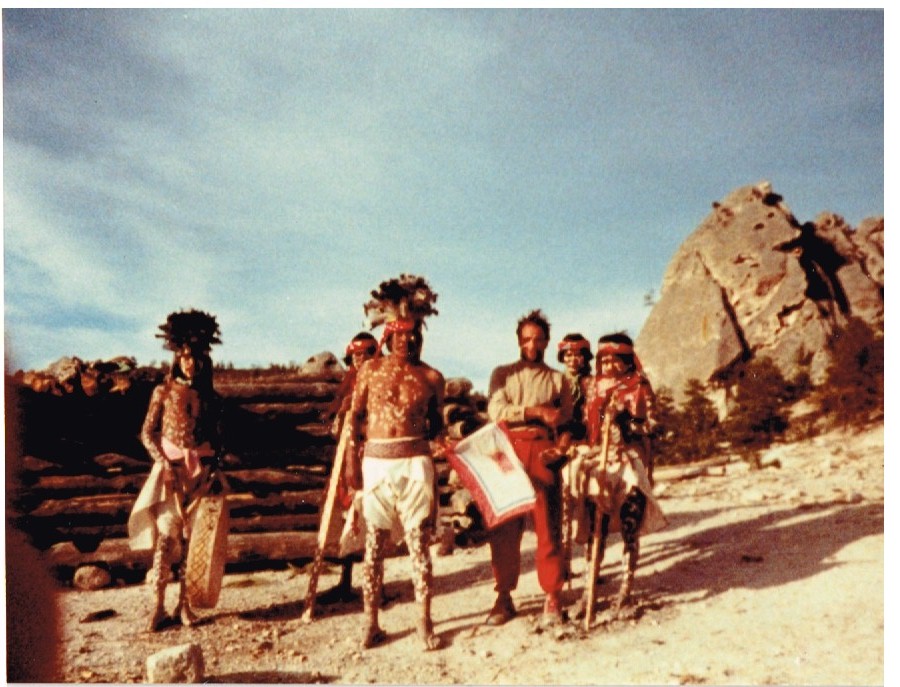 Emile (red sweatpants) sent me this photo taken after he finished a 50 mile training run with some of his Indian friends.
"I asked them why they were wearing war paint" Emile said. They laughed at me and said I had seen too many movies. They explained that Indians invented sun screen centuries ago.
RACE DAY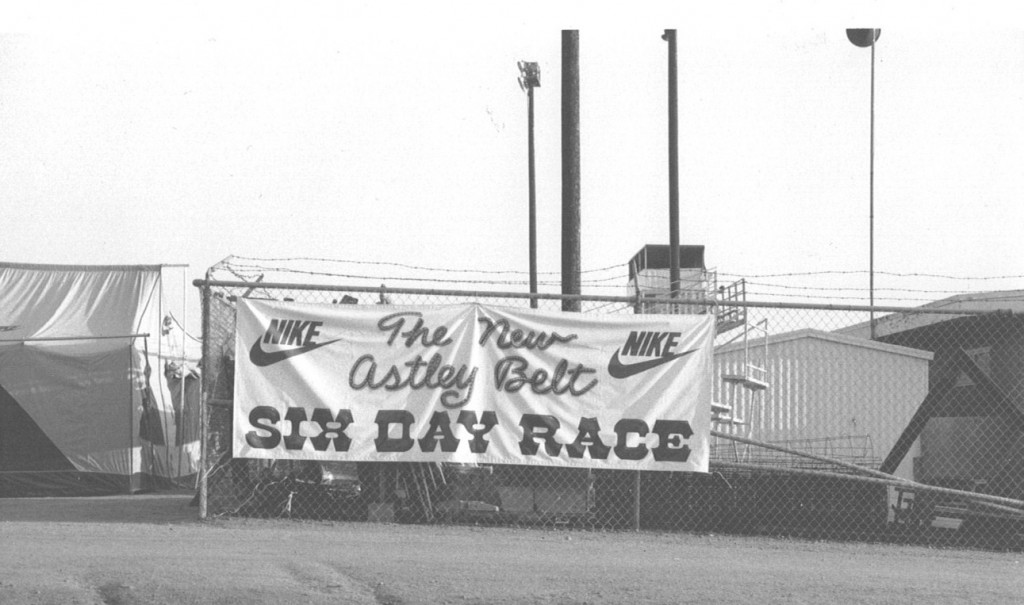 About three hours before the race was scheduled to start the runners were arriving at the track. Friendships were renewed and tents were being set up.
When Don Choi staggered up to me 2 hours before the start, I was shocked. At first I thought he was injured, but as we said our hellos I noticed he was unsteady on his feet, like he might topple over at any minute. He laughed as he told me that he finished the 6 day race in New Jersey last Sunday. He had gone to New Jersey to successfully exact revenge on Park Barner for an earlier defeat. I should have known he would do the New Jersey Race. He had ran every 6 day race held in the world so far in this century. I had one thought in my mind as we talked, "The New Astley Belt was up for grabs".
THE FIELD
Based on previous performances, Don Choi was the favorite, and myself and Dick Collins were contenders. Runners to watch were, Sy Mah, the 56 year old runner from Toledo, Ohio, who had completed more marathons than any living runner, and Bob Vernon, a winner of several 50 and 100 mile races.
It was thought by some that a racewalker might contend for the belt because we had two strong walkers. 43 year old Bob Wise from Georgia was one of the top racewalkers in the country. Twenty five year old Mario Escobedo from California had been gaining a reputation in 24 hour and 100 mile competitions.
Returning from last year, besides Choi, myself, and Collins were, Dennis Coffee, who finished 8th last year, Leon Ransom, who finished 9th, Jim Honig, a finisher, and Richard Kegley, now age 63. Kegley was determined to be a finisher even though he planned a 24 hour break for religious reasons on the 5th day. Based on last year, I did not doubt him for a minute.
Jim Scophammer was the second oldest entrant at 59. He came recommended by Dick Collins which made any further questions unnecessary.
Sy Mah had arrived with a handler and a large tent with mesh sides. The tent was transparent and had three cots and a table inside. His handler was helping him set up. She was a 55 year old woman wearing an elastic knee brace. She was Myra Linden from Des Plains Illinois. I talked to her when introduced and discovered that she was an ultramarathoner herself. I sensed that she would like to be competing but was unsure of herself in such illustrious company. I invited her to enter and told her that we needed an experienced woman entry. She happily accepted my invitation.
About this time an athletic looking 32 year old woman sought me out. Her name was Barbara Dockstader and she asked to enter the race claiming she had done a 50 mile walk and a new event called a "triathlon". She certainly looked fit, but she was local and I had never heard of her. I was ready to turn her away when I remembered my own words, "this race cannot be a true championship unless it is open to everyone".
I accepted her entry, bringing the total number of entries to 14.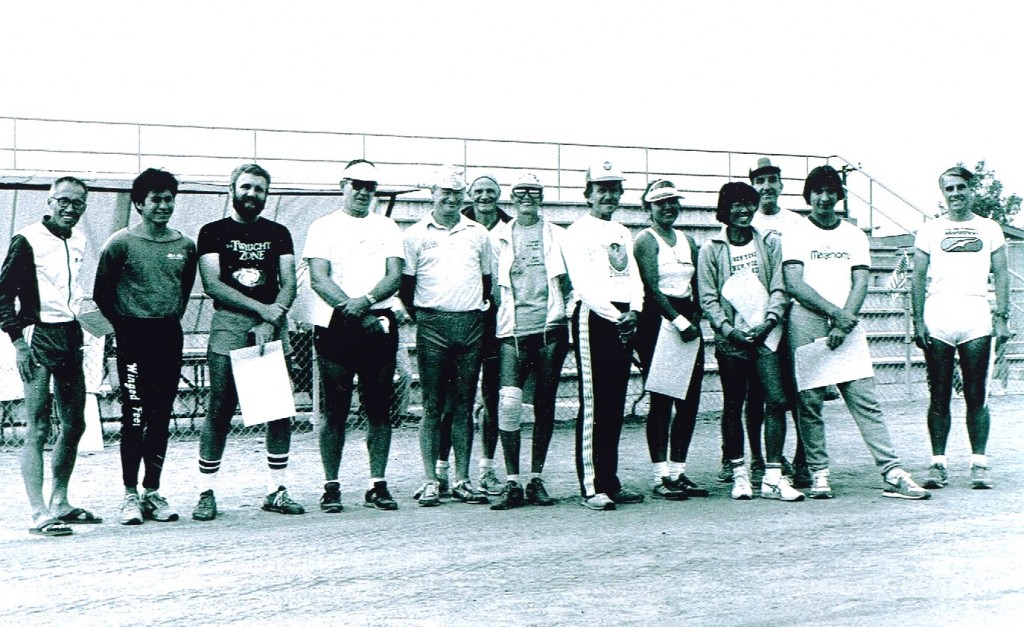 DAY ONE
There was some local press present as the starting gun sounded. I went straight to my tent without doing a single lap. All the runners were running strongly charged with adrenaline. A reporter came to my tent and asked why I wasn't running. I suggested he come by tomorrow at noon and check the leader board. I explained that this was an endurance race. I felt running in the hot sun was detrimental. I planned to start my effort at 5 pm. Later tonight when all the sunburned runners were sleeping, I would be making my main effort. At the end of 24 hours we would see the result.
I tried to nap, but that wasn't possible given the noise and excitement going on outside. So I relaxed and read while I waited for the sun to lower itself in the afternoon.
Don Choi stared slowly, while Bob Vernon took the early lead. He was a handsome 49 year old athlete who reminded me of Robert Redford. Sy Mah looked very good. His foot strike was so light he floated along the track effortlessly. He was very thin and wiry, weighing about 130 at 5'8″ or 5'9″. Scophammer remarked that he thought "Mah was made for this event".
The race walkers looked good. Bob Wise and Mario Escobedo held a very strong pace and kept pace with each other. Leon Ransom was walking strongly but was being lapped time and again by Escobedo and Wise. Wise and Escobedo had small radios in their hats listening to music as they sped around the track.
Bob Wise had arrived without any running gear or other necessities. He asked Choi if he could share his tent and Choi agreed. It was a small two man pup tent. I thought based on the past that Choi would spend very little time in his tent, since he had never brought more than a sleeping bag and an aluminum folding chair to a race before. This time however, he was worn out before the race started and it was obvious he was planning more breaks than usual.
Richard Kegley was a very talkative man and liked to run with anybody handy so he could talk as he ran.
Leon Ransom never said a word to anybody as he scowled his way around the track. He didn't want to be photographed, and he didn't want to know his mileage. He took his breaks lying in the bed of his pick up truck on a sleeping bag. "Tents are for sissies", he remarked last year. He was the only real 'loner' in the field.

I took to the track at 5 pm and began a series of warm up laps mixing running and walking. By nine pm I was running well and during the night I passed everyone except Don Choi.
Myra Linden was running most of the time with some walking breaks. Her break time off the track was spent in the big tent usually lasting 20 to 30 minutes.
Jim Scophammer was a happy go lucky man with a nice running stride and a ready smile for all. He seemed to be having a good time walking or running or eating.
Dick Collins was serious. He was running strongly with Jim Honig most of the time. He was thinking about the belt as were some of the others. Few breaks and strong running were his plan.
I couldn't figure out Coffee's race plan. I knew from the last race that he was very smart and knew how to ration his energy. His final day mileage would be near the top.
Barbara Dockstader was the first one to fall behind the pace for 300 miles. She had walked 42.25 miles during the first 24 hours and gone home. She would not return for 18 hours.
The totals for day one were, Don Choi 102.5, Jerry Dietrich 83.25, Bob Vernon 82.75, Mario Escobedo 80.25, Dick Collins 78.75, Jim Honig 75, Leon Ransom 67.25, Richard Kegley 63.25, Dennis Coffee 63, Bob Wise 59.75, Jim Scophammer 55.25, Myra Linden 51.25, Sy Mah 51, Barbara Dockstader 42.25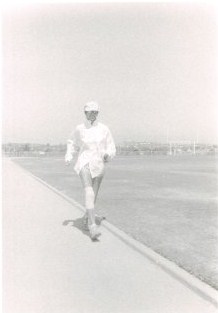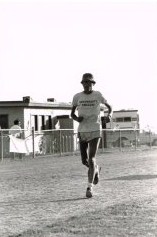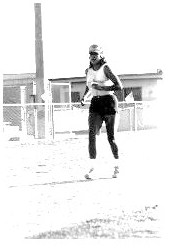 DAY TWO
Most of the runners were still on the track during the day. Escobedo moved into 2nd position with Bob Vernon looking strong in third. In the early evening, Choi joined me during a walking break and asked me what I knew about Vernon. It appeared Choi was considering Vernon to be his main competition at that point. He knew my running limits very well. Escobedo was walking and Choi didn't seem too concerned about him. Vernon however was an unknown and Choi didn't have the strength to stalk him. Choi would have to wait and see how much time Vernon spent on the track to assess his threat.
Since only four of us had reached 80 miles the first day, I deducted it was a five way battle for the belt. The exception was Dick Collins with 79 miles. I could not count him out. I knew him too well.
I began to notice some strange behavior by Bob Wise. He seemed to be having conversations with himself. He was nodding his head with questions and answering with gestures. I had noticed earlier that Don Choi had moved his sleeping bag into Sy Mah's large tent. When I went past Choi's pup tent I noticed it was completely filled with wrappers, cartons, and various items of trash. About nine p.m. I saw Wise enter the tent for a break, flopping down atop the trash.
Later that evening I noticed that Ransom had set a bucket of half green peaches along the curve of the track. He would scoop up a peach and eat it as he circled the track. He had put in a lot of hours on day one but had slowed some on day two. By midnight he was out for the count in his truck bed with a 36 mile day.
Escobedo proved the strongest in the field on day two racewalking 68.75 miles. Choi managed 67.5 and Kegley talked his way to 58.75 miles. Coffee looked strong with 57 miles as did Honig with 55. Bob Wise continued to be consistent with 53.
The day was a poor one for the rest of us.
Three runners were in danger of not making the 300 minimum. Mah's 2 day total was slightly behind schedule at 97.75. Scophammer had 95.75 and Myra Linden had 93.5. Dockstader was not going to be a finisher. She appeared for short periods walking 18 miles for the day bringing her total to 60.5 miles.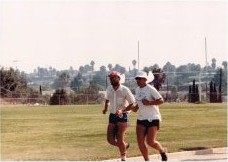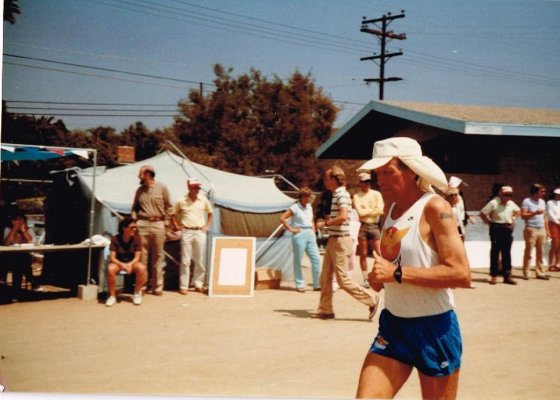 The leaders after two days were:
Don Chol 170 miles, Escobedo 149, Vernon 131.5, Honig 130, Dietrich 128.5, and Collins 125.75.
DAY THREE
Choi's condition looked about the same. He seemed on the verge of collapse. He appeared in a trance as he scuffled around the track. His running was ragged, but he continued to spend more time on the track than everyone else. How he could continue without sleep was a mystery.
In the early afternoon the football team began a scrimmage in the center of the football field. It was warm and they weren't wearing any pads. Since football season was in the next school year, I was surprised to see even a light scrimmage. I didn't see how their practice would affect the race except maybe in a positive way. Watching them practice relieved some of the boredom. One of the players was a huge specimen standing about 6'2″ and weighing at least 220. He looked more like a college player. He was absolutely ripped. It was fun watching him dominate every play. They weren't making full contact and he would just place his hands on runners to simulate a tackle.
I had just rounded the curve and was entering the track straightaway when I saw a football bounce onto the track. The "Scowling Bear", Leon Ransom, who was 30 yards ahead of me, scooped the ball up as he walked and turned onto the infield and began walking toward the players.
The muscular player held up a hand and shouted, "ball". He started toward Leon who continued walking straight at him.
"Hey man, ball" the athlete shouted again as they drew closer to each other. I slowed to a stop to see what Leon was doing. He was squeezing the football as he walked. I could see the muscles in his forearms bulge as his fingers sunk into the football. I knew you couldn't pop a football with your bare hands but it seemed the seams were being tested.
When Leon was about 15 feet away, he flicked his wrist, and fired an underhand tight spiral into the players midsection. The muscular kid didn't flinch or gasp, but bent forward slightly and tucked in the ball.
"Keep the ball off the track" Leon growled.
"Okay, man! Sorry", the kid replied.
Later a spectator told me that Leon had played professional football at the center position. I didn't believe it.
"He's too small", I replied. "He's only 5'9".
"Yes, he is too small," the man agreed. "But who was going to tell him?"
Myra Linden surprised us all by coming back strong during the 3rd day. By early evening her and I were lapping a tiring Escobedo regularly.
At 11 pm I was approached during a break by Dale Sutton who set the American Record for race walking last year. Dale was a spectator this year offering encouragement to all. He told me that Mario Escobedo had been running.
I caught up with Mario on the track and asked him if he had been running. He said that he was now mixing running and walking. He felt he couldn't hold onto second place unless he did some running. The race walking had taken a toll and he found relief in jogging. Mario said he didn't care about Sutton's modern day race walking record. He felt he had a chance for the belt.
Honig was in trouble and was spending long periods off the track. I think he needed sleep. His running partner, Dick Collins retired early with a 31 mile day. I thought I noticed a slight limp on his right side. A hamstring, or calf pull, I thought. His departure caused him to drop from 7th to 9th place.
It was a mixed day. Some faltered and some came back. Only five of us exceeded 50 miles. Choi, Escobedo, myself, and two surprises, Myra Linden and Jim Scophammer.
Scophammer, Linden, and Mah were still a couple of miles behind schedule, but nothing they couldn't easily make up. It looked like everybody might be finishers except for Dockstader who appeared mid day to walk one mile and went home for good.
After three days the leaders were:
Choi 239.75, Escobedo 200.75, Dietrich 180.5, and Vernon 177.
DAY FOUR
My usual habit was to sleep from noon until 4 pm. when I would begin a warm up walk.
The runners were walking in groups talking to each other.
Joining them on the track, I asked, "What's going on?".
"Collins tore his achilles tendon yesterday" someone replied. "His wife took him to the hospital and he is going to need surgery. The doctor said he'd never run again".
I was stunned. This couldn't happen. Dick Collins was indestructible. I continued to walk and without realizing it, I had walked 6 laps.
"Shouldn't you start running?", my daughter, Yvonne, asked.
I nodded and began to jog, unable to stop thinking about my friend.
Choi continued with another steady day and it was apparent he would win the belt again. He was like the energizer bunny. He just kept going.
Maybe it was the distraction of losing Collins, but only four runners made 50 miles on day four. Choi chalked up 69.75 for the second straight day. Kegley, the 63 year old marvel from College Place, continued to slip past more runners as he chalked up 65 miles for the day. Myra Linden continued to stay strong with 52 miles, and Escobedo barely made an even 50. Collins running partner, Jim Honig, covered only 34 miles and Bob Vernon fell to 38 miles.

Scophammer slipped badly with a 31 mile day and was now in danger of not finishing. With 178 miles for four days his chances looked slim. Ransom had also slipped to 178, after averaging 37 miles each for the past 3 days. With Collins and Dockstader out, it looked like we would have 10 finishers at most.
Leaders after four days were:
Choi 309.5, Escobedo 250.75, Kegley 226.5, Dietrich 225, and Vernon 215.25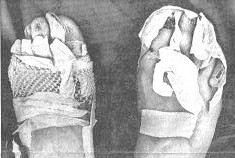 I advised this first timer before the race, "Vaseline your toes generously and wear your sox inside out."
He replied, "I don't need to do that, I never get blisters."
This photo was taken 4 days later.
DAY FIVE:
I overslept at the start of day 5. It was 5 pm when I hit the track. I felt fatigue and depression from lack of sleep earlier that morning, so I hoped an extra hour of sleep would help my mental state. I felt somewhat better as I did some warm up laps.
Suddenly Dick Collins ran by. I stopped in my tracks, stunned. Was I halucinating?
I looked at his right calf and his achillies tendon had a tear that was rolled partway up his calf in a lump.
How could he be running? He was gone before I had a chance to ask and I didn't see him again for about 2 hours.
It was time for me to pay attention to my own effort.
I walked and jogged until sunset and then I stopped at the scorers table to see how the day went. The runners were inspired by the return of Collins. Nine runners were doing well on the 5th day, including Dick Collins.
A positive feeling filled the air. Dick Collins was reeling off lap after lap. When he retired at 11 pm, he had 65.75 miles for the day, topping all runners. His running partner, Jim Honig, chalked up 57 miles.
The 2nd highest total for the day belonged to Bob Wise, the racewalker from Geogia who scored 62.25 miles for the day. Choi ran 59.75 for the day and was easing up. He had the belt in hand. Escobedo looked solid in 2nd. third was up for grabs with three contenders.
The leaders after five days were:
Choi 369.25, Escobedo 306.25, Kegley 276.5, Dietrich 275.5, and Wise 267.
DAY SIX
The final day arrived. It was now or never for those in danger of not finishing.
It was easy to see how we stood.
Skophammer, Ransom, and Collins had no chance of finishing. Dennis Coffee needed 60 miles on the final day. I felt he would suceed. Sy Mah needed 56 miles. I thought he had a chance because he came back a little on day five with 52 miles.
Everyone else was in good shape.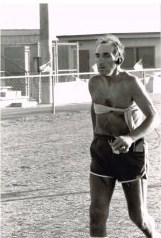 While I took my usual mid day rest, Bob Wise moved into third place overtaking myself and Kegley who was also off the track. When I entered the track in late afternoon for my warm up laps I Saw Wise steam by. He was really cranking out the laps. He had a bandage wrapped around his chest to stem the flow of blood from the beneath his underarms. The powerful arm movement that accompanied his walking stride had rubbed all the skin off of his sides.
I heard two runners complain about food missing from their folding tables outside their tents. I suspected Bob Wise was sniping food here and there. During the first 3 days, it was customary to ask if anyone needed anything when you made a food run. Wise usually asked for double cheeseburgers and fries with a milkshake. When the food was delivered, he would say, "I'll pay you later". By the third day nobody was asking Bob if he needed anything.
Dick Collins had a large wash basin which he soaked his feet in several times a day. He told me his feet would get overheated and the cool water gave him a measure of relief. Today, when he put his feet in the water during his afternoon break, it was too warm. His water jug had been setting in the sun and the water was too warm. He dispatched his son to get a bag of ice, so that he could cool the water. He decided to do some laps while he waited. He picked up the basin that he had been soaking his feet in and placed it on his table.
When he passed by his tent a few laps later, he saw Bob Wise bent over his table washing his face in the basin.
When darkness fell I began to run aggressively. A little past midnight I passed Wise and lapped him a couple of times before he retired to his tent for a rest. By the time he returned, I had a five mile lead.
I decided to take a rest and asked Betty to wake me when Wise drew within 8 laps of my lead. She woke me a little later and I began to extend my 8 lap lead. I felt like I had third place, the Rowell Cup, and first master, all within my grasp.

Wise had 4th place cinched with a 10 mile lead on Kegley in 5th, who was well on his way to establishing a new world record for the 60 plus division. Myra Linden was busy setting a world record for women 50-59. Honig looked good but had no chance to catch Kegley in 5th. Kegley had returned from his sabbath break well rested and his legs were a blur of mini strides as he reeled off the laps. Honig had to forget Kegley because had his hands full trying to hold off Myra Linden who was only a few laps behind.
Vernon, Mah and Coffee were barely going to make the 300 mile minimum.
The final gun sounded.
AWARDS
The awards were the same as last year except we eliminated the Sportsmanship Award. Last year the ballot votes were so spread out that it was apparent that all were fine sports and deserved honor.
The awards presentation would be simple this year. Ten finishers meant 10 t-shirts. No finisher plaques were needed. Every finisher would receive a trophy.
Dennis Coffee was called forward to receive the 10th place trophy. He covered 300 and 1/4 miles. He joined the elite group of four runners who had finished both New Astley Belt 6 Day Races.
The 9th place trophy was awarded to Sy Mah who ran 301 miles. Behind most of the time he came back on the last two days to become a finisher.
Bob Vernon accepted the trophy for 8th place. Bob only exceeded 50 miles on the first day. The rest of the event was a defensive struggle to avoid a bad day. Things looked bad after his 38 miles on day four, but he held on to end with 301 and 1/4 miles. His first day total of 82.75 was the 3rd highest, and gave him the cushion he needed the rest of the way.
The 7th place trophy went to Myra Linden. She was, of course, "First Woman". Since there were no age or sex distinctions, everyone had competed on equal terms. Her total of 310 and 1/4 miles was a all time world record for women over 50. I announced that next year we would give a separate trophy to the first woman finisher and name it the "Linden Cup".
Myra had arrived arrived six days earlier as Sy Mah's handler, and was leaving as the world record holder for 6 day racing. She couldn't stop smiling.
The 6th place trophy went to Jim Honig. Jim's effort consisted of two good days, two bad days, and two good days to finish with 313 miles. His effort seemed to parallel Collin's race. Since they ran together most of the time it was evident by Jim's mileage that his running was influenced by the ups and downs of Collins performance.
Next we moved to the larger trophies. Larger versions of the 6th through 10, they were very impressive.
5th place finisher, Richard Kegley received enthusiastic cheers from those present. He came back from falling short last year to not only finish, but place in the top five. His 319 and 3/4 mile performance was a new all time U.S. record for 60 plus men.
4th place went to Bob Wise, the racewalker from Georgia. His highest mileage was on the sixth day. His second best day was the fifth. What a finish! His 330 and 1/2 miles was a Modern Day U.S. racewalking record, besting Sutton's mark set last year by 17 and 1/2 miles.
I received the Rowell Cup for 3rd place overall. The cup was named for Charles Rowell who retired the original Astley Belt by winning it three consecutive times. I was also first master although that was incidental.
Mario Escobedo received the Fitzgerald Cup, named for Patrick Fitzgerald who defeated Charles Rowell in the greatest 6 day race of all time. Mario's 2nd place finish reminded us of last year when the youngest runner in the field, Stan Leventhal, finished 2nd. Mario announced that he intended to return stronger next year.
All that remained was for Choi to totter up and receive his second New Astley Belt. He came forward and held the belt aloft. He was truly unbelievable. Two six Day Races in 21 days, at both ends of the U.S., and he won them both. Moreover, there had been 7 six day races held in the 20th century and Choi had competed in them all. Only two Americans had won six day races. Park Barner had won one and Don Choi had won four. A Frenchman had won one and a New Zealander won the other.
Everyone bid their goodbyes in high spirits, promising to return next year.
Finishing 144 Hour Totals
1. Don Choi 35 420 miles
2. Mario Escobedo 25 355 3/4 miles
3. Jerry Dietrich 49 332 miles
4. Bob Wise 43 330 1/2 miles*
5. Richard Kegley 63 319 3/4 miles**
6. Jim Honig 33 313 miles
7. Myra Linden 55 310 1/4 miles***
8. Bob Vernon 49 301 1/4 miles
9. Sy Mah 56 301 miles
10. Dennis Coffee 35 300 1/4 miles
DNF Dick Collins 49 267 1/4 miles
DNF Leon Ransom 46 259 1/2 miles
DNF Jim Scophammer 59 256 1/4 miles
DNF Barbara Docksteader 32 149 1/2 miles
*A Modern Day U.S. race walking record
**An all time U.S. record for 60 plus
***An all time world record for women 50-59
Note: My daughter Yvonne, an amateur photographer, drove 200 miles from her home to spend the entire 6 days with us at the race. She put together a album of photos she shot during the race and wrote a poem to commemorate the occasion. It was, and still is, the highlight of my ultrarunning career.