On a bright, sunny morning in January, a celebration was held to honor the Super Athletes of 2018.  The Super Athletes are the fastest and strongest runners 50 years of age and older in the state of Washington. Each of the athletes to be honored finished the year in the TOP IO ranking at four distances: the 5k, 10k, Half Marathon and Full Marathon.  This required both speed and endurance.  Only 10 runners in 2018 met the challenge and earned the right to be called SUPER ATHLETE.
The awards presentation was held at noon in a private banquet room at JoeSeppi's Italian Ristorante in Tacoma.  Over 50 guests arrived to pay tribute to these incredible athletes and the room was filled to capacity.  Each table was adorned with colorful centerpieces designed by Nancy Larsen.

On a table near the front of the room, the unique award each runner would receive was displayed.  The SUPER ATHLETE award is a custom designed silver ring bordered in rhinestones.  It is handsomely displayed in a presentation box engraved with the athlete's name and achievement.  Since the Super Athlete program began 3 years ago, only a small number of runners have qualified for this award.  To own a SUPER ATHLETE ring is the dream and goal of runners throughout the state.  
The festivities began with a delicious no host lunch.  Joe Stortini, owner of the restaurant, welcomed the group with warm hospitality and some humorous comments. Joe and Jerry Dietrich, founder of the Silver Strider and emcee of the awards celebration, were classmates at Lincoln High School.  They enjoyed exchanging anecdotes before the program officially began. 
Jerry began the program following lunch, by introducing those who worked tirelessly all year compiling the statistics for the TOP IO standings.  He thanked each of them for their outstanding work: ED HECKARD – 5k results, DAVID LONGMUIR – 10k results, BOB HOEKMAN –  Half Marathon results and JUDY FISHER – Marathon results.  The time each of these contributors puts into this work is daunting as they must scrutinize race results of certified races throughout the U.S., as well as other nations.  Without them, the Super Athlete program would not exist. 
Jerry then began the awards presentation, pointing out that there was fierce competition for the Super Athlete rings in 2018 and congratulated the 10 runners who were being honored this year.  The SUPER ATHLETES of 2018 are: Bob Hoekman, Arne Hales, Mick Allen, Doug Beyerlein, Keith Lerew, Ed Heckard, Sandra Madden, Carol Sexton, Judy Fisher and David Crawford.  Though Bob was in Texas, the remaining nine athletes were present and each was called up one at a time to receive their ring and gift certificate.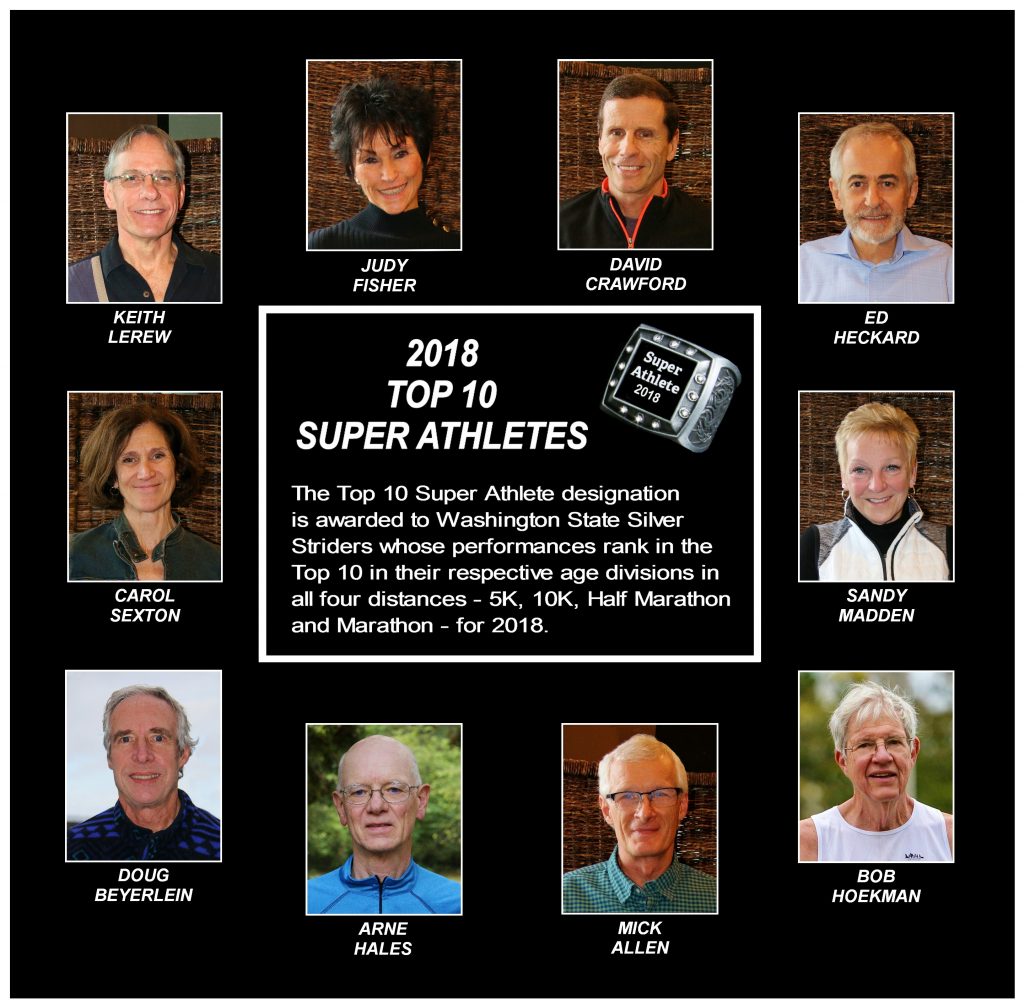 The format was changed this year to give each runner an opportunity to say a few words about their journey to becoming a SUPER ATHLETE.  
Arne Hales, M70-74, said his biggest challenge was waiting until November to qualify in 3 distances.  This was Arne's third ring and he said he really had to work hard to make it happen.  Jerry pointed out that Arne is in the last year of his age division, making his achievement all the more noteworthy.
Though Mick Allen, M60-64, was ranked near the top in all distances, he was faced with a tough challenge this year. Mick shared the fact that he injured his hamstring while running his 10k race to qualify.  It was tough going and he felt fortunate that he made the TOP IO for the 10k.
Jerry complimented Doug Beyerlein, M65-69, on a good year and noted that he did especially well at the longer distances.  Doug felt that the secret to his success was doing longer training runs.  Putting in the mileage seems to have paid off for Doug.
Keith Lerew, M60-64, seems to be getting faster and stronger each year.  When asked if he had a favorite race, Keith said he really liked the Tortoise And Hare 5k Handicap.  He likes being with the Silver Striders and enjoys the camaraderie. 
Jerry pointed out that Ed Heckard, M70-74, is fast and asked him which distance presented the greatest challenge.  Ed prefers shorter distances and replied without hesitation, "The Marathon!"   
The first woman to be called up for a Super Athlete ring was Sandra Madden, W65-69.  Sandra is a 3 time honoree and said the reason she excels each year is because "My friends here in this room keep me motivated".
Carol Sexton had a breakthrough year dominating the W60-64 age group. When asked about her success, she said that hiring a training coach has greatly helped her running.  
The last 2 honorees to be called up to receive their rings were Judy Fisher, W75-79, and David Crawford, M65-69.  They were called together because they had both swept their age divisions, finishing 1st at all four distances!  
Judy is a legend and continues to dominate her age division year after year.  When asked how she does it, she modestly replied "I just keep doing the best I can".  Then she pointed to her husband, Bruce, and said he is her inspiration.
David shared that his favorite distance is the half marathon.  He stated that " It's a good test of speed and endurance, but it doesn't take as much training and recovery time from your schedule as a marathon."  Then he pointed to Judy Fisher and added "Judy is my inspiration."
The awards celebration concluded with a round of applause and a reception for the honorees and their friends and family. A delicious cake was served for dessert.
     All of the SUPER ATHLETES then gathered in the foyer of the restaurant for a group photo.
CONGRATULATIONS – SUPER ATHLETES of 2018!
                       A gala Celebration with family and friends