the 
Silver
Strider
 online 
presents
R

ace 

R

eports 
brought to you by
    7210 Greenlake Dr N, Seattle, WA
   16095 Cleveland St., Redmond, WA
The St. Paddy's Day Half Marathon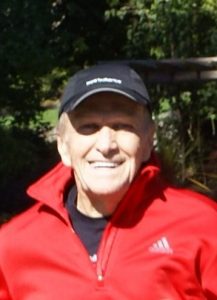 by Jerry Dietrich
with photos by Bruce Fisher
3/17/18 – Tacoma
What a difference a year makes! Last year the St. Paddy's Day Half Marathon would have been more properly named the St. Paddy's Day Deluge. It was, without exaggeration, one of the most miserable rain and wind storms of the year.
The weather this year, though not exactly balmy, was much better. The Silver Striders still had to don their rain gear, but their were smiles on their faces as they posed for the pre-race photo.
The out and back course of the St. Paddy's Day Half is challenging, to  say the least. With a fairly long downhill start, the course then heads down to the waterfront. The mostly flat stretch along Ruston Way leads to the hills in Ruston, descending once again along Ruston Way to the killer finish. The last part of this course is a steep hill, with an even steeper climb, to the finish. This resulted in some fatigued looking runners crossing the finish line.
The first Silver Strider to finish was Mickey Allen, age 61, who toured the course in 1:32:41.
The first female Silver Strider to finish was Kristen Holmquist, age 50, with a time of 1:49:01.
The St Paddy's Half Marathon brought us closer to the conclusion of the 2017-18 Grand Prix Series. With only three races left on the schedule, points and finishing positions are being finalized.
Ten age group winners have been decided and three are still to be determined. Finishing positions within each age group are clear in most cases, but a few runners still have a chance to move up a notch or two in their division.
The race was the 8th race of the Series for Susan Hall.
Susan became the 41st Grand Prix Series finisher for the current 2017-18 year. We have three races left for last minute finishers.
Nancy Larsen and Judy Fisher continued to lead the competition for the "Ms Grand Prix" title. They have completed all 25 of the races held so far this year.
Steve Husko, who is gunning for his third straight year as "Mr. Grand Prix", has assumed the lead in that race by completing his 19th race in the current series.
After the race an awesome lunch was enjoyed by some of the Silver Striders at the Matador Restaurant. They celebrated birthdays for Molly Childs and Marsha Murray.
        The Race Results in Photos by Bruce Fisher