the 
Silver
Strider
 online 
presents
R

ace 

R

eports 
brought to you by
    7210 Greenlake Dr N, Seattle, WA
   16095 Cleveland St., Redmond, WA
 Sleepless In Bellevue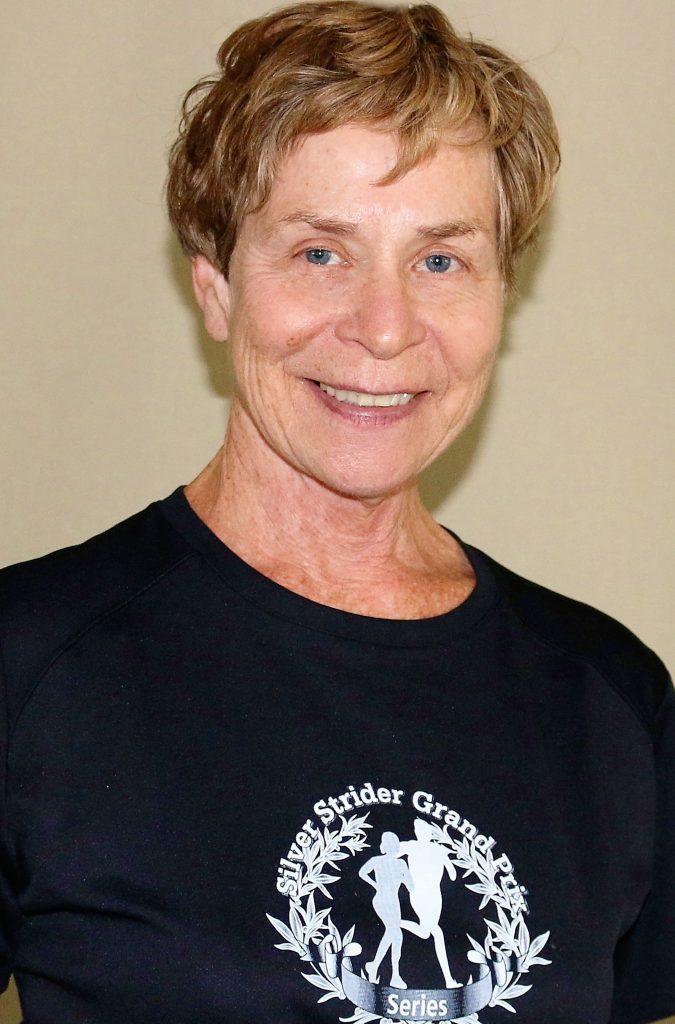 by Gretchen Ramsdell
with photos by Bruce Fisher
4/28/19 – Bellevue
First of all, it was nice to run races for Autism, which affects so many children and their families.  For many of us, the hardest part about the race was suffering from sleep deprivation the night before.   It was hard enough to crawl out of bed that early in the morning.
We had difficulty estimating the amount of time we would need from Bremerton to Bellevue before the start of the race at 8:20.    We nixed the Kingston/Edmonds ferry, although that was Tiare and Nick Bailey's route.  We got up at 4:25 A.M. and left around 5:00 to drive around to I-5 and 405.  That went okay, because it was early.  Karen Lichtenstein drove to Bellevue from Olympia the day before, and it took her two and a half hours.
Steve and Patty Husko experienced the birth of their first grandson the night before and didn't get to bed until after 2:00 A.M.  Needless to say, they got the least amount of sleep,  and had to get up just a few hours later.
We grabbed the first available parking place on the southwest side of Bellevue Square Mall and wandered around the park until we saw the tents.  We picked up our bibs and walked around a little, greeting other Silver Strider friends.  It was nice that there were normal inside bathrooms nearby.
We decided to go back to the car to drop off a few things.  But, oops, we couldn't figure out where we parked our car!  There was suddenly an endless number of parking entrances, none of which had our car!  We ran into Arne, sitting in his car, and he offered to drive us around to look for it, but we didn't want him to be late for the race.  Gosh, we finally found our car in the farthest "southwest" parking garage (which happened to be the first lot we had taken earlier)!  Sorry, Bruce, we missed the photo shoot but made it in time for the start of the 10K and the 5K.
We had made the choice to run the 5K.  It was well-marked and offered several water stations.  The Bellevue police were out in force, stopping traffic and directing runners.  The race started with quite a challenging hill followed by several steep downhills.  The last part of the 5K was a long incline almost to the finish line.  The 5K, actually, measured a little longer than a 5K.
At the end of the race, there were two types of water bottles, whole bananas and tangerines, "Bulletproof" Collagen Protein bars, coffee, and a choice of ice cream bars.  There were awards for the top 3 finishers overall in each race.  There was a variety of tables advertising and selling stuff.  Louise Mihay was able to get a free pair of running shoes from the Shoes N Feet Running store booth, using her free coupon from last year's awards ceremony.
Molly Childs was kind enough to man the Silver Strider table, offering info about our group and free chocolate kisses.
We enjoyed a delicious meal at the Tavern Hall restaurant in Bellevue Square.  Jerry Dietrich announced the winners of the 2018-2019 Miss Grand Prix and Mr. Grand Prix titles.   Judy Fisher won "Miss Grand Prix", and "my" Steve won "Mr. Grand Prix", in a tie breaker with Steve Husko. Steve said he felt extremely honored to win the "Mr. Grand Prix" title for this season.  We wanted to congratulate both Steve Husko and Judy Fisher for being winners, too.
We are both extremely grateful for all our Silver Strider friends, and we can never thank you enough for all your support.
                                                Jerry's notes:
The Race was a choose your distance event. The 5k, which turned out to be 3.44 miles, had a larger field than the 10k. Both courses were hilly. The first Silver Strider to finish in the 5k was Scott Clayton, who was 2nd overall. First female Silver Strider was Minh Phan. First Silver Striders in the 10k were John Leo (6th overall) and Kristi Sheeran (7th woman overall).
The final Grand Prix Series finisher for 2018-19 was Linda Burt. Steve Ramsdell has won the title "Mr. Grand Prix" for 2018-19. The annual Silver Strider Awards Party will be held at 11:30 a.m. on Saturday, May 11th, at the Old Spaghetti Factory in the Southcenter Mall in Tukwilla. Everyone welcome.
                                   Results in photos by Bruce Fisher
Several Silver Striders gathered at the Tavern Hall in Bellevue Square for brunch following the race. Below are photos by Steve Husko.