the 

Silver

 

Strider

 online 

presents




ARTICLES
 brought to you by

Route 16 Run and Walk Shoe Store
6745 Kimball Drive, Gig Harbor
                        Awards Party 2018 – Part I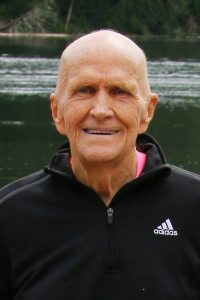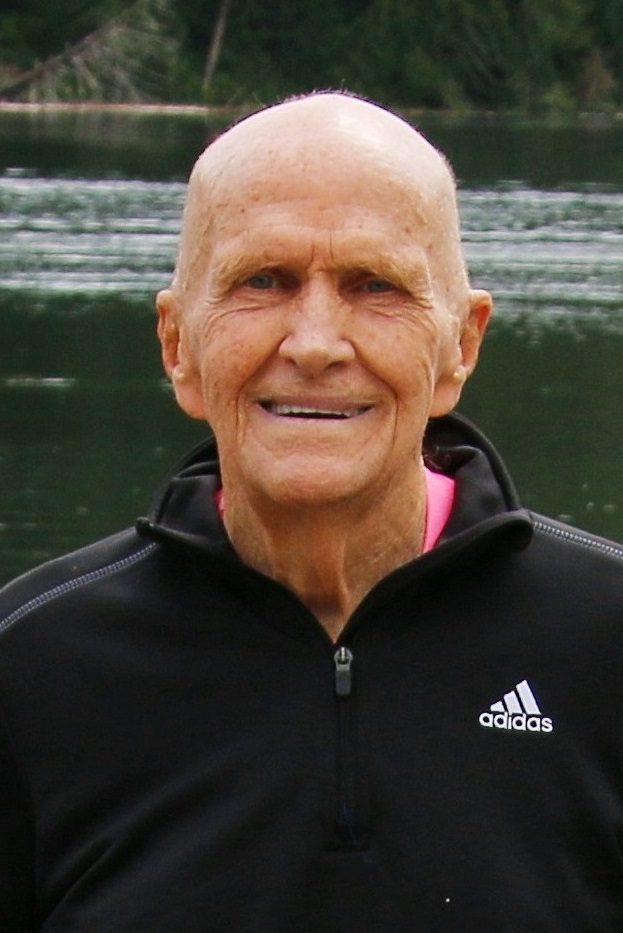 By Jerry Dietrich
with photos by Bruce Fisher
The 8th Annual Silver Strider Grand Prix Series Awards Party was held on May 24th, 2018 at the Old Spaghetti Factory in Tacoma. At 11:30 a.m. Silver Striders flooded the room in anticipation of the festivities.
After lunch, Sandra Madden brought out a birthday cake to celebrate birthdays for Dale Hall and Audrey Kirkwood.
……The awards presentations began with some introductions by the Emcee, Jerry Dietrich.
Those introduced were: Betty Dietrich – editor of the Silver Strider online magazine, Nancy Larsen- decorations chairperson, Larry Larsen – room setup, Audrey Kirkwood – recording secretary, and Molly Childs – raffle tickets.
Bruce Fisher was introduced next. Bruce was recognized for his photography work and his major role in our race reports. Bruce was also praised for giving our Rewarding Runners program a  financial boost with his creation of the Silver Strider Calendar.
Assisting with the presentation of awards was Sandra Madden who gave out free race entries, Dennis Zaborac who handed out trophies, and Betty Dietrich who presented gift certificates.
Next was a thank you to our Series sponsors. Our title sponsor, Dennis Zaborac, owner of the Kent Bowl, Shoes N Feet in Bellevue, and the Tacoma City Marathon Association.
Also thanked was South Sound Running, our title sponsor of the TOP IO feature.
Our feature sponsors were recognized. They were: Super Jock N Jill at Green Lake in Seattle  – Sponsor of the Race Reports, Route 16 Running In Gig Harbor – our Sponsor of Articles, The Balanced Athlete in Renton- Sponsor of our Memory Lane feature and West Seattle Runner – who sponsors both the Race Calendar and the Thrifty Runner page.
Then we welcomed our newest sponsor, the Run 26 Running Store in Mill Creek, sponsoring the Century Club page. Silver Striders were encouraged to support our sponsors.
It was announced that every finisher present would receive a trophy, personalized with their name and division place, and a free entry to an upcoming Grand Prix Series race. In addition, all age division winners would receive a pair of running shoes from South Sound Running. Everyone else who finished 8 or more Grand Prix Series races would receive a $50 gift certificate to one of the above-mentioned running stores.
Bob Hoekman and Arne Hales, who were unable to attend the Super Athletes party last January, were introduced and congratulated. They each received a Super Athlete ring and a gift certificate from South Sound Running.
Next, the official induction into the Century Club was conducted for the initial members of the Century Club. Each member received a custom designed plaque, personalized with their name and photo, recognizing their achievement in finishing 100 Grand Prix Series races.
Judy Fisher was singled out as the first runner to be inducted into the Century Club. She was praised for finishing 54 Grand Prix Series races in a row. An amazing achievement! Judy was presented with a sweatshirt for being the Century Club Champion.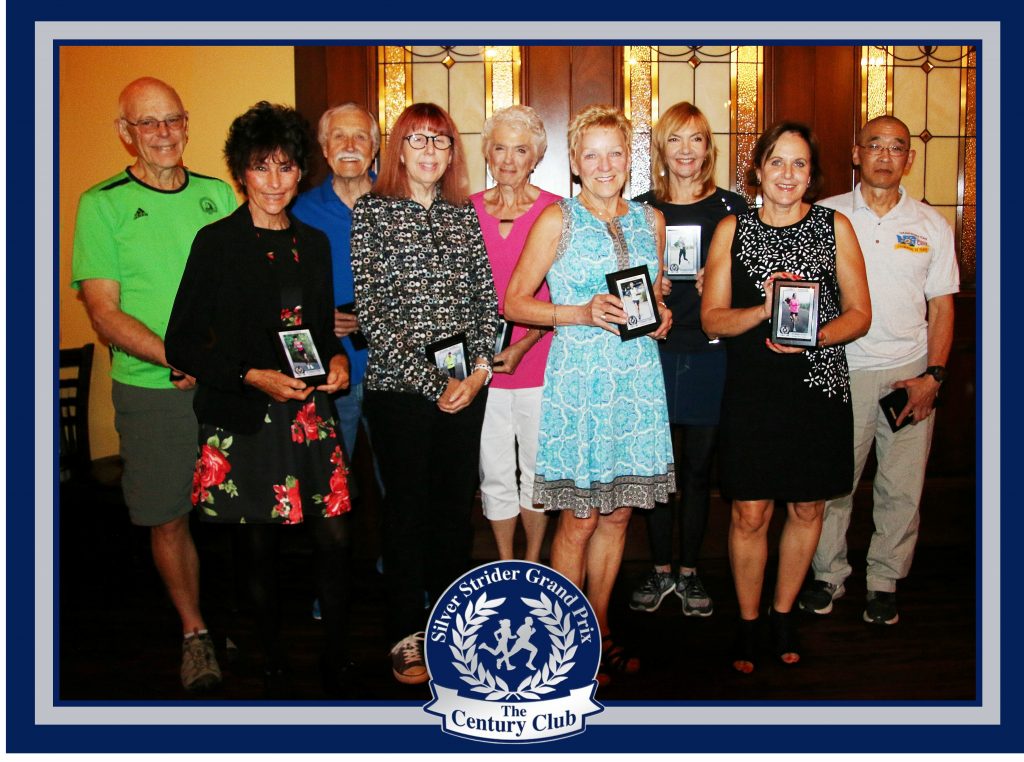 We took a break at this time to conduct the first set of raffle prize drawings. Bruce Fisher awarded the prizes to the lucky winners. Everyone present was eligible to win a prize. Since there were over 30 prizes to be raffled, 3 separate drawings were held. 
Presentation of the Grand Prix Series awards then began with the Women 55-59 age group. The winner was Audrey Kirkwood. Audrey received a pair of running shoes, a finisher trophy, and a free race entry to an upcoming GP race. Sue Wirsch received a $50 gift certificate, a finisher trophy, and a free GP race entry.
Next up was the Women 60-64 age group. There were two finishers present – Susan Hall and Patty Husko.
The winner of the Women 65-69 age group was Sandra Madden. The two contenders present were  Marsha Murray and Diane Martin.
Next was the Women 70-74 age division. The winner was Judy Fisher, followed by Karen  Lichtenstein and Nancy Larsen.
The winner of the Women 75-79 age group was Louise Mihay. Contenders were Molly Childs, Gretchen Ramsdell, and Betty Dietrich.
Our last Women's age group was 80-84. The winner was – Edythe Hulet.
………………O.TheThe second drawing was held next with more prizes.
Next to be honored were Men 60-64.  The winner was Keith Lerew. Contenders were Steve Husko, and David Anderson.
In the age group Men 65-69, the winner was Tim Oguri. Runner up was Dennis Zaborac.
The Men 70-74 had the closest competition. The winner was Arne Hales (80 pts.), followed by Martinho Ribeiro (79 pts.), Ed Heckard (78 pts.) and Dave Anderson (75 pts.)
The Men 75-79 age group winner was Jerry Bronson. Contenders were Larry Larsen and Steve Ramsdell.
………………………..e The final age group, Men 80-84, was won by Jerry Dietrich.
New this year was a silent auction for 3 sets of Doo-Wop CD's created by Bruce Fisher. There were 7 CD's in each set with over 150 oldies, but  goodies.  In a close contest, the highest bidders were Jerry Bronson, Arne Hales, and Ed Heckard.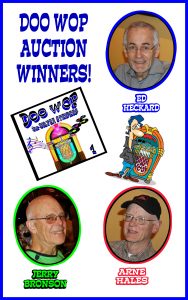 Dennis Zaborac made an announcement regarding the return of the Battle of the Boomers which will be held in July in Kent.
Those who help increase public awareness of the Silver Striders were acknowledged. The following runners and walkers wore their Grand Prix Series shirt or sweatshirt in 6 or more races this season.
6 races – Diane Martin, Dale Hall, Louise Mihay, Steve Ramsdell
8 races – Nancy Larsen, Marsha Murray
9 races – Dave Anderson
13 races – Larry Larsen
Thank you for contributing to our image.
                             ……..NEXT WAS OUR FINAL SET OF DRAWINGS.
The final prize each year has been an overnight stay in a fireplace, jacuzzi suite at the Wesley Inn in Gig Harbor.  The winner of the coveted Grand Prize Drawing this year was Ed Heckard.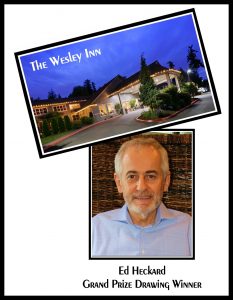 This brought us to the presentation of the special achievement awards.
To express our appreciation to Bruce Fisher for his many contributions to the Silver Striders, Bruce received a gift certificate for a pair of running shoes from South Sound Running.
As most of you know the Silver Strider online magazine is now known in other countries thanks to our Goodwill Ambassador, Dennis Zaborac. Dennis was  leaving soon to compete in the Comrades Marathon in South Africa.  In appreciation for spreading the Silver Strider message to other parts of the world, Dennis was presented with a commemorative plaque. On the front was a photo of Dennis reaching out to handicapped children in Viet Nam. Inscribed on the plaque were Dennis' own words, "My Neighborhood Has Always Been, And Will Always Be, The World."
Next to be honored was Mr. Grand Prix for 2018 – Steve Husko. Steve has won this honor for 3 straight years. This year he finished 21 races on the schedule.
The honor of being Ms Grand Prix for 2018 went to Nancy Larsen. Nancy completed all 28 Grand Prix Series races this year!
Because Nancy Larsen ran all 28 races on the Grand Prix Series schedule, including her first marathon, she earned the Sandra Madden Special Achievement Award for Exceptional Performance. Nancy proudly accepted the award from Sandra Madden.
                     That brought us to our final award. Silver Strider Of The Year. 
The Silver Strider of the year is a person who exemplifies good sportsmanship, enthusiasm and a positive attitude. The Silver Strider of the year is a person who, by their example, demonstrates the spirit of the Silver Striders.
The person who is the Silver Strider of the Year for 2018 embodies all of these qualities and will be honored at a special awards party on June 24th.
                                  Who will be Silver Strider Of The Year?
                       Watch for Awards Party 2018 – Part II (coming soon)
After an afternoon of good food, good friends, and good times, the party gathered in the lobby for the traditional group photo.