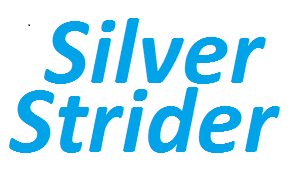 online magazine presents   
A

RTICLES
 brought to you by

Route 16 Run and Walk Shoe Store
6745 Kimball Drive, Gig Harbor

  The 2019 Silver Strider State 5k Championship
By Jerry Dietrich
with photos by Bruce Fisher
7/13/19 – Kent
The 2019 Silver Strider 5k Championship race was hosted by the Kent Cornucopia Days 5k. A turnout of the fastest runners in the State provided fierce competition. New faces were served as many winners were entering new age groups.
Only four out of 14 defending champions prevailed as new runners took the top spots. Larry Glenn returned to win his new age group in the closest battle of the day. Now competing in the Men 80-84 age group, Larry edged Roger Dean by one seventh of one second. World Class athlete, Judy Fisher retained her Women's 75-79 title as did Jerry Dietrich in his new age group 85-89. Carol Sexton continued as the top athlete in the Women's 60-64 age group.
Times were fast as TOP IO runners vied for the championship. In addition to those already in the TOP IO, 12 new runners crashed the rankings (consulting the 7/1 standings).
Plaques were awarded 3 deep in 5 year age groups from 50-54  to 85-89. The 1st place awards were presented following the race. The 2nd and 3rd place awards are being mailed to those winners.
The top three in each age group are:
Men 50-53  1st Steve Heaps, 2nd Roger Smith, 3rd Desmond Lee
Men 55-59  1st Jeff Brandt, 2nd Mitch Parker, 3rd Michael Brisbois
Men 60-64  1st Russ Otani, 2nd Mickey Allen, 3rd Keith Lerew
Men 65-69  1st Tim Oguri, 2nd David Crawford, Dave Sherman
Men 70-74  1st Arne Hales, 2nd John Marsteller, 3rd Paul Hsu
Men 75-79  1st John Phillips, 2nd Jerry Bronson, 3rd Steve Ramsdell
Men 80-84  1st Larry Glenn, 2nd Roger Dean, 3rd Elbert Field
Men 85-89  1st Jerry Dietrich
Women 50-54  1st Sue Heaps, 2nd Wendy Sweeney, 3rd Karen Fall
Women 55-59  1st Hiromi Conley, 2nd Pam Kramer, 3rd Michelle Rogers
Women 60-64  1st Carol Sexton, 2nd Kimmer Muenz, 3rd Mary McGee
Women 65-69  1st Barb Buman, 2nd Diane Thomas, 3rd Dorothy Henry
Women 70-74  1st Karen Lichtenstein, 2nd Diane Martin, 3rd Nancy Larsen
Women 75-79  1st Judy Fisher, 2nd Kathleen Bauer, 3rd Louise Mihay
Women 80-84  1st Sue Stipe, 2nd Sally Krie, 3rd Molly Childs