Saying Goodbye
01/02/2023

x
online presents
x202x
x
A
rticles
Brought to you by

Route 16 Running and Walking
6745 Kimball Rd. Gig Harbor 98335
xxxxxxxxxxxxxx xxx

Saying Goodbye

xxxxxxxxxxxxxxxxxxx

by Jerry Dietrich and Bruce Fisher
x202x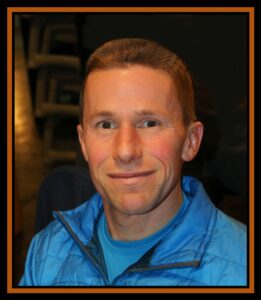 Robert (Rob) Bondurant
died following a fall while climbing alone in the Sierra Nevada mountains. His goal was to reach a challenging peak. He attained his goal reaching the top of the mountain. On the way down he fell into God's loving hands.

Rob was an honorary Silver Strider. He was 49 at the time of his accident.
Rob was very strong and had the physical attributes of a champion weightlifter. As a young man, he competed in and won many weightlifting competitions. Besides weightlifting, Rob was a

world class runner and climber.

He excelled at all physical endeavors.
His running achievements were many including, the most prestigious ultra marathon, "The Western States 100", held in the Sierra Nevada mountains. He also ran the New York and Boston marathons.
He ran many 50 mile and 100k distance races. He did very well at these distances usually winning his age division, and on occasion finishing first or second overall.

The marathon distance was easy for Rob and he ran the distance often, volunteering as a pacesetter. He could pace runners for a few seconds under 3:30, 3:45, or 4:00 hours depending upon what the race director needed. He found this was a perfect way to train for ultras.
His running achievements weren't all marathons and ultra marathons. Blessed with natural speed, he was competitive at the 10k and 5k distance as well.
Rob lived near Port Townsend and enjoyed many Silver Strider Grand Prix events and training runs with his close friends, Isabelle Noriet and Nick & Tiare Bailey. He commented many times that he couldn't wait to turn 50 so that he could participate in the Grand Prix Series and achieve TOP IO Super Athlete status. An elite runner, Rob excelled at all road racing distances and there was no doubt that he would achieve his goals.
Unfortunately, the climbing accident denied him his dream just three months short of his 50th birthday.
With heavy hearts, Silver Striders bid adieu to Rob Bondurant.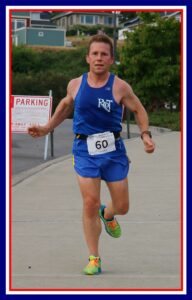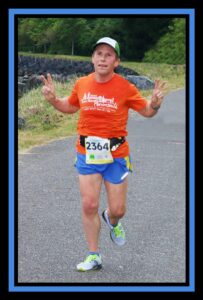 x
x
x
x
x
x
x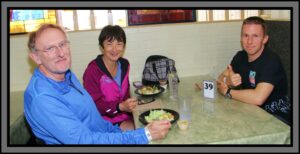 Following the NODM, Nick & Tiare Bailey join Rob for lunch
x
________________________________________________________________________________________________________
x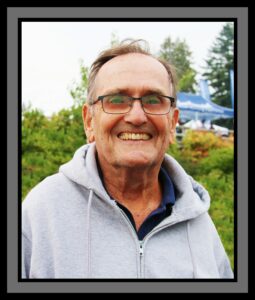 Roy Burt
died following a motorcycle accident. He was 86 at the time of his accident.

Roy was a popular presence at many of the Silver Strider Series events. He ran in several of the Silver Strider races along with his wife Linda. He was a strong supporter of his wife Linda who raced numerous marathons internationally.
Roy was born on July 5, 1936 in Seattle, Washington. He grew up on a dairy farm in Issaquah and graduated in 1955 from Issaquah High School. He promptly joined the navy. He proudly served aboard the USS Plunger, USS Catfish, and USS Razorback submarines.
He joined the Seattle Police Department in 1966 and spent 21 years as a patrolman and a burglary detective.
In 1973, he became a member of the Snohomish Track Club. That year he established "Moving Legs Events" and produced footraces for 25 years.
He moved to Coeur d'Alene, Idaho in 2019 and made many more friends. He passed away on September 29, 2022 following a motorcycle accident, having fought his injuries bravely.
Roy was always the life of the party, remembered as the first on the dance floor and his talent for playing his ukulele at full volume. He will be missed.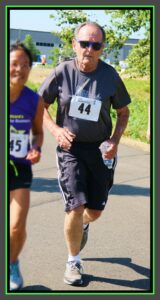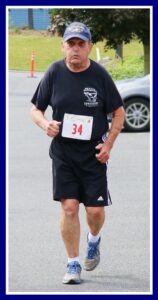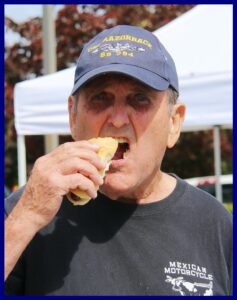 x
x
x
x
x
x
x
x
x
___________________________________________________________________________________________________________
x
xxxxxxxxxxxxxxxx
Farewell Dave
x
Suddenly, without warning, there is a huge void in the Silver Strider family.
Dave Sheman is gone.
His quiet presence is missing.
He was a beautiful man – respectful, kind and generous.
He was instantly loved by all he met with his sense of humor and boyish smile.
We will remember you always as the wonderful person you were.
Farewell, Dave.
You left us far too soon.

****
In the race of life, we are all given different distances to run. But the race is not about how far you run; it is about how well you run. And my dear friend, if hearts were medals, you have won more than any wall could ever hold. Run In Peace, Dave. – Dennis Zaborac
******
Dear Dave,
So very hard to be writing this to you. Still so surreal and I'm so incredibly sad that you are no longer running with us on this planet.
You were one of the best friends ever to be in my life. Always so kind and happy. Willing to help anyone out in any way with your unique wisdom and confidence.
I think your quiet and shy demeanor was what everyone loved about you. You were so well loved by so many people. I've never felt so much heartbreak from so many people in our large circle of friends.
We will always remember your genuine spirit and big heart for all in life. I admired your true love for the equally awesome and beautiful Charlea. I trust you will be watching over her in the years and life ahead. We all love her too and will always be there for her – our promise to you.
What an amazing and talented runner you were. I love the marker on the Orting trail and feel happy to have a place to visit and reflect your life.
T
x
Thank you for the many memories and races we did together with so much laughter and fun throughout all the miles – lots of trips, of course, too.
You are an awesome guy, Dave, and heaven is lucky to have you now. You will be forever missed and loved.
Run strong my friend. Run in Peace! – Audrey Kirkwood
******
Whenever I think of Dave, it's always a picture of a "gentle giant". He was a man of few words if you didn't know him well, but he had a way of inspiring me to always do my best even though I will never be that level of a runner.
I would always watch out for Dave at events to see just how soon he appeared on the return lap, and he was usually one of the top Silver Striders leading the pack. I always looked forward to his Boston Marathon race reports to see what had transpired as each year seemed to have its own story of interesting facts.
A couple recent memories would be the Better Together Half Marathon this last February. The course was an odd one, but twice when Marsha and I were doing our loops around Seward Park, Dave passed us by.
This last August, Marsha, Tiare and I met up with the Sherman's at the Bridge of the Gods. The Shermans finished way before our threesome, but they were at the finish line cheering for us.
I will forever keep those memories dear to my heart as we ate together and shared laughs from the event. Dave, I will miss your smile!! – Nancy Larsen
******
My heart goes out to Charlea, their family, friends & the many Silver Striders who were close to Dave. It was always a good feeling to see & speak to Dave at a race. To me he was the epitome of the Silver Strider Organization. At least to me, he appeared modest, somewhat reserved, gentle, yet quietly confident in who he was as a person & competitor.
I often noticed the relaxed way he moved about prior to a race & then, his efficient running style as he pulled away from you early in a race. I admired & liked Dave. He will be missed. – Ed Heckard
******
Dave Sherman was an unfailingly great Silver Strider, always willing to help by writing an article or race report. His articles reflected his respect and appreciation of others as well as his flexibility in responding to unexpected events. I will miss Dave's insight, his smile, and his wonderful sense of humor. – Karen Lichtenstein
******
To Our Friend, Dave
To say our goodbyes
Brings tears to our eyes
Although our hearts will one day mend
Our love and admiration for you will never end

Great memories you left behind
With a soul that to all was kind
For you will always be a friend
To you a hug or two we send
– Patty Husko
******
******
Dave was genuine; a sincere and honest person. He was talented and knowledgeable, willing to share his gifts with others to help in any way he could. He designed a training plan for Tiare when she ran her first marathon! Always humble in his running achievements! – Nick Bailey
******
I will forever remember your kind, gentle and generous spirit. The memory of your genuine encouraging smile and your unexpected hearty laugh will always bring me delight. 
Grief is the price of great love. Your friends and family weep in collective grief. Yet how fortunate we all are to have had you in our lives. Your impact on us has been tremendous.
I'll be searching for you at every race, on the trails of Rainier, at the Tunnel water station, on the streets and cafes in Boston. "How lucky I am to have something that makes saying goodbye so hard". – Sandra Madden
******
Dave was the ultimate "gentle" man. His quiet-calm demeanor belied his swift and keen steps on the racecourse. I loved his humor in the articles he wrote about running Boston. How thankful to have known such a kind and caring runner…we miss you, Dave. – Diane Martin
******
I will never forget Dave's warm, shy smile. His quiet strength, never boastful! We had many running trips with Dave and Charlea that I am sincerely grateful for.
Boston was a favorite because his guidance was like being with a local resident. One of my all time favorite trips.
San Francisco too as Dave must have realized how directionally challenged I am, trying to direct me from their motel to ours.
We had some great meals together at various restaurants. One before the Rock and Roll half marathon in Vancouver, Canada. A lovely Italian restaurant. And then another was at the Ajax Cafe close to our home the weekend that Covid was shutting everything down. Our last restaurant meal together for a very long time. – Tiare Bailey
******
Judy and I were devastated to hear about Dave. Dave was special. A gifted runner, he was soft-spoken and flashed a smile until, of course, when the gun went off and then he was all business. But once across the finish line, there was that smile again with an infectious twinkle that could melt anyone's heart.
I don't think I have a photo of Dave before a run or after a run where he wasn't smiling. But during the run, his grit and determination made him a premier runner who was greatly admired by all of his Silver Strider friends and competitors.
Our hearts go out to Charlea. – Bruce & Judy Fisher
******
As all who knew Dave and Charlea, we are deeply saddened at learning of Dave's passing. He will be missed.  His smile was so beautiful and he radiated kindness. – Rod Hanke & Joan Torfin
x


_________________________________________________________________________________________________