the Silver Strider online presents
                      M

emory

L

ane

  
Brought to you by
S

ponsorship

A

vailable

The 1980 SPAAU 100k Championship

By Jerry Dietrich
April, 1980
When I talked to Connie Rodewald, the race director for the SPAAU 50k Championship, she informed me that she was awarded the 100k Championship for 1980. The 50k championship and the 100k championship would be held on the same day. The 100k race would entail running the 50k course twice.
The title, Santa Monica Mountains, was a little more intimidating than the actual course as far as the 50k course was concerned. The first half took place in the foothills north of the mountains. It had some big hills but the second half was along citrus groves near Somis giving way to flat farmland on the Oxnard plains. The course was a big loop starting and ending at the foot of the mountains just east of Pt. Mugu.
On the other hand, the 100k course would be a lot tougher because you would encounter the hills again at 31 miles.
My oldest daughter, Yvonne, offered to help my wife Betty who was going to serve as my handler.
I decided before the race that I would not take a break at 50k. I knew from my 50 mile experience that the temptation to retire at 30 miles was strong. The temptation to take a break at the 50k finish area aid station would be strong. While relaxing for a minute or two the thought of entering the mountains again might lend appeal to  dropping out.
The weather that day was mild at the start. I wore shorts and a t-shirt. The turnout of runners was quite good. Since there was no distinction between the 100k bibs and the 50k bibs, I had no idea how many runners were attempting the 100k. It was my first attempt to run more than 50 miles and I was pretty nervous.
Scanning the entries list I discovered that I was the oldest runner in the field at age 46.
When the starting gun sounded, the handler vehicles zoomed out ahead of us. A handler was especially important for a 62 mile effort on this course. Usually a handler had a vehicle with water, sports drinks, a first aid kit, a folding chair and food or energy snacks depending on the runner's strategy. The handler would have his or her vehicle parked at intervals along the course.
Attempting this course without a support vehicle would be foolish. There were no aid stations on the course. Runners without support had to carry their own water.
I was told by a friend who had done many difficult endurance runs, that there were always runners attempting these races without support.
I had Betty and my daughter park at 5 miles. This was my first stop and I paused just to drink some water and continued. She drove on for 5 more miles and parked awaiting my arrival.  
At the 20 mile stop, Betty informed me that I was about in the middle of the field. I felt comfortable and saw no reason to change my race plan. I had a long way to go.
I felt that my plan to skip taking a break at 50k was important.
When I reached the finish line for the 50k, the area was fairly busy. I noticed about 15 runners with bib numbers milling about. A couple were resting in folding chairs. I figured they were resting before their 2nd loop. My plan was to run right through the area.
My plan was interrupted by the race director when Connie flagged me down. She asked if I planned to continue and I said yes. She said if I wanted to stop, it would count as if I had entered the 50k. She said I would be 3rd place master. I felt like saying that "I could have finished the 50k fifteen minutes ago", but I didn't want to stop and talk. My plan was to run right through this area.
I declined and continued running. I was surprised at our encounter. I reasoned that she was concerned about me trying such a difficult event. I had heard her refer to me as the "older runner" earlier and knew she was concerned.
Nevertheless, it was a negative encounter and I was very glad that I had not planned a break at that point. I covered the next hilly mile in about 8 minutes. 
Betty was waiting at the 32 mile mark with a folding chair set up with food and drinks on a small table.
I had planned a 3 minute break, but when Betty informed me I was in 1st position, I cut the break to 2 minutes. I felt pumped. The two minutes in a folding chair seemed like an eternity. I kept expecting runners who had taken a break at 50k to go zooming by. I was still working on a peanut butter and jelly sandwich when I began running again.
Upon resuming, I was surprised to find I had stiffened up very little. I  continued on, forced to walk three of the steeper climbs.
Leaving the mountains I felt relieved, but at the same time intimidated.  The farmland was hot at about 80 degrees. I shed my t-shirt at 45 miles and hoped for a breeze as we drew closer to the ocean.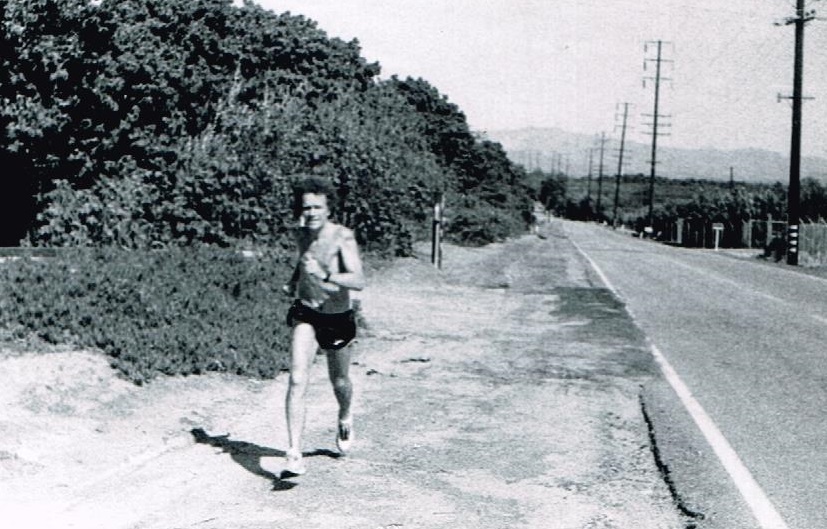 As I continued on I kept expecting to be overtaken, but I reached 50 miles without being passed.
My mind started to work against me. I thought about asking Betty to wait at the 50 mile mark to see the extent of my lead. I decided that was too negative. I took a very short break to elevate my feet and drink some sugared water.
Feeling refreshed mentally, I knew I would finish. Everything had gone according to plan. I began to feel more confident about the possibility of finishing first.
As things turned out my conservative race plan with some short breaks paid off as I cruised the final 12 miles to victory.
I felt great afterward. My legs were stiff but it did nothing to dim my spirits.
I was able to find out that one runner had dropped out at 35 miles after one of the biggest hills. Another had dropped out at 50 miles due to the heat. So it turned out I was the only 100k finisher.
I don't know who, or how many, dropped out at 50k but the two runners who took a break before continuing told me they had a rough time starting their 2nd loop.
The heat had also worked in my favor. I loved hot weather.
Winning this race earned me an invitation to the first 6 day race held in 100 years. It was to be held at Woodside California July 4-10, 1980.