the Silver Strider online presents
A

rticl

es

 
brought to you by

Route 16 Run and Walk Shoe Store
6745 Kimball Drive, Gig Harbor
 Running With The Whales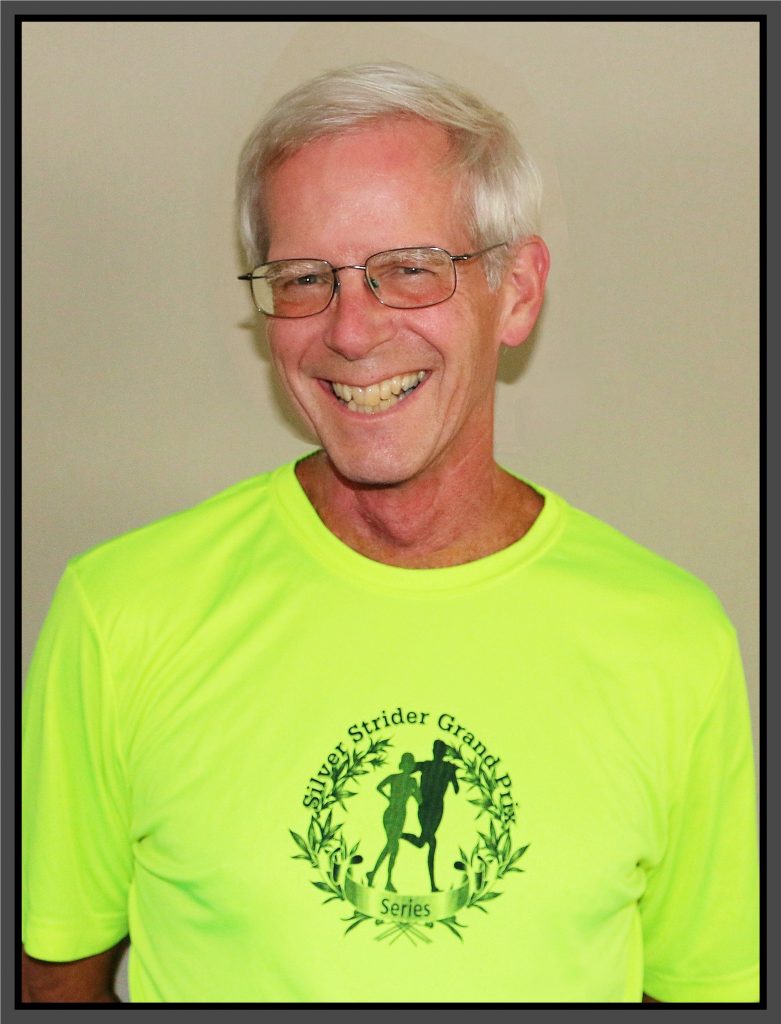 By Dave Sherman
1/14/18 – Maui
Soon after the fall rains began, Charlea knew she would need a midwinter dose of sun and warmth . . . perhaps Hawaii would be nice. Knowing that destinations with an interesting race were an easier sell, she proposed we do the Honolulu Marathon, or more accurately, that I run it and she spectate. That didn't sound equitable to me so I suggested perhaps we should both run it.
Charlea said she didn't do well running in heat and humidity, and no way was she running any marathon in Hawaii. She suggested that perhaps a half marathon might be a better choice, reminding me that I am also a bit of a heat wimp. With a token amount of research, that's how we came to be registered for the Maui Oceanfront Marathon and Half, more succinctly known as MOM.
MOM runs along the west coast of Maui, with the half marathon being a flat out and back southward from Lahaina. It runs on the shoulder of a busy road, but the concept seems to work well because the shoulder is consistently wide with smooth pavement and the gorgeous shoreline is usually just feet away.
In the month or two before the race, the race director would send out emails titled 'Nag from MOM'. These tended to be pretty funny, referring to participants as the A students (who were on top of things and who paid attention to the information on the website), and the B and C students (who needed more handholding, or who tended to miss key information, or who were most likely to screw up). One always wants to be sure to be an A student.
The day before the race, we were in our hotel room when my phone made an odd noise. I looked at it, and there was quite the alarming message from Hawaii State Emergency Management: "EMERGENCY ALERT – BALLISTIC MISSILE THREAT INBOUND TO HAWAII. SEEK IMMEDIATE SHELTER. THIS IS NOT A DRILL'.
Nobody knew what to do. Some people were crying, some were sitting in patio chairs looking toward Oahu with binoculars. Neither of those options seemed too good, so we grabbed a few things and sat in our rental car checking the radio (our small hotel didn't have TVs or radios).
It took well over a half hour before they sent out a 'False Alarm' message. That's a very long time to contemplate the full range of possible outcomes….The end of the world as we know it? Getting incinerated? Or tsunamied? Or irradiated? Or not going home again for a long time, if ever? Or just a false alarm? The state employee who pushed the wrong button makes the C students look really, really good. There were a lot of traumatized people after that little event.
Race day arrived, and we were still alive. To avoid the heat, the race starts shortly before dawn. One of the Nags from MOM mentioned that the A students would be the ones clipping a flashing light on their waistband for safety while running with traffic, so we made sure we each had one along.
Starting arrangements were kind of strange, sort of like something a C student might come up with. There were two waves: Wave 1, under age 50. Wave 2, over age 50. If you were feeling fast, it was okay to start in Wave 1, but even so, age and pace don't correlate well, so it looked like a recipe for chaos at the start. Fortunately, at the last minute they decided to start everyone in a single wave. Chaos averted!
Well, not quite. There were two special groups; the Top 10 charity runners, and about a dozen 50 Staters, runners and walkers doing a half marathon in each state. As a position of honor, these groups were lined up at the front of the field. Neither of these groups is known for speed either. Right behind them were those wiry, seriously focused people; you know the type, the ones that run 1:10s and come in first. Next was everyone else, hopefully somewhat self-sorted by pace.
A minute or so before the start, I reached back to turn on my flashing light, then looked to make sure it was working. It wasn't. I pushed the button again, and it began blinking, but only very feebly. Apparently, I had inadvertently turned it on well over an hour earlier, when I sat down in the car to drive to the start. It had been flashing away ever since, and had used up the batteries, which were who knows how old. So much for aspiring to be an A student.
With a blow of a conch shell, we were off. For the first hundred yards, there was more than the usual amount of jostling and bumping as the faster people worked their way through the slower people. Somebody thumped into me and I heard my little flashing light clatter to the pavement, to be pulverized by the thundering herd. Good thing I didn't spend that couple bucks on fresh batteries.
After about a mile, the course parallels the coastline. Midwinter is prime time to see humpback whales in Hawaii, and in the distance we had already seen many whales blowing and breaching the surface. One of the Nags from MOM told runners to be sure and watch for whales along the course. I pretty much forgot to do that, although I did notice there were nice beaches and surf right next to us. As usual, I paid close attention to water stops, runners ahead of me, my pace and level of effort, and occasionally traffic. Charlea did a little better in the whale department than I did, even stopping a time or two when she saw a whale doing something interesting.
I made it just past halfway before the sun came up. This was a good thing, because on the outbound leg the sun would be in your face, and it was on your back on the return leg. But as soon as the sun rose, the temperature did the same. Not that it was hot, but at around 70 degrees with humidity, it was plenty warm for me. I dialed the pace back a bit and focused on running a steady pace back to the finish. I passed Charlea going the other way, and she was running well. No whales were in sight at the moment.
With a half mile to go, I noticed someone was running just a step behind, off my shoulder. I sped up a bit, but was already going about as fast as I could go. I suspected he would kick past me at the finish (those younger guys often do). Sure enough, he did have a kick and came in just a few seconds ahead of me. Right past the finish they had some overhead water misters to cool down under. He and I came to a stop in the spray and were standing there gasping for breath. He finally said, "how old?". I said, "63, you?", to which he replied,"62". He ended up first in our age group, with me 4 seconds behind for second place. I suppose an A student wouldn't assume the person right behind them was in a different age group. Oh well.
This was a race where there would be no point in changing into dry clothes afterwards. Being soaking wet felt just about right. I wandered around the finish area, drinking water and more water, and then ate some fruit and other good stuff. It was fun talking to people from near and far; I even found someone who knew who Judy Fisher is.
I always try to get a good estimated finish time from Charlea, and she always tells me some number that is way too slow. Then I go look up a few of her previous times and have a good idea of when to expect her to finish. This time around, I figured she'd have a good finish time despite the heat (and the whales), so I was watching at the finish when she came in, still looking strong. After a soak under the misters, she joined me in checking the results, where she was happy to come in first in her age group. We picked up our nice enameled metal awards and were back at our hotel by 10am.
This turned out to be a fun and eventful trip. We both dealt well with the heat during the race, as did almost everyone else I saw. The race was well organized, other than the novel starting arrangements. I don't think either of us will be looking to run a full marathon in Hawaii, but running a half seems just fine.