Memory Lane is brought to you by
Sponsorship Available
                             Running With The Hopis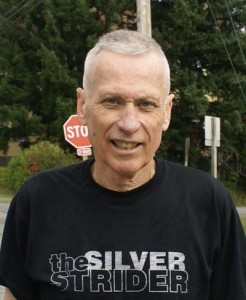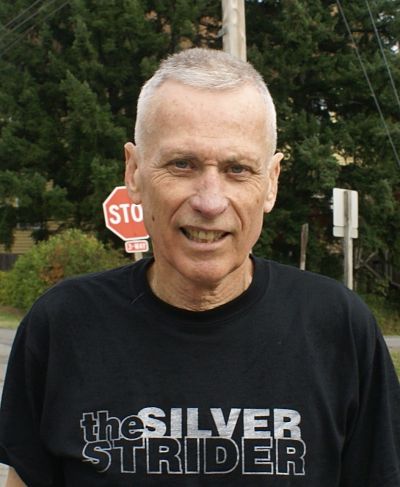 by Roger Dean
with Photos by Max Taylor
2016 – Hopi Land, Arizona
Hopi Land, Second Mesa, Arizona, a land wrapped in time, mystery and hardship. A land no one but the Hopis wanted. To the Hopis it's a blessing, a home to be honored with gratitude, mother to an Olympic hero.
Home to Louis (Lewis) Tewanima, the silver medalist in the 1912 Olympics 10,000 meter run. As Louis said to his coach, Pop Warner, at the Carlisle Boarding School, "Me run good, fast. All Hopis run good, fast." His time of 32:06.6 stood for 52 years as an American record before it was broken by Billy Mills in the 1964 Olympics.
Home of the Hopis, a peaceful people who embraced hardships as the will of the Creator. What drew me to this place of hardship? What forces propelled their high school cross country team to win the state championship 26 years in a row and still counting?
The Louis Tewanima Association puts on an annual 10k footrace to honor the example set by their native son. This, in 2016, would be the 43rd year running. I was hooked. I had to experience it.
My interest was originally sparked by reading Peter Nabokov's book "Indian Running – Native American History and Tradition". Of particular interest were the stories and deeds of the spirit runners, the mail service before horses and modern transportation. This revered group coursed the barren land with speed and dependability.
A description of the spirit runners is captured in "Death Comes for the Arch Bishop" by Willa Cather.
"North of Laguna, two Zuni runners sped by them, going somewhere east on Indian Business. They saluted Eusabio by gestures with open palm, but did not stop. They coursed over the sand with the fleetness of young antelope, their bodies disappearing and reappearing among the sand dunes like the shadows that eagles cast in their strong unhurried flight."
Hopi land called me and did not disappoint.
The race starts and ends at 6,400 feet. The last part of the race a test for mountain goats, our bodies will tumble down a 500 foot canyon then back up another 500 feet to the pinnacle of the fortress mesa.
In the middle of the race, I had a moment of profound awareness. I'm on a ledge overlooking a canyon below. I rested my eyes on an adjacent mesa, then back to the trail realizing I'm running on, as the Hopis call it, the veins and arteries of the villages. They feel that running on them brings the villages together.
A small voice in the corner of my mind says, "This is why you are here." All the study of Indian running. The stair climbing to strengthen my legs, the year of nose breathing and breath holding to simulate running at altitude. Moments of awareness are unique to each of us and are hard to describe. They claim that Hopis are not born, they become them. I became a little more Hopi in that moment.
Halfway through a comfortable landscape the canyon walls opened to a view of the plateau five hundred feet below.
This route only a mountain goat would enjoy. Bouncing off irregular rock ledges the falls are teeth jarring, some requiring a safe landing strategy. Three times I stop and tell my life story to guides along the way. Not because I'm friendly, but spent.
Now at the bottom, a long uphill road leads to the main event – the assault on fortress mesa five hundred feet tall. I look for runners ahead of me – they have disappeared among the giant boulders in the mesa wall. It appears to be straight up.
"This race will make you cry in joy and pain." One runner on facebook describing the final test: "It was hard, hard – at the top I was crying."
Another entry – "This picture is all you need to know" – a picture of the mesa, a barrier that looked impassable.
When I finally had my experience of climbing the monster, it was difficult, fear of heights visited me in full force. Climbing and crawling over boulders, tight turns with death waiting below, I had to keep going up. Had I turned around and gone down I might have passed out.
The Hopis support us calling down words of encouragement, "Kwa'Kwai, Kwa'Kwai" "Thank you, thank you" and "Nahongvita", "Be strong".
A Hopi story helps explain the Hopi's life of thanks and gratitude despite hardships. At the beginning of time, Mocking Bird laid out different ears of corn. The golden corn promised an abundant but short life. The Navajos picked that one.
The Hopis watched, waited and chose last. They chose the blue corn. It promised a difficult but long and fulfilling life. Theirs is the hard path, but in the long run, they are winning in the trade. This is why they call out "thank you" in the face of hardship, at the top of the mesa; a thankfulness that expresses an appreciation of conquering the challenges and bringing us all together.
There are lessons to be learned from facing and accepting hardship. Being bitter or better, two sides of the same coin. In a way, one can't live without the other. Our shower without hot water in the Hopi motel illustrates a point of gratitude despite hardships.
Upon checking out, I mention this situation to the motel manager. "Oh, it takes about 10 minutes for the water to heat up," she said. She smiled and gave me that subtle body language look that says, "Don't complain, cold showers are better for you, suffer a little and be better."
Cold water reminded many of their childhoods. They would talk about a cold splash of water in the face as their fathers awakened them to get up, pray and run toward the rising sun.
Hopi runners are tough. The running warriors go out into the desert for eight days of praying, fasting and running. An elder and Louis Tewanima historian, Gerald Lomaventema, explained to me that the strongest person in the village was the one who ran the fastest.
As an aside, he mentioned that between second and third mesa he had seen UFO's twice thus adding to the mystery of this land. I believed him. These are sincere people. A spirit of mutual support existed between all.
As Chief Yellow Lark said in his poem Let Me Walk in Beauty, "I seek strength not to be greater than my brother or sister but to fight my greatest enemy, myself."
Another elder is quoted, "Hopi's run for honor, white man runs for advantage". Their traditional values speak to this. "A Hopi is one who places the society's and community's interest and benefits above personal interest and gain."
They enjoy winning race prizes. However, many races have no prizes, the act of running being it's own reward. Their running and spiritual life are married tightly.
I had a long talk with Fred Myron, an older man working in the Hopi gift shop. He ran in high school. They won the state championship. "It was fun to win," he admitted.
Upon departing, I told him that we may never see him again, so I wouldn't make any promises of returning. He said, "It doesn't matter, our memories are now tied together- we can always visit in our minds".
So, eat bitter from a plate of hardship my friends. Fulfillment waits patiently, with sweets for all. Be thankful. All that happens is a blessing.
Many thanks to my many new friends in Hopi Land. To Max Taylor who took the amazing race photos and to Sampson Taylor, race director and President of the Louis Tewanima Association. They all keep the flame of Louis' honor and example burning strong.
I'll admit that for a week after coming home I sank into a chair of despair. I wanted to go back. All other trails and races held no sway on my spirits. I had missed the point of running with the Hopis. While we all at times seek out greener pastures, as humble as they are, our homes may be the greenest of all.
The next Louis Tewanima 44th annual 5k and 10k races will be held September 3rd 2017. Directions and maps are included on their website. The Hopi Cultural Center Museum is also a motel and restaurant. The race starts at 6:00 a.m. Aside from the Cultural Center Motel, the nearest accommodations are more than an hour away. Their evening meal the night before the race is a great time to make new friends. Yes, it was spaghetti.