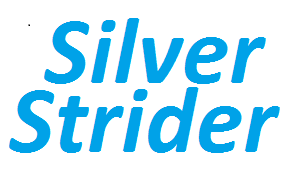 online magazine presents   
                             A

RTICLES
 brought to you by

Route 16 Run and Walk Shoe Store
6745 Kimball Drive, Gig Harbor
Run The Peninsula

By Edythe Hulet
First annual "Run the Peninsula" ( Olympic Peninsula ). There were 5 races in all.  Various places like Eluha River, Port Orchard, Blyn (near Sequim). The medals are magnetized and all fit together to make a circle.  Very clever.
This was the best organized of any race I've ever done. It was also the first race I've done in the dark.  We got light sticks and a lighted bracelet.
We were required to have a head lamp but I used my flashlight instead.  It gave a broader range of illumination.
The race was on the Discovery Trail.  I'd never been there before. The volunteers were amazing. The 5K and 10K started at 4:30 just as it was getting dark. About a mile on the trail and it was very dark. I was cautious so as not to stumble…since I don't bounce like I used to.
My time was 2 minutes better than the last race but I've done better.  One hour after the start, the organizers were beginning to give out awards. In 20 minutes I was able to eat ( hot cocoa was wonderful) get my award and was on the way back home. Other race organizers have much to learn from these people.