the Silver Strider online presents
ARTICLES
 brought to you by

Route 16 Running and Walking
6745 Kimball Drive, Gig Harbor
Rock and Roll New Orleans Half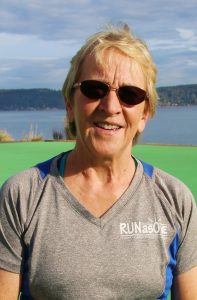 Article and photos by Diane Martin 
It all started about a year ago while returning to Gig Harbor from Pennsylvania. I received a large Delta credit for giving up my seat for a later flight. So early in January I had to make a decision on where to use my air credit. In the meantime I was looking at potential races and there it was…the New Orleans Rock 'n Roll. Not only had I not done a Rock 'n Roll race, I had never been to New Orleans. I talked my race-crazy daughter into joining me since the credit paid for both tickets. We signed up for both a 5K on Saturday and the half marathon on Sunday.
We boarded the Kitsap shuttle to Sea-Tac at 3pm Friday, February 3rd and arrived in New Orleans mid-afternoon to a warm weather welcome. A short shuttle ride took us to the Westin Hotel along the Mississippi waterfront and right at the western edge of the French Quarter. From our river view room on the 23rd floor we could see large container ships plus tourist paddle boats.
First on our agenda was packet pick up and expo exploring at the Convention Center, a nice walk partly along the riverfront. On the return, we passed what looked like an original Cajun restaurant called Mulatto's, so we dined on jambalaya and seafood gumbo. Our friendly waitress suggested alligator appetizers which we declared "Tastes like a combo of shrimp and chicken." We didn't pass up dessert; bread pudding with Rum sauce…delicious!
Our shorts and tank top racing clothes did not blend with Saturday morning's unseasonable chill. But most 5K racers were in the same boat; we waited till the last minute to check our gear. The 5K was held in City Park, a huge and beautiful green space full of towering oaks where the full, half, and 10K Sunday race would end.
It didn't take long to warm up with several hundred other runners. About mid-way a brass band belted out jazz tunes which gave our legs a nice boost. Following the race we decided to walk another mile to connect to the Canal Street street car and back to our hotel. Such fun!
The afternoon was spent exploring the French Quarter that included the long line to the famous Café DuMonde for original beignets (a pastry smothered in powered sugar), plus an interesting walk along Bourbon Street and the French Market. Of course you can't leave New Orleans without gifts; a stop at the local artisan store for Voodoo dolls!
Up at 5AM for race day! We were glad we signed up for the VIP which provided us breakfast at St. Charles Hilton, hotel restrooms and a great place to stay warm and chat with other runners before finding our coral. Lafayette Square was the start line, so it took several minutes from coral 17 to get to my start. From there we headed out to St. Charles Street, a combination of residential and small businesses community.
There were lots of cheering fans and the music entertainment was terrific…full size bands that kept the momentum going. Just before our 4.5 mile turn around, volunteers were handing out pieces of King Cake, another New Orleans original.
Heading back towards the City we jogged around the start area and onto the French Quarter on St. Peter's Street. At mile 10 you made a sharp left and headed towards City Park with another 3 miles to go in a mainly residential area with welcome shade. At around mile 12.5 you entered the park and enjoyed the last leg of the race in this beautiful area. If you did the full marathon, you would have turned off at the park entry and eventually run along Lake Pontchartrain.
The medals were awesome and since we had done both 5K and the half we were treated to the remix medal, a huge guitar. The entire race was level…no elevation at all. The entertainment was great, as were the spectators and volunteers alike. We were treated royally at the VIP meet up with beer, mimosas, wine and a wonderful brunch of salad, chicken, pasta and veggies. A shuttle back to the start area and a short walk to our hotel to treat our feet to a nice hot soak.
Monday was overcast and calling for rain showers. We were not happy to come home to lots of snow but as of Tuesday when a tornado touched down in New Orleans, we were relived to have dodged that bullet. In all respects, I enjoyed the City, the friendly natives, and another couple races under my belt…can't beat it!