the Silver Strider online presents
                      M

emory

L

ane

  
Brought to you by
S

ponsorship

A

vailable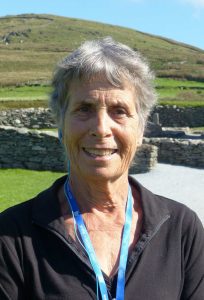 Grandma's Marathon

By Sue Havens
 
When Karen called and asked me if I would write about my impressions of and experiences with Grandma's Marathon it slowly stirred up a number of fond memories.
Since it is difficult for me to remember even what I did last week, it has been a bit of a challenge to remember many details about Grandma's. (Grandma's is named for a bar/restaurant, not the cookies).
My generation grew up before Title IX so I never imaged myself participating in high school or college sports or even running for enjoyment. I started running at the age of 30 after my daughter was born. We lived at Fort Lewis and I would go out after dark so no one could see me as I slogged along. I quickly found that I enjoyed my runs and slowly increased my distance as my times improved.
I liked setting goals for myself and gained confidence and even began running in the daytime. I slowly started to meet many wonderful people – several who became friends with whom I shared the roads and the adventures. However, time constraints imposed by family and work caused me to do much of my running alone.
I ran Grandma's marathon four times: 1986, 1987, 1989 and 1991. Marathon administrators invited runners in the Master's division and I was surprised and so very pleased when I was initially invited. (I turned 40 in March 1986) At that time I had no idea that marathons invited runners and I felt honored, wanting to run well to justify the invitations.
One of the little perks I received as an invited runner was access to the "hospitality room". Looking back, I now remember my good fortune in being advised by more experienced fellow runners to "run the tangents" around the many curves of this winding course to save steps. This simple strategy must have shaved scores of seconds from my time. Lucky me.
Duluth is a delightful mid-sized city on Lake Superior in Northern Minnesota. All of the volunteers and the race director were extremely friendly and went out of their way to be helpful. The course runs along the Lake between Twin Harbors and Duluth city proper, a gently rolling course and, as stated, one of many curves.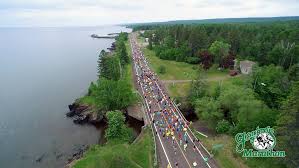 I remember the soft breezes coming off the lake. At mile 22, runners go past the finish line, then circle back for the last 4 miles. Not my favorite way to finish a marathon!
When I ran in 1986 I was hopeful of being able to qualify for the 1988 Olympic trials. Unfortunately, I was over-eager, full of excitement and went out too fast missing qualification by 53 seconds (2:50:52). I was very disappointed but the experience was amazingly fulfilling.
I returned in 1987 and was able to qualify, improving my time by 1 minute (2:49:52), a very significant minute indeed. I ran again in 1989 (2:50:02). That year I won the Masters Division and placed 8th overall. I ran one last time in 1991 (2:53:23).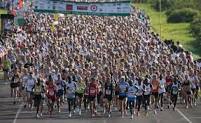 One of the most special things about running in Duluth was that my parents who lived in the Chicago area came to watch me run. I frequently talked to them about my running, how much I loved running and that I went to races frequently. But they had no idea how big an event Grandma's marathon was. They also had no idea that I was actually pretty good. It was an eye opener to both of them and I loved sharing the experience with them.
However, while I was writing this article and reminiscing, what I remember with the greatest appreciation is the kindness and support of family and running friends who shared the joy of any success I may have had.