On The Road Again
01/15/2023

online presents
xxxxx

Articles
xxxxx

brought to you by
7210 Greenlake Dr N, Seattle, WA
16095 Cleveland St., Redmond, WA
x
x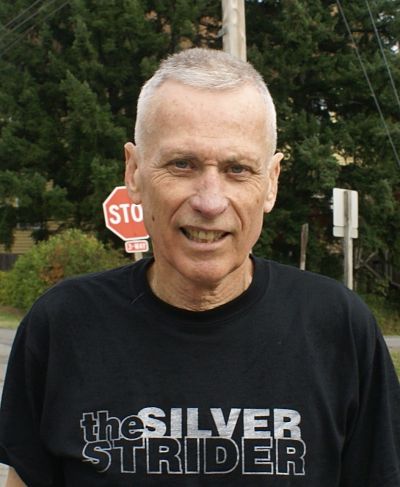 xxxxOn The Road Again
by Roger Dean
As seniors age, we seem to be coming apart at the seams, injuries and illnesses casting us to the sidelines.
Personally, at 83, I've had a basket full of medical set backs, from the loss of an eye to cancer, to pitching forward after a run (in which I abused my lower back), banging my head on a utility cover.
The last episode was two months of nerve impingement that stopped my running. After two months of physical therapy by Allan Nichols, I'm pain free in a posture that's more running friendly.
Revitalized and having learned from my mistakes, I woke up one morning singing, spread my wings and flew up to the sky (from the song Summertime).
In summary my new awareness suggests:
1) running a 5k without the proper warm-up costs you 10-30 seconds,
2) proper posture can help you from falling on your face and improves your running time,
3) a balance pad can help you to develop both balance and core strength,
4) starting within a healthy range, losing 10 pounds can reduce your 10k time by 2 minutes 30 seconds,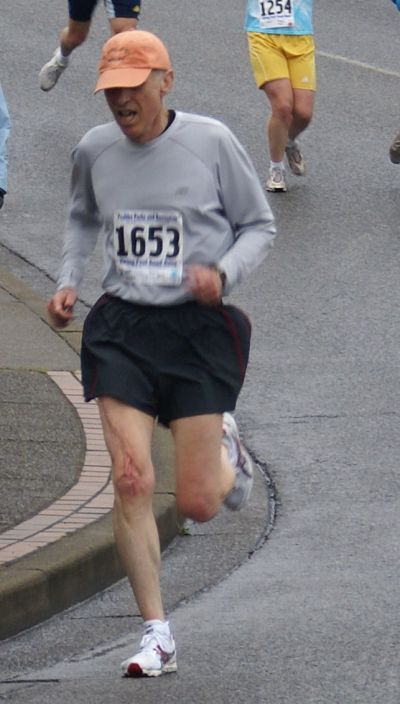 5) ideally, your maximum race distance should be the extent of your ability to maintain an efficient posture,
6) running the first mile too fast costs you more on the last mile than was gained.
WARM UP
There are four steps toward being race ready. If you insist on stretching, save it for after being warmed up. It is more effective after the race and recovery run.
Step 1 – Body wake up, flap your wings, move all your body joints. Oil all your parts. About 5 minutes.
Step 2 – Progressive fast walking. About 5 minutes.
Step 3 – Easy jogging. About 5 minutes.
Step 4 – Progressive strides, building up to race pace. Each one 20 to 30 seconds with an easy walk back. About 5 minutes.
Now you are ready to "do some damage" as Jerry Dietrich would say. I would add that once you are ready and warmed up, you won't do damage to your body.
POSTURE
Proper posture helps reduce lower back pain and promotes healthy, fast running. With Allan's physical therapy, I started the sessions standing with my heels touching the wall. My head was 5 3/4″ from the wall. Two months later, it is 2″ from the wall.
Allan recommended the Airex Balance Pad as a tool to develop balance and core strength.
Thanks to physical therapy, I'm on the road again, having undone the damage of being an habitual sloucher. If you neglect posture, you are on the road of slow decline in race times and increasing back pain.
Posture and core strength are an ongoing affair. Keep up your upkeep.
____________________________________________________________________________________________________________