the Silver Strider online presents 
A

RTICLES
 brought to you by

Route 16 Run and Walk Shoe Store
6745 Kimball Drive, Gig Harbor
                    My Big Run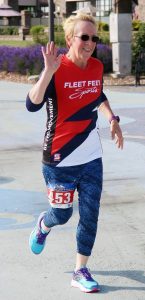 By Diane Martin   
5/8/20
During the past several weeks while under Covid-19 house arrest I've found it difficult to go for a run. Even though I love to run, I find I need a motivator to help me get outdoors for a good workout.
Since several Grand Prix races have been cancelled, postponed or gone virtual, I've had to depend on other motivators. For today I ran in honor of Roger Bannister's minus 4 minute mile; one he performed on May 6, 1954 in 3 minutes, 59:04 seconds. Did I accomplish the 4 minute mile? Well not exactly, but I did go out as fast as my legs would tolerate and it felt great!
My next focus race will be my fourth annual. Started in the US in 2009 as National Running Day, is now called Global Running Day. Yes, this is a global day to celebrate running and to promote fitness and challenge kids to get out and get active.
The race itself is called The Big Run with the slogan "Locally Run, Nationally One". It is held annually on the first Wednesday of June. Several clubs, organizations, running retailers have sponsored running events worldwide.
My first one was hosted by Tacoma Fleet Feet in 2017. It was a hot evening 5K race, held at Wright Park with approximately 50 runners of various speed abilities. Although I was among the "slow" runners, we had lots of treats and camaraderie afterwards. Therefore, I joined The Big Run race events 2018 and 2019.
This year of course is going to be different, but I still signed up through Fleet Feet. You can also sign up through runsignup. The cost is minimal, $10, and entitles you to a $15 voucher at a local Fleet Feet, plus a virtual race kit…you download your own bib and medal; did I mention this was different!!
The other difference is the fact that we run alone…thus the new name, MY BIG RUN. But I love the new slogan, Together We Move. It will be inspiring to run that day and think of all the millions of foot slaps around the world because we really are all in this together.
I'm plotting my 5K course. Care to join me?