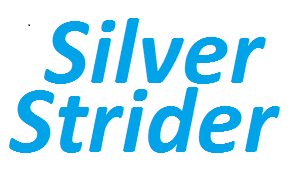 online magazine presents
R

ace

R

eports
brought to you by
7210 Greenlake Dr N, Seattle, WA
16095 Cleveland St., Redmond, WA
                    The My Better Half 5k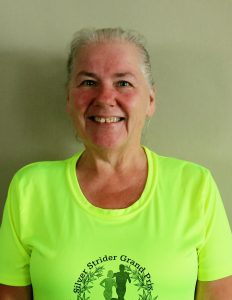 by Patty Husko
with photos by Bruce Fisher
2/9/20 – Seattle
On Sunday February 9th the place to be was Seward Park in Seattle, taking part in the My Better Half Fun Run. Much excitement and happy faces to be shared by all.
Porter Bratten, Orca Running race director, did it again. It was a race that had all the elements of a great running event with a distance for all to enjoy: a 5K, 10K, half, and a relay half.  A total of 994 runners and walkers participated.
In order for our Silver Strider friends to receive Grand Prix points, they were required to participate in the 5K. Of the 289 taking part in the 5K, 84 were 50+ or 29.1%. Of the 205 females, 56 or 27.3% were 50+. There were 84 males, with 28 or 33.3% males 50+.
The 5K course was entirely within the park, with a Tunnel of Love toward the end.
On completion of the race, a 3 1/2 inch heart shaped finisher medal for all awaited. A wood coaster was given to the first 3 in each five year age group, for each distance. A very nice warm hoodie with full zip was given to each participant.
Numerous racers took advantage of the photo booth for a photo of themselves and their better half. Some checked out their time in the timing tent to see how they finished in their division. While others headed directly for the large heated tent.  Tables and chairs made for a cozy place to gather after the race.
Inside the tent, there was a nice spread for all to replenish their energy spent on the course. Runners found a hot oatmeal bar with all the fixings, orange slices, bananas, and 3 different flavors of doughnut holes. For those of us with a sweet tooth, there were candy hearts, licorice, smarties, and red heart suckers. For those who were looking for something warm, coffee and hot chocolate was available.
There are many things I like about Orca Running events. One is their refund policy. If, after you sign up, you find you can not make the race, you can transfer your entry to another runner, defer entry to next years same race, or transfer entry to any Orca Running event for the same year. How nice is that?
Another plus, is a code to receive a 10% discount on 2020 Orca Running races. Not to mention the 'Friends of the Pod' medal you can receive for participating in 3 Orca Running races.
The My Better Half is a good race to analyze the question: why do we participate in these types of events? There are a variety of reasons. Many could name several I'm sure. For me the friendships are the most important part of these events.
Valentine's Day is an occasion in which couples express their love for one another. I believe it's more than that though. It's a day when we express our love and respect to our friends. One could even say our feelings for mankind itself.
My Better Half was a fantastic run to celebrate friendships. Not only old friends, but new friends. We always meet new people at races. Some we see again, and instantly reconnect. At this race I met Kristen, a young lady who moved here from Wisconsin 6 months ago. We had a really nice conversation before and after the race. Her next race will be the Cherry Blossom Run in Seattle in March. We are hoping to see each other there, to talk again.
Now let's tackle the big elephant in the room. Which of us is the BETTER HALF – me or Steve. We voted on it. You would think after 47 years of married life we could at least agree on that. I guess we can agree to disagree, for just this one time. I hope everyone had a great race and a wonderful Valentine's Day.
_________________________________________________________________________________
Jerry's notes:
Silver Strider men dominated this race. Five of the first 7 men to finish were over 50. They were, Kent Sizer (1st male overall),  Dave Sherman (4th male overall), Ken Peper (5th male overall), Steve Husko (6th male overall), Kevin Kent (7th male overall). Amazingly, Sizer, Sherman and Husko are all over 65.
The times were slow because of the big hill in the first mile. Despite the big hill, three women made the TOP IO. Barb Bumann, Sandra Madden and Terri Anderson made the rankings.
__________________________________________________________________________________
                                           The Results in photos by Bruce Fisher
____________________________________________________________________________________
The post race brunch was held at the popular BluWater Bistro. Birthdays were celebrated for Betty Dietrich and Steve Ramsdell. Six delicious, homemade pies were contributed by Patty Husko.(Restaurant photos by Steve Husko)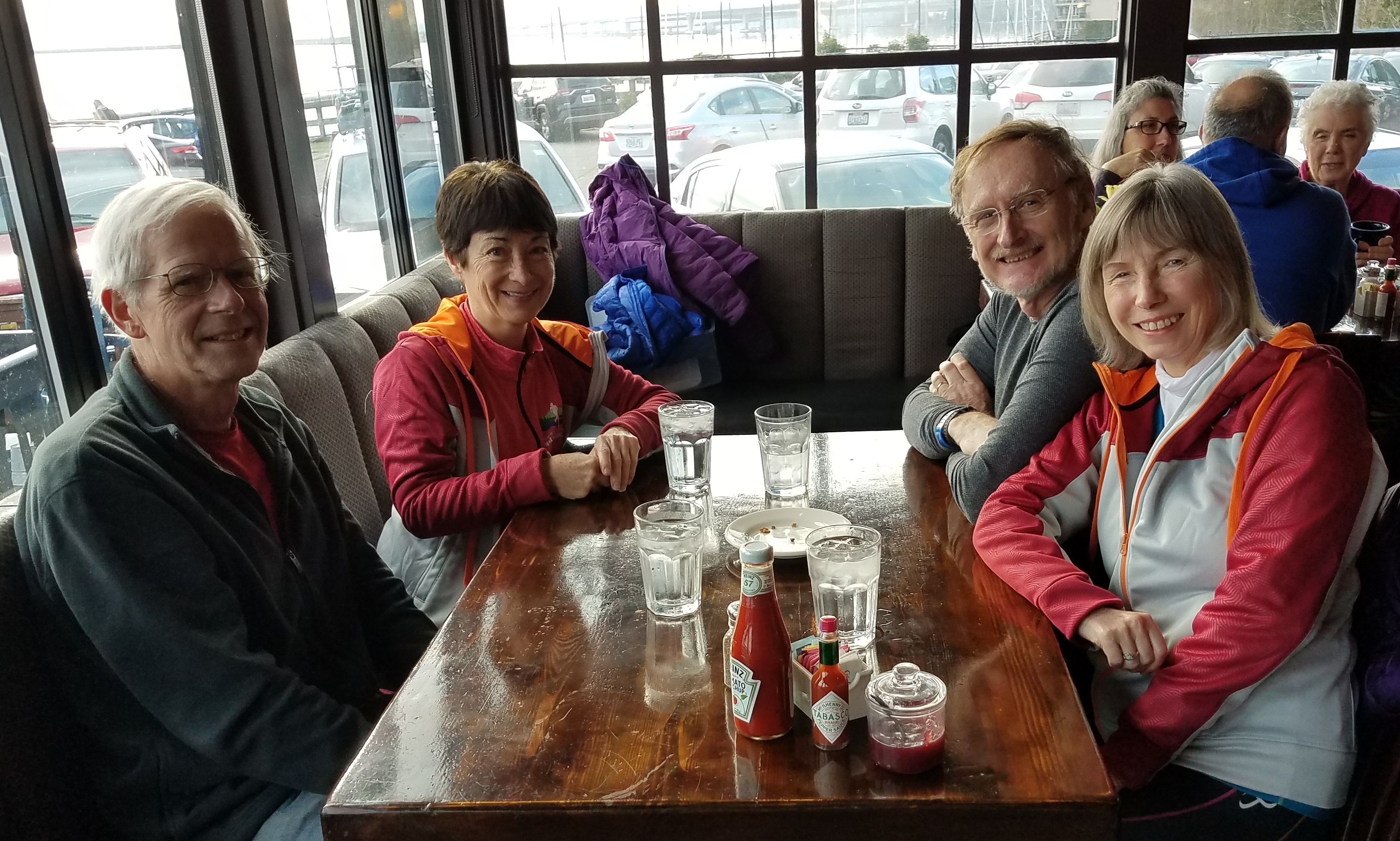 Super Athlete Ring
Individual recognition was given to Dennis Zaborac who attained Super Athlete status last year by ranking in the TOP IO at all 4 distances – the 5k, 10k, Half Marathon, and Marathon. Dennis was receiving his award at this time because he was unable to attend the Super Athlete Awards party. He was congratulated on his excellent achievement and presented with a Super Athlete ring.