the Silver Strider online presents 
A

RTICLES
 brought to you by

Route 16 Run and Walk Shoe Store
6745 Kimball Drive, Gig Harbor
     MEET CAROL SEXTON                     
 By Jerry Dietrich    
Carol Sexton has emerged as one of the premier runners in the USA.  We in Washington State have witnessed with interest her progress beginning with the Battle of the Boomers.
Starting in 2015 with the initial Battle for Women 55-59 and continuing through the 2020 Boston Buddies competition, her advancement has been amazing.
In the first Battle of the Boomers she impressed us with a third place finish against the top six ranked W55-59 runners in the state.
By the time the final Battle took place 2 years later, she dominated her age group winning the State Championship. Not only that, but she finished second against the champions in all age groups when age graded.
At the awards presentation for that occasion, she was also awarded first prize for most improved runner in the Boomer Series.
Here are the official results. You can see all of the top runners in the State were competing in this stellar event. Prize money was random after the top three.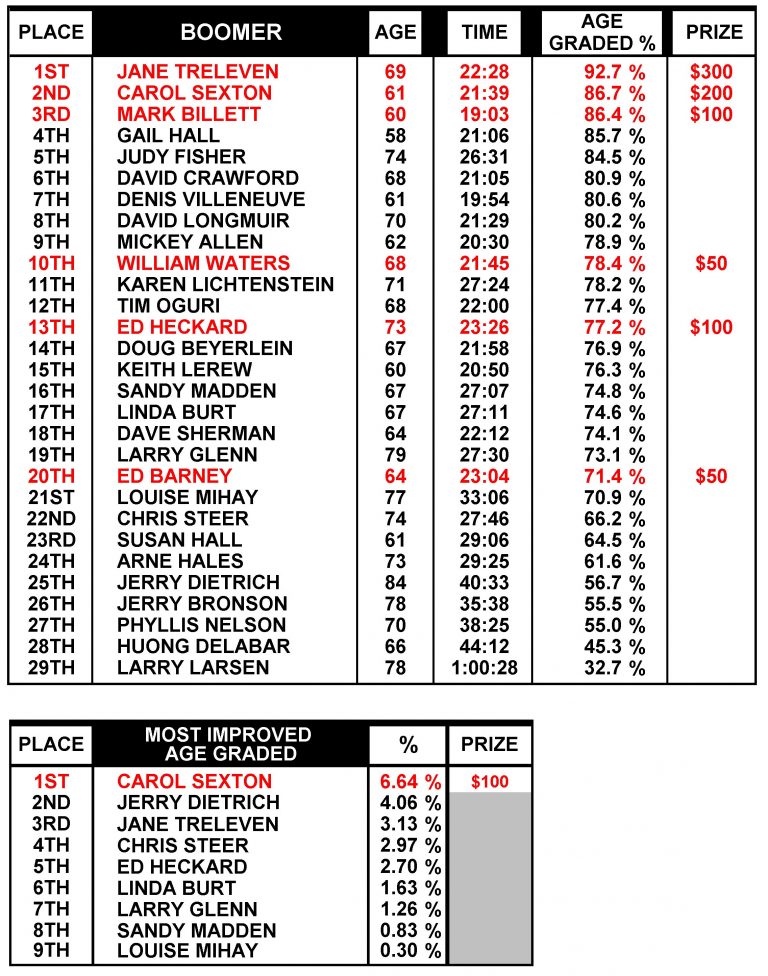 In 2019 Carol was awarded a Silver Strider "Super Athlete Ring" for ranking in the Top IO at all four distances: 5k, 10k, Half, and Marathon.
In July of 2020 Carol emerged as the winner of the Boston Buddies competition. This competition is best explained in an article from The Podium Runner by Amby Burfoot. Here is an excerpt from that article.
                  The Boston Buddies Tournament

Excerpt from the Podium Runner article by Amby Burfoot:
7/8/20
Last April a marathon and basketball fan named Vince Varallo was bemoaning the loss of both the NCAA Final Four basketball tournament and the next month's Boston Marathon. So Varallo, who has qualified for the last nine Boston Marathons, combined the two… sorta.
He came up with a double-bracket, single-elimination, no-entry-fee "tournament" for 128 Boston Marathon runners. The racers, who quickly signed up through a Facebook "Boston Buddies" group, faced off against each other in 5K races on seven successive weekends from May 16 through June 28. Since the racers ranged in age from 14 (Dave McGillivray's son, Luke) to 81 (Roger Robinson, who got whipped by 79-yr-old Helen Sabourin), Varallo scored each race with the age-graded system.
Entrants included 34-year-old Charles Smogoleski, who pushed his two children in a double running stroller to a 15:22 one weekend; 46-year-old ultra superman Michael Wardian, who continued running ultras while finding time for a fast 5K every weekend; and 72-year old Gene Dykes, the fastest over-70 marathoner of all time.
Dykes seemed the pre-tourney favorite, based on a 19:18 he ran in March. But he injured himself on first weekend, opening the door to others. (You can see the full double-bracket results in this public Google document.)
The Championship Race came down to Wardian, from the greater Washington, D.C. area, vs. Carol Sexton, 63, from Seattle Washington. She has a marathon best of 3:19 at the California International Marathon last December, but otherwise lacked the national "name recognition" of many others who competed in the Boston Buddies Tournament.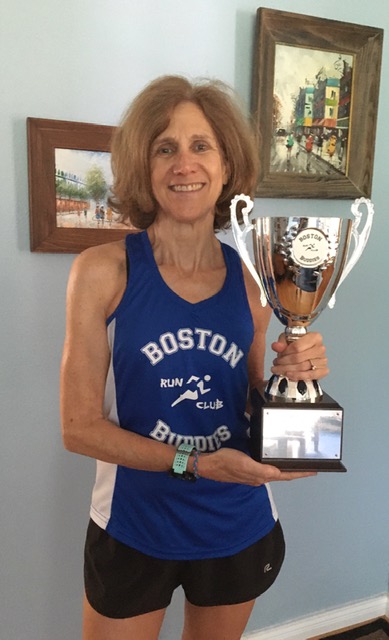 No longer. On Sunday, June 28, Sexton ran a solo track 5000 in a personal best 19:46, which age-graded down to 14:38 — enough to beat Wardian's speedy 15:51. Sexton, a retired financial executive, says she had expected to advance only until she faced Dykes. "I was excited about racing Michael in the championship, but tried to stay calm," she adds. "Running alone involves a lot of self-talk for me. I compartmentalized the distance — one straightaway at a time, one lap at a time — and tried to stay smooth and steady."
Jerry's note: It is gratifying to see that Carol is finding ways to keep motivated with virtual racing. Hopefully by July of 2021 she will be able to defend her title as State Champion at the Kent Cornucopia 5k.