Leatherneck Marathon – Worst and Best
02/02/2021

online presents
R

ace

R

eports
brought to you by
M
7210 E Greenlake Dr.,N. Seattle &
16095 Cleveland St. Redmond
M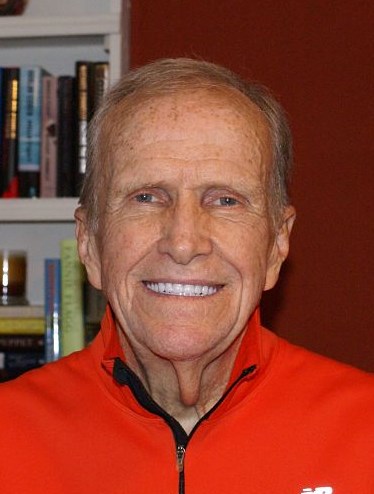 By Jerry Dietrich
In 1977, Betty and I bought a home in Casa De Oro, a quiet suburb of San Diego. We commuted 20 minutes to work each day, dropping our daughter at school before opening our place of business each morning. It was during one of our first commutes that I noticed a man jogging along the side of the street. After that first sighting, I would pass him on our way to work every morning. He stood about 5′ 9″ and was a muscular 160 lbs. He appeared to be about 40 years of age. His skin was a deep walnut color beautifully tanned from hours in the sun. His posture was ramrod straight and he ran with military precision. He wore only red shorts with a Marine Corp Semper Fi insignia and running shoes. He was the epitome of fitness. I saw him running every day on my way to work. I should have felt envious. Since I retired from the sport of Olympic weightlifting in 1959, I had let my fitness level drop considerably. I weighed 215 but didn't feel fat. I was a big guy and I kind of enjoyed it in a macho sense. But there was no question. I was in awe of this guy. When Betty bought me a pair of running shoes (by mistake) I thought of "The Marine" and decided to try jogging. I caught the running bug immediately and became obsessed. I would rise at six a.m. instead of my usual 8 o'clock and go to the high school track 2 blocks from our home. I would run 8 miles with a group of firemen who ran there daily to stay fit. I stopped eating large heavy meals and curtailed my beer drinking as it interfered with my running. I lost 60 lbs in 6 months. During this time I felt better and better each morning when I drove past my fitness idol on my way to work. During the next 18 months I completed 2 marathons and ran a half marathon in 1:30:40. I decided to try to qualify for Boston. The qualifying mark for men 40-49 was 3:10. I felt confident I could qualify. I selected the Leatherneck Marathon in Orange County because it was flat and fast. It was scheduled to take place in late summer of 1979. Marathon morning arrived and the weather was very hot on the drive to the race. When I arrived at 8 am I got out of the car and was struck by a wave of heat that caused me concern. As I stretched, I heard a runner comment that 102 degrees was the predicted high for the day.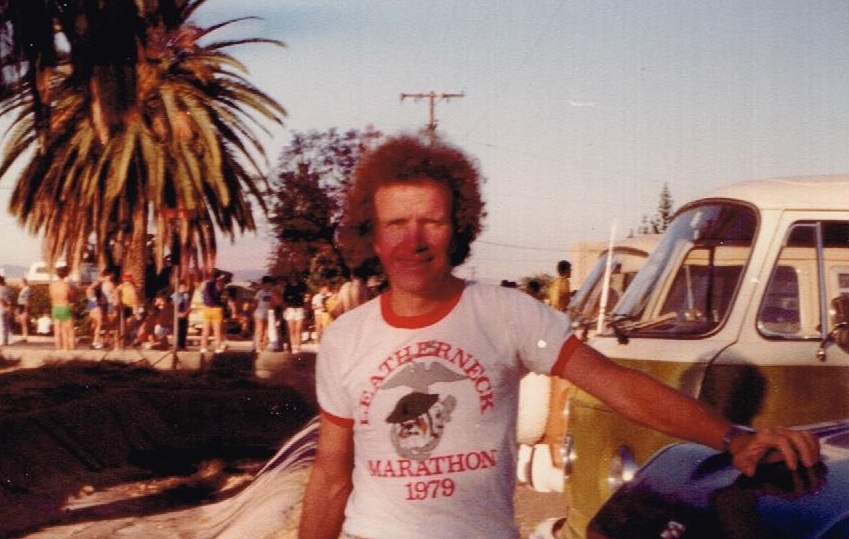 I decided to run shirtless, wearing only shorts and racing flats.
The race began at 9:00 am and I paced myself comfortably. I stopped at each aid station to drink and dump a cup of water on my head.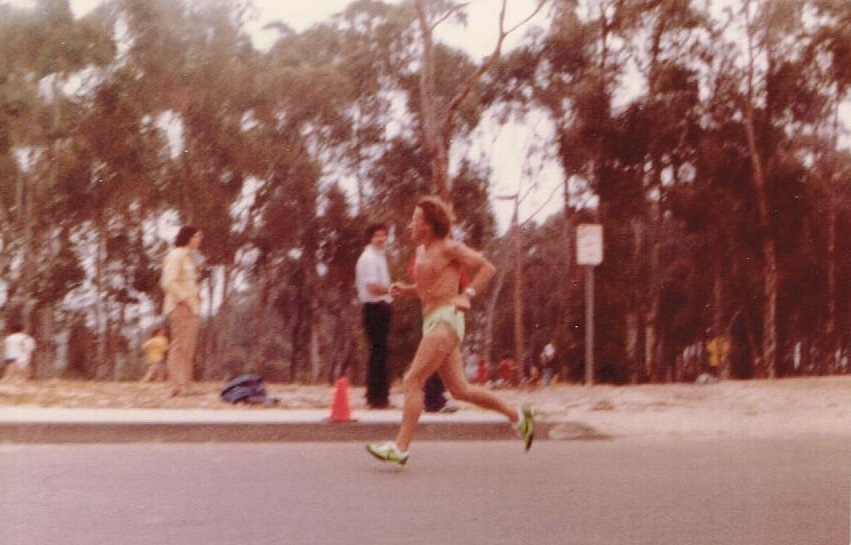 At mile 14 I began to feel heat exhaustion creeping in and walked for about 20 or 30 seconds. It was very hard to resume running. I had an overwhelming desire to continue walking.
When we entered the El Toro Marine Base itself, I became resigned to the fact that we would encounter no shade anywhere on the course.
A few miles later a painted line we were following, directed us into a gigantic aircraft hanger. Shade at last! This thing was huge. It was 50 feet high and seemed about two football fields in length.
"They could put the Goodyear blimp and a jumbo jet in here", I thought.
There was an aid station inside the hangar and I tanked up and poured water on my head. I actually slowed my running pace because I dreaded leaving the hanger.
When I left the hangar, the heat struck me again. The water I had poured on my head evaporated in seconds.
I continued running until I was ready to drop. All thoughts of Boston were long gone. I just wanted to finish.
I reached the 20 mile mark. I walked for 30 to 40 seconds. Then I resumed running. I had to repeat these walking breaks over the next few miles.
Finishing was made more difficult by a van that picked up drop outs. It was know as the "Meat Wagon". It was parked at 21 miles and was jammed with runners as it left toward the finish.
Each time I walked I felt humiliated and swore to myself I would never walk during a marathon again. I came upon another van at about 23 miles.
It drove off before I reached the open hatch, but it didn't matter because it was filled to capacity and I was determined to finish.
I quit looking at my watch because time was meaningless. My overheated brain couldn't calculate anything anyway. I pushed onward.
Leaving the base, I was running on a rural road next to orange groves. The orange groves were set back 15 or 20 yards from the road. Because there was no shade on the road, I fought the temptation to run into the grove and enjoy a moment out of the sun.
Reaching the 25 mile mark, I knew I was going to finish and continued forward along the edge of the road.
I was gaining on a runner ahead but it seemed unimportant. My total concentration was on finishing.
He was the only the runner in sight at that point. Most of the runners who had been running near and ahead of us had dropped out. It was, however, good to see another runner that would finish.
As I drew closer I couldn't believe my eyes. It was my fitness idol, "The Marine"!
There he was, a magnificent specimen of humanity, still ramrod straight, striding with military precision, but at a 9 minute shuffle. His face was marked with lines of fatigue.
I felt a feeling of disbelief. Was I actually going to pass "The Marine"?
I passed him and ran the final 400 meters fueled on adrenaline.
As I write this story 42 years later, I find it ironic that the most difficult and slowest marathon of my life (3:58:16), turned out to be my worst and my best.