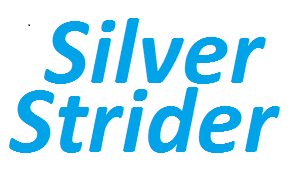 online magazine presents    
 R

ace 

R

eports 
brought to you by
    7210 Greenlake Dr N, Seattle, WA
   16095 Cleveland St., Redmond, WA
THE LAKE UNION IOK
by Diane Martin
with photos by Bruce Fisher
8/11/19 – Lake Union
The 11 th Annual Lake Union 10k started with cool temps and clouds; perfect race conditions.
Getting to Seattle is a breeze at 6:30 am for the 7:30 start. Lake Union Park is a sweet setting with green space, lake view and surrounding cityscape. Very well organized, with lots of volunteers to handle packet pick up, gear check and the multiple duties required to put on a popular Seattle event.
The back of the race shirt shows the almost butterfly image of the race course. Lots of vendors to tempt you with goodies as you stroll through the park.
Promptly at 7:15 am, our popular photographer Bruce does his best to gather us for the Silver Strider photo.
There are lots of "young" legs that line up in front along the southeast side of Lake Union for the 6 plus mile loop around the perimeter of the lake.
But there's some fast Silver Striders there also. Off we go clockwise around Lake Union. This run/walk travels along the Cheshiahud Lake Union Loop Trail. The trail is named after a Duwamish Indian Chief from the 1800's.
Considering that we are in the heart of the City, it has a quaint feel as we run across the Fremont drawbridge, through a section of the Burke Gilman Trail, along alleyways, and across University Bridge, all the while catching glimpses of Lake Union. I would consider it moderate in difficulty, some short but steep inclines interspersed with flat sections. Two aid stations with cheering volunteers provide water and Gatorade.
I had run the Galloping Gertie the day before (should have learned from the Husko's who had done that last year, not a smart decision) so the last 2 miles I spent walking but surveying the scenery; time wise my worst 10K, but enjoyed it just as much as a PR…well maybe not that!
The finisher medal depicts a piece of French toast, how clever!
The best part of this race is the delicious breakfast upon finishing. Catered by Portage Bay Café, there's a thick chunk of French toast which you can top with several luscious berries, whipped cream or maple syrup! Refuel with a glass of orange juice…yummy.
….. Home by 10:30 am with lots of day left to reflect on another great Grand Prix series race!
                    Race Results in photos by Bruce Fisher