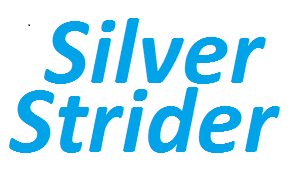 online magazine presents    
 R

ace 

R

eports 
brought to you by
    7210 Greenlake Dr N, Seattle, WA
   16095 Cleveland St., Redmond, WA
         
The Labor Day Half Marathon
by Karen Lichtenstein
with photos by Bruce Fisher
9/2/19 – Redmond
The Overlake Medical Center Labor Day Half is a Northwest USA Track & Field Half Marathon Championship so lots of elite runners showed up for the race. Among the participants, 26% were Silver Striders. The weather was cool and overcast at the start, but we all knew that it would get warmer as we raced.
The large crowd was divided into waves to reduce the congestion on the race course. I started in the second wave, just behind the 2:10 pace group.
As I reached the first half mile on the course, the man in front of me pulled something out of his pocket and a card flew out. The runners behind me yelled "That's your credit card!" Then the embarrassed man had to stop and run back to get his card. I wonder what he was planning to buy on the race course. I didn't see any coffee stands or food trucks along the race course.
After a few miles, I saw Charlea ahead of me so I caught up with her. She was running on the dirt path beside the asphalt trail. When some cyclists came racing down the asphalt trail, I joined Charlea on the dirt path. Even though there were quite a few bicycles on the trail, the cyclists were very good about announcing themselves as they passed us. I appreciated their warnings.
I was still on my way to the turnaround when I saw Judy Fisher race past me heading back in the other direction. She had a substantial lead as usual. What an amazing athlete! When I reached the turnaround and started back, I saw my major competition, Caren Adams. She was not far behind me.
Now I had a real incentive to keep running at a good pace. The frequent water stops were very helpful because it was getting pretty hot out on the race course. I was surprised that so many volunteers greeted me by name, then I remembered that my name was on the race bib. At long last, I headed through the city streets and finished the race. I was only one minute ahead of Caren Adams.
There was plenty of water, bananas, bagels, and even free grilled cheese sandwiches after the race. The generous supply of food, the excellent race support, and the very flat race course combined to make this a perfect race for Silver Striders.
The first male Silver Strider was Todd Poremba. First female Silver Strider was Alison Flaggert.
                                Results in Photos by Bruce Fisher
____________________________________________________________________________________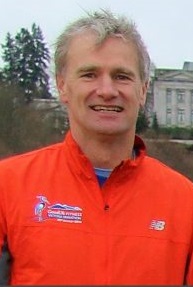 The Labor Day Half Marathon
by Brig Seidl
with photos by Bruce Fisher
9/2/19 – Redmond
I've been on injury hiatus once again so wasn't planning to run the Labor Day Half Marathon but the combination of it being within walking distance of my house and Karen Lichtenstein contacting me beforehand inquiring if I could write a report on it, tipped the balance. So after much vacillating I finally signed up in person the day before at Super Jock 'n Jill after online registration had closed.
I was also sporting a recently broken rib but it was my problematic Achilles that worried me the most. I had inflamed it at the Run For the Pies on July 4th and should have immediately hung up my running shoes for the next 4 months to let it heal. But what I actually did was run the Derby Dash 5k six days later because, if you can believe it, it is even closer to my house than the Labor Day Half and it felt wrong to miss it. Well that wrecked things for good and I hadn't run since. But then Karen emailed me and, well shoot, who can say no to Karen?
And so it was that I found myself at Redmond Town Center at 7:00 a.m. on Labor Day. It must be said that this is an amazingly convenient race to do. There is a ton of parking within mere feet of the race start. The expo area is set up on the thoroughfare of the RTC Mall, and there are even real bathrooms and coffee shops.
And after the first half mile the entire course was on a bike trail that ran alongside the Sammamish River. Not to mention the myriad of dining and shopping opportunities in the immediate vicinity post-race.
Yep, this location is pretty much custom made for a running event. Oh, and did I mention the course is pancake flat? If you've ever dared to imagine yourself tackling a half marathon this would be a great choice.
In years past – possibly this year too, I'm not sure – it has served as some kind of NW Half Marathon Championship and consequently attracts a stellar field. Whatever the reason, the expo area and starting chute were positively awash in sleek physiques and Club NW colors – it was going to be fast again.
As usual I was debating what shoes to wear as I was warming up around the parking lot. My Achilles did not feel at all good. By the time I finally decided to wear cushioned training shoes, it was too late to change so I had to run in my racing flats.
After the pre-race Silver Strider photo, I just pretty much stayed right where Bruce photographed us. That turned out to be just in front of the 1:40 pace group when the starting chute filled in which is right about where I felt I belonged on this day.
I was just behind a passel of Club NW women but the only one I could put a name to was Kimber Hinson. Dave Sherman was also in my close periphery but I lost sight of him before the start with the swelling and moving of the kinetic blob of energy which is the 700 strong starting mass.
The start had a nice, antiquated touch that I appreciated; the proceedings were unleashed by some unseen voice calling out, "Ready, Set, Go!". No starting pistol or air horn. I liked it. I imagine most of my fellow Silver Striders can recall when all races started that way.
Once we got underway and ran about 100 yards before making a right turn onto the only long, wide street of the entire course, I was surprised to see how far back I was from the leaders and how many scores and scores of people were already between us. And that would be the last time I'd ever even see the leaders, about 2 minutes into the race!
I intended to start slow and hope my Achilles would warm up and play ball if I didn't tax it too hard too soon. Even on the wide street crowding was a problem and making headway was tough. It got even harder with dense congestion once we got onto the 10' wide bike trail at about the half mile mark.
Many people clearly did not seed themselves properly but this actually benefited me as it prevented me from going at the pace that every fiber in my body wanted to go except my Achilles. It slowed me down which was a good thing because it's hard for me to do that naturally in a race, especially if Kent Sizer is breathing down my neck.
It wasn't until at least a mile and a half into it that I finally broke into some open space and eased up towards my normal pace. But my dratted Achilles was having none of it and I was already starting to chop my stride and limp a bit. It also seemed quite warm for 8:15 a.m. on a September morning too.
Once I had open air, I saw Kimber about 60 feet in front of me and paced off of her but even at this point, about a mile and a half in, I was having serious doubts.
I've been in this situation innumerable times before and gutted it out. The outcome has always been incapacitation for the following month, followed by at least 6 months where it is painful even to walk.
So at the 3 mile mark, just past the second aid station, with Kimber about 80 feet in front now and starting to pull away, I stepped off. I hate to pull out of races but this is one I really shouldn't have started.
I walked back and became an aid station volunteer handing out water cups until the field thinned out and I commenced the walk of shame back to the start/finish area.
Encountered David Longmuir volunteering at a road crossing about 500 yards from the finish and stayed to chat with him.
Within a few minutes the leaders started coming by! And they were flying!
About 15 of the first 20 were Club NW runners. Pretty impressive stuff. You know it's a deep, fast field when Uli Steidl isn't in the top 20.
I sauntered back to cheer at the finish line and take in the atmosphere in the unfamiliar role of a spectator, instead of a competitor. Either way, it was a glorious day and I was glad to be a small part of it.
___________________________________________________________________________