the 
Silver
Strider
 online 
presents
R

ace 

R

eports 
brought to you by
    7210 Greenlake Dr N, Seattle, WA
   16095 Cleveland St., Redmond, WA
                           The H.I.T. The Trail 5k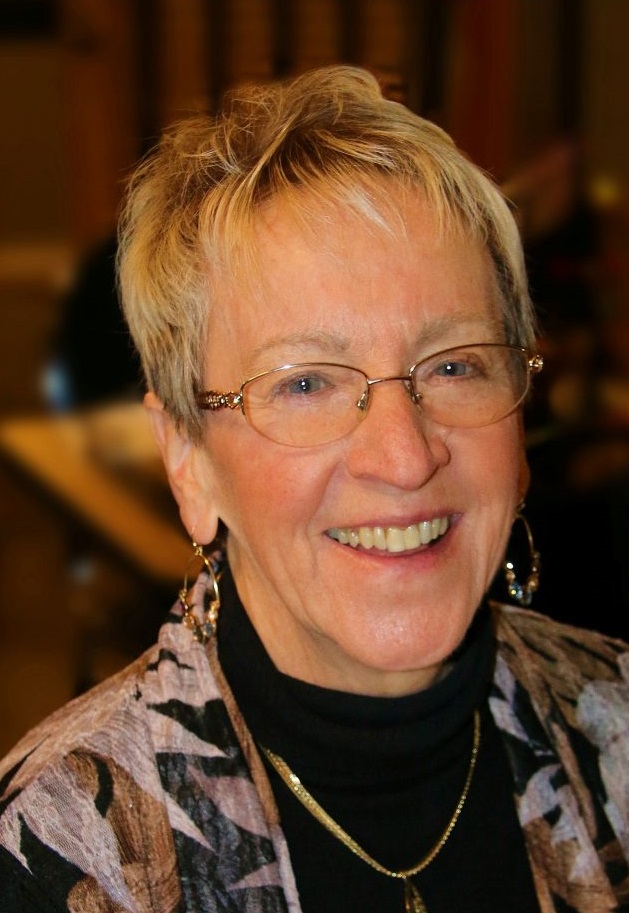 ………………. 
by Diane Martin
with photos by Bruce Fisher
3/9/19 – Tacoma
In its fourth year, the HIT (stands for Health Information Technology) race is organized and run by Tacoma Community College business students to raise scholarship funds for HIT and business students.
Our popular photographer, Bruce gathered us together (like herding cats) for our pre-start picture. Silver Striders made up over half of the total racers! Always good to see new and long-time Silver Strider faces. And great to have Jerry's brother, Eldon from Nebraska join our craziness!
10am brought a chilly start, but no rain or white stuff to deter us. The course was well organized and marked with chalk, monitors and yellow tape, no getting lost here! There were lots of student volunteers who cheered runners through the double loop, chipped timed run which brought us through campus walkways and onto dirt trails, then back on campus.
Silver Striders were pushing for some Grand Prix points as we have just a few races left for the 2018-2019 standings. We had some pretty impressive times; first place SS male goes to Kent Sizer with a chipped time of 21:31 and SS female Rikki Bogue, with a 26:08.
Post race brunch was held at Ben Dews Clubhouse Grill just a jaunt down the road. We had a large separate room that barely held our noisy group as Steve Husko tried valiantly to take our picture.
Birthday celebrations went to three long-time Striders: Molly Childs, Roger Dean and Isabelle Noiret. We were treated to face time with Marsha Murray sharing her finisher medal from the Marine Marathon Half in Washington, DC, thanks to Dave Anderson!
_________________________________________________________________________________
………………. 
 The H.I.T. The Trail 5k
by Brig Seidl
With photos by Bruce Fisher 
3/9/19 – Tacoma
After first contacting Ripley to inform him that I was about to run my 2nd Silver Strider GP Series race in as many weekends I took a quick look at the course map and event location online before trundling out the door and heading southbound towards Tacoma Community College. Found it without incident about an hour later and cruised in to the mammoth parking lot at the first entrance and parked where I spied a growing cluster of participants standing around outside a building. It was bitterly cold so I opted to stay in my truck until the building doors were opened at which point I followed the group inside to pick up my bib ahead of the crowds. Smart! If there's one thing people identify me as it's smart. Even though it was about 8:30, just a half hour before start time, they didn't even have a table set up yet. Oh well you know these small, pokey races don't necessarily cater to veteran sophisticates like me. I asked the guy who opened the door where I could pick up my number – even going so far as to helpfully spell out my last name in case he was especially provincial – but he informed me that no numbers were necessary, I could just enter the room with the rest of the students and that the exam would begin in 26 minutes. It was then I realized that no one else was dressed for running and they were mostly holding textbooks. "Oh, ah, I seem to be in the wrong place. Perchance do you know anything about the 10k that is supposed to take place here today?"
5k, yes. Go to the end of this parking lot, turn left, and park at the south end of the campus and then walk up the stairs to building 14 for registration and packet pickup."
Despite these impeccable directions I still managed to get lost and drive around aimlessly before encountering another group of students who were occupied with putting up course tape and chalk arrows and one of them practically held my hand in order to get me safely delivered to building 14.
It was a chagrined B. Seidl who finally entered and demanded his bib pronto as there were only about 14 minutes left to change and get warmed up now. No, the race doesn't start until 10:00 a.m. I was told. Oh. Ah. Hmph. Maybe there's time to take that exam after all.
So after killing a wad of time sitting in my truck I got out and started trotting around the immense parking lot in a vain effort to try to warm up but man, it was cold! A crisp 27 degrees according to my phone so I didn't strip entirely out of my sweats until mere minutes from the start. And I was feeling far from a supple, well-oiled machine I'll tell you. Happily the sun came out at the very last minute and the temperature on the start suddenly soared up to probably 36 degrees.
This course had the shortest start straight I think I've ever experienced, probably only about 5 full strides before the first 90 degree right hand turn. It got better but it this was a very "busy" course; concrete paths, gravel road, puddles, mud, asphalt, and even a section of the legitimate 400m college track – which had apparently hosted a major goose convention in the recent past. That section was hopscotch. But all in all not a bad course, there was always something happening to keep you on your toes. Inasmuch as I had a race strategy it was to keep someone in visual sight ahead of me on the first lap so I wouldn't have to navigate or be the one leading the procession astray by missing an arrow.
It was all I could do to keep the lead group of 4 on a measurable leash for the first mile or so and sure enough one of them blundered by going straight when we were supposed to veer right. He recovered before I could pass him but it served to sort of break up the leading quartet. Two of the others soon started to falter as I had predicted. No, not because I'm Nostradamus or anything but because I noticed one had far too many heavy clothes on to be running sub 7 minute mile pace and the other one was a youngish looking rogue who had sprinted past me on the first straightaway at about a 5:45 pace and I pretty much knew he was going to blow up.
That put me into 3 right on the shoulder of the guy who had made the minor mistake earlier. I pulled alongside him a couple times but couldn't quite seal the deal and had to fall back into line behind.
As we started the 2nd lap I began to perceive the proximity of a lurking presence hovering just off my left shoulder as I was struggling to hang onto the right shoulder of blunder guy in front of me. I had a suspicion that the rasping breath warming the back of my neck might be Kent Sizer based on the thrashing he had given me at the previous weekend's 10k and the fact that he wasn't currently in front of me. But I never look back because who wants to see the ghastly sight of a Kent Sizer or Keith Lerew bearing down on them like some sort of ghoulish apparition?
So as we approached the dirt/gravel road section on the final lap I played my last remaining card and surged past #2 into second and tried to make it look like a definitive move.
But man ,we immediately encountered significant impediments in the form of lappers walking 4 abreast as the road narrowed to a double track which actually added a sort of exciting element to the proceedings. It was hard to tell which way to go sometimes. I floored it for all I was worth zigging left sometimes and zagging right other times.
But any thoughts I may have entertained about having dropped the raspy specter stalking me quickly dissolved upon popping out of the woods onto the hopscotch course when Kent (it was him) breezed by with a stride so light and majestic it was as if his feet disdained the earth. I swear he didn't splooch in a single goose mess while I slipped and splattered behind him.
And so it ended, with Kent stretching his advantage to over 10 seconds in the remaining third of a mile or so and the other guy never quite getting back on terms with me and thus falling to 4 after setting the early pace.
I quite enjoyed myself at this race. It was very small – without the Silver Strider contingent it would have been tiny indeed – but fun in a sort of loosey goosey way. Yes the big city cosmopolitan types with fancy GPS watches claimed that the course was long and yes a steady stream of participants crossed the finish line after only completing a single lap but there were no Olympic berths on the line so nobody really cared. And I could have done without the super loud techno music at the finish line but it was a minor quibble. It's good to be back running with my friends.
________________________________________________________________________________
Editor's notes:
We had 4 more series finishers at the H.I.T. 5k. Pictured below left to right, are Kent Sizer, Tim Oguri, Brett Langlois, and Cherie Langlois. They completed their 8th series race to become series finishers. Congratulations!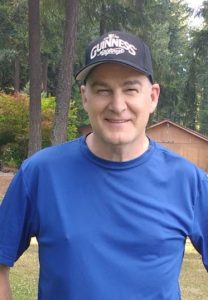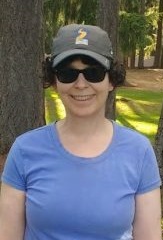 _______________________________________________________________________________
                        Results in Photos by Bruce Fisher