the Silver Strider online presents

    THE TAB WIZARD'S
 GRAND PRIX SERIES 2017-18


Join Us now! Everyone over 50 welcome!
The Silver Striders Award Party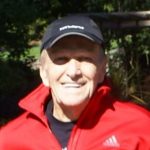 By Jerry Dietrich
with Photos by Bruce Fisher

5/13/17 – Tacoma
The 7th Annual Silver Strider Awards Party was held at the Old Spaghetti Factory in Tacoma. The awards were to take place in two parts. Part one was the TOP IO Super Athlete awards. Part two was the Grand Prix Series awards.
The banquet room was packed. 
Part One – South Sound Running Super Athletes – 2016
Betty Dietrich was introduced as the Silver Strider online magazine Editor. Betty was also credited with being the catalyst for the Silver Striders by setting in motion events that would culminate in this awards party.
Bruce Fisher was introduced as Silver Strider photographer, Rewarding Runners Financial Officer, and creator of the Silver Strider Calendar.
Next the TOP IO contributors were introduced. These are the volunteers who compile the rankings. They are: Ed Heckard 5k, David Longmuir 10k, Jerry Dietrich Half, and Judy Fisher Marathon.
To gain Super Athlete status the athlete must be ranked in the TOP IO at all four distances on December 1, 2016. Only 9 athletes in the state of Washington achieved this remarkable feat.
Each of these runners was presented with a  personalized Super Athlete Ring and a gift certificate from South Sound Running.
The Super Athletes were recognized for possessing both speed and endurance. Below are the Super Athletes in order of presentation with rankings shown in parenthesis for 5k, 10k, Half, and Marathon.
Part Two – The Tab Wizard's Grand Prix Series Awards – 2016-17
Jerry Dietrich opened the Grand Prix Awards ceremony with a request for a moment of silence for our departed 2016 Silver Strider of the Year, Kaye V Ladd.
Acknowledgement of the contributions by the party committee, Molly Childs, Nanci Larsen, and Tiare Bailey were made.
Thanks were given to our sponsors: The Tab Wizard, South Sound Running, Super Jock n Jill, TCMA, Fleet Feet of Tacoma, West Seattle Runner, Rt. 16 Running, Shoes n Feet and The Balanced Athlete.
Each finisher in the Grand Prix Series received a personalized trophy and a free entry to an upcoming Series race. First place finishers also received a gift certificate for a pair of shoes from South Sound Running, 2nd through 4th place finishers received a $50 gift certificate, and 5th and higher received a $40 gift certificate.
The awards were given in 5 year age groups starting with Men 50-54 and ending with Women 85-89.
Prize drawings, donated by merchants and Silver Striders, were held throughout the program. They included an Emerald Downs Day At The Races, (2) 1 hour massage therapy gift certificates from BeHive massage, gift cards to many outstanding restaurants, and $50 bowling gift cards from Kent Bowl.
The final drawing of the afternoon gave away two major prizes.
First was the grand prize, an overnight stay for two in a luxurious fireplace, jacuzzi suite at the Wesley Inn of Gig Harbor. The winners of this coveted prize were Steve and Patty Husko.
The second main prize was a deluxe Fitbit Heart Monitor watch, donated by Molly Childs in appreciation to all of the Silver Striders who generously contributed to the BTA 5k on her daughter's behalf. Nick Bailey was the winner of the drawing.
A special achievement award was given to Judy Fisher as the "Perfect Score Champion." Judy set a record with 27 consecutive first place finishes in the 2016-2017 Grand Prix Series.  Judy was presented with a bottle of champagne with her name and achievement customized on the label.
The next award was a closely guarded secret. Everyone eagerly awaited the announcement of who would be recognized as the "Silver Strider of the Year".  In appreciation for his dedication, participation and enthusiasm, this year's recipient was Bruce Fisher. Bruce received a standing ovation accepting his plaque and $50 gift certificate.
The final award of the afternoon, as described in Betty's report, was the presentation to Steve and Patty Husko, Mr. & Ms. Grand Prix, of the prestigious Sandra Madden Award for Exceptional Performance. They each received an elegant trophy and a $50 gift certificate.
Photo Gallery by Bruce Fisher