the Silver Strider online presents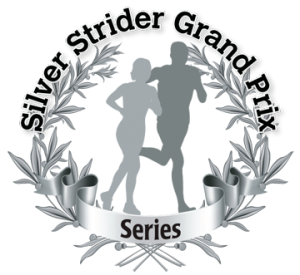 brought to you by
Gold Sponsor
Susie and Dale Hall – In honor of Nanci and Larry's wedding
Silver Sponsors
Dave and Charlea Sherman
Laurie and Steven Carley
Audrey Kirkwood

The Grand Prix Series 2012-2013

It's over! Here are the final results:
The achievement award winners are:
Most Races Male – Dave Sherman wins with 17 races.
Most Races Female – Marsha Murray  wins with 20 races.
First Male to reach 80 pts – Jerry Dietrich.
First Female to reach 80 pts. – Jean Cornwell.
For a complete explanation on how the Grand Prix Series works, click on the Grand Prix Series Schedule.

***** Here are the Final Point Standings for 2012-2013 *****
Shown below are: Finish position, Name, (# of races) and points. (H)=Honorable mention 
Men 50-54

Men 55-59

Men 60-64
Men 65-69
Men 70-74
Men 75-79
Women 50-54
Women 55-59
Women 60-64
Women 65-69
Women 70-74
Women 75-79
Women 80-84