the Silver Strider online presents
                      M

emory

L

ane

  
Brought to you by
S

ponsorship

A

vailable
Dans les Rues de Montreal

By Dave Sherman
5/28/20
7/23/17 – Montreal
In 2016, when Charlea was looking for fun destinations and I was looking for races at those places, we noticed that Montreal has a Rock n Roll half marathon in the fall. That seemed like a good enough reason to go visit. Neither of us spoke any French, so that made things even more interesting.
We stayed at a downtown hotel, within walking range of lots of interesting places. Montreal also has an excellent subway system, so it was easy to get around town. About a day after we arrived, our hotel notified us that Xi Jinping, the president of China, was going to be staying a night at our hotel and to expect increased security precautions.
He and his entourage arrived in a dozen black SUVs and suddenly our hotel was filled with Chinese diplomatic and security staff. We noticed that some of them were extremely well dressed, and all were very polite.
Across the street from the hotel, the local Chinese community was staging a protest, although we couldn't read the signs as they were in Chinese. Charlea wandered over and they handed her a sign, so she protested briefly just to be polite. I would assume that she is now banned from ever visiting China.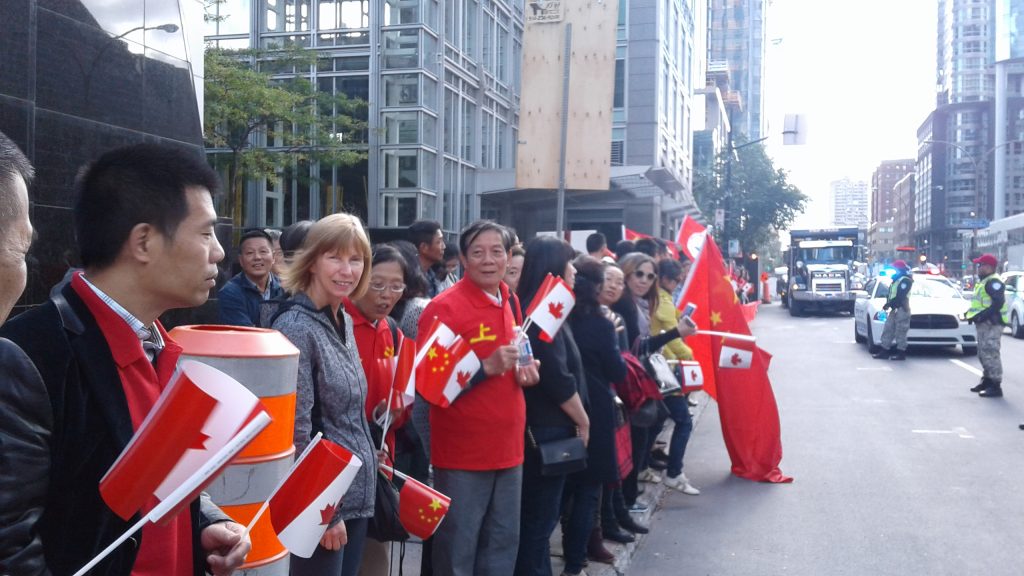 Our favorite part of town was the Old Town area along the river, with its cobblestone streets and interesting old buildings. In most places, we found the residents to be seamlessly bilingual; unless you were an obvious tourist they would initially speak in French. Only when you had a dumb blank look on your face would they switch over to English. Off the beaten track, you were more likely to find people who only spoke French.
At one little café, we had a waitress that only spoke French. Charlea figured she'd try out some French, so she asked a person at a nearby table how to say, 'May I have a napkin?' in French.
When another waitress came by our table, Charlea said, "puis-je avoir une serviette?" The waitress answered, "You wanna napkin? Sure, I'll getcha one." All that French practice, wasted.
On the other end of the fine dining spectrum, there was a very upscale Brazilian restaurant, not the kind of place we would ever go. We were walking by on the sidewalk, and a host with a tray of champagne offered us a glass. We declined, but he insisted- – – It's free! Grand opening party! Free! Come in! So we took a glass and cautiously looked in. And guess what- – -it really was free, and so much more.
They had tables of fancy appetizers and an open bar, and after you'd had your fill of appetizers you could order a dinner along with any drinks and desserts you wanted. And it really was all free. It was a truly amazing and fun party.
When race day arrived, we took the subway to the start. The starting corrals were all on the Jacques Cartier bridge, over the St. Lawrence River. The nearest sanicans were clear back at the end of the bridge, a long way from most of the corrals. So of course, people in the corrals were peeing over the side of the bridge while they waited for the race to start. Too bad for anyone on a boat or on the shoreline below.
And then we were off. The course veered off the bridge onto an island, then through an amusement park, and after a few miles it entered onto the Gilles Villeneuve Formula 1 racetrack. We circled the track, past the grandstands and surrounded by crash barriers and tire walls and the race car pits. Each turn was preceded by heavy smears of braking tire rubber on the pavement. It was just like driving a Formula 1 racecar, only about 96% slower.
After the race, I asked Charlea how she liked the racetrack. She replied, "What racetrack? I didn't see any racetrack."
From there, we crossed another bridge back to the mainland and took a lap through Old Town.
This was about the time that I ran out of legs. I had run a marathon the weekend before, and this was my recovery run. I had been surprised at how well I was running up to this point, but around mile 8, within a half mile I went from running well to hanging on and grinding out the miles to the end. But I did get there, and good enough for third in my age group.
Next came the most challenging part of any big race- – -finding Charlea afterwards. It would be much easier if we carried our phones, but we don't. We pick out a landmark for a meeting place and take a guess at a meeting time. If that doesn't work, then we stop by the meeting spot on the half hour until we find each other. In this case, the gear check system had issues so I missed the initial rendezvous time as I was stuck in gear check line.
As I was finally headed for the meeting place, I happened to look over, and there was Charlea headed the same way. It's always good to find your Significant Other after a race, so you know they aren't waylaid in an aid station somewhere.
We proceeded to go get a beer and enjoy the bands.
Returning to our hotel was simple, with a short walk and a subway ride.
That night, we celebrated our races out on the town. I promised not to go into detail on that, but if you catch Charlea at just the right time, maybe she'll tell you about it. One hint—we really liked Ziggy's.