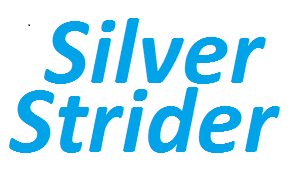 online magazine presents
             

                                  "Silver Strider Strong"


                      …
           Challenge 20 Part 2 – Adjustment and Acceptance
                Welcome to the Silver Strider's newest feature – CHALLENGE 20 – PART II
Challenge 20 was first introduced last March with an article by Judy Fisher titled "Silver Strider Strong".

We asked you to let us know what you were doing to stay safe and yet stay motivated to maintain your fitness. Your response to this challenge was overwhelming!. We received over 40 profiles!
It has been 5 months since we issued the first challenge. Who would have thought these hard times would have lasted this long with the end nowhere in sight? Who would have thought Virtual Races would become the norm?
We asked Judy Fisher to send us an updated profile. In her article "ADJUSTMENT AND ACCEPTANCE", Judy shares what her life looks like now.
We want to hear from you! How has your life changed? This is the time to share your experiences. Tell us about your fitness activities, diet, health habits, goals, words of encouragement, comments, remarks and what you are doing to stay safe. This is the time for all of us to stay connected with each other…to stay Silver Strider Strong!
To thank you for sending in your updated profile, the Silver Strider will be giving free entries randomly to upcoming Grand Prix Series Virtual races.  
                 Take Challenge II – We can't wait to hear from you!
________________________________________________________________________
Challenge 20 – Part 2
Fitness Activities: Since my last Challenge report, things haven't changed much.  Gretchen still throws me out of bed every morning to either run or walk.  Gloriously, the other day, she thought it was raining, so we got to sleep in.  Gretchen and I still do our running at the Kitsap Navy Base Bangor.  I pretty much just run around the track, while Gretchen runs all over the base.  That way I can use the bathroom, if I need to.  For our Virtual races, we've been meeting Nick and Tiare Bailey in Port Townsend.  Tiare has very kindly become my "coach," warning me of any bumpy terrain and keeping track of my time and distance.  Gretchen loaned me her Timex watch, but with my gloves on, it's hard to start and stop it.  Nick has been sending in our pictures and race times afterward.  My race times have been improving.  Gretchen is now my full time chauffer. That way, I don't have to listen to her back seat driving.
Diet:

Gretchen makes sure we eat healthy.  My breakfast is a fruit salad and cereal.  Lunch: Half Killer Dave sandwich with turkey or chicken and Swiss cheese, chopped carrots or yams, and Chobani fruit yogurt.  Dinner: Fish 2-3 times a week.  I love the salads Gretchen makes with greens, cabbage or kale plus lots of seeds and nuts.  Her sister often gives us some goodies to nibble on, which Gretchen hides.  However, the other night while watching our TV programs, we had caramel corn and a Swiss chocolate bar.  I have a coffee in the morning and a full glass of water with every meal, no sodas, beer or wine.
Remarks:

I get out in our yard during the week to mow the lawn and do lots of watering.  I have lost some weight and feel better.    It will be nice, when we can see everyone again.  I miss the camaraderie, and look forward to all those restaurant meals. 
_________________________________________________________________________
Challenge 20 – Part 2
Fitness Activities: Things haven't changed all that much for me.  I am still trying to keep Steve and I on track be getting us up early every morning to walk or run.  Yesterday, we skipped running.  I looked out the window and thought it looked like rain, but it was so yuky, I couldn't really tell.  So we went back to sleep.  Wow, I couldn't believe how out-of-sorts I was the whole day, because we got off our routine.  I realize now, how keeping that schedule keeps us focused, positive, and energized the rest of the day.
Diet:

I still make all our meals, no eating out or take-out.  I try to make sure we are eating healthy.  That has helped us reduce our A1C levels since the end of June: Steve, by .6 points; and me, by .3 points.  However, we started treating ourselves in the evenings to the DREADED "Big Three:" Cookies, Chocolate, or Ice Cream.  When I couldn't get into my clothes, I knew we had to change, though it's taking a long time.  We get off, occasionally, but we're doing better.  A couple of our sweet choices have helped:  Yasso mint chocolate chip Greek Yogurt Bars and Trader's Joe's Cold Brew Latte Dessert Bars (popsicles).
Safety Measures: We're doing all the usual things to stay safe.  I leave Steve mostly at home to do my meal shopping and errands.  We wash hands frequently, sanitize and wear masks.
Remarks: I've spent much of my time the last part of the summer helping my sister Marilyn, who had reverse shoulder surgery.  It involves quite a bit of driving between Bremerton and Shelton. Also, I'm doing all the driving for Steve and I now, too.  We've sold our Ford Focus to our granddaughter, who moved from Virginia to Spokane, WA, where she is starting graduate school at Eastern Washington University.
The new lease on our lives has been our connection with Nick and Tiare Bailey for our Virtual races.  I am not able to send our race results in with my simple phone, except to another cell phone as a text (not an email), so Nick has been kindly sending in our pictures and times to the race directors and to Jerry for our Silver Strider credit.  We run with them in Port Townsend on the Larry Scott Trail.  Nick ordered me a Garmin watch, so I can track my distance.  Tiare runs with Steve and tracks his time and distance.  Sometimes, Isabelle Noiret joins us too.  Now we can eat breakfast afterward at the Bayview Restaurant near the ferry.  We made a very exciting trip for 2 nights in Anacortes to run the Virtual Art Dash 5K with them.  We had dinner and breakfast together in restaurants, too.  It worked out great and was a nice change!
We have been enjoying some of the new TV programs again for this Fall, as well as the movies on the Turner Classic channel.  We really miss everyone!  We're glad we can be in touch through our reports.  I need to get zoom, so we can meet for the T and H Awards Ceremony.   It will be a challenge to figure out where we might be able to run our Tortoise and Hare race.  I'm concerned about that.  Take special care everyone!
_________________________________________________________________________
Challenge 20 – Part 2
Fitness activities:

I try to run 2 times /week, one a shorter distance & one a longer distance. Now that I have been back to work full time since May 18th I have to be more disciplined in getting exercise time scheduled. I entered the 21 mile Conqueror virtual challenge where you can run, walk, swim, bicycle etc. I choose to get my trail bike out of retirement,although it was still brand new, and cover half the miles on it. Nick serviced it for me, and together we rode from Gardiner to Sequim Bay State Park and back on the trails. On the uphill finish I conquered shifting gears! I completed the final miles on foot.
Diet:

I try to eat a variety of whole foods . I can't lie, I like sweets too. I decided it was time to update my vaccinations and a physical exam so after all test results came back, my only change in diet is adding more vitamin D and calcium.
Safety measures:

Staying out of large crowds is still a goal. The grocery store is where I have contact with the largest number of people. In our community, people in stores are complying with the requirement of wearing a mask, and most people try to keep a safe distance. When I run on trails, I wear a mask around my chin & pull it up to cover my mouth and nose when others are approaching. Working in a dental specialty clinic, we arrive wearing a mask, have our temperature taken immediately and recorded, complete a questionnaire, scrub up, and put on gloves to get our operatory ready for the first patient.
I work wearing a KN95 mask, with a surgical mask over that is changed after each patient, and I have a face shield over the two masks. My loupes have protective eye shields, and I have a bonnet on my head and wear a lab coat . Our patients stay in their vehicle until they are contacted to come in. They go through a similar process of temperature screening, questions asked for the second time since their appointment was confirmed, wear a mask into the office, and use hand sanitizer before going into our operatory. We focus on safety all day,
Goals:

Consume a "healthy" diet, exercise, rest when possible, and stay away from large crowds.
Remarks:

Stay positive,be grateful,appreciate new opportunities even when they are a challenge. A quote I like, "The one thing that I really appreciate about being a runner is the incredible friendships and camaraderie that we as runners share." …. Jen Rhines
This is how I feel about our SS family. I can't wait to see everyone!
________________________________________________________________________

Challenge 20 – Part 2
Fitness Activities: In Challenge 20 I wrote that my wife, Gale, had been running nearly every morning for the past 8-9 months. I commented she was holding a good pace of 9 minute/miles. I jogged a few times using her 'fancy new watch' & was pleased that I also was running at a solid 9 minute/mile.
I found this to be so motivational I purchased a 'fancy new watch' just like hers. I put my beloved $24.95 Casio stopwatch in a drawer, strapped on my new timepiece & hit the jogging path with a renewed vigor.
Well you know the rest of the story. It took maybe 2 training runs to realize someone's watch was not accurate & unfortunately, it was the faster timed watch that was off…way off! We had been in a delusional state of contentment for over 2 months. Pace was not 9, closer to 10:30. I hear you. I should have known this. I guess I wanted to believe the false readings so badly, I let my rationality take an extended vacation.
My wife took this setback quite well. She is now using her phone for timing & has cracked 10 minute/miles on several occasions. On the other hand, I am not sure I will ever recover from the fiasco.
Averaging around 25 miles while getting out 5-6 days a week. Have ventured out 10-12 miles a couple times however I am disheartened at the slow pace for these distances. Over-all I am feeling good. Running not improving as I would like but there could be worse things to be concerned about.
Diet:

In Challenge 20 I commented that in late February I had been to the doctor for a wellness checkup. We don't have a scale at home so the doctor's office is where I discover how much I weigh. At that time, I was appalled when I stepped on the scale & the digital reading was 152.6. I told you back then I was going on a diet. Last Tuesday I again had occasion to go to the doctor. Again, I stepped on the same scale and BAM, a 132 reading. 20 Lbs. in 6 months. Impossible I know, but just like that 'fancy new watch', I am taking the reading as the gospel truth! We have not been starving ourselves. For the most part, I have cut out foods starting with the letter 'C'. Cake, Cookies, Crackers, Chips, Cereal (a biggie) & Cream (Ice Cream that is). However, I can eat Celery, Carrots & Cantaloupe.
Safety Measures:

My wife has been great to me during this quarantine stuff. I rarely go out & about where a mask might be required. On the jogging paths I attempt to keep a safe distance from fellow joggers & walkers.
G

oals:

Immediate goal is re-establishing training runs with a group of runners at Everett Memorial Stadium. They meet at the stadium Mondays & Wednesdays. Monday is a 7-mile tempo run & Wednesday is intervals on the track. I am not up to the workouts yet but feel by mid to late October I can participate again. Not looking to run a race (if there are any) until at least next Spring or Summer. Will be focusing on shorter races, leaving half & full marathon training for 2022.
____________________________________________________________________________

Challenge 20 – Part 2
Fitness Activities:

Walking 4 miles Monday thru Friday. Other than going slowly on the virtual runs, I have not been running. Our 4 Month painting job is finally complete so no significant ladder climbs. Occasional weight lifting, but not as a routine. Some minor yard work.
Diet:

No changes; fruits and vegetables, fish and chicken with occasional Steak and Gluten free Pizza. Daily Gluten free brownie, and Trader Joes Chocolate baton. We have started a weekly Take-out purchase, supporting local small restaurants.
Safety Measures:

Shopping weekly at Trader Joes during senior hour after early shopping at Sprouts. Our daughter's family shops Costco for us. Face masks and social distancing.
Remarks:

The virtual runs have been a mixed blessing. I forced myself to complete them ignoring the nagging injury that I have attributed to tight hamstrings. I'm finally seeing a Physical Therapist which of course results in 1-1/2 hour nightly exercises/stretches.
To keep from further aggravating whatever the real problem is, I decided to WALK the Iron Horse virtual ½ Marathon. My initial plan was to walk a section of the Burke-Gilman Trail out and back from Lake Forest Park. A half mile into it I turned around and went home. After downloading several NPR episodes of Snap Judgment and This American Life, I started again, this time in my neighborhood. I timed it for low tide in order to walk a mile or so on the beach from Picnic Point Park to Meadowdale Beach Park.
I have never needed additional 'entertainment' when running. Walking for 4 hours… is a whole different story.
Goals: As I told my Physical Therapist; stay competitive in age group, complete at least one marathon each year, and to once again line up at the start line with my Silver Strider friends.
___________________________________________________________________________________

Challenge 20 – Part 2
Fitness Activities:

 I have been spending my summer training for two spring marathons, Coeur d' Alene and Boston. While that might seem backwards, it's what happened when Coeur d'Alene got postponed from May to August and Boston from April to September.
We just got back from a quick trip to do the Coeur d' Alene races (I ran the full, Charlea the half). The race director did a really nice job planning out how to put on a socially distant and safe live event. It was a chip timed race but was spread out over three days so was very dispersed.
We felt safe doing the race, but the town itself made us nervous. The locals seemed to be under the influence of some Cult that disdains masks but does like confederate flags.
The Boston race, being virtual, will be on a course of my choosing which I expect will have very few people on it.



Diet: 

We're eating the same sort of stuff as usual, adjusted for the season. Today I made a blackberry pie and we had a scramble with homegrown kale and tomatoes. We were inundated with green beans this year and are presently harvesting dry beans and the first of the sauce tomatoes. Soon we'll have corn and several types of winter squash. I also picked a couple quarts of blueberries today and am thinking about going up in the mountains and picking huckleberries.


 
Safety Measures: 

We're well conditioned to grab our masks now whenever around others. We avoid getting close to other walkers or runners. I dropped my gym membership as the gym seems a risky place to be these days. We use a lot of hand sanitizer and wash our hands a lot. Our formerly busy calendars remain mostly empty.


 
Goals: 

With marathon training done, I plan to keep on running enough to stay in reasonable half marathon shape, or about 25 miles a week. I won't be following any sort of a plan or schedule though.


 
Remarks: :

This year has been a challenge. I try not to dwell on all the things we've missed or lost, but instead look at the small positive things we have been able to accomplish. And also remember, every day of pandemic drudge brings us one day closer to the good times ahead. 
___________________________________________________________________________

Challenge 20 – Part 2
A shout out to all of my Silver Striders friends who share my August birthday month. Happy Birthday.  

Fitness Activities: : I have been attending an outside exercise class two days a week. We meet in a park and the instructor is good at social distancing. I like walking our new puppy, Jessie. She is a border collie mix and very smart. I exercise her with the hose, and she enjoys running full speed and jumps high. I wish I had some of that puppy energy.  

Diet: : In the summer and fall I feel like one of the animals in the fable, The Little Red Hen. Dave does all of the hard work in his beautiful garden and I eat and eat. From the fable I learned that I must help out and show some personal initiative if I get to enjoy all of the wonderful organic food.

Safety Measures: 

We are social distancing, washing hands and masking up. I have a nice collection of masks. My first one was handmade and my newest one is a creation of InkNburn.
On our trip to Idaho a young woman made fun of me wearing my mask so I pulled it down and told her I just tested positive for covid. She was horrified. Hopefully, I gave her something to think about.


 
Goal:

 My goal is to eat all of Dave's wonderful pies. He promised me a huckleberry pie for my birthday. I do not have to help pick the berries or make the pie. I am thinking about the little red hen again. Anxious to see you all.



Remarks: Let LOVE and JOY run your life.
______________________________________________________________________________

Challenge 20 – Part 2
Fitness Activities: 

So there I was on July 4th, excited about the Run for the Pies Virtual 5K. My daily routine had been pretty much the same. Enjoying outdoor runs 2-3 times a week, working out at home with some strength training, Pilates or Yoga. I was pleased with my race results and began to focus on the increasing my speed for the Art Dash.
Life had other ideas.

Diet: Lean meats, fish and lots of veggies. With more time in house, I enjoy going through cookbooks to find healthy recipes.
Safety Measures:

 Most of the time I'm self isolating at home.

Remarks: So, on July 5th I'm experiencing a lot of tightness in my shoulders and hips. RICE for a few days, I should be good to go, except I wasn't!
During a 3 day camping trip I found it difficult to get myself out of the tent, I had so much pain and stiffness in my shoulders and legs.
As the weeks progressed so did the pain and stiffness. After a trip to Prompt Care and a follow up with my primary doctor, blood tests revealed I have Rheumatoid Arthritis (RA). WHAT?
No one in my family had or has RA, this can't be happening to me! I had lots of questions and concerns over the next few weeks as I waited for information.
RA is a chronic autoimmune disease. Most patients experience periodic flare-ups that can last over long periods of time. But there are various treatments, plus good nutrition, certain exercises and mindfulness can help alleviate the pain and stiffness.
I received good wishes from Silver Strider friends and a sweet grandson who is helping me with housework.
I'm mentally working to take this on as a new life challenge and not feel sorry for myself (but sometimes I do). I recognize this could be worse; plus I now feel empathy for those who have suffered with RA at a much younger age than me.
Charlea's article inspired me to look for the light at the end of the tunnel.
My daughter's first question to the Rheumatologist is "When can she run again?"
But for now I'm just looking forward to not walking like a duck!!
____________________________________________________________________________________

Challenge 20 – Part 2
Fitness Activities:

Still running my hilly 8-miles a day over paved and dirt roads, sidewalks and rocky trails, veering to the opposite side when nearing other walkers/runners. Some days I feel like I'm a ping pong ball, bouncing from side to side or a participant in Pong (remember that early video game?).

Diet: Eating simple summer vegan meals. This means less cooking (no heavy casseroles). We enjoy corn-on-the-cob, yams and potatoes – all cooked in the microwave. Cauliflower and broccoli are roasted in the oven. Spinach and tomatoes are eaten in a salad. Yogurt (vegan), blueberries or melon for snacking. Vegan ice cream for "sinning." We visit Sterino's in Puyallup to restock our fresh food larder.


Safety Measures:

Masking up and distancing when shopping in stores come naturally. We now see our family members and we watch our granddaughter a few times a week – no masks. This certainly brings sunshine into our lives!

Health Habits: I try not to worry about that which I have no control. Reading about far-off adventures takes me to another mindset. I am now reading WALKING THE GOBI BY Helen Thayer, a narrative about an elderly couple who walked 1,600 miles across the Mongolian Desert in 126-degree temperatures! My own life suddenly seems less stressful!

Goals: I am constantly searching for that "sweet spot" when running – that place where everything comes together and I am rewarded with a Personal Best! Being in the flow, in the zone – capturing that feeling is why I run.

Words of Encouragement: There is good in this new way of day-to-day living, such as:
Now we are never late for anything since we don't go anywhere.
Striders can shop in stores before the general public.
If your hands get more alcohol than your mouth, congratulate yourself.
The pandemic can really be depressing but we need to keep smiling and be optimistic for our own mental well-being and for that of those we love. My new philosophy is not to just strive to survive, but to THRIVE through it all and be a better person when we feel safe to be together and to enjoy life under our own terms once again.
__________________________________________________________________________________

Challenge 20 – Part 2
Fitness Activities:

 I've been running ultra-marathons in my dreams.

Diet: Taking elderberry syrup daily for the immune system.

Safety Measures: Using social distancing and hand sanitizer. When groceries are needed, entering store early in morning when shoppers are lowest.
Remarks:

 On July 23, I went in for knee replacement surgery because it was bone-on-bone and hurt to just walk.  The opioids given for pain didn't work on me. They put me into the hospital instead with narcotic bowel syndrome for two days.
The feeling of burning pain in my knee has kept me sleep deprived, so I'm just existing from day to day.  Looking forward to that day when I'll be able to walk pain free again.
The physical therapist says I'm making good progress.  At this point the knee is still congested  so range of motion is limited but with the exercises it will eventually improve. I have P. T. through the month of Sept. and hopefully by Oct. I'll be able to go on the roads again.and work up to a 5K distance at least.
__________________________________________________________________________________

Challenge 20 – Part 2
Fitness Activities:

I am still on the same schedule of weight training on one day and running the next day. I tried going back to the local gym for weightlifting, but there were too many people without face masks. Now I am back to weightlifting in my basement gym. I find it hard to race at full speed in the virtual races because I have to slow down and adjust my mask as I pass people on the Chehalis Western Trail. I was pleased that my 10k time in the Art to Art Dash 10k was only one minute slower than my time in the Foothills Dash.
Foothills Dash 10k – 1:01:43
Art to Art Dash 10k – 1:02:43


Diet:

I have osteoporosis so I eat a calcium rich diet with cheese and dairy products supplemented with multivitamins and calcium with vitamin D. My Garmin watch tracks the nine glasses of water that I try to drink every day. I eat beets, salad, fresh fruit, and pasta.


Safety Measures:

I am still self-quarantined. I wear a mask and gloves when I go to the grocery store, and I shop early to avoid crowds. I wash my hands as soon as I return home.


Remarks: 

I sleep at least 9 hours every night, and my Garmin watch tracks the amount of light sleep, deep sleep, and REM sleep I get. My watch also reports on my "body battery" recharging, but I don't know what that means.
One of my goals this year was to improve the bone density of my hips and spine, and the latest test results showed that I significantly improved the bone density in both. The medication I take plus the diet and exercise have made a real difference in strengthening my bones.
I think that the Challenge 20 update is a great idea. We have had time to adjust to the "new normal," and I look forward to reading about the strategies that other runners have developed to deal with this challenge. I miss everyone, and look forward to a time when we will be able to see each other and race together again.
_________________________________________________________________________________

Challenge 20 – Part 2
Fitness Activities:

My exercise activities remain virtually (pun intended) the same as they were in my first profile. Recently I have added "forest bathing." I walk with Jerry through the Grandview Forest in Gig Harbor. It is beautifully maintained, quiet and tranquil. It is very hilly and provides a rigorous workout. We seldom see anyone probably because of the hills.
Diet:

  Vegetarian.  Monitor my salt intake.  Ice cream has sneaked into my diet.  It's because of the hot weather, right?
Health Habits:

I continue to do TM twice a day without fail.  I love to read and do it for my health and enjoyment. I have a Kindle and load it up with free books from the library. What better way to escape the drama of the world we live in and de-stress?
Safety Measures:

Jerry and I are still self-quarantined. We wear our masks for outdoor exercise. We get our groceries using curb-side pickup or home delivery. 
Remarks:

Get-togethers with our family and friends are still on hold. I wonder if we will every get back to normal.  I chat using "Alexa" and have Zoom get-togethers with our family
Goals:

My long range goal in February was to do the Victoria Half Marathon in October. It was canceled. Who knew? To be honest, I struggle with trying to maintain an optimistic attitude. Charlea's article, "The Run From Darkness to Light" really helped me to see things from a different perspective. Someday this will be over and we will be together with our Silver Strider friends.
__________________________________________________________________________________

Challenge 20 – Part 2
Fitness Activities:

  My virtual runs (are) from 61% to 63% percent performance.  My solo runs have turned into an experimental lab. For example, running a 5k with no warm up I ran 36:00, but with a proper 30 minute warm up 33:00. This data was taken from a single continuous run.  This virtual world gives us the gift of new awareness through trial and error.
Diet:  

On the running scene, my weight has gone down from 142 to 136. 
Remarks:  

On a minor scale, it seems our family unit has lived through an Odysseus epic journey.  This adventure into a swirl of challenges eats away reality to the bone.  Somehow we just kept paddling, but running was supplanted by higher matters.  As we approach the calm seas of Ithica, this journey, still fraught with uncertainty, has led to higher awareness.  Running and racing, while enjoyable, now are lessor priorities for me.  It's time to put aside my books and note books and spring into action. 
 "The night is full of talking that hurts, my worst held back secrets. Everything has to do with loving and not loving.  This night will pass.  Then we have work to do."  … Rumi
____________________________________________________________________________________

Challenge 20 – Part 2
Fitness Activities:

My training has pretty much been put on hold this last month due to Larry's knee surgery.  My focus has been on his recovery needs not mine.  His surgery went well, but post surgery threw us some curve balls we weren't expecting including a trip to the ER and having to delay the start of his physical therapy treatments.  Thank you to all the Striders that have sent Larry cards and get well wishes. They really help to get him back on the recovery road.
Diet:

Trying to focus on healthy eating options.  Marlene's Deli has been a wonderful source of prepared food items which can be combined with other foods to prepare a quick healthy meal.   Trader Joe's offers a lot of organic food items in a smaller grocery store environment.
Safety Measures:

 Trips to the grocery store are "mask up – get in there, get what I need and get out!".
Remarks:

It's been sad seeing all the races postpone their events, cancel their events, or take the option to offer a virtual run. It must be a very difficult job to be a race director in today's current environment.  Luckily I have been able to get in some virtual runs which is a great change of scenery from being at home.  There's a lot of opinions about virtual runs. They certainly aren't the same as face-to-face competition, but at least they offer us an opportunity to feel connected with our running family even if we have to be distanced.  I keep trying to focus on the fact that there will come a day when we can challenge our teammates at a REAL race.
Keep safe Silver Strider family – you are very important to all of us!
________________________________________________________________________________

Challenge 20 – Part 2
Fitness activities

:  HOO-WAH!  I'm running again!
After 3 months of walking I am able to run for brief periods. Not racing, but light jogging.
I believe the weeks spent walking made my legs and heart stronger. I am now doing the mix once a week and walking on the other days. My weightlifting program has increased my leg strength.
My 5k times have improved significantly.
NODM  = 54:30 brisk walking
PIES     = 46:49 speed walking
MASK   = 46:04 speed walking
ART     = 40:50 mixing jogging and speed walking.

Diet: Vegetarian with immune strengthening supplements and a daily protein drink (21g).
Safety Measures:

Self quarantined
Goal:

To be flexible, to improvise, and adapt.
Remarks:

I believe the corona virus is more harmful to older persons because our immune system gets weaker as we age. I strengthen my immune system by following this doctor recommended guide: Get 9 hours of sleep. No alcohol. Eat broccoli, green vegetables, nuts, garlic, and citrus fruits. Exercise. Take vitamins E, C, and B6.  
________________________________________________________________________
            Original Challenge 20 Profiles   March – August 2020
_______________________________________________________________________
Challenge 20
Noteable Runs:  February 16th—The Heart Breaker Half Marathon, Hillsboro, Oregon:  A hilly first 8 miles and then it gets flat for the last 5.  The Race Director and Race Crew did an excellent job on everything!  This was before the Coronavirus hit but just wanted to share with everyone what a great race this was.  Highly recommended!
March 21st—Point Defiance Park, 8 Miles.  I haven't run that in a few years, and I forgot how beautiful it was!
March 23rd—Lower Cedar River Trail, 3 miles:  Another place I have not run in ages.  This was a recovery run from my 16-mile-long run on Sunday.

Fitness Activities: Before this all happened, I was in training for the Mt. Si Marathon in North Bend on April 26th.  They decided to cancel it on March 12th. As it became apparent that we were in for the long haul for this emergency/crisis, I'm now training for the NODM Marathon.  I am putting in an average of 40 miles per week and I am using the Hal Higdon Advanced Marathon Training Plan.


Diet: 

Keeping away from foods and drinks that contains sugar.  For the most part I'm trying to keep it mostly high protein with fruits and vegetables.   Occasionally, there is a "Cheat Day!"

Safety Measures:  I'm following all the guidelines, social distancing, washing my hands, etc.  However, with the shelter in place order I can't journey to my favorite trails to run.  We are so lucky to have so many of the "rails to trails" to train on but doing it now with the shelter in place rule would be wrong.  Today it's on the streets with my highest visibility clothing.  One of my biggest fears is being hit by a car and I do everything possible to be seen!

Remarks: My heart goes out to everyone impacted by the Corona Virus.  My thoughts and prayers are with you and I hope for a speedy recovery and a return to everything being normal. This "Challenge 20" is a great idea!  It's so much fun to learn about other runners who you might not get a chance to really talk to after a race. I feel so blessed to be a runner.  It's a great sport and the running community is fantastic. Since running is a sport that you build on, training is never wasted even if they do cancel a race.  Another great thing about running is that our "gym" is no further than our front door and the street we are on. Be safe and healthy!
__________________________________________________________________________________
Challenge '20
Fitness Activities: 

I began consistently running last fall. Initially my goal was to become more fit in preparation for a 2 week winter vacation in Hawaii. Ed and I have a time-share on the Island of Kauai. While at our time-share, a high priority is jogging on a 4-mile ocean side trail located just steps outside our door. I continued to run upon returning home. I work a 40-hour work week. I start work at 11, giving me time, 1st thing in the morning, to run on average 7 miles 5-6 times a week. This past week I have been on vacation. We have a large sitting area + future bedroom downstairs. We recently had new windows installed in the rooms. I have been busy giving the walls a fresh coat of paint. It's been a workout.


Diet: 

Breakfast for years has been a smoothie I prepare for Ed and I. It's made up of frozen blueberries and peaches, banana, yogurt and protein drink. Recently I have been preparing meals we can eat 3-4 times a week. An example would be the taco soup we are finishing tonight. Other recent meals have been pasta and rice with chicken. Aside from an occasional Papa Murphy's pizza, we feel our diet is quite healthy.
Safety Measures: The seriousness of the coronavirus has hit home for us. We have two neighbors that have tested positive for the virus. Both are cleared to come out of being quarantined. One of the gentlemen is 99 years old and he just returned from having spent 18 days in Seattle's Swedish Hospital. We wash our hands often, observe social distancing and keep trips to the grocery store at a minimum. While at a grocery store, I was picking up groceries for the 2nd neighbor and his wife who were quarantined at home.


Goals: 

I envision continuing my running program. Not long ago I wouldn't have dreamed I would enjoy running as a form of exercise. Now, I look forward to getting outside for a run. I particularly appreciate that our community of Mill Creek has many miles of paved, safe paths to workout on. I have never entered an organized run. I anticipate entering a 10K when races are held again.
________________________________________________________________________________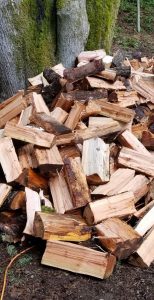 Challenge '20
Fitness Activities: 

Pretty much nothing has changed with the fitness program except no races to test us. Currently training for the NODM in June which hasn't been cancelled yet. Running 5 days a  week with long runs at 17 miles and increasing. Thankful that the feet and legs are doing fine. Split 3 cords of wood this past week.

Diet: I don't pay much attention to my diet. Deb is a great cook so I enjoy whatever she fixes. I thank her for the meal and tell her how good it was.

Safety Measures: Started self quarantine this past week. If a trip to the store is necessary I don't touch anything I don't need, keep some distance from others and use a sanitary wipe when I get back to the car. And don't touch my face.

Goals: Running a good time at the NODM. If that gets cancelled I will run the virtual race on the same date, time & course, (supported with family). My next race will be the RTP Railroad Bridge 10k which is a virtual run. The course is marked and runs on April 25th at 9:30, but can be run anytime, anywhere.  Planning a 42 mile slot canyon hike in Paria Canyon, from Utah into Arizona, the middle of June and a 10 day Wonderland Trail hike in August.

Remarks: Whether this virus lasts a couple weeks or months I am thankful to God for all he has provided and know that he is in control.
Thankful for family and all my Silver Strider friends.
___________________________________________________________________________
Challenge '20
Fitness Activities: 

I'm back to regular training runs now that my plantar fasciitis has healed, and the Governor has closed Kent Bowl. I have turned the bowl into a one-man gym, fully stocked with Fireball and French fries. And I now know how easy all you retirees have had it for years.

Wellness Check: Run five miles as fast as you can uphill and against the wind. If you are breathing heavily at the end, you are ok. If you are not breathing heavily, you didn't run fast enough. And if you are not breathing at all—–SEE A DOCTOR IMMEDIATELY.

Diet: No restrictions. I eat everything I like. I see no need to change the recipe for what has kept me healthy for 70 years. To stop eating donuts, or to start eating broccoli, may have dangerous repercussions. I feel running is the spice that makes the recipe work. It enhances the healthy food and neutralizes the unhealthy food.

Safety Measures: Stay away from danger!

Future: "This too shall pass." Soon it will be summer, and once again we will all be able to line up shoulder to shoulder at the start line of a Grand Prix race. However, once the race starts, I will revert to "social distancing" and strive to run 6 feet ahead of everyone else. Until that day comes, I will focus on the three" R's." Running, Writing, and Romancing.
________________________________________________________________________________
Challenge '20
Fitness Activities: 

My training has continued.  Studies say fitness strengthens the immune system.  However peak fitness decreases it. I have reduced intensity on my quality days.
Here's my past week.

M

arch 22: 11 mi: 4@ 9:07/mi (192 W), 1@ 8:38. 1@ 9:18, 4 X 200

M

arch<7:00, 4@  9:47     

M

arch 23:   3 mi: some Hills 10:17   

M

arch 24:   6 mi: end w/hill repeats 9:47   

M

arch 25: Rest day     

M

arch 26: 7 mi:  2@ 10:00 3@ 8:27 2@ 9:41     March 27: 3 mi: @ 9:20     

M

arch 28:  14 mi: @10:25
I miss the gym, that's for sure. I could do some at home but I'm not.  My excuse here is that weight training was for injury prevention against lots of running.  But less intensity means less chance of injury.
Safety Measures: I am taking basic precautions such as grocery shopping early in mostly empty stores and skipping trips to Starbucks. Remembering to not touch my face now proves I don't have Alzheimer's (yet)!  Holly, my beautiful new wife, is a nurse. Her possible exposure is a risk I can't avoid.
That confined feeling has increased as the days click by.  Cancelled trips, no dinners out, fear of the unknown and duration, possible irreversible illness; it all piles on.  It's mental purgatory.
Having my business still operating and my people working helps and keeps me occupied several hours each day.  Better yet, outdoors there are more smiling and waving runners than I have ever seen before.  It's nice to be part of this special group.  Lacing up does help keep me from feeling overly isolated.  My challenge will be staying motivated to keep doing it through a long period.


Diet: 

I believe diet is the cornerstone of healthiness. I took a metabolic test a couple of months ago which identified undernourishment.  I then got the My Fitness Pal app, linked it to my training app.  It varies estimated calorie and nutritional targets based on activities and compares them to the foods I record.  I was way too low in calories and my iron intake was well below RDA.  I thought with all the spinach and Teff Grain I was good.  Now I've learned that iron also helps fight the virus.  Smart food choices matter more now.


Goals: 

The Grand Prix race calendar was my racing schedule, with added races mixed in. The first big race this year was to be the Eugene Marathon.  I'd trained hard, aiming for a good result. Holly and I went to Eugene to check it out  just before its cancellation.  I ran the course over two days while she visited a friend there.  Running Pre's trail was very inspiring, yet nostalgic. Finding solace afterwards in a "Pre Beer" at the old tavern he frequented seemed fitting.
The new Hayward Field being constructed for the Olympic Trials is huge, shiny and amazing. But with that marathon and Grand Prix races cancelled or suspended, I'm less inspired.
Remarks: Challenge '20 articles were just what I needed at this time of interruptions.  I wondered how some of us were doing during this shut down, not seeing each other.  Feeling separated, these writings brought the closeness back together again.  A very nice feeling.
Each of us has our reasons to run and many of these reasons overlap.  Honestly, mine were mostly to do a good marathon and our races especially NODM, Cornucopia, Lake Union, and the Labor Day Half.
Silver Striders are still the inspiration, accountability and measurement.  To belong to this elite group, we just need to show up. I need to keep showing up, even if alone. I want to come out of quarantine ready to race and chase again.
I think a challenge for all of us will be to avoid depression and withdrawal and embrace the  opportunity isolation offers.  I intend to undertake special home projects, already put off, and consider this the new normal for now.  When things open up again, it'll be exciting.  Running at my age is a tremendous privilege and I shouldn't let it waste away. That's the plan.
____________________________________________________________________________
Challenge '20
Fitness Activities:  

My method for staying healthy is I get a regular daily routine. On these wonderful sunny days, I thoroughly enjoy trails, and nature. I know we cannot go to the gym, so in the morning, I do my yoga stretches. I do 50 jumping jacks. At my age more or less hopping jumps. That's cardio.  I have my weights and bands that I use almost every day.  I alternate my little workouts. I do not run very much anymore, but with my alternate walking and hiking, I have been averaging 7 to 10 miles every day. But I do have a plan for when the rains come. I still will continue with the hopping jacks🥴🥴, my stretching, and music.

Safety Measures: I turn the news off most of the time and play music. Good for the mental stimulation.

Remarks: Just a little motivation keeps everybody active, healthy and  keeps a good attitude and smile. The flowers, daffodils, skunk cabbage, and the blossoms of the spring, bring so much  cheer. This all will pass. I am very much self motivated so I have no problem with these things. Stay happy and healthy.
__________________________________________________________________________________
Challenge '20
Fitness Activities: 

Truthfully, I haven't done any running since the self-isolation/quarantine has been put into place.  I did play disc golf at our local course in Shelton 3 times during the first week when we had glorious sunshine and were not in lock-down quarantine.  Playing 18 holes of golf accomplishes about 3 miles of walking distance.   I try to complete my activity and exercise rings on my Apple Watch every day. I will start putting running activity back into my daily routine.  I have a half-marathon goal for this fall at the Orca run.

Diet: I eat a regular diet with no special dietary concerns.  We were quite concerned when we ran out of ice cream, though!  The beef we eat is from the cow we raised on our farm and my daughter and I are perfecting our bread baking skills. We are getting our vegetable garden ready for spring planting.  I take my multi-vitamin and supplements daily.  I also try to remember  elderberry syrup and using essential oils by diffusing and a 'flu-bomb' roll-on to boost my immunity.

Safety Measures: I am limiting errands and have gone to Costco and the Post Office. They have put tape on the floor with 6-foot distance marks to aid in keeping the mandatory distance while standing in line.  I carry hand sanitizer with me (and use it!)

Remarks: The picture shows me in "Isewlation".  I have been finishing a lot of sewing projects and have also sewn over 30 face masks for nursing home personnel. I look forward to seeing all my Silver Strider friends soon.  As my Christian Faith is a huge part of my life, I am glad that our church is live-streaming church services on Facebook. (SheltonFBC.org).  The youth group and my Bible study group are using ZOOM to be able to meet 'face-to-face' and maintain a sense of community.God is good all the time!
_________________________________________________________________________________
Challenge '20
Fitness Activities:

 I hope to be more consistent in my training now that Governor Inslee issued his proclamation on 3/19/2020 that dentists have to close their offices until May 18.  So because I have oodles of time to run in the next two months, I hope to increase my weekly mileage from the low 20's to somewhere in the thirties.  I was getting into decent shape and all psyched up to attack the Lake Sammamish Half when it got cancelled. As far as strength training I know it is good medicine and force myself to do it 1-2 times a week.  As part of my routine I am proud that, at age 70, I can pump out 50 straight push ups and then shortly afterward, do another 40.

Diet: My wife Karen is a great cook so I am a very lucky guy.  We enjoy eating out but now that this activity has ended temporarily, we have been eating more home cooked meals.  We try to eat healthy with lots of fruit, veggies, grains, beans, seafood, antibiotic hormone free chicken, and produce from my large vegetable garden.  However I still occasionally treat myself to a bone in rib eye steak and a baked potato with all the condiments.

Safety Measures: Running solo until this thing passes.  Fewer trips to the grocery store, loading up but mindful not to hoard.

Remarks: Most of you don't know me but nevertheless I have been so inspired by all your accomplishments and hope to participate more in the Grand Prix races starting this year. Thanks Jerry for showing everybody that at age 86 you still "have game" and for your role as the defacto leader of the Silver Strider community.  Also, you better get ready Dennis Zaborac, because I am coming after you!!
__________________________________________________________________________________
Challenge '20
Fitness Activities: 

I take the dogs walking at a distance and pace appropriate for each one and then for myself I go on a walk/run at least 3 times a week. I was going to Chambers Bay but now that it's closed I go from my house. Lots of hills around so it can be as challenging as I want. Doing a strength training workout at home also with light weights, bands and my exercise ball. I have also started taking a friend's young Lab out for a faster paced walk/run 2 to 3 times a week. Good for her and for me.

Diet: Vegetarian:  I do start the day with a cup of tea or hot chocolate using almond milk while I make the dog's breakfast and plan our day.

Safety Measures:I am practicing staying in place, using a combination of ordering online and some groceries delivered by my son.  Everything is delivered to the porch which I wipe down before bringing inside. I have had to go out to do a few things but use gloves, wipes and hand cleaner.  I wash my hands immediately after getting home.  I practice social distancing.

Remarks: I communicate with family and friends using Face Time and texting. I have many little projects that I have put off for quite a while so am spending at least an hour each day focused on getting those caught up.
This is great to keep in touch and see what others are doing.  Very inspiring.
_____________________________________________________________________________
Challenge '20
Fitness Activities: 

Since January I've been nursing a sore Achilles tendon. So, I've been walking about 3 miles a day, stretching and massaging. This past week I've started running 3-4 miles every other day. Not too fast just taking it easy and trying to ease into the whole fast paced / racing speed. Time will tell.

Diet:Typically two meals a day during the stay at home order. Cereal or waffles for breakfast. My wife continually tries to fix nutritious dinners, especially for herself. I try it, but don't always like it so some days I get my pasta.

Safety Measures:Haven't changed a whole lot since I don't go out much anyway. Since I worked in a thrift store I was always constantly washing my hands anyway. The saddest thing is that I don't get to see the grand kids much. Lately, I have been practicing my social distancing when I go out and run. Since nobody else is out there, I'm doing a great job.
Remarks:I have been getting motivation from several running buddies, I've met online. As I have been working on my master's program in management they have helped keep me going, not only with my running, but my course work as well. I'm going to graduate the end of June '20. After that, my goal is to train to run a full marathon in 3:45 by the end of the year. Covid permitting of course.
___________________________________________________________________________________

Challenge '20 
Fitness Activities: 

Now that our activities at the YMCA are gone, our exercises are running and walking.  Every other morning, when Gretchen's clock radio goes off at 6:12, she issues orders, "Okay, Honey, it's time to get up; we need to run."  By arriving at the Kitsap Bangor Sub Base by 7:00, we can get our 3 miles in before "Colors."  I like to run 2-3 miles (sometimes walk a little) around the track. Alternating mornings we get up an hour later to walk in the neighborhood for at least 1 hour, 15 minutes.  I find that even more challenging, because of the hills.  Occasionally, we skip a day, but I don't remember when that was.  At home, I mow the lawn and work in the yard.

Diet: Gretchen is good about keeping me on my Diabetes diet.  She tries to make balanced meals and frequently writes down my daily calories and carbs.  I really like the Glucerma mini bar chocolates that Sandra Madden gave me for my birthday.  We found them at Walmart.  It's hard to just have one for a snack, though.  Once in a while, Gretchen will give me a break, and we'll have popcorn, cookies, chocolate, or ice cream.

Safety Measures: Most of the time, I've been staying at home.  I wash my hands all the time and wear gloves whenever I am out.

Remarks: I didn't realize until all our races ended, how much I missed the camaraderie of all our Silver Strider friends.  There is definitely a hole in our lives without them.  Everyone is supportive and friendly.
I can't wait for the day when we are with our Silver Strider friends again.  Stay safe.  Thank you, Jerry, for this wonderful opportunity to stay connected!
___________________________________________________________________________________

Challenge '20
Fitness Activities: 
Exploring walking trails and neighborhoods near home with my Dachshund, Oliver. Edging out new areas of my garden, and moving sod to prepare for a patio in the backyard. Usually head out in the evenings to do a 2 mile round trip walk  to downtown core in Auburn to check out artwork, blooming gardens in the residential streets, and to just breathe. 
Diet: 
Not much has changed, except I am trying to order something once a week from a small local business to show my support. Definitely enjoying the opportunity to dig out old cookbooks and sharpen my skills!
Safety Measures: 
Unfortunately I recently lost my full time job, and consulting opportunities right now are non-existent, so sheltering at home has become the new norm. Without having to commute, I am certainly getting more sleep😁. 

I still go out once a week out for any needed supplies, and usually am picking up items for some of my self-quarantined neighbors, and dropping items on their porch. Using 

sanitizer, a mask, and social-distancing of 6 feet or more is a must.
Remarks: 
I have joined a Seattle-area group, Crafters against COVID-19, and have been sewing masks for medical personnel, as well as acting as a "Neighborhood Captain" to distribute kits and collect finished masks from others in the group. Have also dug out my fancy stationary, and have been sending notes to distant friends and family. Email and FaceTime are good, but I always enjoy sending a personal note when I am able, and now have plenty of time. Hoping all of you are well, and I cannot wait until we can meet again. 
_________________________________________________________________________________
Challenge '20
Fitness Activities:

 During the first couple weeks of the "stay at home" order I spent processing what was happening – and as a result, my activity level was thinking rather than doing. Up to that point I had been training for a local half marathon that was to occur on April 4th (Harstine Island Half Marathon), and when it was cancelled, I pretty much lost momentum on my run training plans. As a temporary replacement, I have been very active doing chores and tasks around the house and property. We have a 7 acre property (we call Sound Rock Ranch) which requires a lot of maintenance, and this time of "rest" has given me time to repair broken fence lines, remove unwanted stumps, and clean up and maintain the pastures. I've also knocked off several "honey do" projects around the house! Over the past few weeks I have begun running again, and am training for my next half marathon which will hopefully happen in June.
Diet:

 My diet hasn't changed much, and I am still enjoying home-made bread and food cooked from scratch by my wife and daughter. I continue to take my daily vitamins and supplements, and try to keep up with my water consumption. I have found that, with my change of activity from running to household chores and property maintenance, I have gained a few pounds, and will have to work hard to trim back down!
Safety Measures: In the past month, I have been off our property only about four times – It's a bit surreal to see our town so empty! The next time I go out I will be wearing a mask made by my wife. My group activity dynamics have changed from in-person to online video. We meet with our church online every Sunday, and I meet with our church youth group online every week via a video app called Zoom. My men's bible study also uses Zoom, so I am still getting social interaction while quarantined at home.
Remarks:

The picture I submitted captured the family on a recent sunny day as we all went out for activity. I ran a few miles while my wife, daughter and grand-kids rode their bicycles. Our Daughter, Son-in-law, and three grand kids are living with us while they build their own home. Our life has remained fairly normal through the stay at home mandate… I am working from home full time rather than part time, and spending a lot more time with family related activities. I go "camping" every weekend with my grand-daughters in our motor home parked in our driveway, and we all look forward to our first real camping trip of the year – hopefully it won't get cancelled! I certainly look forward to getting back together with our Silver Strider family! It's been disappointing to see run after run get canceled, and I look forward to the day we all can get back to our normal schedule. See you all soon!

___________________________________________________________________________________
Challenge 20
Sandra Madden

– (4/12/20) The Universe finally gifted me time to share with my Strider family. Most of you know I'm a Diabetes Educator in the Franciscan Healthcare system, three days a week. As the COVID virus stalked and advanced, non-essential medical visits were canceled. Diabetes appointments were among those affected.  Out of the blue we had no patients, no monthly classes, no support group to facilitate. As an RN I was reassigned to a COVID testing Franciscan clinic five days a week. Until a tent was erected people were screened at the front door then accompanied to an exam room to be tested.
I was assigned to the role of a phone triage nurse, dusting off skills I haven't used for decades. I had no direct patient contact. Yet phone calls from frightened patients were non-stop and the clinic was a chaotic scene of constant activity.
After several weeks of ceaseless bustle life begin to slow down. Fewer  patients were entering the clinic or calling for advice. This was occurring system wide. So last Friday the organization issued voluntary furlough, likely to become mandatory. My services were not needed for triage anymore so I accepted the furlough and applied for unemployment. I had transitioned from crazy busy to inertia in 24 hours!
Fitness Activities: I now have time to run, walk and follow hand weight workouts on YouTube videos daily rather than mostly on weekends.
Diet:  No change in my lean protein and fresh vegetable preference.
Safety Measures:  Masking when grocery shopping, running early in the morning to avoid crowds on the trail. Hand sanitizer and gloves have always been in my car.
Remarks:  Being out of work without a schedule will be challenging. My Diabetes patients and my support group are my passion. I've never been unemployed. I intend to view this time as a gift. Organize and Spring clean my home. Enjoy longer runs and walks to fill my day and increase my immunity. Speak more frequently with my Chicago family. And look forward to a healthier, more confident and respectful world.
___________________________________________________________________________________
Challenge 20
Fitness Activities: I haven't done very well the last few weeks. I use workout videos and take long walks.  It's just not the same.
Diet:

It is much easier to maintain my vegetarian diet when I am working out at the Y, doing long runs at Point Defiance, and attending races with The Silver Striders.
Safety Measures: I 

leave the house to grocery shop always wearing a face m

ask, gloves, and maintaining social distancing of six feet. Policies at most stores have made it not too difficult. I wear a mask during my walks and only put it in place when I encounter others, which is not often. Point Defiance Park is closed but open to walkers, runners, and cyclists. I meet few people after a mile or so and most of them are going much faster than me. Social distancing is a problem I seldom encounter.
Remarks: I was fortunate to find a community garden a few blocks from home. I love digging in the dirt and the taste of a ripe tomato just picked off the vine. Yesterday I put on my mask, pocketed my gloves , and attempted to put on my "it's okay to get dirty" gardening clothes. Unfortunately, the pants that were too loose last fall, would not zip. I need to stop baking those "healthy" cookies, and buying the large bags of assorted candy bars at Costco.
I know we all are making the best of this crisis. We will race again, eat breakfast together, and try to score more points than our competitors. I just hope it will be soon.
_____________________________________________________________________________

Challenge 20
Fitness Activities: I have to be honest with everyone. Today was the first time I went for a run since the Foothills Dash. With the stay at home order in place, I've been working on outdoor projects, keeping me busy and out of trouble. Most of the projects have used upper body strength.
I have picked up more downed limbs from our trees than I can count. Not to mention, while running our sawmill, all the slabs and boards I've carried. Some days my arms were just plumb tuckered out. I'm not sure how many miles I put in on a day but I can tell you I slept sound after all the fresh air.
On a funny note, another thing the Huskos have been accomplishing on a daily basis is picking up fir cones from our yard and driveway. This may seem like a silly thing to mention but when your house is surrounded by trees there are a lot, and I mean a lot, of cones. Believe it or not we have picked up 11,117 cones thus far and yes the crazy in us counted them a hundred at a time.

Diet: As I have always been someone who has plenty of food in the cupboard and freezer we have not changed our eating habits. In the past I have not taken vitamins. On my daughters insistence I am now taking a multi-vitamin.

Safety Measures: Self quarantine is really hard to do especially when fresh fruit, vegetables and milk can be kept just so long in the refrigerator. I have gone to the Elma Thriftway store about every two weeks. I do follow social distancing protocol  and I wear a mask. I wipe down my cart before I shop and, when I get back in my Tahoe, I use hand sanitizer. Also when I get home I wash my hands to the ABC song as my granddaughters instructed.

Goals: To get back into running again and not use our hard work as an excuse not to run. Most important goal of all is to be able to share hugs again with my four grandkids,  two daughters, eight siblings, and my Silver Strider family.

Remarks: The "Challenge 20" was a really great idea. All the Silver Striders never cease to amaze me. Reading the profiles and learning a little more about everyone has been fun.
As long as we all stay healthy we will see one another again. It's like running or walking a race.  It just takes one foot in front of the other and we will conquer.
____________________________________________________________________________________

Challenge 20 
Fitness Activities:

 Started training for the NODM (June 7) following a few weeks of recovery from the Atlanta Marathon March 1. My plan has me running 7 days a week, except for 2 planned rest days before races. However, I end up with 1 or 2 unplanned rest days due to being tired or sore from other activities. One week I followed the plan is: March 30 – 5.1 miles in 36:40, Mar 31 – 8 miles in 58:20 with 3 X 1200 M repeats, Apr 1 – 4.1 miles in 32:52, Apr 2 – 6 miles in 45:11 with 8 X 100M striders, Apr 3 – 4.2 miles in 31:53, Apr 4 – 16 miles in 2:05:30, Apr 5 – 3.7 miles in 28:34. Short runs are in my slightly hilly neighborhood, longer runs are on the Cedar River trail. Never thought running would lead me to civil disobedience!
Diet:

 A typical day starts out with oatmeal and a few vitamin supplements. Cream of Wheat and no supplements works better for me on race days and Saturday long runs. Lunch is usually bacon and eggs with sautéed veggies and dinner is meat, starch and a veggie. Katie is a good cook so I have no trouble eating healthy portions.
Safety Measures: We do not self-quarantine, but practice social distancing and germ resistance. Mainly we believe staying healthy is the best defense and continuing to run and doing outdoor activities is essential.
Comments: After Atlanta, we visited my son's family in Jacksonville. We returned on a Thursday evening and I took our boat out early the following Monday, March 16, from Des Moines to a boatyard in Seattle for scheduled work. It was a cold windy day, so I was quite disappointed to find all restaurants closed except a coffee shop. Luckily the marine repair industry is considered essential as I had some repairs to do on the boat. I returned to work on it for several days and followed the guidelines of social distancing. Katie had made us masks which I wore coming and going from the parking lot to the boat just in case. We also use hand sanitizer when we return to the car after getting groceries, etc.
Goals:

 NODM has become a virtual race with the possibility of the course being marked if the shutdown ends by June 1. I may sign up for the NODM virtual race, but will probably run the Green River marathon on June 6 due to it being close to my home. Either of these runs are intermediate goals to keep me in training for my ultimate goal of winning my age group at the Twin Cities marathon October 4.
Remarks:

Enjoy reading the challenge 20 articles, but miss seeing all our Silver Strider friends as well as church friends and family.
___________________________________________________________________________

Challenge 20
Fitness Activities: In the beginning of the COVID-19 social distancing, I only managed a few local country road training runs. Since then I have been taking advantage of the stay at home mandate to do some much needed outdoor cleanup of downed trees and limbs. With mowing season upon us I've also picked up rocks in the field to save my mower blades. Truth be told I am a homebody that loves working at home.
Diet

: My diet has not changed much except I no longer eat out. No Silver Strider luncheons. The only issue I had was when I ran out of my Costco supply of junk food and k-cups. Thank goodness for daughters and Costco's old people's shopping hour. I am going to be alright for awhile. LOL
Safety Measures

: I do a lot of greasy and dirty projects outdoors and in my shop and sawmill. Hence, l have always washed my hands frequently. Other then the one trip to Tumwater Costco I have been out twice for diesel for our sawmill.  Yes, I was a good boy and did my part in social distancing and wore my mask.
Goals

: Now that we are taking a break from sawing logs, I will be lacing up my running shoes again. My plan is to run the virtual NODM.
Remarks

: Enjoyed reading the "Challenge 20" articles. Missing our Silver Strider Family.
_________________________________________________________________________________

Challenge 20
Fitness Activities:

Since March 23rd, I have been running approximately three times a week. Two days a distance of 3-6 miles at an easy pace, and one day aiming for a longer distance. I run with Tiare and our friend Isabelle Noiret ,who meets us on one of the trails on the Olympic Peninsula. We are aware of distancing protocols.
Tiare and I entered the Run Amuk mystery race challenge. You run or walk 26.2 miles wherever you want either all at once or in shorter distances during the month of April. Upon completion you notify race director of your distance and time. Within days, you receive a package containing a race shirt from a previously held race, and a medal. you may request a specific shirt and medal and if they have it, you will receive it.
Tiare and I also entered the virtual Run The Peninsula series of 5 races. We go to the actual course and run the miles. It's a good way to support the race director and the Trail Coalition to keep the trails maintained. With three rescue dogs , I walk daily and get plenty of resistance training holding them back when they want to chase something.
In addition to running, I have spent hours in the yard picking up and hauling fallen limbs the size of small trees, and cutting down a few trees that needed to come down. Most recently I have been cleaning the moss off our roof by hand with a rake standing atop a tall ladder. Imagine that!
Diet:

I take a few supplements but mainly get my nutrients from a fairly healthy diet plus an ample supply of home baked goods that Tiare insists on baking.
Safety Measures:

I basically stay at home except for necessary errands, running, and taking my Porsches out for a short drive .
We also took our RV to a private campground near the Elwha River. Social distancing was being practiced there and restrooms and shower facilities were closed. WE self quarantined there for 2 days.
Goals:

To get back to socializing and seeing our Silver Strider friends and our family.WE have stayed away from our grandchildren which is hard as they bring us so much joy. I have not been allowed to visit my 96 year old mother in dementia care as the facility is on lock down until further notice.
To stay healthy.
Remarks:

I wanted to enter my profile in pictures only, but Tiare told me I couldn't do that!
___________________________________________________________________________________

Challenge 20
Fitness activities: 

On March 15 everything changed and I entered the virtual world.  Teaching became online and I started interaction with my students and colleagues through Zooms. Hopping from one zoom to the next, learning fast new technologies, has been for sure challenging and rewarding at the same time.
I have been running consistently three to four times a week with my friends Tiare and Nick Bailey (keeping our six feet distance) on the Larry Scott and Discovery trails.

We entered the five Olympic Peninsula Virtual races and finished the half marathon last week.  I really enjoyed those virtual races specially with friends.  It has been a good motivator to keep in shape.
The positive aspect of virtual racing is the lack  of pressure to compete but solely  enjoy nature and scenery. When I am not running,  I take my bike for a ride, or  go for a walk and do some gardening.
Diet: 

My diet has not changed during this period.  I always try to eat healthy foods, a variety of vegetables and meats.
Safety Measures: 
I use common sense.  When I shop,  I wear a mask, wash my hands, and keep distance from people.

Remarks: I am ready to jump back in the real world and interact with my friends again and be able to plan trips.  
______________________________________________________________________________
Challenge '20
Fitness Activities

: Running with walk intervals, walking, hiking, bicycling, weight-lifting, gardening and "Farm-fit" chores (like wrestling the goats for their hoof-trimming). I try to move my body every day and run/walk three times a week when uninjured, then mix it up on the other days to help prevent injury.
Diet:

I tend to stick with less processed foods, limit meat (mostly poultry and seafood), and eat plenty of whole grains, legumes, fresh fruits, and veggies. I love cooking with fresh, organic food from our garden! I also love my two squares of 86 percent dark chocolate a day, which I credit with helping to keep my blood pressure low.

Safety Measures:

I wear a mask whenever I'm in a public indoor space or outside when social distancing isn't possible. I'm still using copious quantities of soap and hand sanitizer. Still keeping that six-foot distance from others and sticking fairly close to home (most of the time). When Brett and I do go places, we stick to the great, well-ventilated outdoors and avoid crowded situations (for instance, camping midweek).

Remarks:

It boggles my mind that we're six months into this pandemic now. I'm so glad that I have running and other forms of exercise to help keep my spirits up, and virtual events like the Mask-a-rade to keep me motivated! Be well, everyone!     
_____________________________________________________________________________

Challenge '20
Fitness Activities:

Move. Always take the stairs, even when I don't need to go up. Run, bike, walk and hike.
Diet:

My biggest challenge: Less sugar. Don't eat the donuts! Eat real things that occur in nature. Eat more homemade Mexican chili sauce. (Not for health — I just like it.)
Safety Measures:

Wear a mask. Keep my distance. My hockey stick seems to reinforce this for my work visitors. Lots of open windows and doors at work.
Remarks:

During the COVID, be kind to others. And yourself too. When this is all done, keep being kind.

______________________________________________________________________________
Challenge '20
by Audrey Kirkwood
Fitness activities: Try to run/walk on my lunch hour at least 3 times during the work week. Saturday mornings are pretty much spent run/walking the awesome trails at Pt. Defiance. That is a happy running spot for me. Usually the distance is between 7-10 miles. I miss my hot yoga and water aerobics classes. I didn't realize how those two extra programs really helped my exercise routine. I also miss my bowling league at Kent Bowl.
I did try dog bowling, but not quite the same! 😊🐕🎳
Diet: It needs to start anytime now!
Safety measures: Mask it up! Practice safe social distancing.

Remarks: I've realized with this pandemic quite a few things about myself and how crazy I was always running around with work and more work. My job in the travel industry has dwindled down to a reduced 4 day work week. Our coffee truck can't open until at least Phase 4. It almost feels Iike I had a "chill pill" forced on me.
It is better now as time goes along. I did get a puppy late spring which has been so much fun.
Design is to make her a runner dog! Work in progress of course!
Miss all of you and hope everyone is doing well. Stay safe!
__________________________________________________________________________
Challenge 20
Fitness activities: 

30-40 minutes a day with light Weights. Run/walk 40 miles a week.
Diet:

Food in moderation 
Safety Measures:

 stay safe ,keep on moving, watch for cars, get tested.
Remarks:

Miss you all.

_______________________________________________________________________________

Challenge 20
Fitness activities:

I'm maintaining my fitness the best I can before the races start up again, I do miss them because they keep me in more shape and I maintain more of my speed. I'm doing 30 miles of running a week. I run Monday, Tuesday, Lift Weights and ride stationary bike at my house on Wednesdays, then run Thursday and do a track speed workout every Friday with my long run between 8-10 miles on Saturday. 
Diet:

I don't really ever have to diet.  I stay away from fast foods and try and eat more fruit and vegetables. 
Safety measures:

I maintain being safe by wearing reflective clothes and run facing the cars. 
Remarks:

I log down all my fitness activities.   I did do a virtual 10k for the Tacoma St. Patty's Day run.  I will try and keep in touch with you all so hopefully we can all get together in the future again!
________________________________________________________________________________________
Challenge 20
Fitness activities: I have been running almost daily. Currently I am on a 24 day streak. I have run several Virtual Races.
The Bigfoot Social Distance Champions Running challenge 10k,  Zombies! Run! Spring Virtual Race 5k,  Orca Running's Social Distance Run half marathon and am currently training for the Orca Running Summer Camp Run 15k. Oh, and the MASK-a-rade 5k.
Diet: I maintain a strict seafood diet, I see food, I eat it. 😀 I do try to eat healthy. It does get difficult when sometimes working long, arduous hours and not feeling much like cooking.
Below is a photo of some of the bling from virtual races.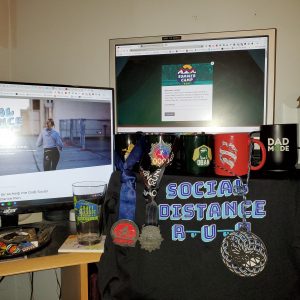 Safety Measures: I wear a mask every day at work and try to maintain a safe distance. Unfortunately most of our customers do not. It's better now that masks have been mandated for use in public. Just wish they knew how to wear them properly.
Remarks: My life hasn't changed much over this pandemic. Work is more difficult as we are short staffed as people take emergency leave or work hours to avoid customer interaction. Makes it emotionally and mentally draining. Running is my outlet. Just me and the (semi) open trails. Dodging the increased number of walkers gets tricky at times. Most of them don't seem to understand social distancing or the importance of wearing masks.
_____________________________________________________________________________
Challenge 20
Fitness Activities: I run 4 to 5 days a week and prefer trails and off-road courses. My runs are generally 'fun time' on my feet and I will stop often to take photos. I put in 40 to 50miles a week. I also do weight training 2 to three times a week.
Diet: 

I eat simple protein, carbohydrates, and fats. My daily go-to carb/protein around 11:00 am is Tillamook Plain Yogurt with blueberries and honey. My favorite carb/fat is 100% chocolate.
Safety Measures: 

I look both ways when I cross the street when I remember. I am respectful of other runners and practice social distancing. I wear a mask in places where there are people. I have been tested to be sure I am protecting the most vulnerable.
Remarks: 

I ran my first two marathons last year and plan to do many more when Covid is expired. I do have a ½ marathon race planned in Joshua Tree National Park on November 7th. They have developed a Covid racing system. I am excited to begin to run races with people.
___________________________________________________________________________________________

Challenge 20
Fitness: activities: 

Been walking trails (Auburn, Kent and Lacey). Also walking my dogs three times a day gives me a good workout as they drag me around.
Diet:

 Nothing changed, eat anything I want and enjoy it.
Safety Measures:

 Social distancing and wearing a mask.
Remarks:

 Big changes this last month. We moved to Lacey and now live in a beautiful location and really enjoy it. Living about 20 ft from the Chehalis Western Trail.
____________________________________________________________________________________________
Challenge 20
Fitness activities: 

After binge reading everyone's Challenge 20 posts, I felt guilted into starting back up with my running—and, I'm glad I did–don't want to lose it for not using it.  My first virtual run was the local Capital Cities Marathon (5 mile option).  I felt the need to run it twice to better my time and my second attempt was close to my result in 2019.  Some may quibble that I chose a route with hardly any elevation change for my virtual race while the real race starts with a punishing up hill mile.  Did I mention my calves love virtual racing?
In the beginning when all my scheduled activities were shut down, I didn't exactly panic but I knew I had to get out of my house to save my sanity.  Everyday I would walk a different neighborhood in Olympia and photograph things I found interesting particularly historical buildings and then post them on Facebook with commentary.  It didn't take long to run out of neighborhoods so I branched out to small towns.  Learning our history by exploring these towns has been a joy.  During my journeys I've met many interesting people out working in their yards who have shared stories including a Weyerhaeuser kidnapping and a Simpson Lumber murder—but I ramble.
Diet: 

Overeating has not been an issue—I'm a lifetime WW (formerly known as Weight Watchers) member.  I'm using the WW App on my phone and loving it.  It has a bar code reader to determine points and is synced with my Fitbit.  Meetings and weigh-ins are virtual.
Remarks: 

Thank goodness for Silver Striders.  It has kept me motivated to run.  When people are curious about my endurance at my advanced age, I tell them It's because I run.
________________________________________________________________________________

Challenge 20
Fitness activities: 

Running is an escape from "shelter in place." My venues necessitate using my car, which has increased in mileage to run rather than miles in running. Deans, who advised their venues, I've managed to run on trails affording less personal contact. Dollars' examples added to my escapes. Thank you, Striders.
Diet:

Whats App with relatives in Italy has reminded me of the Mediterranean diet vs. a "fast food" American way. Abode of one, my menu and prep is easy: raw carrot, cup of OJ = veggie and fruit. Meal?
Safety Measures:

Only a N95 or equivalent mask will minimally protect me from others. Wearing other masks are thoughtful of others. A NC friend made 2 "Holly" masks I use at runs, P.O., and local grocery store. N95, from medical exam years ago, I reserve for more mass exposure to Covid-19. WA Phase 1 through 3 recommends continued isolation, which is my goal.
Remarks:

Included photo is at a running venue after completing a slow 3 miles. Make up? Forget that! Hair? Hide it under a hat! More important is to avoid contact less than 6 feet and continue precautions. Stay moving…
___________________________________________________________________________________

Challenge '20
Fitness Activities:

Running outside 4 days a week and lifting weights

Diet: Same as always

Safety Measures: Social distancing and washing hands continuously, especially when covered in paint.

Remarks: What a great idea and way to keep us all connected! Enjoying this time as an artist retreat, something I have always wanted to do, and applications were not required! Go run, go paint and laugh frequently and often.
___________________________________________________________________________________

Challenge '20
Fitness Activities: 

I have been walking and running everyday. I have been staying busy in the yard and around the house.  I cleaned out the attic and the file cabinet.

Diet: No changes.

Safety Measures: 
Self quarantined.

 I have been staying home except for my daily running.

Remarks: I hope to see you guys at a couple of runs this year.  Please take care and stay healthy.  Thanks to the Silver Strider for all it has done and still does.

___________________________________________________________________________

Challenge '20
Most of my training is done walking the Chehalis Trail

Fitness Activities: Walking and hiking.

Safety Measures: 

Social distancing. Washing my hands

Remarks: I am an outdoors junkie, but now I am mostly staying at home and do a bit of gardening. Challenge 20 is a great idea.
________________________________________________________________________________________________