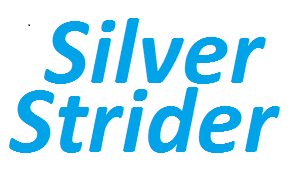 online magazine
Presents
……….

….

B

ulletins
brought to you by
7210 E Greenlake Dr.,N. Seattle
16095 Cleveland St. Redmond



Bulletins are the primary means of communication for Silver Striders. The Bulletins page should be checked regularly to keep abreast of Silver Strider events, features, and program updates. Don't forget to

"refresh"

pages to get latest updates.
x
Bulletin
03/10/23
The

Renton ParkRun

on April 15th has been cancelled due to a scheduling conflict with the City of Renton.
The Run For Dave will be held on Saturday, April 15th at the

ParkRun in Des Moines

. Be sure to note the change of location on your calendar.
If you haven't already contacted Dennis Zaborac, be sure to sign up with him to receive your free commemorative shirt. Everyone who wears the shirt for the group photo will receive 10 points in Dave's series. To sign up with Dennis, click on:
[email protected]
Bulletin
3/7/23
We regret to announce that the Super Athlete program will not take place in 2023. The program has been discontinued. We congratulate all past Super Athletes on their remarkable achievement.
Bulletin
3/6/23


2022 Crown Jewel Series Final Standings are now on the home page (page one).
Bulletin
3/6/23


From ParkRun Race Director

– Information on how to update a profile on the parkrun website, as we often get emails from Silver Striders who want to have your group included next to their name in the results section.
If your members want to update their profile, we're unable to do that on our end. They will need to log on to the parkrun registration website,
Once they sign in there is a menu of items including 'Groups.' Clicking on that opens a new page where you can add the running group you are part of.
Bulletin
3/5/23


We have been informed that the Lake Union 10k will be under new management. Run For Good Racing will no longer be organizing this event. The race will remain in the Dave Sherman Memorial Series and the SS discount will still be honored. However, be forewarned that with new management, changes may result in this event.
x
Bulletin
2/17/23
The My Better Half 5k and the half marathon courses have been given Silver Strider Certification. The 10k course was short.

x
Bulletin
1/20/23
Extensive updates have been made to the Calendar, Dave's Memorial Series, Top IO and the Home pages. When you go to any of these pages, "refresh" the page so that you have an up to date version on your computer. More changes are coming to the "Dave's Memorial Series" standings.
Bulletin
1/5/23
We have just learned of the passing of our friend and fellow runner, Ruggles Larson on December 13th. A long time runner, Ruggles competed in 51 Senior Olympics, 749 road races, 28 marathons including Boston, New York and Hawaii. He also competed with his family members in the first Sound to Narrows in 1973 and every year thereafter. He also created the PSYSC Running Club in 1973 so that his daughters could compete in track events. In 2012 he received the Douglas MacArthur Lifetime Athletic Achievement Award.
Bulletin


1/2/23


The Top IO rankings for 2023 have begun.
Bulletin
10/28/22
ANNOUNCEMENT!
Dave Sherman was the king of Silver Strider Series over the years. He finished the most series races of all male participants with 216 races. He was the first male to reach 100 races and is the only male charter member of the Century Club.
In recognition of Dave's excellence as an athlete and dedication to the Silver Striders, we will be holding a new series in his honor.
The Dave Sherman Memorial Series will begin in January and end in December of 2023. Five year age groups will be offered. Runners will earn points in their age divisions following the format of previous GP Series. The series schedule and further details will be announced soon.
Register early for Dave's Series and receive a free entry to one of the Series races, while they last. To register send $15 registration fee to:
Bruce Fisher, 3005 So. 363 St., Federal Way, WA 98003.
Bulletin




3/5/21


For your protection and peace of mind Silver Strider online has updated it's Anti Malware Security and Brute Force Firewall. Visiting silverstrider.com is completely safe. Go to the Google transparency report for an unbiased safety check of any website.


https://transparencyreport.google.com/safe-browsing/search?hl=en


Pages that transmit private information (such as credit cards, personal information and passwords) need to have a secure connection to help prevent attackers from stealing your information.
You are not transmitting any private information when you read our magazine.
Bulletin
5/30/22
The Tacoma City Marathon Association is offering a 15% discount to all Silver Striders (runners and walkers over 50). For your discount code email:
[email protected]
To register for a TCMA event, just click on their ad on the right side of the page.
Bulletin
5/19/22
Reminder! Group photos are always taken 30 minutes before the start of each race. The start line is always the location. Please participate in this important ritual.
Bulletin
3/6/21


Our new email address:


[email protected]
Bulletin
9/25/20
Just a reminder. Our magazine is not formatted for cell phone viewing. It is designed to be viewed on a computer monitor (large, small or laptop). It can also be viewed nicely on a tablet.