the Silver Strider online presents
ARTICLES
 brought to you by

Route 16 Running and Walking
6745 Kimball Drive, Gig Harbor
Bloomsday 12k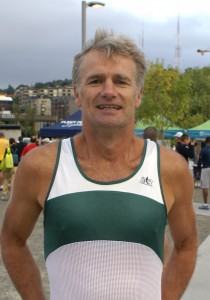 by Brig Seidl
4/1/16 – Spokane
There are specific milestones one must reach, certain rites of passage to accomplish, before one can legitimately attain the status of "Credible Northwest Runner".
The easiest way, so naturally the way I tried first, is to merely achieve credibility through association.
By standing in close proximity to such eminences as Bill Iffrig or Judy Fisher, one could share in the incandescence of their luminescence and acquire some measure of residual glow. Or a light tan.
I could also pretend that Uli Steidl is my brother who just can't spell our last name quite right  (because he was always a little slow in school you know).  Only a true brother would remember that.

But the line to have your picture taken with Judy or Bill at races is always too long and frankly I'm afraid of Uli so, in pursuit of credibility, I found myself obliged to actually do the work and run all the classic Northwest races myself.
At some point or other everyone has to check off such perennial classics as The Portland Marathon, The Rhody Run, The Shore to Shore Half Marathon, one of the Resolution Runs, The Victoria Marathon, Nookachamps, Smelt, Greenlake 5k, and a Jingle Run & Turkey Trot. Northwest institutions all.
But just when I was getting ready to start strutting about feeling all self-important, a flaw was pointed out in my bonafides. An omission on my resume. A cavernous gap that effectively excluded me from any pretension whatsoever of calling myself a credible northwest runner.
Bloomsday!  You've never run Bloomsday!  Charlatan!
A quick history lesson may be in order here for those of you who, like me, are somewhat ignorant of the full scope of our glorious NW running heritage.
The Lilac Bloomsday run is the brainchild of the great Don Kardong (if you have to look that name up go ahead and withdraw your application and forget about ever becoming accredited).
In 1977 Don was fresh off a heart-breaking, near miss at the Montreal Olympics the previous year (4th in the marathon) and thought a local road race would be a good idea.
The well-worn tale is that Don and his cohorts, were kind of flying by the seat of their pants. Closing streets to hold running races was not a common occurrence in the 1970s. They anticipated some 300 people might come to that first event. 1200 did. Including double Olympic marathon champion Frank Shorter.
The next year 5,000 people toed the line on Riverside Avenue. By the early 1980s, Bloomsday was attracting 50,000 people!
To say that the community of Spokane embraced this race would be an understatement worthy of ridicule.
The meteoric rise and continued popularity of this event assures its iconic status. To call yourself a NW runner it is de rigueur to line up on Riverside Avenue on the first Sunday in May.
So it was that I came to sign up for the 2016 40th year anniversary rendition of this famed 12k race through the very hilly streets and roads in and around Spokane.
Care must be taken, even during registration, lest you get placed in the wrong wave for your anticipated pace.  Otherwise you will be engulfed by the hordes.
By claiming to be a personal friend of Judy Fisher's, I was granted access into the wave known as "2nd seed" which is corralled just behind the Kenyans but in front of about 46,000 other people.
And did I mention that all of this costs a mere $18? Other race directors take note please.
The day before the race I moseyed down to the Expo with expert local guide Wendy Z to pick up my packet and was amazed at how efficiently everything went. All tables were clearly labeled and the volunteers manning them knew their jobs. And, incredibly, there were no lines! I don't know how they process almost 50,000 people without colossal lines and backups, but somehow they do.
And as a second seed, I was even able to purchase a really nice little travel bag for $25 to stow my clothes at the start line to be picked up at the finish line if I so elected. Cheap for a sweet little bag and the convenience, but it also included a 40th anniversary race singlet, lip balm and other goodies. Top marks all around.
And on the Expo floor the vendor booths were accessible and browsing possible unlike the jammed pack scrum that is the Boston Marathon Expo. I even managed to greet my friends Amanda, Hannah, and Ashley who were running the booths for Asics, Brooks and Saucony respectively. It almost seemed like I was a somebody who knows important industry people!
And the Expo had an eclectic mix of vendors besides the normal running related booths. Sears windows, local artists' wares, gutters, and bicycle repair – a weird gamut!
On race day morning it was barely necessary to exploit Wendy's extensive local knowledge of all the secret back streets and hidden parking spots as we found ample parking fairly close by and enjoyed the walk down to Riverside Ave on a bluebird day.
The streets that run parallel to Riverside Ave one block on the north and south have these copacetic stick people like inflated figures pointing the way for your respective colored start wave. Very cool.
It's obvious at every step that great care and thought has been put into the organization of this race and efficiently conducting 50,000 people.
I warmed up a little and then stripped down to race gear leaving my warm-up clothes with Coach Wendy. Not everyone did this and realistically Wendy can't be expected to lug around the sweats of nearly 50,000 people. So what did they do?
Well herein lies another Bloomsday tradition. Riverside Ave is lined with trees and, as runners file into their corrals and await the start, it is custom to take off your clothes – well not all your clothes, this ain't Bay to Breakers – and hurl them into the trees! True story, I swear!
So the trees, and they're not particularly small trees, get "decorated" like so many hobo Christmas trees with all manner of cast off clothing. It is actually kind of aesthetically cool and not at all trashy like that time my dad decorated our Christmas tree with Kentucky Fried Chicken boxes. Turns out I never even realized we were poor.
Despite standing in a crowd of 50,000 people in a city 300 miles away from where I live, I happened to know the person standing right next to me in the corral, the troublesome Greg Waters. Troublesome because every time I delude myself with podium aspirations, Greg is there to thwart them. Frustrating!
Just once I'd like to bump into Cindy Crawford in the starting corral instead of Greg Waters or Keith Lerew.
The announcer introduces some of the elite women and they very graciously trot back to my wave and high five those at the front of the corral. Holy cow those Kenyan women are thin! You can tell at a glance that they mean business.
It is a very festive atmosphere and, not to knock Boston constantly, but in Spokane your fellow runners grant you a little bit of space to stand in your corral without compressing you like a sausage. Beach balls are being batted among the crowd of runners and the vibe is good. I'm liking this event and we haven't even started yet.
In a respectful nod to our Canadian brethren, both national anthems are sung before we start. The only slight oddity being that they were sung after the elite women had already gone.
The initial going was crowded, as could be expected, but it cleared out pretty quickly and by a half mile in I had unobstructed open space. There were people on all sides, of course, but not really impeding my progress.
Pretty early on, about a mile in after passing through Brown's Addition, there is a big downhill. A really big downhill. I'm crappy at running downhill but it also concerned me because I suspected (correctly as it would turn out) that we would have to re-gain all that lost elevation later on.
It is a pretty challenging course. Besides the final mile along Broadway you are never really on flat ground.
I was later told that there were big mile marker signs at every mile but I only saw the one at 5 miles atop Doomsday Hill, probably because I was going pretty slowly at that juncture and started noticing the scenery.
The famed buzzard was also there. A great big 8 foot tall buzzard at the crest of Doomsday that, tradition holds, you high five for good luck. If you are wondering how to high five a bird, you really just slap its wing feathers.
Nothing too noteworthy took place for me which was a welcome change. It was an unusually warm day so my forward momentum only lasted until the top of Cemetery Hill, at which point I started conceding more positions than I was gaining.
On the big downhill after Brown's Addition, I spied a very short woman through the maze of bodies about 100 feet ahead of me and set her as my target.
She was definitely faster than me because I was unable to close the distance. By the time we made the right turn onto Fort George Wright Drive, I never saw her again. Chapeau anonymous lady, you run magnificently on very short legs.
With about 2 miles to go and all the hills behind us, I still had a little gas in the tank so decided to ease the accelerator down a little.
Ping! Whoops bad idea. Immediately some pretty vital muscle somewhere in my right calf expressed its displeasure with a shot of pain and walked straight off the job. I was forced to downshift and just bring it home.
I was thankful that there were only 2 miles to go and not 20, but it was still a tad frustrating to be barfing up positions when most of my body felt OK but my calf was having none of it.
And if there's any section of the course where you'd be advised to have some available speed on tap it's here, in the neighborhood only semi-jokingly referred to by locals as "Felony Flats".
But all was well on this day and the only thing being assaulted was my sense of worth as I continued to concede gobs of positions.  The rest of the surrounding field began their finishing kicks whilst my gearbox was all jammed up, necessitating me to rev my engine out madly in first gear down the long straightaway.
Just before turning on to Monroe Street, I heard my name yelled out – with perfect pronunciation no less – and there was the indefatigable Wendy vigorously cheering me in. At least I think she was cheering me in. She might have been yelling, "Shift into 2nd gear you Ninnyhammer!"
You finish on the Monroe Street Bridge under 2 big arches of lilac colored balloons. The time showing on the finish line clock ended up being about a minute and a half slower than my official time, a discrepancy I couldn't quite account for as I didn't think it took me 90 seconds to cross the start line after the gun, but I guess it must have.
When you get your results online the next day they have all sorts of cool metrics like "Place among other 53 year olds", "Place among other Redmond residents", "Average pace for 53 year olds", "Time up Doomsday Hill".
It's all very cool stuff and if you look long enough you'll eventually find some esoteric category that you won; "Placed first among people with the same last name". Hooray! Thank goodness brother Uli can't spell!
Incredibly there were still people crossing the starting line when I finished. You are conducted in a logical route back to Riverside Park and along the way pick up a finisher's T shirt, a bottle of water, and a handful of snacks – all included for your $18. I love this race!
The normal assortment of scary food stands are operating in the park so if you are craving a "glazed donut cheeseburger" or "deep fried lasagna on a stick" these vendors can accommodate you. If I could find Greg or Keith now I'd buy them lunch here.
Walking down Riverside Ave, you really get a sense of the enormity of this race. The trees and sidewalks on both sides for several blocks are absolutely covered in cast off clothes. It would be futile to try to gather them even in a fleet of big pickup trucks. Instead a wave of dump trucks comes down the street with an army of volunteers recovering the clothes.
This is the day that Goodwill executives dream about. You can even go tree shopping for clothes for your next race if you like, but Wendy won't let me – some nonsense about germs or something.
People will be finishing for hours still and by mid-afternoon all the deep fried lasagna will be sold out and the barricades taken down.
The receiving dock at the Salvation Army will be utterly overwhelmed, the Kenyans will already be at SeaTac, and somewhere a certain Don Kardong will be smiling contentedly.
You owe it to yourself to experience this spectacle in person next year.