ARTICLES
 brought to you by

Route 16 Running and Walking
6745 Kimball Drive, Gig Harbor
Born To Run – Live To Give
By Dennis Zaborac
7/16/17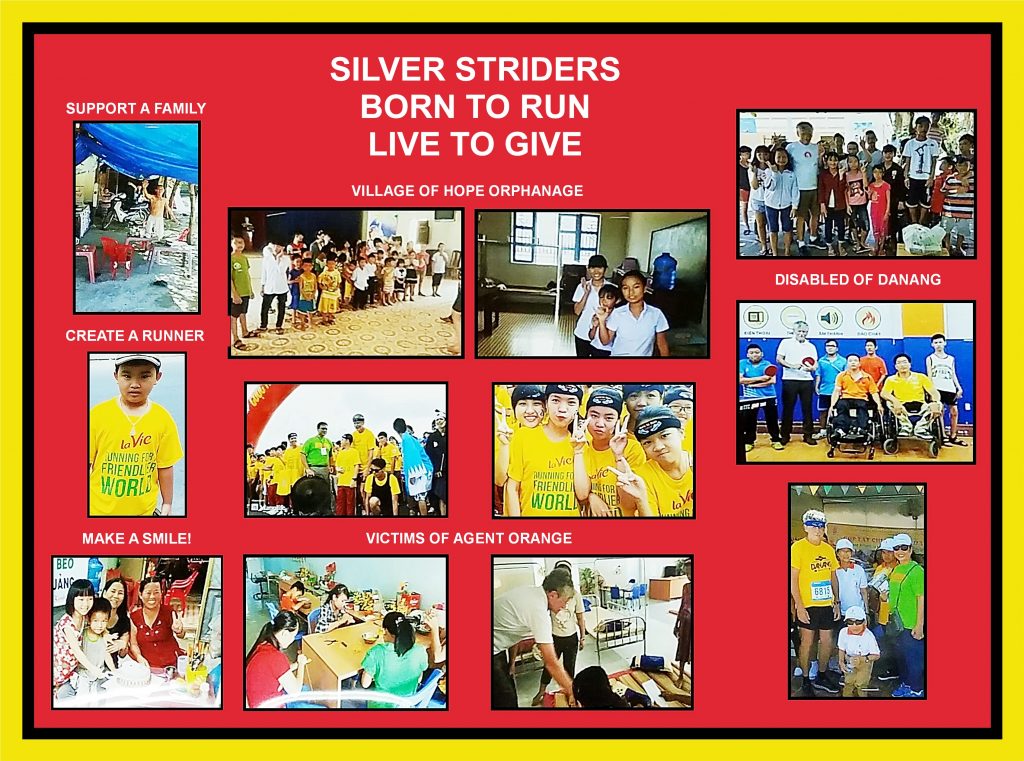 If you have been hanging around the Silver Striders recently, you are aware that there is a group of us going to Vietnam in August to run as charity runners. Based on the number of questions I get concerning this trip, you know very little about our journey. With that in mind, I think it is time is to explain what we will be doing over there.
I could write a story on how the Silver Striders have become the poster children for this year's Danang Marathon fundraising efforts, but it would be a long story because it has been an evolving process over 5 years and the story is still unfolding.
So I think the best thing to do is to just answer the questions you may have and give a little background history of my previous journies to Danang.
How did I get involved in supporting charities in Vietnam??
It all started with an article written for the Silver Strider magazine in 2013. The article called "Running with the Enemy," describes my experience as a veteran returning to Vietnam 42 years after the war to run in the inaugural Danang Marathon. Somehow that article got back to Danang and captured the attention of the Vietnamese. After a short conversation with the director, I accepted an invitation to return to Danang in 2014 and run with children in a 5k.
In 2014 I met up with the 50 children from an orphanage called the Village of Hope, and we ran the 5K together while wearing special shirts that read, "Running for a Friendlier World." We were given the honor of leading the start of the 4000 runners in that race. Afterward, I was given an escorted trip to the orphanage and met with the director.
In 2015 the theme of the marathon changed to "A Run for Peace."With great apprehension, I found myself the centerpiece of that race. After running 26 miles with motorcycle cameramen filming me all along the way, I stood upon a stage before many news cameras and shook hands with a Vietnamese soldier who had lost a leg in the war. He thanked me for help supporting the charity that provided him the prosthetic leg. As one soldier to another, I wished him peace wherever he went. I once again was escorted around Danang and visited victims of Agent Orange, and institutions helping the handicapped.
In 2016 my involvement in the race and with the charities grew, and I was able to convince the race directors to allow wheelchairs in the 5k. I teamed up with the staff from the Disabled Person-Organization of Danang City and helped push one of the handicapped participants in a wheelchair along the course. I also continued to sponsor the children from the orphanage along with some of those young victims of Agent Orange.
What is the purpose of the trip this year.?
To continue to give support to the charities that I have found to be sincerely dedicated to the people in their care.
To continue to encourage kids and the handicapped to get out and experience the joy of exercise, whether it is running or walking.
To move further down the road towards a more interactive charity where the donor and the recipient connect more directly with one another. It may simply be an exchange of pictures between the two, or maybe a letter, or just a run alongside someone.
To create smiles.
Why Vietnam?
Maybe we owe them a few smiles?
Some people will justifiably say," We should take care of the poor, the sick and the hungry in our own country first." And if they wish to do so, that is commendable. But where do you draw the line "our own?"
Of course, we take care of "our own" families first. But do we take care of "our own" city over another city in our state? Do we take care of "our own" state over another state?
I guess it is how you define your neighborhood. For some people, their neighborhood is their city. For others, their neighborhood is their state or country. For me, my neighborhood has always been and will always be the world. So, in Danang, I am just helping out my neighbors.
Hunger has no borders. A hungry child in a Detroit ghetto is no better off than a hungry child in a Vietnamese village.
Who is Going to Danang?

Sandra Madden
Susie Hall
Audrey Kirkwood
Andrea Kirkwood (Audrey's daughter)
Dennis Zaborac
Watch their promotional video that will be released in Vietnam
https://youtu.be/mUdQm5pMOCI.
Headbands that will be worn by those runners who are sponsored.

What will the Strider team do?

They will run two races back to back, a 10K and a 5K.
They will not be running for time in the 5k. They will be supporting those we have sponsored. They will push those who are in wheelchairs, help hold up those who are on crutches and encourage those who are running.
They will hand out Finishers certificates to those runners we sponsor.
They will be guided around some of the institutions that are being supported and will see for themselves the need.
And they will most likely be followed by the press and have interviews encouraging others to support the fundraising goals of the Danang marathon organization.
Where is the support going this year?

1) DaNang Association of Victims of Agent Orange/Dioxin: Financial aid + 40 people running 5Km
2) Disabled Person-Organization of Danang City: Financial aid + 20 people running 5Km
3) DaNang Village of Hope: Financial aid + 20 people running 5Km
4) DaNang Table tennis club for disabled persons: Financial aid + 20 peoples running 5Km
5) Association for the support of Danang Handicapped and Orphans: Financial aid+ 20 people running 5Km
6) Financial aid for 15 low-income families in Danang
7) Cakes to children living along the dusty back alleys in the poorer sections of town
What can I do?

You can become part of the story by contributing any amount of money you wish. All monies will be passed on 100% to the charities through the Danang Marathon Association, with no service fees being taken out of it. Your name will be listed as a contributor on the marathon website.
Also, the Silver Strider team will strive to get you a picture of those your money has personally help. If you wish to send us a picture of yourself, we will see that it is given to the recipient of your generosity.
Any amount will help someone, but I have created three levels of suggested donations.
For $500 you can support a family for a year. You will receive a picture and possibly a letter of thanks from that family. They will be given a picture of you if submitted.
For $50 you can help support an orphan or a young victim of Agent Orange, while also sponsoring him or her to run the 5K race. Of the $50, $40 will go to the orphanage and $10 towards the entry fee of the race. The children receiving the donations will not only enjoy the race but feel a sense of pride in knowing he or she is raising money to support the organization that they rely on.
And for a $ 5 donation, you can buy smiles. The Strider team will do the cake walk.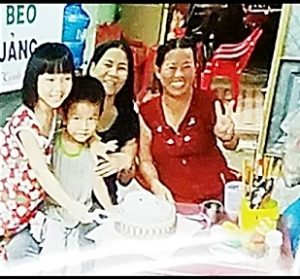 In this picture, you will notice two children with their mother and grandmother smiling over a cake they are about to cut. Those smiles came from a random act of kindness. The cake was meant as a thank you present for the staff at the hotel I was staying at. But while I was walking back to the hotel through a poorer section of town, the two small children stuck their heads out of an old shanty and shyly hollered "hal-lo" towards me.
There was no decision to be made. Instantly, I knew that cake belonged to that family and gave it to them. In a country where the average worker makes $300 a month, and college educated women are waitressing for just $1.00 an hour, a cake like that is priceless. So too were the smiles I received.
Your $5 will buy a cake, and the Strider team will deliver.
How to donate?

You can donate by mail, by sending a check to Tab Wizard Inc. at 205 Olympic Way, Kent, Wa. 98030. Or you can donate directly at any Silver Strider race, by giving your donation to either Jerry Dietrich or any member of the Silver Strider team going to Danang.
On behalf of the Silver Strider's team, I want to thank you for showing an interest in our charity run in Vietnam.
Dennis Zaborac