Final Results:
1. Judy Fisher – 24:30
2. Carol Grisso – 25:58
3. Vicki Griffiths – 26:14
4. Betty Boudwin – 29:24
5. Joan Torfin – 29:42
6. Louise Mihay – 30:40
6. Diane Johnson – 30:40
_________________________________________________
Men 75-79 – Christmas Rush 5k

by Dennis Zaborac
photos by Bruce Fisher

12/12/15 – Kent
The latest Battle of the Boomers took place along the Green River in Kent at the Christmas Rush on December 12, 2015. Like their predecessors at the Alki run in August, this group of runners was not theoretically Baby Boomers. These men, age 75 to 79, were all born long before the baby boomer years of 1946 to 1964. They couldn't even be considered, "War Babies," since they were all born before World War 2.
So what do we call a group of runners born in that period after the Great Depression, but before the war? "Roosevelt's Kids" is what comes into my mind. As children in the late 1930's, they were probably crawling, walking or running about the streets of their neighborhoods while a polio-stricken FDR was struggling just to stand up. Through the decades, these kids took the benefits of Franklin's "New Deal." and grew up healthy and strong. Seventy years after his death, they came together as competitors in the third Battle of the Boomers
At the start line of the Christmas Rush, all six of the Boomers lined up together, and all were wearing the purple Tab Wizard shirt. That made it easy for me to line up alongside them and track the progress of the race. It didn't however, make it any easier for me to run with this fast group of septuagenarians.
As the race started, Mark Stockslager set a relatively fast pace out of the gate. I tagged along a short distance back, waiting to see if any other Boomers would make a move on him.
At about the half mile point, Peter Marshall did glide by me and pretty much locked into a steady pace with Mark.
Larry Glenn then quickly appeared and joined the duo. All three then ran close together for the next half mile.
At the one mile marker, the trio broke up as Larry Glenn took a slight lead. Peter challenged him briefly, but Larry fought him off and moved further ahead. At the turnaround, it was still Larry, Peter and then Mark. All three were running at the same speed but evenly separated by about 200 yards. At that time, it looked to me that those positions would hold for the remainder of the race, so I dropped back to see how the rest of the field was faring.
Jerry Bronson, running in fourth place, quickly came into sight and was only a couple hundred yards back of Mark.
Rodger Dean held down fifth place and Larry Larsen chased them all in.
From mile one the finish order was set and no one passed or gain distance on any other runner.
It was inspiring to watch all six men easily moving in stride, equally distanced from each other. It was more like watching a parade than a race. A victory parade for these runners, who in their late 70's set quite an example for the younger generation.
Roosevelt would have been proud to see his "kids" run. He was known to exercise vigorously every day despite his disability. If he had been born years later, after polio was cured, he might have been a runner too. If so, he would have been a formidable competitor. After all, he did run and win four big races in his lifetime. Four presidential races.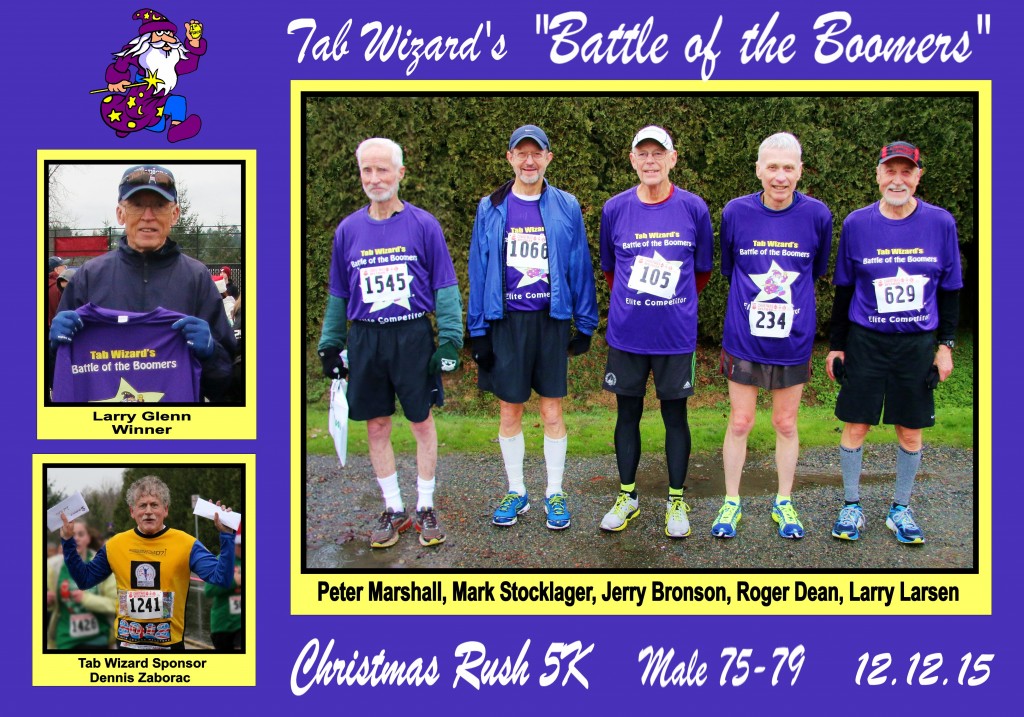 Final Results
1. Larry Glenn 25:46
2. Peter Marshall 26:47
3. Mark Stockslager 28:05
4. Jerry Bronson 29:51
5. Larry Williams 30:42 (Surprise entry)
6. Rodger Dean 30:51
7. Larry Larsen 31:46
____________________________________________
Women 60-64 – The No Sun Fun  Run 5k
by Barb Buman
with photos by Bruce Fisher

1/30/16 – Puyallup
When Jerry Dietrich contacted me in December about participating in the Battle of the Boomers at last Saturday's No Sun Fun Run in Puyallup, I didn't have much on my 2016 race calendar at all. Between weather and work it's not always easy to get outdoors and run during the winter. The invitation to do the "Battle" provided a goal and prompted a look at what might be possible in a 5K.
Earlier in the year I'd run two 5k's, one at Northwest Trek and the second at Turn Back the Clock in Lacey, and seemed to be stuck at 25:05 — one of the slowest times among my age group in the TOP IO. Breaking the 25-minute barrier was possible if I was willing to put in the work, so I looked for advice from running friends and did some reading on the subject.
I decided I didn't have a speed problem; I had a lactate threshold problem. I needed to find the line between aerobic and anaerobic running and teach my body how to stay there longer. In both of my 2015 5K's I started out strong but got progressively slower until my leaden legs slowed to a crawl at 2.5 miles.
To fix that, I started doing workouts that had me running long intervals one day a week with an occasional speed workout thrown in. My favorite workout is hard sprints followed by recovery between the lampposts around Capitol Lake.
The night before a race is always when the doubts creep in. Had I trained enough and rested enough? That evening my son posted a picture and announced to the Facebook world that I would be running for glory the next morning.
His encouragement and faith in me and the follow-up from his friends and mine were a welcome boost!
Saturday morning dawned cloudy with a chilly wind but as race time neared the sun was peeking out. Typical Northwesterners, we had packed every conceivable clothing combination and ended up in long sleeves and shorts. As it turned out, with gloves and a hat that combo was just right.
I took a few short laps around the park, downed a gel and some water and headed to the start.
Even though there were chips on the back of our bibs, I didn't see any mats and decided to play it safe by moving up toward the front. Several of my competitors did the same, and we took off quickly when the gun went off.
Karen was about 30 yards ahead and I planned to stay off her left shoulder as long as possible. Just before the first mile I caught up with her when a dog darted across her path.
I briefly debated the wisdom of passing and then just mentally crossed my fingers and went for it.
The first mile I tapped my watch and it showed 7:30. I wasn't sure where Karen was and I knew Huong was close, too, but didn't want to risk looking over my shoulder so I powered on as best I could.
Pacing is apparently still a challenge because I slowed to 7:50 in the second and third miles.
At the final turn for the finish line, I saw that the clock read 23:45. For a fleeting moment I thought a sub-24:00 was possible and kicked as hard as I could, but it was not to be. My watch read a few seconds past 24:00 – giving me a new time goal to shoot for in the year to come!
Thanks to the Silver Striders for the invitation to compete, to my fellow Boomers, Karen, Huong, Gail, and Charlea, for the competition. And also to the Pierce County Recreation District for providing a great venue and course. And, as always, thanks for the support and patience of my partner and running buddy, Chris.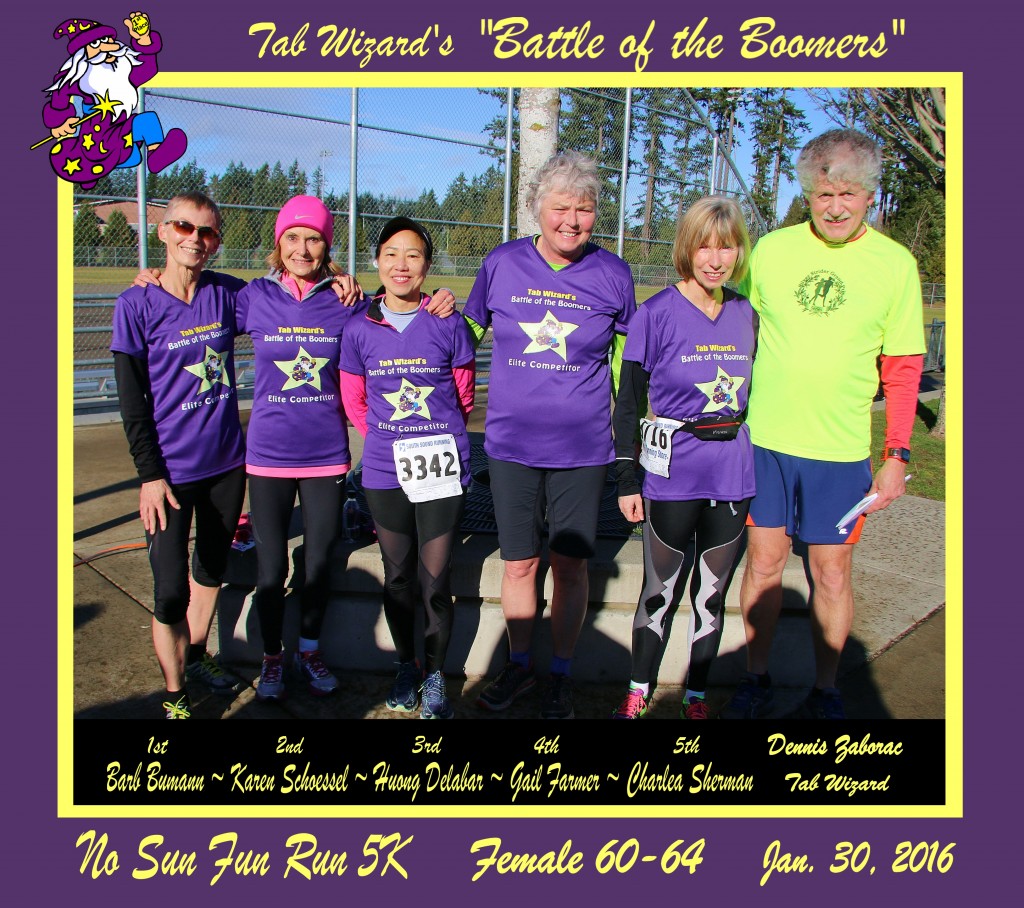 Final Results:
1. Barb Bumann  24:00
2. Karen Schoessel  24:25
3. Huong Delabar  24:50
4. Gail Farmer  27:21
5. Charlea Sherman  28:41
Editor's Note:
One of our invitees did not show up on race morning. We decided to go with five contestants.
_________________________________________________________
Men 55-59 – The Foothills Dash 5k
By Keith Lerew
with photos by Bruce Fisher
3/5/16 – Orting

March 5th began with broken clouds, wet roads and rain subsiding. By race time the sun was shining and the views of Mt. Rainier, from the Orting Foothills trail, were spectacular.
Surprisingly the drive to the latest Boomer race had the adrenaline soaring to levels that were totally unanticipated for the showdown of the 55 – 59 year old speedsters.
On the starting line for the race were Greg Waters, Mitch Parker, Bryan Sepal, Denis Villeneuve, Louie Pratt and Keith Lerew. This lineup was sure to produce some very fast and competitive times.
Once the race started, the lead group was quickly formed with Waters and Sepal pushing the pace and Parker not far off, running just over a 6 minute mile, followed by Villeneuve, Pratt and Lerew spaced a short distance behind.
The lead pack remained tight at the turn around, with Villenueve, Pratt and Lerew not far off the pace and running closely spaced.
Mile two saw the pack starting to change as Sepal asserted the lead position with Parker hot on his heels. Waters began to fade, which allowed Villeneuve, who was finishing strong and stretching Lerew, to move into 3rd place and came very close to catching Parker.
Waters was able to finish strong enough to hold off Lerew, who was followed closely by Pratt.
This Boomer race turned out to be the closest contest yet with all 6 runners finishing within 43 seconds of each other and all under 20 minutes, taking six of the top eight spots overall.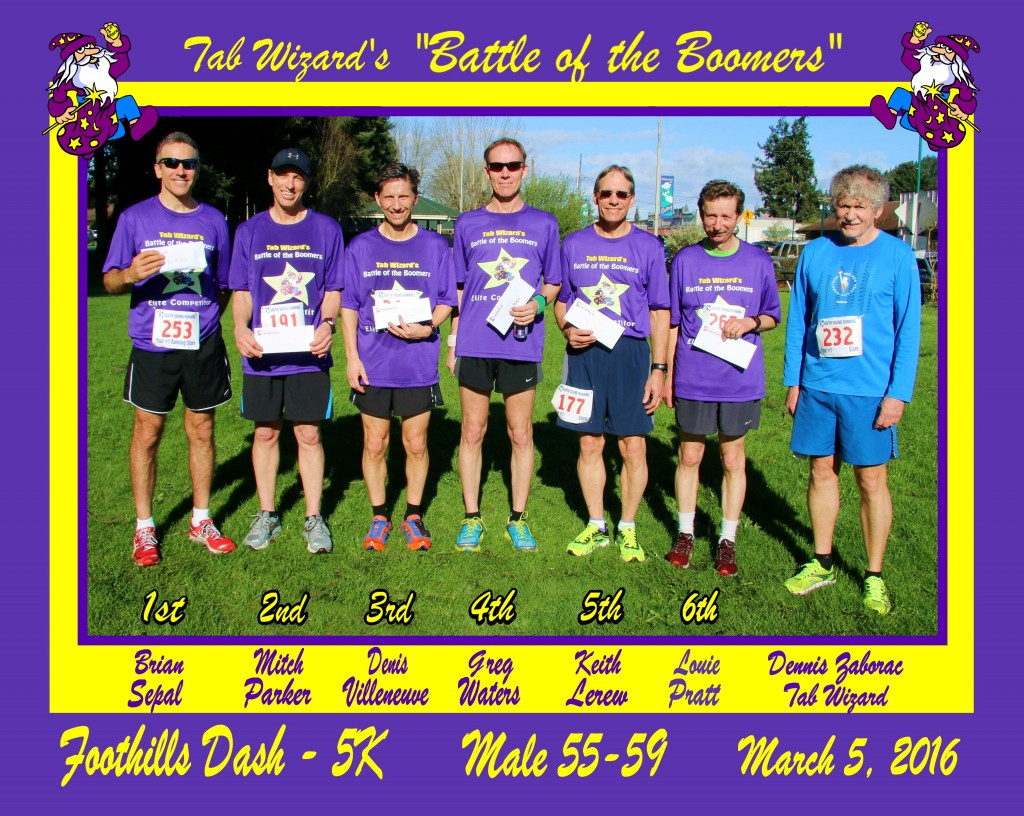 Final Results:
1. Brian Sepal  19:16
2. Mitch Parker  19:23
3. Denis Villeneuve  19:33
4. Greg Waters  19:41
5. Keith Lerew  19:48
6. Louie Pratt  19:59
___________________________________________________
Men 50-55 – The Bear Run 5k
By Bob Brennand
with photos by Bruce Fisher
6/12/16 – Maple Valley
I recently ran in the "Battle of the Boomers" race held as part of the Tahoma Bear Run & Walk 5K.  The race had almost 700 participants, with six in the Boomer race.
Igor Velichko took it out strong, leading overall for the first half mile. Youth took over after that, as a pack of six teenagers led the rest of the race.
John O'Hearn and David White-Espin, with Scott Clayton in their wake, appeared to catch Igor at about one mile into the race.
After his fast start, Igor dropped back a little bit, and I was able to catch him at about the 1.5 mile mark.
Scott Clayton continued running a strong, steady pace, and while he couldn't catch John and David, I couldn't catch him either.
O'Hearn and White-Espin slowly pulled away from the rest of us, with David making a move with about a half mile left.
John covered it, and put in a surge after the turnaround about 1/3 of a mile from the finish. Then John accelerated, and finished in 18:18.
David White-Espin finished well, ending up 2nd in 18:29.
He was followed closely by Scott Clayton in 10th at 18:35.
I barely broke 19 in 18:59 for 4th place, with Igor Velichko within sight for 5th in 19:15.
Craig Kenworthy wasn't far behind in 20:10 to claim 6th place.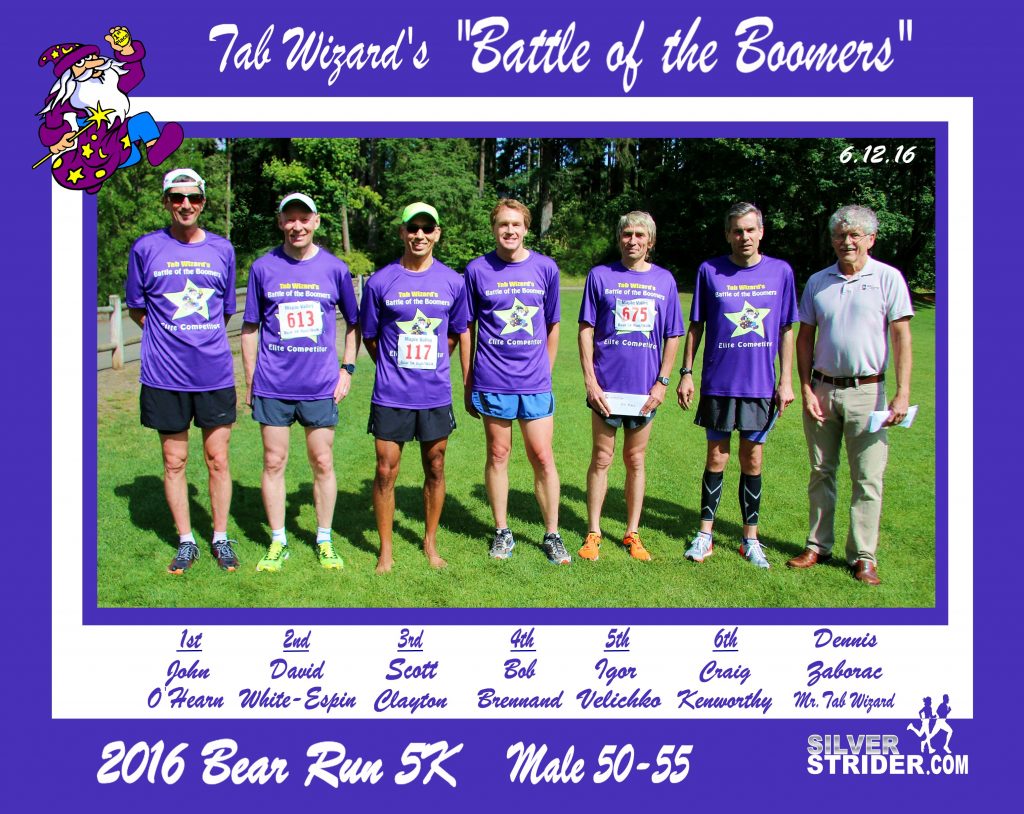 Final Results:

Here's a race commentary from David White-Espin's perspective.
At the start I saw Scott and Igor jump out early, they went out with about 10 high school runners.
John O'Hearn and I found each other and started running together. Within a half a mile we caught Scott and then Igor. John and I fell into a steady pace and caught the leaders.
Rather than slow down I went around the lead pack, this seemed to wake everyone up and they began to pick up the pace. John and I stayed together, I kept trying to open up a gap, I thought I was running stronger but I've run with John many times and I know he gets tougher as we get further into the race.
At the 180 degree turn I lost contact with John, I noticed Scott and Bob were not too far behind. I ran the last 600 trying to catch John and hold off Scott and Bob at the same time.
I never caught John but was able to hold off Scott and Bob. I warmed up with Craig but never saw him until the finish.
I really thought we were running much faster than the time indicated. The course is tough and the varied surfaces seems to slow the pace. I had ran 45 seconds faster a week earlier. The race within the race added a bit of excitement.
____________________________________________
Men 80 plus – The Independence Day 5k
By Jerry Dietrich
with photos by Bruce Fisher
7/4/16 – Tacoma
The Men 80 plus division of the Tab Wizard's Battle of the Boomers was originally planned to be held in conjunction with the Smelt Run in LaConner.
When the Smelt Run in LaConner was cancelled, the 80 plus men needed a new home.
The Independence Day 5k is a fast downhill course and seemed an ideal replacement. After several weeks of recruiting, six of the top eight runners in the state were committed to the race.
Race day arrived and I was nursing a back injury and planned to withdraw from the race. When only 3 of the other 5 committed runners appeared on race morning, my decision was difficult. By staying in the race I would bring the entries to four.
I received words of encouragement from Richard Olafson, the pre-race favorite.
As the start time approached, it was evident that this race would be different from the other Boomer races. In the other races held so far, contestants lined up together or close by and raced head to head.
In this race each runner would be doing his own thing.
Richard Olafson lined up in his usual position about 6 or 7  rows from the front.
Chuck Milliman took his usual position at the rear with only a dozen or so walkers behind him.
Bill Jackson always likes to start last. He waits until everyone has cleared the start area and then begins running. He likes passing runners while not being passed. It gives him a positive feeling. Today he did his usual start but was the next to last, as I waited for him to start before I began.
The race started and Richard Olafson moved out strongly.
Fifty one seconds later, Chuck Milliman crossed the start line, followed in 10 seconds by Jackson. Ten seconds later, I took my first two steps and severe pain shot up my back. I decided to start by walking.
I could barely make out Richard Olafson's purple shirt a block away. Milliman was about 100 yards from the start with Jackson 30 yards behind him.
I discovered, after a couple of minutes of walking, that I was able to begin jogging without back pain. Olafson was long gone, but I could still see Milliman and Jackson ahead. Jackson had closed on Milliman and was now close behind.
The start was a very gently sloped downhill for the first two or three blocks. Then the Vasault downhill began and gradually the street curved to the right.
Shortly after the first mile mark, Jackson moved up on Milliman and soon passed him.
Despite the downhill, I was losing ground and had lost sight of any purple shirts.
The winner was evident from the start and after a mile and a half the finishing order was decided.
In winning the race Richard Olafson ran a national class time of 27:38. Bill Jackson's time was a noteworthy 28:29, 51 seconds behind Richard.  Milliman finished nicely in 30:29, and I brought up the rear, thankful to be running at all.
Upon finishing, I joined the Boomers for the photos and awards. I marveled at my competitors.
Ranging from 80 to 83 in age, they were nonetheless as impressive as any athletes present.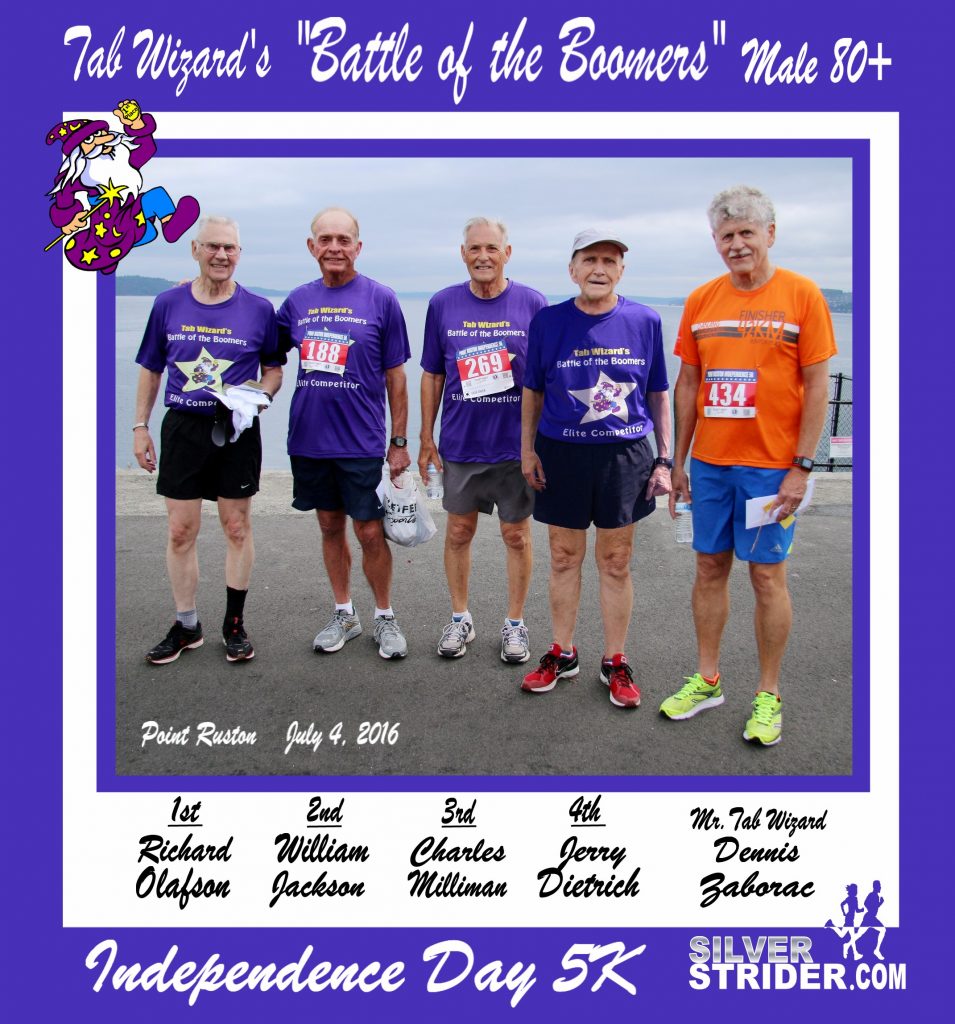 Final Results:
1. Richard Olafson 27:48
2. William Jackson 28:59
3. Charles Milliman 30:29
4. Jerry Dietrich 42:56
___________________________________________________
Women 65-69 – Kent Cornucopia 5k
By Dennis Zaborac
with photos by Bruce Fisher
6/9/16 – Kent
The Flower Children
On July 9th the "Battle of the Boomer" race series celebrated its' first year by returning to the site of the inaugural event, the Kent Cornucopia 5k. The success of the series was clearly evident in the demographics of this year's entries. Of the 544 finishers, nearly 50% (263) were age 50 and older, and an astonishing 162 of those runners were age 60 and over!
The Cornucopia 5k was the eighth of the fifteen race series. The Boomers lining up to battle this time were the top women runners in the 65-69 age group. They were Jane Trevleven, Sandy Madden, Linda Burt, Sandra Maib, Phyllis Nelson, and Barbara Johnson.
I had the honor to run alongside these remarkable runners to write this race report. Being in the same age group as they were, made it a fun task. We were all teenagers in the 1960's, and I imagined these women as being the "flower children" of that era.
I don't know for sure whether or not they "turned on, tuned in or dropped out" during that Summer of Love in 1967, but looking at the times that qualified them for the Boomer race, I have to believe they dropped out and learned to run.
|
The race started under partially cloudy skies with the temperature moderately cool. "Moderately cool," meaning cold to some runners, hot to other runners, and just right for me.
All six of the Boomers lined up together near the front of the start line. As the race began, they split into three groups.
Phyllis and Jane went out first and fast, followed closely by Sandy Madden and Linda.
Barbara and Sandra Maib started side by side a short distance further back.
Trying to stay with the two front runners, I thought of how things really hadn't changed much for me in the past 50 years. I went from chasing girls in the 60's to chasing women in their sixties, and still not being able to catch them.
In this race, Jane quickly pulled away from all of us by running a sub 7-minute mile the first mile. She may have been a flower child back in the sixties, but in this race, she wasn't going to take the time to stop and smell the roses. She flew at an incredible seven-minute pace all the way to victory.
After watching Jane go out of sight, I left Phyllis in second place and drifted back to see how the rest of the field was shaping up. At the one-mile marker, I found Sandy Madden in third place with Linda right behind her.
Sandra Maib was within sight of the two of them, and Barbara, coming off an injury and a long layoff, was resiliently pushing forward.
Shortly after the first-mile marker, Sandy Madden and Linda edged by Phyllis. I could see then that there was a race shaping up for second place between Sandy and Linda. Both runners looked to be running very comfortably, with Sandy unaware that Linda was trailing her by just fifteen feet.
I followed the two for nearly two miles waiting to see if Linda might make a move to the front. Just short of the three-mile marker she did take the challenge and moved next to Sandy. I saw a friendly conversation going on between the two as they ran side by side toward the finish line. I don't know what they were saying or thinking then, but I don't believe the two flower children were discussing love and peace for all.
The conversation was very brief and ended as Sandy slowly pulled ahead at the three-mile marker. There was no sprint. That made it difficult to determine whether Sandy sped up or Linda slowed down. Whatever the reason, the two flower girls finished seconds apart, just the way they had run the entire race.
With first, second and third place finalized, I stopped at the three-mile marker to look back and see where the rest of the Boomers were. To my surprise, Sandra Maib was right there. She had been lurking in the background the whole time. She had skirted past Phyllis in the last half mile and went on to finish fourth; just 23 seconds behind Linda.
Phyllis followed her in, garnering fifth place which gave the Boomer girls a top five sweep of their age group.
Barbara, in her return to running, finished a very respectable 9th place out of the 28 runners in the age division.
After the race, as the sun broke through the clouds, the six runners lined up on a grassy mound to receive their prizes. You could see smiles everywhere. It was a delight to once again see how a Boomer race could bring camaraderie to competitors.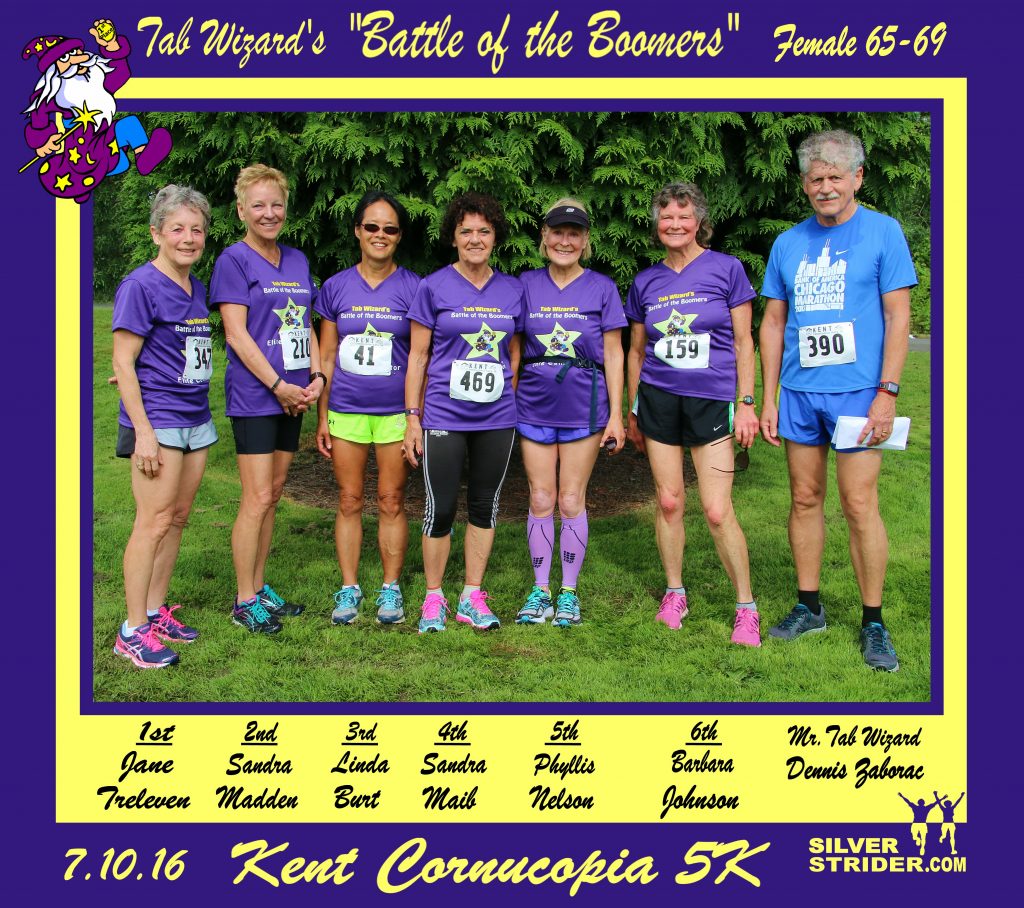 As I walked away from the presentation, I took one last look at the six Boomers standing together. I saw more than just a group of incredible women in their sixties who were an inspiration to runners of all ages. I saw a beautiful bouquet from the 60's.
Jane Treleven 22:06
Sandy Madden 26:35
Linda Burt 26:49
Sandra Maib 27:12
Phyllis Nelson 27:44
Barbara Johnson 30:34
Next Battle of the Boomer Race
            Women 55-59
            Alki Beach 5K
             August 28th
________________________________________________________________
Women 55-59 – Alki Beach 5k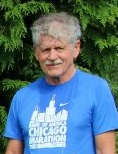 By Dennis Zaborac
with photos by Bruce Fisher
8/28/16 – West Seattle
Born To Race
The ninth race in the Battle of the Boomer series was held on August 28th during the Alki 5k run in West Seattle. The competitors were the top women runners from the 55-59 age group. These gals were born to race. They grew up during a time when the whole world was witnessing the greatest and longest race in history; the "Space Race". That competition between the US and Russia was a 10 year, 238,900-mile run to the moon.
The six women invited to compete in Seattle were Becky Backstrom, Gail Hall, Susan Hall, Regina Joyce, Kimmer Muenz and Carol Sexton. I would consider them "Space Babies," since they were all born around the time of the launch of the first satellite "Sputnik" in 1958, and the first manned space flight by Yuri Gagarin in 1961.
At the Alki 5k, the start line for these fast women was more like a launching pad. The race began appropriately with a countdown of " 10-9-8-7-6-5-4-3-2-1."
While no one actually said "blast off," Regina blasted off to a strong lead at the beginning. The other five women, tightly bunched together, chased her across the start line.
Carol was the first to break away from the pursuing group and go after Regina. Gail and Becky tried to stay close to Carol as Kimmer and Susan held steady strides together a short distance back.
At the half mile point, Gail caught up with Carol and moved into second place.
In the meantime, Becky running in fourth place at a faster pace began to gain on the two of them.
At the one mile marker, Regina continued to extend her lead as Carol fell a little farther back, allowing Becky to eclipse her and move into third place.
At two miles, Gail was still in second place with Becky and Carol close behind. However, Becky's slightly faster pace ultimately enabled her to overtake Gail.
Meanwhile, Kimmer pulled quite a bit ahead of Susan who slowly drifted farther behind.
In the last mile, Becky continued to run well and started to gain on Regina, but her lead was just too big to overcome. Regina won the race leading all the way from start to finish.
Becky finished second, and Carol came back strong to edge Gail out for third place by just 11 seconds. Only 44 seconds separated the top five finishers as they all finished under 22 minutes with national class times.
Of the 40 runners in their age group, Kimmer finished a strong 7th place.
Susan finished 10th as she outran three-fourths of the field.
Susan won the Miss Congeniality award. In the Alki 5k, she was like a first stage booster for a rocket. She pushed all the other runners into orbit and stayed with the front pack for just 50 seconds before separating, floating backward and then falling back into the atmosphere; smiling all the way.
The camaraderie among these runners was easy to see as all six of the runners joined together at the finish line to sign each other's bibs. None of these astro-nots ever landed on the moon, but when Neil Armstrong was taking "one small step for mankind," you could imagine these women as speedy little girls taking a lot more footsteps running through the streets of their hometowns.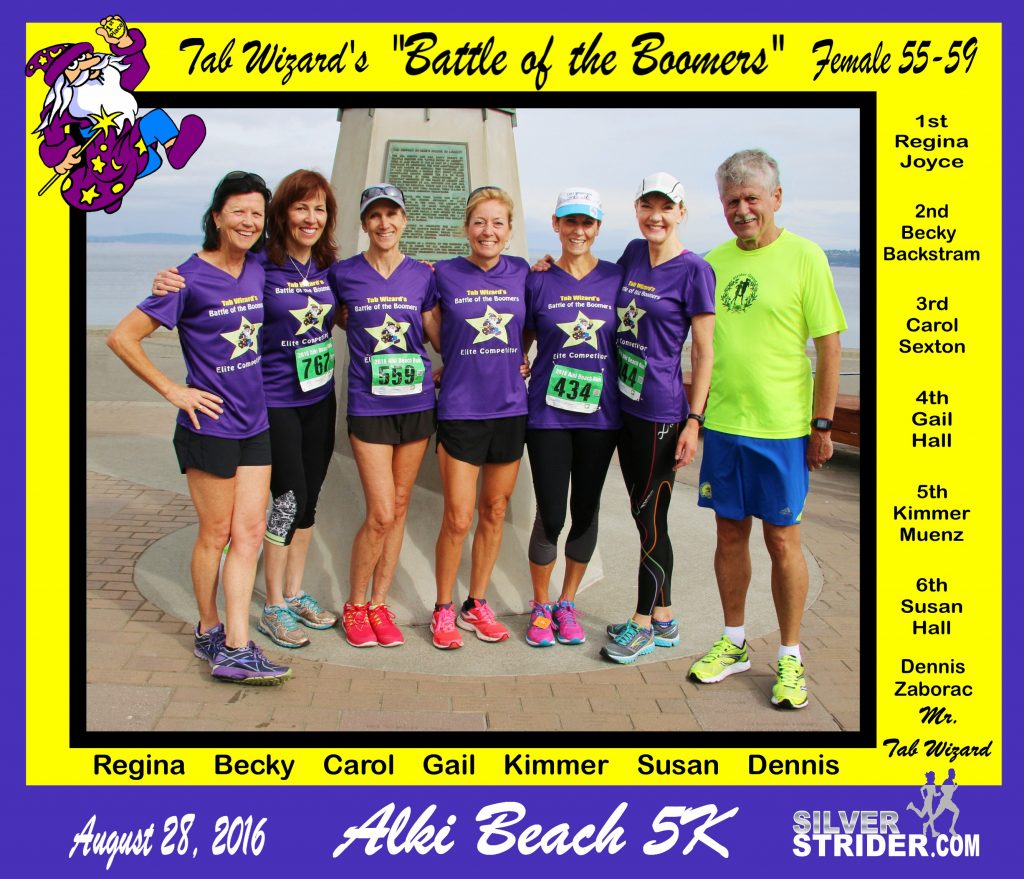 FINAL RESULTS:
1st – Regina Joyce 21:12
2nd – Becky Backstrom 21:29
3rd – Carol Sexton 21:45
5th – Gail Hall 21:56
7th – Kimmer Muenz 24:17
10th – Susan Hall 26:53
AND THE HAPPIEST AND MOST
HEROIC ASTRONAUT OF THAT SPACE RACE OF SO LONG AGO?
                       HAM
Also known as Ham the Chimp and Ham the Astrochimp, was a chimpanzee and the first hominid launched into space, on 31 January 1961, as part of America's space program.
Born: July 1957, Cameroon
Died: January 19, 1983, North Carolina Zoo, NC
Space missions: Mercury-Redstone 2
Space time: 0d 0h 16m
First space flight: Mercury-Redstone 2
Next up in the Boomer Series?
Men 60-64 at the Xmas Rush in Kent in December.
____________________________________
Boys from the 50's
Battle of the Boomers #10
By Dennis Zaborac
On December 10, 2016, the tenth running of the Battle of the Boomers took place alongside the Green River in Kent. Like previous races, it was a race within a race – the main race being the 5K Christmas Rush. Seven of the state's top runners in the 60-to 64 age group came together to battle it out for fun and money.
These competitors were born between the years 1951 and 1956. It was a time when black and white television shows were beginning to hit stride in homes all across the country. Somewhere, between the launching of the TV series "Hopalong Cassidy" and "Captain Kangaroo," these kids took their first steps.
Back then, it was impossible not to be influenced by television. These guys, as kids, wore Superman pajamas, Davy Crockett coonskin caps, Dick Tracey watches, and Donald Duck slippers. They probably carried Howdy Doody or Roy Rodgers lunch boxes to kindergarten.
There were many types of new TV programs in the early 50's, but the ones that really got kids outside and running were the cowboys and Indians programs. Every neighborhood had a Fort Apache where the kids could come together with the cavalry to play cowboys and Indians. However, no one ever wanted to be the Indians because everyone knew that the Indians always lose. Even the Indians knew they were going to lose, so they always carried a "peace pipe."
Knowing that, as I looked out at the Boomers standing near the start line of the Xmas Rush, I didn't see a bunch of old guys lining up to run a race. I saw seven cowboys wanting to rush to the rescue of some pretty damsel in distress; a girl who was probably a beautiful, young, single school teacher loved by everyone in the town. She was most likely captured by some renegade Indians who would tie her to the railroad tracks. Fortunately for her, she had an elite group of heroes from the 50's ready to save her.
That elite group included the best from the west:
Two hours before "High Noon." the race began.
It started out more like a cattle drive than a run. While the Boomers were clustered up near the front and ready to roll, they still had to maneuver their way through the crowded field of 1000 to get up to speed.
The Lone Ranger was the first to break loose and go to the lead.
Davy Crockett followed him in hot pursuit just a little ahead of the rest of the boys.
The Rifleman trailed everyone but looked like he was pacing himself to be ready for a late challenge.
As I followed him, I quickly realized there was no way I was going to hang with this group. If I were going to play a part in this western, I should be relegated to just driving the chuck wagon.
At a quarter mile, it looked like Crockett realized he had started out too fast and backed off a little. He was quickly passed by Gunsmoke, Rawhide, Wyatt Earp, and the Cisco Kid all bunched together. The Rifleman continued to stay slightly behind the pack.
By the bridge at 3/4 of a mile, the field began to separate and spread out a bit. The Lone Ranger  continued to blaze forward. Crockett kicked it up a little and edged by Wyatt Earp for fifth.
The Cisco Kid looked good in fourth, and Gunsmoke moved slightly ahead of Rawhide to take second. The Rifleman continued to trail the field, but he was not losing any additional ground as he stayed with the others.
Just before the turnaround Crockett made his move on the Cisco Kid and took over fourth place. At the same time, the Rifleman made a charge and quickly overtook both Wyatt Earp and the Cisco Kid to take over fifth place.
For the next half mile, the Lone Ranger continued to pull away while Gunsmoke and Rawhide ran close together vying for 2nd place.
Crockett and the Rifleman had their own little battle going on for 4th place. The Cisco Kid and Wyatt Earp were running side by side for 6th place.
At the two mile point, it became three races. I think all the runners recognized that the Lone Ranger had an insurmountable lead and ceded first to him. The other three races however, were head to head in competition for 2nd place, 4th place, and 6th place. Those three races stayed close together all the way to the finish line without any change in positions. The race was pretty much over at that point. All seven runners finished in the places they had held at mile two.
In the Boomer series, there has never been a race where the winner has been so dominant from start to finish. Mark Billett, with an 18:34 time, beat the second place finisher Mickey Allen by almost two minutes. In any other race, Mickey's time of 20:29 would have won the age group. The rest of these cowboys ran just as well with only 45 seconds separating 2nd from 5th place.
At the awards ceremony, there was no mention of that damsel in distress. The guys told stories, laughed, took pictures, received their prizes and went off in different directions. The Lone Ranger received the bulk of the money. Just another day on the range for him. As he left, I could imagine him saying, "Hi-Yo Silver!… Away!"
How the West Was Won
1st
The Lone Ranger
Mark Billet
18:54
2nd
Gunsmoke
Mickey Allen
20:29
3rd
Rawhide
Doug Beyerlein
20:38
4th
Davy Crockett
Dave Sherman
21:00
5th
The Rifleman
Kent Sizer
21.14
6th
The Cisco Kid
Karl Kunkle
21:46
7th
Wyatt Earp
Ed Barney
22:03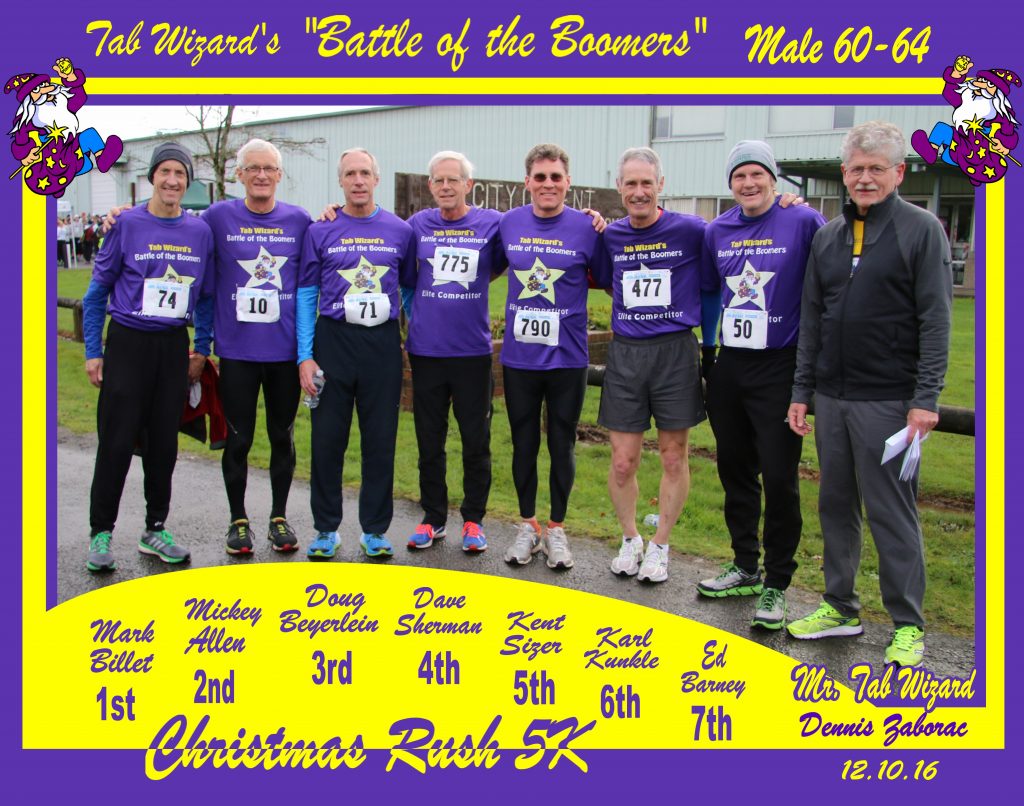 Next up in the Boomer Series
Women 75-79 January 28th at the No Fun Sun Run
___________________________________________