the Silver Strider online presents

ARTICLES
 brought to you by

Route 16 Run and Walk Shoe Store
6745 Kimball Drive, Gig Harbor
The Kent Bowl 
2018-19 
Grand Prix Series 
By Betty Dietrich
3/25/18
The Silver Strider is pleased to announce the Kent Bowl 2018-2019 Grand Prix Series. There are many exciting changes! You only need to finish eight of these races to be a Series finisher and reap the rewards.
The Series will kickoff with the popular and challenging Rhody Run 12k in Port Townsend. The Rhody Run will be celebrating it's 40th anniversary and is one of the Northwest's best loved races. "Throngs of local residents line the streets to cheer on every runner."
This race is known as The Run that Cares for the Runner. Silver Striders, 65 and over, will receive a $10 discount on their entry fee. Five year age divisions, including 85+, will be offered this year.
Along with the previous races in the Grand Prix Series, we are excited to announce that four new races have been added to the schedule.
The Bill Burby 5k, which will be held on July 21st, will premier in the Series this year. Though new to the Series, this race was first held 38 years ago and is part of the festivities of the annual Strawberry Festival on Vashon Island. "After the race, participants can witness the quirky parade, swing to live music, eat festival food or check out the arts and crafts for sale. Come on out and Do The Burby!"
Festivals are a summer tradition in the state of Washington and the Mukilteo Lighthouse Festival in August is the setting for another new race in the 2018-2019 Grand Prix Series. The Run-A-Muk 5k will kick off the Lighthouse Festivities with a gorgeous run through beautiful Mukilteo. Race officials have announced they will feature a live band at the start and finish line this year to energize participants as they run along the scenic course. Come for the run and stay for the festival.

We're excited to welcome the Snohomish River Run to the list of new races on the Grand Prix Series schedule. This event starts and finishes in the charming town of Snohomish and runs along the banks of the Snohomish River. If you're seeking a flat, fast, certified course, the Snohomish River Run is made for you.
Following the race, runners will be able to enjoy a "fabulous" soup bar, featuring soups prepared by a local restaurant. There will be at least two types of soup: one with meat such as clam chowder and one with a vegetarian/gluten free option. There will also be bread to go with the soup. A nice reward after a good run!
Tacoma Community College is the setting for the fourth new race in the Grand Prix Series schedule. The 4th annual H.I.T. The Trail 5k will take place in March 2019 on the college campus. This event is a student-led project organized by the graduating class of the HIT (Health Information Technology) department. The object of this event is to provide an opportunity for students to put their project management skills to use and to raise funds to benefit future HIT students. The race features a tour of the campus, prize drawings and chip timing.
Along with the four new races in the Series, we will once again have a Mystery run. This year the Mystery Run will be held in the month of February. The location and distance will be announced during the year. Be sure to check the Bulletins page!
The 4th annual Tortoise and Hare Handicap Fun Run will be held again in October with a potluck lunch to follow at the beautiful Highlands Golf Course. It will still be a T-Shirt Bonus race.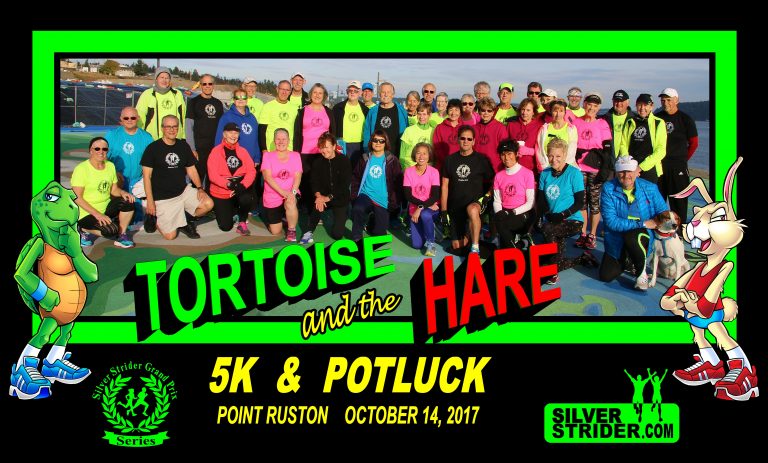 Finally, we are offering a new and exciting change to this year's Grand Prix Series. It is our goal every year to introduce new ideas to the schedule to keep the Series fun and challenging.
This year, we have designated three races to be "Select Your Distance" events. At these events, you can pick the distance of your choice.
You will earn Grand Prix points depending on where you finish in your age division regardless of which distance you choose to run or walk. Speedsters can pick shorter distances, endurance athletes can choose half marathons and even a marathon. What strategy will determine which distance you pick?
Here are the three Select Your Distance events:
Saturday, August 4th – The Anacortes Art Dash 5k, 10k, Half Marathon
Sunday, October 14th – The Snohomish River Run 10k, Half Marathon, Full Marathon
Saturday, March 2nd – The Foothills Dash 5k, 10k, Half Marathon
Remember! ONLY these 3 events qualify as Select Your Distance races.  At all of the other races, you will need to run the distance shown on the Grand Prix Series schedule if you want to earn Grand Prix Series points.
For a detailed explanation of how the Grand Prix Series works, click on Grand Prix Series on the menu. Then click on Grand Prix Series Schedule and learn how to earn Grand Prix Series points.
For those of you who have participated in the Series before, welcome back. We hope you will find the next schedule fun and challenging.
For those new to the Series, you are just in time to join in the fun. It's a great way to keep motivated throughout the coming year and to make some great friendships.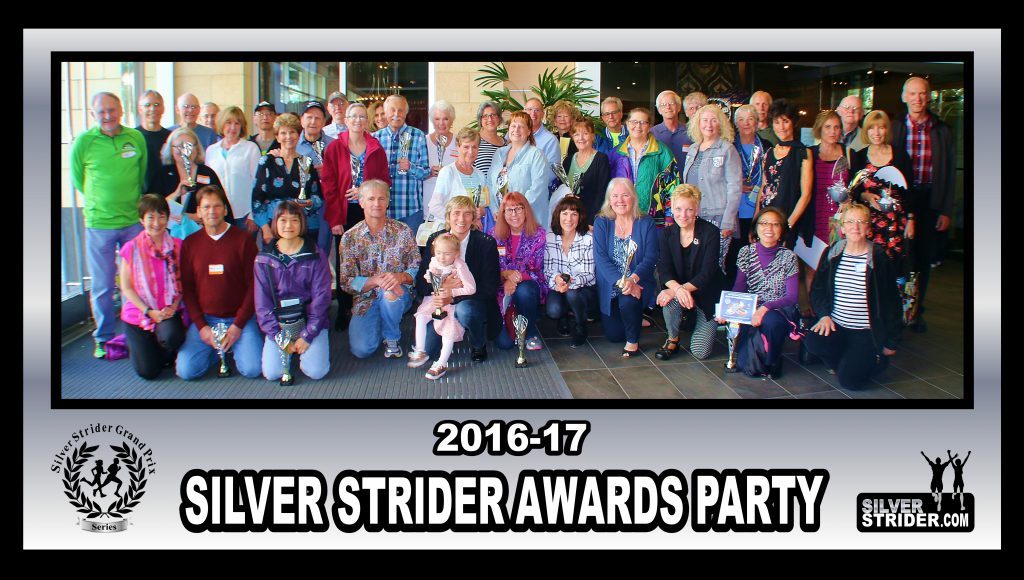 2018 – 2019 GRAND PRIX SERIES
Sunday, May 20th Rhody Run 12 K Port Townsend
Saturday, June 2nd Flight For Sight 5k Everett
Sunday, June 10th Bear Run 5k Maple Valley
Wednesday, July 4th Independence Day 5k Tacoma
Saturday, July 14th Kent Cornucopia Days 5k Kent
Saturday, July 21st Bill Burby 5k Vashon Island*
Saturday, July 28th Whale of a Run 4 Mile Silverdale
Saturday, August 4th Art Dash 5k/10k/ Half** Anacortes
Sunday, August 12th Lake Union 10k Seattle
Saturday, August 25th Run-A-Muk 5k Mulkilto*
Monday, September 3rd Labor Day Half Marathon Redmond
Saturday, September 15th Summer's End 5k Covington
Sunday, September 23rd Orca Half Marathon West Seattle
Sunday, October 14th River Run 10k/Half/Full** Snohomish*
Saturday, October 20th Potluck & Fun Run Tacoma##
Sunday, October 28th Run Scared 5k Seattle
Saturday, November 10th Orting Turkey Trot 10k Orting
Thursday, November 22nd Tacoma Turkey Trot 5k Tacoma
Saturday, December 8th Christmas Rush 5k Kent
Sunday, December 16th Reindeer Run 5k Olympia
Saturday, January 5th FSRC Resolution Run 5k Steilacoom
Saturday, January 19th No Sun Fun Run 5k Puyallup
February Mystery Race TBA
Saturday, March 2nd Foothills Dash 5k/10k/Half** Orting
Saturday, March 9th H.I.T. The Trail 5k Tacoma*
Saturday, April 6th Tulip Run 10k  Burlington
Sunday, April 28th All in for Autism 5k or 10k ** Bellevue*
Sunday, May 5th Tacoma City Marathon Tacoma
Saturday, May 11th Annual Awards Party Tacoma
* NEW RACES IN THE SERIES
** SELECT YOUR DISTANCE
## T-SHIRT RACE. WEAR YOUR GP SHIRT AND RECEIVE IO PTS.
Be sure to check the Thrifty Runner page for Silver Strider discounts!