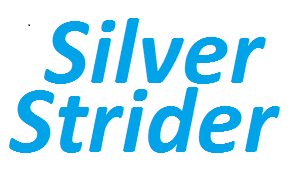 online magazine presents    
 R

ace 

R

eports 
brought to you by
    7210 Greenlake Dr N, Seattle, WA
   16095 Cleveland St., Redmond, WA
 
……..
A Whale of a Run 4 Miles
By Keith Lerew
with photos by Bruce Fisher
July 27 – Silverdale
The morning dawned overcast with moisture threatening to dampen the day as the aging athletes made their way to Silverdale for the only 4 Mile run of the year.
Fortunately the rain/mist held off for the race prep, sign up and invigorating warm up exercises led by the ultra fit Dawn Holman.
A great looking group showed up for the routine, "If you can't see me, I can't see you", moment. Thanks Flash.
The start remained overcast and a bit cool, in the mid 60's, leaving everyone anxious to get started to get warmed up.
Unfortunately, the start was delayed for 15 – 20 minutes while the brave men in blue secured the course. Once permission was granted, the countdown was quick and 241 runners, including 84 Silver Striders, were racing down the parade route to begin the day of festivities.
The 2nd mile is slow as you head under the highway and up a fairly steep hill before leveling off and trying to catch your breath.
Now is the time to look forward to reaching Anderson Hill Road for a fast last mile to save your race from the uphill. Finishing back on the parade route to cheers from the spectators.
A fine spread of snacks were available to include popcorn, donuts, & fruit.
Computers were set up with the results and awards were  handed out when you checked your time.
A nice plaque was presented to 1st place in each age group with ribbons for 2nd and 3rd place.  A tough race for the athletes that found themselves on the far end of the 10 year age groups.
Raffle tickets were handed out at the results tent and names were called for the winners.
A few Silver Striders scored prizes with the grand prize being a mountain bike going to a lucky young man.
It was nice that the awards and raffles went much quicker this year and finished before the  parade started.
A mist began during the raffle and it rained pretty good on the way home. We were all fortunate that the weather cooperated.
Editor's note: The Whale Run was Charlea Sherman's 8th GP Series race for 2019 making her the 27th finisher so far in 2019.
                    Results in photos by Bruce Fisher
…. … …….. Brunch at the Yacht Club Broiler, celebrating July birthdays.