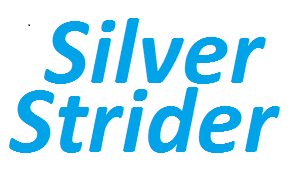 online magazine presents   
A

RTICLES
 brought to you by

Route 16 Run and Walk Shoe Store
6745 Kimball Drive, Gig Harbor

The 2020 Kent Bowl Grand Prix Series
By Betty Dietrich  
The SILVER STRIDER ONLINE MAGAZINE is excited to announce the schedule for the 11th annual GRAND PRIX SERIES.  The 2020 series will kickoff on Saturday, January 4th with the Resolution Run 5k in Steilacoom and will end on Sunday, December 20th with the Reindeer Run 5k in Olympia.  There will be 28 races ranging in distance from the 5k to the marathon.  Four new races have been added to the Grand Prix Series in 2020 and a much requested favorite will be returning.
The first new addition to the 2020 Grand Prix Series is the CHERRY BLOSSOM 5K which will be held on Sunday, March 22nd.  This race promises to be Washington's "prettiest" running and walking event.  Participants will start at an urban wildlife sanctuary and head to one of the nation's most iconic cherry blossom displays – all in the heart of Seattle's UW campus!  The 2020 race will offer chip timing with 5 year age divisions to 85+.  The Top 3 female and male finishers in each age category will be awarded  "Legion of Bloom" medals!  Silver Striders will receive a 20% discount.
One of the area's challenging races, the TRILLIUM TRAIL RUN on beautiful Bainbridge Island has been added to the 2020 Grand Prix Series.  Many of you requested a trail run and we listened. The event will be held on Saturday, May 9th and offers both a 5k and 10k. This will be a select-your-distance event so you can pick either race and earn Grand Prix points.  Runners and walkers will enjoy a scenic wooded course starting in Battle Point Park, moving along Forest Trail to Sky Trail, and looping among the towering firs of the Grand Forest. Chip timing with 5 year age divisions to 85+ will be offered.Post race activities will include music and good food. 

The LAKEFAIR 8K in Olympia was one of the first of 15 races to be included in the original Grand Prix Series held in 2010.  In 2020, this popular race returns!  The race will be held on Saturday, July 18th as part of a weekend-long running festival that will feature a Half Marathon and 3K, in addition to the 8k.  The 8k is the designated distance in the 2020 Grand Prix Series and the only distance eligible for GP points.  The 8k course starts at Heritage Park and is flat and fast.  Race Director, Bob Brennand, has announced that 5 year age divisions will be increased in 2020 to include runners and walkers over 80.  Following the race, runners can enjoy festival activities held all around the large city park including food and beer tents, carnival rides, and booths.

On Saturday, September 12th, a new race will join the Grand Prix Series – the PACIFIC RUNDERLAND 5K.  This race made it's debut in 2019 with a goal of raising funds to help preserve Washington's National Parks.  More than $4000 dollars was raised for the Washington National Park Fund and the race organizers hope to raise even more in 2020.  The Pacific Runderland 5k course begins and ends at Roegner Park in Auburn.  It is an out-and-back course along the White River on a wide bike path.  Sherry Clarke, the race director, will provide chip timing and has also agreed to increase the 5 year age divisions to 80+.  Attractive medals will be given to all finishers.

Fans of Orca Running will be pleased to find that we have added another of their events to the 2020 Grand Prix Series schedule.  Take flight on Saturday, October 3rd with the FLY 5K.  The Fly 5k run will be held at the iconic Museum of Flight.  The course is a modified out-and-back with a spectacular finish line inside the Aviation Pavilion.  The race entry will include free admission to the museum for all participants and a discount for family and friends.  Silver Striders will receive a 10% discount on their entry fee.  Awards will be given to the top 3 men and women in 5 year age divisions to 80+.
As an added bonus, remember that when you run any 3 Orca Running races in 2020, you will receive a beautiful Friend of the Pod medal
We hope you have noticed a trend here.  We have stepped up our efforts to encourage race directors to provide chip timing and 5 year age divisions to participants from 50 to 80+.
In keeping with this policy, we are very pleased to announce that the WHALE OF A RUN has agreed to these terms.  The Whale of a Run will celebrate it's 40th anniversary in 2020 by offering 5 year age divisions for the first time in its race history.  The race director hints that they will be "enhancing the event with other new features as well".
There will be six Select Your Distance events in 2020:

Saturday, March 7th  – The Foothills Dash 5k, 10k, or Half Marathon
Sunday, April 26th – All In For Autism 5k or 10k
Saturday, May 9th – The Trillium Trail Run 5k or 10k
Sunday, May 17th – The Rhody Run 12k or 6k
Sunday, June 7th – The NODM 5k, 10k, Half or Full Marathon  (To qualify for the Sandra Madden Award, you must do the Full Marathon)
Saturday, August 1st – The Anacortes Art Dash 5k, 10k, or Half Marathon
Remember! ONLY these 6 events qualify as Select Your Distance races.  At all of the other races, you will need to run the distance shown on the Grand Prix Series schedule if you want to earn Grand Prix Series points.

One more thing – The 6th ANNUAL TORTOISE and HARE 5k AND POTLUCK has been moved to Sunday, May 31st.  This event is an opportunity for Silver Striders to gather together for our annual tradition of good running, good food and good friends!
For a detailed explanation of how the Grand Prix Series works, click Grand Prix on the top menu bar.
For those of you who have participated in the Series before, welcome back. We hope you will find the next schedule fun and challenging.
For those new to the Series, you are just in time to join in the fun. It's a great way to keep motivated throughout the coming year and to make some great friends.
2020 GRAND PRIX SERIES SCHEDULE
Saturday, January 4th        FSRC Resolution Run 5k        Steilacoom
Saturday, January 18th        No Sun Fun Run 5k        Puyallup
Sunday, February 9th         My Better Half 5k       Seattle
Saturday, March 7th          Foothills Dash 5k, 10k, Half**      Orting
Sunday, March 22nd          Cherry Blossom Run 5k        Seattle*
Saturday April 11th          Tulip Run 10k       Burlington
Sunday, April 26th          All In For Autism 5k & 10k**      Bellevue
Saturday, May 9th          Trillium Trail Run 5k & 10k**     Bainbridge Island*
Sunday, May 17th          Rhody Run 12k & 6k**       Port Townsend
Sunday, May 31st          Tortoise and Hare 5k Handicap        Pt. Ruston
Sunday, June 7th          NODM 5k,10k,Half & Full**      Pt. Angeles
Sunday, June 14th          Bear Run 5k        Maple Valley
Saturday, July 4th          Run For The Pies 5k        Carnation
Saturday, July 11th          Cornucopia Days 5k (SC)       Kent
Saturday, July 18th          Lakefair 8k        Olympia*
Saturday, July 25th          Whale of a Run 4 Miles        Silverdale
Saturday, August 1st          Art Dash 5k, 10k, Half**      Anacortes
Sunday, August 9th          Lake Union 10k        Seattle
Sunday, August 30th          Iron Horse Half         North Bend
Monday, September 7th          Labor Day Half         Redmond
Saturday, Sept. 12th          Pacific Runderland 5k         Auburn*
Saturday, September 19th          Summer's End 5k         Covington
Sunday, September 20th          Orca Half Marathon         Alki Beach
Saturday, October 3rd          Fly 5k         Tukwila *
Saturday, October 31st          Run Scared 5k         Seattle
Saturday, November 7th          Fowl Run 5k         Mt. Vernon
Saturday, December 12th          Christmas Rush 5k         Kent
Sunday, December 20th          Reindeer Run 5k          Olympia
(SC) State Championship
* New Or Returning  Race
** Select Your Distance Race