the Silver Strider online presents
Olympia – 3405 Capitol Blvd.
Puyallup – 115  So. Meridian
Ruston – 5109 Grand Loop


2016 – Final Rankings
Below are the top 10 athletes in each Silver Strider age group for the State of Washington. If you are ranked #1 in your age group, please send me a photo of yourself for display.  If you have a correction or addition, please contact jerry@silverstrider.com by email. Rankings are based on the fastest performances on courses that are  USATF certified.
If you are in the TOP IO at all 4 distances, you are designated as a Super Athlete.
The Super Athletes for 2016 are Kristen Mossman, Judy Fisher Arne Hales, Sandra Madden, Dave Sherman, Carol Sexton, Ed Heckard, Mick Allen, and Bob Hoekman.
5k
Women

Updated 12/1/16
compiled by Ed Heckard
Women 50-54
1. Linda Knoblich 52 20:11
2. Kristen Mossman 52 20:27
3. Sharon Watson  53   21:10
4. Catie Rodeheffer  50   21:14
5. Nancy Harsch 50 21:41
6. Kathy Kearney 53 21:45
7. Jodie Bolt  50   21:49
8. Cresey Maher 50 22:01
9. Julie Steele 54 22:04
10. Anne Hobson 53 22:14
Women 55-59

1. Regina Joyce 59 21:11
2. Becky Backstrom 58 21:22
3. Carol Sexton 59 21:45
4. Kathy Edris 57 21:50
5. Gail Hall 56 21:56
6. Enid Moore 56 22:25
7. Kimmer Muenz 58 22:28
8. Sherry Vandenbos 55 23:08
9. Kris Haldeman 56 23:12
10. Kathryn Armstrong 56 23:21
Women 60-64
1. Paula Sutherlin 62 23:37
2. Penny Colton 64 23:38
3. Michelle Loeffler 60 24:16
4. Kate Liams 60 24:44
5. Huong Delabar 65 24:54
6. Charlea Sherman 63 25:27
7. Donna Jornlin 61 25:34
8. Elizabeth Malinak 60 25:37
9. Sandra Madden 64 25:48
10. Ann Rinehart 60 26:25
Women 65-69
1. Jane Treleven 67 21:50
2. Donna Jackson 65 23:20
3. Nanette Laraia 65 24:08
4. Sandra Madden 65 25:25
5. Phyllis Nelson 68 25:48
6. Linda Studley 66 25:46
7. Sue Shaw  65   26:20
8. Linda Burt 65 26:22
9. Reitha Weeks  65   26:58
10. Huong Delabar 65 26:59
Women 70-74
1. Judy Fisher 72 24:17
2. Pat Warner 70 24:24
3. Carol Grisso 71 26:14
4. Gunhild Swanson 71 26:22
5. Lynn Ryan 71 26:48
6. Sharon Carrol 73 26:51
7. Vicki Griffiths 72 28:00
8. Isabelle Noiret 73 29:26
9. Ramona Wollenweber 73 29:48
10. Margy Bressiou  70   30:46
Women 75-79
1. Louise Mihay 75 31:58
2. Sue Stipe 78 32:25
3. Carol Kennedy 76 33:38
4. Ruth Chin 75 36:04
5. Sally Krie 77 37:20
6. Jan Drago 76 37:45
7. Molly Childs 77 39:21
8. Susan Silbemagel 75 39:54
9. Virginia Nicholson  76   40:03
10. Jill Beth 76 41:59
Women 80-84
1. Barbara Macklow 82 35:41
2. Jean Greene 81 46:41
3. Joanne Petit 80 48:38
4. Sharon Anderson 80 51:45
5. June Tonkin 80 61:52
Women 85-89
1.Wilma Waters  87   40:48
2. Chloe Parr  86   49:49
Women 90-94
1. Judy Baxter  91   58:40
2. Helen Hopkins  92   1:20:55
5k
MEN
Updated 12/1/16
Compiled by Ed Heckard
Men 50-54
1. Michael Lynes 50 15:43
2. Carl Coombs 50 16:32
3. Igor Velichko 52 17:39
4. David White-Espin 54 17:55
5. John O'Hearn 54 18:01
6. Kevin Olson 54 18:03
7. Brad Anawalt 54 18:25
8. Mark Holme 50 18:30
9. Christopher Houser 52 18:34
10. Bob Brennand 54 18:35
Men 55-59
1. Joe Sheeran 58 16:55
2. Scott Clayton 55 17:00
3. Theodore Even 56 17:54
4. David White-Espin 55 18:29
5. Keith Lerew 58 18:32
6. Denis Villeneuve 59 18:46
7. Greg Waters 55 18:57
8. Mark Franks  55   19:00
9. Dan Spencer 55 19:05
10. Ken Peper 56 19:08
Men 60-64
1. Greg Beyerlein 62 18:27
2. Mickey Allen 60 18:39
3. Ed Barney 62 19:29
4. Roger Hahn 61 19:40
5. Karl Bylund 60 20:18
6. Dave Sherman 62 20:20
7. Karl Kunkle 61 20:21
8. Bob Murphy 63 20:31
9. Craig Scheiber  60   20:40
10. John Herrera 64 20:44

Men 65-69
1. David Crawford 66 18:50
2. Tim Oguri 66 19:32
3. Scott Harvey 65 19:34
4. Dennis Zaborac 67 19:52
5. Craig Andersen 68 20:42
6. David Longmuir 68 20:43
7. Frazer Mann 68 21:37
8. David Harris 66 21:46
9. Bill Pech 66 22:01
10. Mike Henderson 66 22:38
Men 70-74
1. Arne Hales 71 22:00
2. Ed Heckard  70   22:55
3. Paul Benton 73 23:10
4. Frank Bozanich 71 23:39
5. Bob Hoekman 74 24:15
6. Chris Steer 72 24:30
7. Bob Baugher 70 25:14
8. Ken Kniveton 74 25:30
9. Jess DelBosque 71 25:39
10. David Wills 70 25:58

Men 75-79
1. Doug Woollen 76 23:44
2. Mark Stockslager 76 24:27
2. Larry Carroll 75 24:27
4. Robert Shirley 75 24:44
5. Larry Glenn 77 25:46
6. Peter Marshall 78 26:20
7. Robert Massie 77 26:54
8. Bart Haggin 79 26:56
9. Tim Joslin 75 27:11
10. Jerry Bronson 75 29:51
Men 80-84
1. Richard Olafson 83 27:48
2. William Jackson 80 28:59
3. Charles Milliman 83 30:29
4. Eugene Nunn 81 34:34
5. Inole King 81 35:58
6. Jerry Dietrich 81 36:09
7. Ron Angeline  81   36:59
7. Ed Rossi  82   37:49
8. Robert Weyrick  80   39:11
10. Rolf Amunson  81   40:49

Men 85-89
1.Alberto Perez  89   35:24
2. Keith Wood  87   35:42
3. Herman Diers  88  52:24
4. Frank Ward   85   62:57
5. John Slocum  85   64:09
6. Bob Dolphin   87    65:17
Men 90-94
1. George Murray  91   93:35
______________________________
10k
Women
Updated 12/1/16
compiled by David Longmuir
Women 50-54
Kristen Mossman 52 41:20
Linda France 50 41:32
Karen Weber 50 43:58
Patti Whitmarsh 50 44:44
Lori Bartol 51 45:14
Elizabeth Merrill 52 45:18
Marie Beaver 50 45:57
Kris Solem 53 47:34
Jen Fox 51 47:38
Lisa Tylor 53 48:35

Women 55-59
Nancy Kitner-Meyer 59 42:47
Adrina Gipson 55 42:47
Regina Joyce 59 44:22
Carol Sexton 59 44:49
Jennifer Straughan 57 45:38
Laurie Lanzon 56 45:57
Claire Kindley 56 46:52
Louise Smith  56   47:37
Nancy Hess 56 47:45
Carla Darr 55 47:53
Women 60-64
Kerry Jones 61 49:53
Gail Farmer 60 53:01
Maureen Connelly 60 53:29
Anne Rinehart 60 54:23
Diana Spangle 60 55:06
Lee-Lee Miao 60 55:19
Donna Jornlin 61 55:56
Diane Kalvelage 60 55:58
Deb Gaffey 64 56:00
Mary Hay 60 56:59 
Women 65-69
Donna Jackson 65 51:28
Carol Coram 65 54:26
Linda Burt 65 54:32
Kathryn Parks 65 54:59
Sandra Madden 65 55:39
Catherine Davis  65   57:01
Phyllis Nelson 68 57:59
Margaret Ubben 65 59:45
Lynne Werner 65 59:59
Barb Johnson 67 61:13
Women 70-74
Judy Fisher 72  48:56 
Pat Warner  70 52:03 
Carol Grisso  71 56:08 
Joanie Pryor 70 57:06 
Isabelle Noiret  74 61:07 
Vicki Griffiths 73 63:08 
Susan Brain  72 63:35 
Betty Boudwin 71 66:26 
Sylvia Angel 72 69:20 
Kathleen Bauer 72 70:24 
Women 75-79
Sally Krie 77 78:01
Jennifer Ward 2:08:42 
10k
MEN
Updated 12/1/16
compiled by David Longmuir
Men 50-54
Carl Combs 50 34:06
Michael Lynes 50 34:41
John O'Hearn 54 37:47
A. J. Roff 51 37:59
Thomas DeLuca 50 38:34
Douglas Babbitt 51 39:11
Steve Heaps 51 39:14
Bob Brennand 54 39:36
Igor Velichko 52 39:39
Scott Middleton 52 39:42 
Men 55-59
Joe Sheeran 58 35:12
Scott Clayton 55 37:55
Bill Haldeman 58 37:31
Daryl Montgomery 57 38:37
Russ Otani 57 39:38
Theodore Even 57 40:28
Scott Lea 56 40:57
Charlie Kronvall 58 41:15
Mike Koslosky 58 41:52
Michael Miller 55 43:23
Men 60-64
Mark Billet  63   38:10
Kent Sizer  61   40:59
Cecil Williams  60   41:04
Mick Allen  60   41:30
Ed Barney  62   42:10
Dave Parsons  61   43:14
David Sherman  62   44:39
Karl Kunkel  61   44:47
Ron Chew  60   44:55
Jerry Crofoot  61   45:22
Men 65-69
David Crawford 65 41:14
Tim Oguri 65 44:48
Gregory Adams 65 45:17
Bill Petch 66 46:54
Dana Ward 65 47:22
Terry Wong 66 50:11
John Marsteller 67 50:28
Michael Shiach 65 50:52
Gary Wright 65 50:57
Patrick Gray 65 51:54

Men 70-74
Ed Heckard 71 47:41
Jerry Gammill 73 49:47
Andrew McCormick 70 52:50
Kenneth Neal 70 52:50
Jack Courrier 73 53:23
Bob Hoekman 74 53:54
Bob Baugher 70 54:31
Don Keating 71 54:58
Paul Thorndike 74 56:56
Arne Hales 71 57:35
Men 75-79
Robert Shirley  75 52:32 
Peter Marshall 79 59:53 
Roger Dean 77 63:18 
Gary Johnson 76 64:47 
William Jackson  79 70:19 
Jerry Carpenter 76 77:11 
Dick Driskill  77 79:12 
Rosh Doan  2:08:40 
Men 80-84
Bill Iffrig  82   53:32
Thann Ward – 2:08:46
France Cokan 84 2:10:00
Men 85-89
Keith Wood  87   72:41
________________________________
Half Marathon
Women
Updated 12/1/16
compiled by Theodore Even
Women 50-54
1. Kristen Mossman  52   1:35:39
2. Susanne Ferro  50   1:35:54
3. Aihua Yi  51   1:37:29
4. Ann Armstrong  54   1:38:23
5. Wendy Harrison  51   1:40:32
6. Kelly Askew  52   1:41:55
7. Lorie Lauzon  52   1:42:06
8. Charleen Lundberg  53   1:42:33
8. Christie Artarap  –   1:42:33
10. Lucy Brown  53   1:43:08
Women 55-59
1. Becky Backstrom  58   1:35:32
2. Carol Sexton  59   1:39:43
3. Kelly Askew  52   1:41:55
4. Roxanne Bauman  57   1:42:55
5. Angela French  57   1:44:14
6. Maureen Guido  55   1:44:19
7. Gaylene Donner  55   1:45:18
8. Sherry Vanderbos   55   1:45:25
9. Lisa Bradley  55   1:46:36
10. Jos Cove  56   1:47:51
Women 60-64
1. Kerry Jones  61   1:43:39
2. Sus Bristow  –   1:50:41
3. Sharon Underwood  61   1:53:04
4. C Gayle Harris  61   1:54:57
5. Nancy Cannon  61   1:55:03
6. Kate Iiams   60   1:55:27
7. Gayle Jones  61   1:55:33
8. Kimberly Williams  60   1:56:16
9. Sharon Kane  63   1:57:06
10. Joan Hogan  61   1:57:12

Women 65-69
1. Linda Studley  66   2:00:22
2. Carol Coram  65   2:03:48
3. Huong Delabar  65   2:05:47
4. Sandra Madden  65   2:06:39
5. Lynn Strong  –   2:06:59
6. Edie Cox  66   2:08:52
7. Linda Burt  65   2:08:53
8. Jane Davey  68   2:09:31
9. Sandra Farahani  68   2:10:47
10. Phyllis Nelson  68   2:10:57

Women 70-74
1. Pat Warner  70   1:50:18
2. Judy Fisher  72   1:53:42
3. Sylvia Angel  72   2:07:15
4. Sharon Carroll  73   2:09:29
5. Vicki Griffiths  72   2:09:35
6. Isabelle Noriet  73   2:10:10
7. Pat Banks 70   2:11:06
8. Caren Adams  70  2:13:48
9. Leslye Teuber  70   2:16:19
10. Bonnie Torske  73   2:18:47

Women 75-79
1. Carol Kennedy  76   2:36:53
2. Astrid Berg  77   2:46:17
3. Kathy Biever  77   3:04:59
4. Trish Longworth  75   3:13:50
5. Carol E. Howard  77   3:17:06
6. Camren Hutchley  75   3:33:02
7. Edythe Hulet  78   3:37:45
8. Irene Lopez  77   3:47:27
9. Patricia Schultz  75   3:32:29
10. Carolyn Saastad  77   4:08:19
Women 80-84
1. Constance Nicholson  81   3:17:13
2. Eleanor Hull  81   3:24:58
3. Doris Northstrom  82   3:28:41
4. Greta Nelson  84   3:52:33
5. Joan Pribnow  81   4:12:20
Half Marathon
Men
Updated 12/1/16
compiled by Theodore Even
Men 50-54
1. Tony Gerbino    51 1:21:22
2. Dom Gaudin   50   1:24:38
3. Charles Stoner  51   1:25:04
4. Bob Brennand  54   1:25:07
5. Brad Anawalt  53   1:26:34
6. Francis Cheng  51   1:27:43
7. Paul Fletcher  50   1:28:08
8. Ed Clark  52   1:28:18
9 . Paul Carr 52   1:28:24
9. Christopher Mutchler  53   1:28:24
Men 55-59
1. Joe Sheeran  58   1:19:08
2. Eugenio Vidales  56   1:22:34
3. Bill Haldeman  58   1:23:31
4. Doug Jacobson  59   1:24:40
5. Theodore Even  56   1:24:26
6. Scott Clayton  55   1:24:59
7. Mike Anderson  57   1:27:42
8. Russ Oster  55   1:27:53
9. David Schach   58   1:27:43
10. Russ Otani  56   1:28:24
Men 60-64
1. Mark Billett  –   1:27:11
2. Mickey Allen  60   1:29:40
3. Cecil Williams  60   1:29:38
4. Kent Sizer  61   1:32:24
5. Jerry Crofoot  60   1:33:59
6. Andy Piercy  60   1:35:45
7. Dave Sherman  62   1:36:15
8. Mike Helliger  62   1:36:48
9. Doug MacLean  63   1:37:19
10. Ed Barney  62   1:37:32
Men 65-69
1. Doug Beyerlein  65   1:32:26
2. David Crawford  66   1:34:04
3. Steve Hamilton  65   1:35:53
4. Brian Mittelstaedt  65   1:36:49
5. Les Sharpe  65   1:37:24
6. Bill Pech  66    1:40:09
7. Ken Farmer  66   1:41:51
8. Larry Russel l 67   1:44:08
9. Paul Zaprzalka  65   1:44:32
10. Thomas Kovaric  66   1:45:36

Men 70-74
1. Ed Heckard  70   1:48:17
2. Ronald Olsen  73   1:55:18
3. Jack Courrier  72   1:56:31
4. Arne Hales  71   1:57:26
5. Steve Hirsh  70   1:57:41
6. Andrew McCormick  70     1:58:01
7. Chang Kim  71   1:58:10
8. Don Cox  72   1:59:45
9. John Morum  71   2:00:17
10.Tom Alberts  73   2:00:53
Men 75-79
1. Larry Carroll  76   1:53:21
2. Mark Stockslager  76   1:56:09
3. Robert Hoekman  75   2:01:25
4. Lawrence Glenn  77   2:01:43
5. Gary Johnson  76   2:15:05
6. Ray Warner  75   2:18:06
7. Duand Reed  77   2:21:30
8. Tad Hasebe  78   2:21:58
9. Jerry Bronson  76   2:26:37
10. Scott Driver  77   2:31:23

Men 80-84
1. Bill Iffrig  82   2:02:51
2. Charles Milliman  83   2:57:15
Men 85-89
1. Keith Wood  87   2:31:18
__________________________________
Marathon
Women
Updated 12/1/16
compiled by Judy Fisher
Women 50-54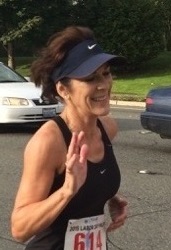 1. Kristen Mossman 52 3:13:08
2. Vicki Monsey 51 3:21:24
3. Rhonda Glass 54 3:21:49
4. Lori Moriarity  50   3:26:32
5. Danielle Morrow  50   3:29:17
6. Andrea Johnson  53   3:32:55
7. Kathryn Rapp  50   3:37:15
8. Molly Hurd  54   3:37:30
9. Maureen Anderson 51 3:39:35
10. Jesse Rodriguez  –   3:40:08
Women 55-59

1.Becky Backstrom  59   3:17:56
2.Carol Sexton  59   3:34:11
3. Janet Howe  56   3:37:11
4. Angela French 57 3:41:57
5. Poksil Himrich  55   3:49:35
6. Ana Garcia DeJalon  57   3:50:23
7. Nancy Bristow  58   3:56:06
8. Linda Shafer  56   3:56:46
9. Jennifer Lowery – 3:57:39
10. Nancy Robertson  56   3:58:50
Women 60-64
1. Mary Orcutt  60   4:02:03
2. Sue Jacobson  61  4:10:45
3. Markie Nathan    60 4:11:12
4. Barb Buman  62   4:12:30
5. Kerry Jones  61   4:13:52
6. Jacki Sensenbrenner – 4:14:20
7. Josie Huerta  62   4:14:43
8. Mary Kate McGee  61   4:16:04
9. Nancy Knoll 60 4:16:15
10. Nancy Cannon 61 4:17:20

Women 65-69
1. Sandee Myers  66   3:56:52
2. Eileen Glenn  66   4:11:44
3. Liz Borrett – 4:16:25
4. Linda Studley 66 4:22:23
5. Sandra Madden 65   4:25:32
6. Donna Jackson 65 4:31:08
7. Jane Davey – 4:31:56
8. Judy Loy  68   4:45:04
9. Lynda Churchfield 65 4:50:04
10. Caren Adams 69 4:56:51
Women 70-74
1. Sharon Carroll 73   4:14:49
2. Judy Fisher 72 4:15:10
3. Gunhild Swanson 71 4:24:10
4. Caren Adams  70   4:50:23
5. Judy Bell  70   5:00:54
6. Vicki Griffiths  73   5:28:25
7. Jahna Prine 70 5:44:42
8. Patricia Fackenthall  73   5:48:55
9. Marion Landry – 5:55:27
10. Kathleen Bauer  70 6:00:16
W75-79
1.Mary Ann Bosky  75   5:43:55
Marathon
Men
Updated 12/1/16
compiled by Judy Fisher
Men 50-54
1. Vic Horne – 3:00:31
2. Brad Marshall  –   3:01:40
3. David Cull  54  3:02:21
4. Bert Vick  –   3:05:35
5. Scott Middleton  53   3:06:09
6. David Childs  54   3:06:11
7. Teru Toyokawa 54 3:06:42
8. Steve Moore 50 3:09:11
9. Wade Taylor  52   3:09:34
10. Dave LaTorette 53 3:09:35

Men 55-59
1.Bill Haldeman  57   2:58:31
2. Kevin Martinell  56   3:03:48
3. Teru Toyokawa  55   3:08:10
4. Tony Phillippi  55   3:12:21
5. Mark Franks  55   3:13:41
6. Russ Otani  57   3:20:38
7. Timothy Bliss  55   3:20:55
8. Keith Lerew 58 3:22:56
9. David Childs  55   3:23:54
10. Jeffery Yamada  56   3:24:10

Men 60-64

1. Mickey Allen 60   3:11:4
2. Mark Billett – 3:13:12
3. Doug Jacobson 60 3:16:20
4. Fred Wedam  63   3:28:12
5. Jan Vleck  64   3:29:35
6. Dave Sherman  62   3:31:46
7. Mike Bates  61  3:32:50
8. Brian Kingsbury 62 3:31:57
9. Gary Kobold  61   3:35:10
10. Andy Piercy 60 3:39:47

Men 65-69
1. Leslie Sharpe  65   3:32:27
2. Stephen Hamilton  66   3:35:20
3. Doug Beyerlein  65   3:35:32
4. Ken Farmer – 3:41:04
5. Lee Chu  65   3:29:24
6. Ron Fleming  69   3:54:57
7. Stephen Howe 66 3:56:23
8. Chu Lee 65 3:57:05
9. Ken Tarleton 69 3:58:10
10. Tom Kovarick – 3:59:59

Men 70-74
1. Bob Hoekman   74    3:46:40
2. Kenneth Neil  73   4:12:48
3. Ed Heckard 71 4:15:50
4. Ken Tarleton  70   4:28:27
5. Richard DeCample 70 4:30:34
6. Robert Schlosser  70   4:53:42
7. Paul Emmett  70   4:58:03
8. Arne Hales  72   5:05:15
9. Tom Halazon  73   5:13:08
10. Anthony Burgess 70 5:15:00
Men 75-79
1. Larry Carroll 76 4:17:12
2. Duane Higby  79   5:18:35
3. Woody Star  75   5:25:51
4. Roger MacMillan 78 5:31:07
5. Ted Collins  –   5:35:10
6. Ray Warner  78   6:06:22
7. Jon Nevitt 76 6:43:23
8. Jr Phillips 77 7:06:56
9. Barry Chernick  77   7:20:54
10. Jim Dollar 76 7:33:10
Men 80-84
1. Charles Milliman 83 6:25:06
2. Allyn Snowhite  80   7:34:57
3. Mel Preedy 82 7:40:09
4. Robert Olsen – 8:03:48